Happy Release Day to:
Caragh M. O'Brien
The Vault of Dreamers (Vault of Dreamers, Book 1)
Macmillan Square Fish (US: 16th February 2016)
Buy (US) Buy (UK) Buy (CA) Buy (Worldwide)
The Forge School is the most prestigious arts school in the country. The secret to its success: every moment of the students' lives is televised as part of the insanely popular Forge Show, and the students' schedule includes twelve hours of induced sleep meant to enhance creativity. But when first year student Rosie Sinclair skips her sleeping pill, she discovers there is something off about Forge. In fact, she suspects that there are sinister things going on deep below the reaches of the cameras in the school. What's worse is, she starts to notice that the ridges of her consciousness do not feel quite right. And soon, she unearths the ghastly secret that the Forge School is hiding – and what it truly means to dream there.
Caragh M. O'Brien
The Rule of Mirrors (Vault of Dreamers, Book 2)
Macmillan Roaring Brook (US: 16th February 2016)
Buy (US) Buy (UK) Buy (CA) Buy (Worldwide)
The entire country was watching when Rosie Sinclair was expelled from Forge, the prestigious arts school that doubles as a reality TV show. But few know how Dean Berg was mining students' dreams in laboratories deep below the school. And no one, least of all the Dean himself, knows that when Rosie's dreams were seeded into the mind of another patient, Rosie's consciousness woke up in that body – a girl far from Forge, a girl with a completely different life from Rosie, a girl who is pregnant.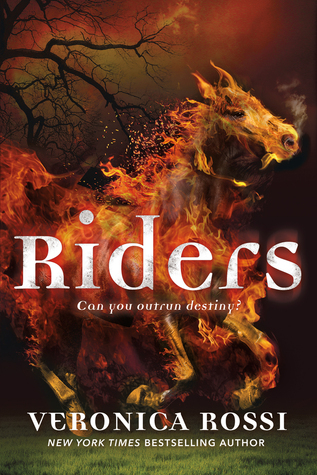 Veronica Rossi
Riders
Macmillan Tor (US: 16th February 2016)
Buy (US) Buy (UK) Buy (CA) Buy (Worldwide)
For eighteen-year-old Gideon Blake, nothing but death can keep him from achieving his goal of becoming a U.S. Army Ranger. As it turns out, it does. Recovering from the accident that most definitely killed him, Gideon finds himself with strange new powers and a bizarre cuff he can't remove. His death has brought to life his real destiny. He has become War, one of the legendary four horsemen of the apocalypse. Over the coming weeks, he and the other horsemen – Conquest, Famine, and Death – are brought together by a beautiful but frustratingly secretive girl to help save humanity from an ancient evil on the emergence. They fail. Now – bound, bloodied, and drugged – Gideon is interrogated by the authorities about his role in a battle that has become an international incident. If he stands any chance of saving his friends and the girl he's fallen for – not to mention all of humankind – he needs to convince the sceptical government officials the world is in imminent danger. But will anyone believe him?
Veronica Roth
Allegiant (Divergent, Book 3)
HarperCollins Katherine Tegen (US, UK, & CA: 16th February 2016)
Buy (US) Buy (UK) Buy (CA) Buy (Worldwide)
One choice will define you. What if your whole world was a lie? What if a single revelation – like a single choice – changed everything? What if love and loyalty made you do things you never expected?