Done with September 2015 Releases? Here are October 2015 Releases. For future releases, check Reading Wishlist.
TRIGGER WARNING: The cover image for Andrea Kleine's Calf (13th October) is confronting.
Suzanne Collins
The Hunger Games (The Hunger Games, Book 1)
Scholastic (UK: 1st October 2015)
Buy (US) Buy (UK) Buy (CA) Buy (Worldwide)
Set in a dark vision of the near future, a terrifying reality TV show is taking place. Twelve boys and twelve girls are forced to appear in a live event called The Hunger Games. There is only one rule: kill or be killed. When sixteen-year-old Katniss Everdeen steps forward to take her younger sister's place in the games, she sees it as a death sentence. But Katniss has been close to death before. For her, survival is second nature.
Suzanne Collins
Catching Fire (The Hunger Games, Book 2)
Scholastic (UK: 1st October 2015)
Buy (US) Buy (UK) Buy (CA) Buy (Worldwide)
After winning the brutal Hunger Games, Katniss and Peeta return to their district, hoping for a peaceful future. But their victory has caused rebellion to break out…and the Capitol has decided that someone must pay. As Katniss and Peeta are forced to visit the districts on the Capitol's Victory Tour, the stakes are higher than ever. Unless they can convince the world that they are still lost in their love for each other, the consequences will be horrifying. Then comes the cruellest twist: the contestants for the next Hunger Games are announced, and Katniss and Peeta are forced into the arena once more.
Suzanne Collins
Mockingjay (The Hunger Games, Book 3)
Scholastic (UK: 1st October 2015)
Buy (US) Buy (UK) Buy (CA) Buy (Worldwide)
Against all odds, Katniss Everdeen has survived the Hunger Games twice. But now that she's made it out of the bloody arena alive, she's still not safe. The Capitol is angry. The Capitol wants revenge. Who do they think should pay for the unrest? Katniss. And what's worse, President Snow has made it clear that no one else is safe either. Not Katniss's family, not her friends, not the people of District 12.
Stephanie Diaz
Evolution (Extraction, Book 3)
Pan Macmillan Griffin (AU: 1st October 2015)
Buy (US) Buy (UK) Buy (CA) Buy (Worldwide)
Clementine's world is on the brink of destruction. An army of aliens from the distant planet Marden has arrived with a massive fleet of battleships, intent on finally putting an end to the war Kiel's old rulers initiated. With the Alliance headquarters reduced to rubble and one of the rebel leaders close to death, Clementine and her friends have no choice but to retreat to the Core to escape the alien ships attacking the Surface. But safety in the Core means forming a temporary alliance with their sworn enemy, Commander Charlie. He's a ruthless man and a liar, but striking a bargain with him – his pardon in exchange for their help defeating the Mardenites – is the only way the rebels might survive the war. And Charlie needs their help too, for Marden's force is more powerful than anyone anticipated, with weapons and technologies never before seen on Kiel. Unless old feuds can be set aside long enough for a diplomatic solution to be found, all of Kiel's people will be destroyed, and everything Clementine and her friends have sacrificed in their fight for peace will have been for nothing.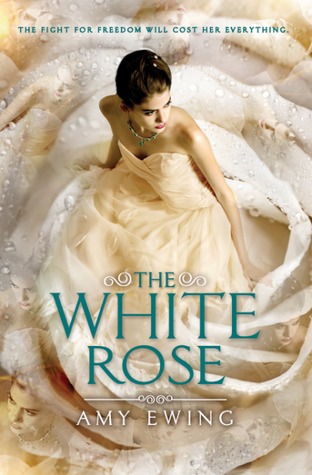 Amy Ewing
The White Rose (The Lone City, Book 2)
Walker (AU: 1st October 2015); HarperTeen (US & CA: 6th October 2015)
Buy (US) Buy (UK) Buy (CA) Buy (Worldwide)
Violet is on the run. After the Duchess of the Lake catches Violet with Ash, the hired companion at the Palace of the Lake, Violet has no choice but to escape the Jewel or face certain death. So along with Ash and her best friend, Raven, Violet runs away from her unbearable life of servitude. But no one said leaving the Jewel would be easy. As they make their way through the circles of the Lone City, Regimentals track their every move, and the trio barely manages to make it out unscathed and into the safe haven they were promised – a mysterious house in the Farm. But there's a rebellion brewing, and Violet has found herself in the middle of it. Alongside a new ally, Violet discovers her Auguries are much more powerful than she ever imagined. But is she strong enough to rise up against the Jewel and everything she has ever known?
Maggie Stiefvater, Tessa Gratton, & Brenna Yovanoff
The Anatomy of Curiosity (Anthology)
Lerner Carolrhoda Lab (US: 1st October 2015)
Buy (US) Buy (UK) Buy (CA) Buy (Worldwide)
In an unassuming corner of Brooklyn, a young woman learns to be ladylike, to love context, and to speak her mind from a very curious sort of tutor. In a faraway land convulsed by war, a young soldier hears the desert's curious hum as he disarms bombs with the person he doesn't know how to love. In a place so shrivelled by drought that any drowning is a curiosity, a young writer tries again and again to tread water beneath the surface of a vast and unusual sea. Three new stories – complete with commentary on the creative process – from three acclaimed young adult authors working at the height of their powers. Curious?
Rachel Vincent
Menagerie
Harlequin Mills & Boon MIRA (UK: 1st October 2015)
Buy (US) Buy (UK) Buy (CA) Buy (Worldwide)
When Delilah Marlow visits a famous travelling carnival, Metzger's Menagerie, she is an ordinary woman in a not-quite-ordinary world. But under the macabre circus black-top, she discovers a fierce, sharp-clawed creature lurking just beneath her human veneer. Captured and put on exhibition, Delilah in her black swan burlesque costume is stripped of her worldly possessions, including her own name, as she's forced to "perform" in town after town. But there is breathtaking beauty behind the seamy and grotesque reality of the carnival. Gallagher, her handler, is as kind as he is cryptic and strong. The other "attractions" – mermaids, minotaurs, gryphons and kelpies – are strange, yes, but they share a bond forged by the brutal realities of captivity. And as Delilah struggles for her freedom, and for her fellow menagerie, she'll discover strength and a purpose she never knew existed.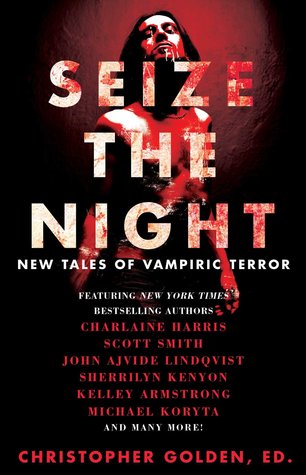 Christopher Golden (ed.)
Seize the Night (Anthology)
Simon & Schuster Gallery (US & CA: 6th October 2015)
Buy (US) Buy (UK) Buy (CA) Buy (Worldwide)
Before being transformed into romantic heroes and soft, emotional antiheroes, vampires were figures of overwhelming terror. Now, from some of the biggest names in horror and dark fiction, comes this collection of short stories that make vampires frightening once again. Edited by Christopher Golden and featuring all-new stories from such contributors as Charlaine Harris, John Ajvide Lindqvist, Scott Smith, Sherrilyn Kenyon, Michael Kortya, Kelley Armstrong, Brian Keene, David Wellington, Seanan McGuire, and Tim Lebbon, Seize the Night is old-school vampire fiction.
Kelley Armstrong
Otherworld Secrets (Anthology)
Hachette Little, Brown Orbit (UK: 6th October 2015; AU: 13th October 2015); Random House (CA: 6th October 2015)
Buy (US) Buy (UK) Buy (CA) Buy (Worldwide)
The collection begins with a brand-new novella featuring werewolf Karl Marsden and half-demon Hope, in what might be Karl's last heist. Meanwhile Elena and Clay are trapped in a wintry small town with a killer on the loose, in the novella "Forbidden". In "Angelic", former black witch and part-time angel Eve is sent on a dangerous mission by the Fates, while necromancer Jaime tackles a ghost with a seriously bad attitude in "The Ungrateful Dead". Zoe Takano is forced to defend her territory in "Zen and the Art of Vampirism". And in the final novella, "Counterfeit Magic", Paige Winterbourne and Lucas Cortez take on a troubling case that will change the couple for ever.
S. A. Bodeen
The Detour
Macmillan Feiwel & Friends (US: 6th October 2015)
Buy (US) Buy (UK) Buy (CA) Buy (Worldwide)
Livvy Flynn is a big deal – she's a New York Times-bestselling author whose YA fiction has sold all over the world. She's rich, she's famous, she's gorgeous, and she's full of herself. When she's invited to an A-list writer's conference, she decides to accept so she can have some time to herself. She's on a tight deadline for her next book, and she has no intention of socialising with the other industry people at the conference. And then she hits the detour. Before she knows it, her brand new car is wrecked, she's hurt, and she's tied to a bed in a nondescript shack in the middle of nowhere. A woman and her apparently manic daughter have kidnapped her. And they have no intention of letting her go.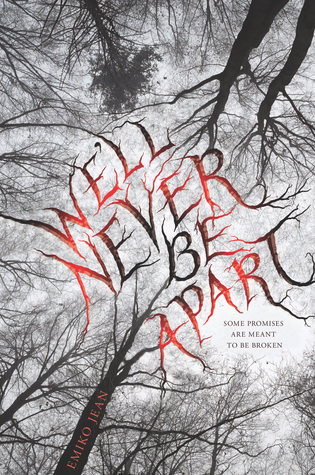 Emiko Jean
We'll Never Be Apart
Houghton Mifflin Harcourt (US: 6th October 2015)
Buy (US) Buy (UK) Buy (CA) Buy (Worldwide)
Murder. Fire. Revenge. That's all seventeen-year-old Alice Monroe thinks about. Committed to a mental ward at Savage Isle, Alice is haunted by memories of the fire that killed her boyfriend, Jason. A blaze her twin sister Cellie set. But when Chase, a mysterious, charismatic patient, agrees to help her seek vengeance, Alice begins to rethink everything. Writing out the story of her troubled past in a journal, she must confront hidden truths. Is the one person she trusts only telling her half the story?
Darynda Jones
Brighter than the Sun (Charley Davidson, Novella)
Macmillan St. Martin's (US: 6th October 2015)
Buy (US) Buy (UK) Buy (CA)
All his life, Reyes Alexander Farrow has suffered the torments of the damned. Only one thing has given him hope: the woman who radiates a light that no mortals can see; a light that only the departed can see…
R. C. Lewis
Stitching Snow
Disney-Hyperion (US: 6th October 2015)
Buy (US) Buy (UK) Buy (CA) Buy (Worldwide)
Princess Snow is missing. Her home planet is filled with violence and corruption at the hands of King Matthias and his wife as they attempt to punish her captors. The king will stop at nothing to get his beloved daughter back – but that's assuming she wants to return at all. Essie has grown used to being cold. Temperatures on the planet Thanda are always sub-zero, and she fills her days with coding and repairs for the seven loyal drones that run the local mines. When a mysterious young man named Dane crash-lands near her home, Essie agrees to help the pilot repair his ship. But soon she realises that Dane's arrival was far from accidental, and she's pulled into the heart of a war she's risked everything to avoid.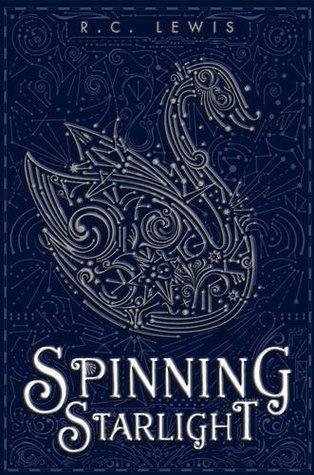 R.C. Lewis
Spinning Starlight
Disney-Hyperion (US: 6th October 2015)
Buy (US) Buy (UK) Buy (CA) Buy (Worldwide)
Sixteen-year-old heiress and paparazzi darling Liddi Jantzen hates the spotlight. But as the only daughter in the most powerful tech family in the galaxy, it's hard to escape it. So when a group of men shows up at her house uninvited, she assumes it's just the usual media-grubs. That is, until shots are fired. Liddi escapes, only to be pulled into an interplanetary conspiracy more complex than she ever could have imagined. Her older brothers have been caught as well, trapped in the conduits between the planets. And when their captor implants a device in Liddi's vocal cords to monitor her speech, their lives are in her hands: One word and her brothers are dead. Desperate to save her family from a desolate future, Liddi travels to another world, where she meets the one person who might have the skills to help her bring her eight brothers home – a handsome dignitary named Tiav. But without her voice, Liddi must use every bit of her strength and wit to convince Tiav that her mission is true. With the tenuous balance of the planets deeply intertwined with her brothers' survival, just how much is Liddi willing to sacrifice to bring them back?
Marie Lu
The Rose Society (The Young Elites, Book 2)
Penguin (AU: 6th October 2015; US & CA: 13th October 2015; UK: 15th October 2015)
Buy (US) Buy (UK) Buy (CA) Buy (Worldwide)
Adelina Amouteru's heart is set on revenge. Now known and feared as the White Wolf, she flees Kenettra to find other Young Elites in the hopes of building her own army. Her goal: to strike down the Inquisition Axis, the white-cloaked soldiers who nearly killed her. But Adelina is no heroine. The leader of the Inquisition wants her dead, and her former friends at the Dagger Society want to stop her thirst for vengeance. Adelina struggles to cling to the good within her. But how can someone be good, when her very existence depends on darkness?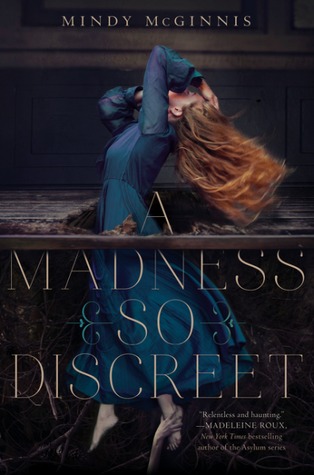 Mindy McGinnis
A Madness So Discreet
HarperCollins Katherine Tegen (US & CA: 6th October 2015)
Buy (US) Buy (UK) Buy (CA) Buy (Worldwide)
Grace Mae knows madness. She keeps it locked away, along with her voice, trapped deep inside a brilliant mind that cannot forget horrific family secrets. Those secrets, along with the bulge in her belly, land her in a Boston insane asylum. When her voice returns in a burst of violence, Grace is banished to the dark cellars, where her mind is discovered by a visiting doctor who dabbles in the new study of criminal psychology. With her keen eyes and sharp memory, Grace will make the perfect assistant at crime scenes. Escaping from Boston to the safety of an ethical Ohio asylum, Grace finds friendship and hope, hints of a life she should have had. But gruesome nights bring Grace and the doctor into the circle of a killer who stalks young women. Grace, continuing to operate under the cloak of madness, must hunt a murderer while she confronts the demons in her own past.
Veronica Roth
Allegiant (Divergent, Book 3)
HarperCollins Katherine Tegen (US & CA: 6th October 2015)
Buy (US) Buy (UK) Buy (CA) Buy (Worldwide)
The faction-based society that Tris Prior once believed in is shattered – fractured by violence and power struggles and scarred by loss and betrayal. So when offered a chance to explore the world past the limits she's known, Tris is ready. Perhaps beyond the fence, she and Tobias will find a simple new life together, free from complicated lies, tangled loyalties, and painful memories. But Tris's new reality is even more alarming than the one she left behind. Old discoveries are quickly rendered meaningless. Explosive new truths change the hearts of those she loves. And once again, Tris must battle to comprehend the complexities of human nature – and of her – while facing impossible choices about courage, allegiance, sacrifice, and love. BONUS CONTENT: Excerpts from Natalie Prior's journal. Two deleted scenes with commentary from Veronica Roth. Favourite quotes, illustrated by fellow Initiates. Discussion questions. A four-colour fold-out poster. A brilliant metallic book jacket. A satin ribbon placeholder.
Diana Rowland
White Trash Zombie Gone Wild (White Trash Zombie, Book 5)
Penguin DAW (US & CA: 6th October 2015)
Buy (US) Buy (UK) Buy (CA) Buy (Worldwide)
Angel Crawford has buried her loser past and is cruising along in undead high gear – that is, until a murder-by-decapitation sends her on a hazardous detour. As Angel hunts for the killer, she uncovers a scheme that would expose zombies to the public and destroy the life she's built, and she's determined not to rest until she finds out who's behind it. Soon she's neck-deep in lies, redneck intrigue, zombie hunters, and rot-sniffing cadaver dogs. It's up to her to unravel the truth and snuff out the conspiracy before the existence of zombies makes headline news and she's outed as a monster. But Angel hasn't quite escaped the pill-popping ghosts of her past – not with an illicit zombie pharmaceutical at her fingertips. Good thing she's absolutely sure she can handle the drug's unpredictable side effects and still take down the bad guys…or maybe she's only one bad choice away from being dead meat – for real this time. Angel knows a thing or two about kicking ass, but now the ass she needs to kick might be her own.
Tom Cox
Close Encounters of the Furred Kind
Hachette Little, Brown Sphere (UK: 8th October 2015; AU: 13th October 2015)
Buy (UK) Buy (CA) Buy (Worldwide)
Have you ever moved house, over a distance of 350 miles, with four cats? If you haven't, and are thinking about it, I'll give you some advice: don't. If you really must move, try to get the cats to arrange their own transport. Focus on yourself instead. You'll have plenty to think about as it is, and the cats will only get in the way with their sarcasm and hairballs. I moved from Norfolk to Devon with four cats and it felt like such an impossible ordeal, part of me believes that I actually died somewhere along the way and am now living in some kind of afterlife: very much like real life, but a little slower moving, and with slightly clearer air. "That's just the West Country," I've been told, but I can't be 100% certain.
Amelia Kahaney
The Invisible (The Brokenhearted, Book 2)
HarperCollins Teen (UK: 8th October 2015)
Buy (US) Buy (UK) Buy (CA) Buy (Worldwide)
After a perilous accident that literally stopped her heart, Anthem Fleet was left with a jagged scar down the front of her chest – and a strength she is still learning to control. Her new powers helped her defeat a network of criminals in Bedlam's seedy underbelly, but Anthem doesn't want the life of a crime-fighting vigilante. She just wants to practise ballet, and help nurse Ford, her friend and partner, back to health. But when a mysterious group called the Invisible starts attacking the privileged North Siders, Anthem's whole world is thrown into chaos. Invisible's threats seem like harmless pranks at first, but as their demands escalate, people start to die. Now Anthem must step up and be the hero that the city needs, or Bedlam will fall…once and for all.
Mindy McGinnis
In a Handful of Dust (Not a Drop to Drink, Book 2)
HarperCollins Katherine Tegen (UK: 8th October 2015)
Buy (US) Buy (UK) Buy (CA) Buy (Worldwide)
Lucy's life by the pond has always been full. She has water and friends, laughter and the love of her adoptive mother, Lynn. Yet it seems Lucy's future is settled already – a house, a man, children, and a water source – and anything beyond their life by the pond is beyond reach. When disease burns through their community, the once life-saving water of the pond might be the source of what's killing them now. Rumours of a "normal" lifestyle in California set Lucy and Lynn on an epic journey west to face new dangers: hunger, mountains, deserts, betrayal, and the perils of a world so vast that Lucy fears she could be lost forever, only to disappear in a handful of dust.
Madeleine Roux
Catacomb (Asylum, Book 2)
HarperCollins (UK: 8th October 2015)
Buy (US) Buy (UK) Buy (CA) Buy (Worldwide)
Senior year is finally over. After all they've been through, Dan, Abby, and Jordan are excited to take one last road trip together, and they're just not going to think about what will happen when the summer ends. But on their way to visit Jordan's uncle in New Orleans, the three friends notice that a black muscle car appears to be following them. Then Dan starts receiving phone messages from someone he didn't expect to hear from again – someone who died last Halloween. As the strange occurrences escalate, Dan is forced to accept that everything that has happened to him in the past year may not be a coincidence, but fate – a fate that ties Dan to a group called the Bone Artists, who have a sinister fascination with notorious killers of the past. Now Dan's only hope is that he will make it out of his senior trip alive.
Kelley Armstrong
The Masked Truth
Random House Doubleday (US & CA: 13th October 2015); Hachette Little, Brown Atom (UK & AU: 13th October 2015)
Buy (US) Buy (UK) Buy (CA) Buy (Worldwide)
A few months ago, Riley Vasquez was caught up in a horrific murder. Now everyone around her thinks she's a hero. Riley isn't so sure. Meanwhile British army brat Max Cross is suffering under the shadow of a life-altering diagnosis he doesn't dare reveal. The last thing either of them wants is to spend a weekend away at a therapy camp alongside five other teens with "issues". But that's exactly where they are when three masked men burst in to take the group hostage. The building has no windows. The exits are sealed shut. Their phones are gone. And their captors are on a killing spree. Riley and Max know that if they can't get out, they'll be next. They'll have to work together – but first they'll have to trust each other with their deepest secrets.
Megan Crewe
A Sky Unbroken (Earth & Sky, Book 3)
Amazon Skyscape (US: 13th October 2015)
Buy (US) Buy (UK) Buy (CA) Buy (Worldwide)
The rebels have been disbanded, their plans ruined. Betrayed by those she trusted most, Skylar finds herself herded, along with a small group of Earthlings, into a living museum – a human zoo – on the Kemyates' space station, subject to her captors' every whim. Any move Skylar makes could result in the extinction of her people – but giving in means losing any hope of freedom. Meanwhile, Win returns home and evades punishment by pretending to be loyal to Kemya. But he can't bear knowing that Skylar is imprisoned or watch his fellow Kemyates swallow the Council's lies about Earth. He must bring the truth to the Kemyate public and see the Earthlings freed – even if it means openly challenging his world's rulers. Neither Skylar nor Win knows they are about to uncover an even deeper conspiracy – one that could push the future they're fighting for completely out of reach.
Gail Giles
Girls Like Us
Random House Candlewick (US & CA: 13th October 2015)
Buy (US) Buy (UK) Buy (CA) Buy (Worldwide)
Quincy and Biddy are both graduates of their high school's special ed. program, but they couldn't be more different: suspicious Quincy faces the world with her fists up, while gentle Biddy is frightened to step outside her front door. When they're thrown together as roommates in their first "real world" apartment, it initially seems to be an uneasy fit. But as Biddy's past resurfaces and Quincy faces a harrowing experience that no one should have to go through alone, the two of them realise that they might have more in common than they thought – and more important, that they might be able to help each other move forward.
Mira Grant
Symbiont (Parasitology, Book 2)
Hachette Orbit (US: 13th October 2015)
Buy (US) Buy (UK) Buy (CA) Buy (Worldwide)
The SymboGen designed tapeworms were created to relieve humanity of disease and sickness. But the implants in the majority of the world's population began attacking their hosts, turning them into a ravenous horde. Now those who do not appear to be afflicted are being gathered for quarantine as panic spreads, but Sal and her companions must discover how the tapeworms are taking over their hosts, what their eventual goal is, and how they can be stopped.
J. Kenner
Seduce Me (Stark Ever After, Novella)
Random House Bantam (US & CA: 13th October 2015); Hachette Headline Eternal (UK: 13th October 2015)
Buy (US) Buy (UK) Buy (CA)
I've never felt as close to anyone as I have with Damien Stark. I know every line of his body, every secret within his soul. There's nothing I crave more than his touch, and with his kiss, he seals his claim. Las Vegas is the perfect place for us, where we can indulge every desire and fantasy. But when someone from my past resurfaces, I can't ignore my instinct that I have to make things right. With Damien by my side, I feel safe no matter the danger. Our passion protects us, drives us, makes us whole. His pleasure is an exquisite game, and one that I'll play forever.
Andrea Kleine
Calf
Perseus Soft Skull Press (US: 13th October 2015)
Buy (US) Buy (UK) Buy (CA) Buy (Worldwide)
The year was 1981. The US was entering a deep recession, Russia was our enemy, and John Hinckley, Jr.'s assassination attempt on President Ronald Reagan shocked the nation. It was also the year author Andrea Kleine learned her close childhood friend had been violently murdered by her socialite mother, Leslie DeVeau. Both events took place in Washington, DC. Hinckley and Deveau were both sent to St. Elizabeth's hospital, guilty by reason of insanity. It was there that they met, and later became lovers. These two real-life and ultimately converging events inspired Kleine's novel, Calf. Made up of dual narratives and told over the course of one year, Kleine's account follows a fictionalised John Hinckley Jr. as he stalks a young actress in the lead-up to the assassination attempt, and eleven-year-old Tammy, whose friend is murdered in her sleep.
Richelle Mead
The Ruby Circle (Bloodlines, Book 6)
Penguin Razorbill (US & CA: 13th October 2015; AU: 21st October 2015)
Buy (US) Buy (UK) Buy (CA) Buy (Worldwide)
When the life of someone they both love is put on the line, Sydney risks everything to hunt down a deadly former nemesis. Meanwhile, she and Adrian become enmeshed in a puzzle that could hold the key to a shocking secret about spirit magic, a secret that could shake the entire Moroi world and alter their lives forever.
Blythe Woolston
MARTians
Random House Candlewick (US & CA: 13th October 2015)
Buy (US) Buy (UK) Buy (CA) Buy (Worldwide)
Last girl Zoë Zindleman, numerical ID 009-99-9999, is starting work at AllMART, where "your smile is the AllMART welcome mat." Her living arrangements are equally bleak: she can wait for her home to be foreclosed and stripped of anything valuable now that AnnaMom has moved away, leaving Zoë behind, or move to the Warren, an abandoned strip-mall-turned-refuge for other left-behinds. With a handful of other disaffected, forgotten kids, Zoë must find her place in a world that has consumed itself beyond redemption. She may be a last girl, but her name means "life", and Zoë isn't ready to disappear into the AllMART abyss. Zoë wants to live.
Viola Carr
The Devious Dr. Jekyll (Electric Empire, Book 2)
Harper Voyager (AU: 19th October 2015; US & CA: 27th October 2015)
Buy (US) Buy (UK) Buy (CA) Buy (Worldwide)
Solving the notorious Chopper case was supposed to help crime scene physician Dr. Eliza Jekyll – daughter of the infamous Henry – establish her career in the chauvinistic world of Victorian law enforcement. But the scrutiny that comes with her newfound fame is unwelcome for a woman with a diabolical secret: her dark and jealous shadow self, Lizzie Hyde. And there is the mercurial Royal Society agent with his own secret to hide, Captain Remy Lafayette. Does he want to marry Eliza or burn her at the stake? It's impossible, however, for Eliza to push Remy away when he tempts her with the one thing she can't resist: a bizarre crime to investigate. And although Eliza is uncertain about Remy, Lizzie isn't. Lizzie wants to steal the magnetic and persistent agent and usurp Eliza's life. As the search for a bloodthirsty torturer dubbed the Pentacle Killer draws Eliza and Remy into a terrifying world of spies, art thieves, and evil alchemy – where the price of immortality is madness or damnation – only Lizzie's dark ingenuity can help Eliza survive. Eliza and Remy must race to thwart a foul conspiracy involving the sorcerous French, but they must also overcome a sinister enemy who is all too close to home: the vengeful Lizzie, who is determined to dispose of Eliza for good.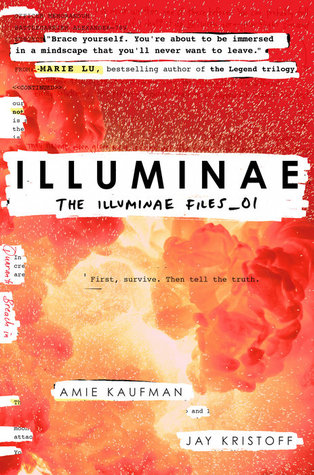 Amie Kaufman & Jay Kristoff
Illuminae
Random House Knopf (US & CA: 20th October 2015); Allen & Unwin (AU: 21st October 2015); Oneworld Rock the Boat (UK: 22nd October 2015)
Buy (US) Buy (UK) Buy (CA) Buy (Worldwide)
The year is 2575, and two rival megacorporations are at war over a planet that's little more than an ice-covered speck at the edge of the universe. Too bad nobody thought to warn the people living on it. With enemy fire raining down on them, Kady and Ezra – who are barely even talking to each other – are forced to fight their way onto one of the evacuating fleet, with an enemy warship in hot pursuit. But their problems are just getting started. A deadly plague has broken out and is mutating, with terrifying results; the fleet's AI, which should be protecting them, may actually be their enemy; and nobody in charge will say what's really going on. As Kady hacks into a tangled web of data to find the truth, it's clear only one person can help her bring it all to light: the ex-boyfriend she swore she'd never speak to again.
Leslie Tentler
Before the Storm
Left Field Press (US: 20th October 2015)
Buy (US) Buy (UK) Buy (CA)
Six years earlier, Trina Grissom disappeared, on the run for her life. Now living under an assumed identity – as Samantha Marsh – she still struggles with the dark secret she harbours and the fear she might one day be found. When she moves to the coastal town of Rarity Cove, South Carolina, to open a café, a handsome widower begins to chip away at the walls she's built to protect herself. Mark St. Clair lost his wife two years ago in a tragic accident. Head of the grand St. Clair resort, he distracts himself from his lingering grief by running the family business and caring for his troubled young daughter…until a beautiful restaurateur sets up shop in town. Before meeting Samantha, Mark was convinced he could never be drawn to another woman. But as his attraction to Samantha grows, the mystery surrounding her deepens. As the two begin a hesitant courtship, double perils emerge. Someone from Samantha's lurid past comes calling, threatening to expose her. And a powerful hurricane is forming in the Atlantic with the small beach town in its path. Trapped in the storm by the brutal man who wants vengeance on Samantha, she and Mark must fight for their lives.
Tiffany Schmidt
Hold Me Like a Breath (Once Upon a Crime Family, Book 1)
Bloomsbury (UK: 22nd October 2015)
Buy (US) Buy (UK) Buy (CA) Buy (Worldwide)
In Penelope Landlow's world, almost anything can be bought or sold. She's the daughter of one of the three crime families controlling the black market for organ transplants. Because of an autoimmune disorder that causes her to bruise easily, Penny is considered too "delicate" to handle the family business, or even to step foot outside their estate. All Penelope has ever wanted is independence – until she's suddenly thrust into the dangerous world all alone, forced to stay one step ahead of her family's enemies. As she struggles to survive the power plays of rival crime families, she learns dreams come with casualties, betrayal hurts worse than bruises, and there's nothing she won't risk for the people she loves.
Kelly Gay
Shadows Before the Sun (Charlie Madigan, Book 4)
Simon & Schuster Gallery (US, UK, & CA: 24th October 2015)
Buy (US) Buy (UK) Buy (CA) Buy (Worldwide)
Elysia may be a heavenly off-world destination, but beyond it, in the siren city of Fiallan, the Circe have punished Charlie Madigan's partner, Hank, into a torturous state between life and death. With all the proper legal channels cleared, Charlie heads to Elysia, not knowing what she'll find, or if she'll ever see the siren again…while at home, jinn crime boss Grigori Tennin has begun an all-out hunt for the divine being Ahkneri. Tennin's tactics set off a chain reaction that puts Charlie in the crosshairs of the shadowy creature known as Death, and stirs Ahkneri from her long sleep – and if Vengeance awakes, Atlanta will never be the same.
V. C. Andrews [also published as Virginia Andrews]
Bittersweet Dreams
Simon & Schuster Pocket (US, CA, & AU: 27th October 2015)
Buy (US) Buy (UK) Buy (CA) Buy (Worldwide)
Mayfair Cummings is young, beautiful, and brilliant. But her intelligence makes her the outcast of both the private school she attends and the broken family she hopes to salvage. When she catches the eye of both a popular senior and her handsome English teacher, not even her brilliant mind can help her navigate the explosive new relationships she is forming, or a scandal that is brewing…
Laura Bickle
Mercury Retrograde (Dark Alchemy, Book 2)
Harper Voyager Impulse (US, CA, & AU: 27th October 2015)
Buy (US) Buy (UK) Buy (CA)
It's been two months since Petra Dee and her coyote sidekick Sig faced off against Temperance's resident alchemist, but things are far from quiet. When an Internet video of a massive snake in the backcountry of Yellowstone goes viral, a chase for the mythical basilisk is on. Monster hunters swarm into the area, and never one to pass up the promise of discovery, Petra joins in the search. Among the newcomers is a snake cult on wheels – the biker gang Sisters of Serpens. Unlike some, the Sisters don't want to kill the basilisk – they want to worship it. But things get complicated when the basilisk develops a taste for human flesh that rivals the Sisters' own murderous skills. Meanwhile, the alchemical tree of life is dying, and the undead Hanged Men of Temperance who depend on it know the basilisk may be their last chance for survival. With time running out for everyone around her, Petra will be forced to decide who survives and who she must leave behind.
Holly Black
Red Glove (The Curse Workers, Book 2)
Simon & Schuster Saga Press (US & CA: 27th October 2015)
Buy (US) Buy (UK) Buy (CA) Buy (Worldwide)
Curses and cons. Magic and the mob. In Cassel Sharpe's world, they go together. Cassel always thought he was an ordinary guy, until he realised his memories were being manipulated by his brothers. Now he knows the truth – he's the most powerful curse worker around. A touch of his hand can transform anything – or anyone – into something else. After rescuing his brothers from Zacharov's retribution and finding out that Lila will never be his, Cassel is trying to re-establish some kind of normalcy in his life. That was never going to be easy for someone from a worker family tied to one of the big crime families, and a mother whose cons get more reckless by the day. But Cassel is also coming to terms with what it means to be a transformation worker and figuring out how to have friends. But normal doesn't last very long-soon Cassel is being courted by both sides of the law and is forced to confront his past. A past he remembers only in scattered fragments and one that could destroy his family and his future. Cassel will have to decide whose side he wants to be on because neutrality is not an option. And then he will have to pull off his biggest con ever to survive. Love is a curse and the con is the only answer in a game too dangerous to lose.
J. C. Carleson
Placebo Junkies
Random House Knopf (US & CA: 27th October 2015)
Buy (US) Buy (UK) Buy (CA) Buy (Worldwide)
Meet Audie: Professional lab rat. Guinea pig. Serial human test subject. For Audie and her friends, "volunteering" for pharmaceutical drug trials means a quick fix and easy cash. Sure, there's the occasional nasty side effect, but Audie's got things under control. If Monday's pill causes a rash, Tuesday's ointment usually clears it right up. Wednesday's injection soothes the sting from Tuesday's "cure," and Thursday's procedure makes her forget all about Wednesday's headache. By the time Friday rolls around, there's plenty of cash in hand and perhaps even a slot in a government-funded psilocybin study, because WEEKEND! But the best fix of all is her boyfriend, Dylan, whose terminal illness just makes them even more compatible. He's turning eighteen soon, so Audie is saving up to make it an unforgettable birthday. That means more drug trials than ever before, but Dylan is worth it. No pain, no gain, Audie tells herself as the pills wear away at her body and mind. No pain, no gain, she repeats as her grip on reality starts to slide…
Cassandra Rose Clarke
Our Lady of the Ice
Simon & Schuster Saga Press (US, UK, CA, & AU: 27th October 2015)
Review
Buy (US) Buy (UK) Buy (CA) Buy (Worldwide)
In Argentine Antarctica, Eliana Gomez is the only female PI in Hope City – a domed colony dependent on electricity (and maintenance robots) for heat, light, and survival in the icy deserts of the continent. At the centre is an old amusement park – now home only to the androids once programmed to entertain – but Hope City's days as a tourist destination are long over. Now the City produces atomic power for the mainland while local factions agitate for independence and a local mobster, Ignacio Cabrera, runs a brisk black-market trade in illegally imported food. Eliana doesn't care about politics. She doesn't even care – much – that her boyfriend, Diego, works as muscle for Cabrera. She just wants to save enough money to escape Hope City. But when an aristocrat hires Eliana to protect an explosive personal secret, Eliana finds herself caught up in the political tensions threatening to tear Hope City apart. In the clash of backstabbing politicians, violent freedom fighters, a gangster who will stop at nothing to protect his interests, and a newly sentient robot underclass intent on a very different independence, Eliana finds her job coming into deadly conflict with Diego's, just as the electricity that keeps Hope City from freezing begins to fail…
Tiffany Reisz
The Queen (The Original Sinners: The White Years, Book 4)
Harlequin MIRA (US: 27th October 2015)
Buy (US) Buy (UK) Buy (CA) Buy (Worldwide)
Out of money and out of options after her yearlong exile, Eleanor Schreiber agrees to join forces with Kingsley Edge, the king of kink. After her first taste of power as a Dominant, Eleanor buries her old submissive self and transforms into Mistress Nora, the Red Queen. With the help of a mysterious young man with a job even more illicit than her own, Nora squares off against a cunning rival in her quest to become the most respected, the most feared Dominatrix in the Underground. While new lovers and the sweet taste of freedom intoxicate Nora, she is tempted time and time again by Søren, her only love and the one man who refuses to bow to her. But when Søren accepts a new church assignment in a dangerous country, she must make an agonising choice – will the queen keep her throne and let her lover go, or trade in her crown for Søren's collar?