Happy Release Day to: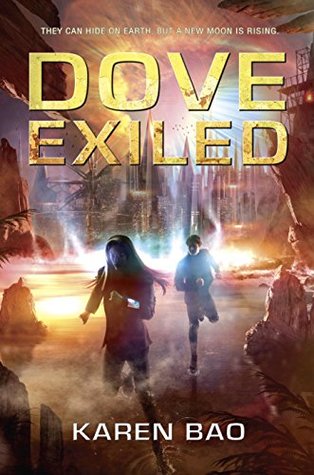 Karen Bao
Dove Exiled (Dove Chronicles, Book 2)
Penguin Random House Speak (US & CA: 3rd January 2017)
Buy (US) Buy (UK) Buy (CA) Buy (Worldwide)
Phaet Theta is a fugitive. Hiding in plain sight on the drowned planet Earth, Phaet discovers the rugged beauty of the world her ancestors once called home. All her life, she's been taught to fear the "Earthbound," and their generosity and kindness surprise and touch Phaet. But when the Lunar Bases attack her friend Wes's village, Phaet's past catches up with her, and she's forced to choose: stay on Earth and fight, or stow away on a Moon-bound ship so she can save her brother and sister from the government that killed their mother.
Katie Coyle
Vivian Apple Needs a Miracle (Vivian Apple, Book 2) [also published as Vivian Versus America]
Houghton Mifflin Harcourt (US: 3rd January 2017)
Buy (US) Buy (UK) Buy (CA) Buy (Worldwide)
Vivian and her best friend Harp fall in with a militant group that is trying to take down the Church of America as the world approaches the (supposed) apocalypse.
Merrie Destefano
Lost Girls
Entangled Teen (US: 3rd January 2017)
Buy (US) Buy (UK) Buy (CA) Buy (Worldwide)
Yesterday, Rachel went to sleep listening to Taylor Swift, curled up in her grammy's quilt, worrying about geometry. Today, she woke up in a ditch, bloodied, bruised, and missing a year of her life. She doesn't recognize the person she's become: she's popular. She wears nothing but black. Black to cover the blood. And she can fight. Tell no one. She's not the only girl to go missing within the last year…but she's the only girl to come back. She desperately wants to unravel what happened to her, to try and recover the rest of the Lost Girls. But the more she discovers, the more her memories return. And as much as her new life scares her, it calls to her. Seductively. The good girl gone bad, sex, drugs, and raves, and something darker…something she still craves – the rush of the fight, the thrill of the win – something she can't resist, that might still get her killed… The only rule is: There are no rules.
Melissa Landers
Starflight (Starflight, Book 1)
Disney-Hyperion (US: 3rd January 2017)
Buy (US) Buy (UK) Buy (CA) Buy (Worldwide)
Solara Brooks needs a fresh start, someplace where nobody cares about the engine grease beneath her fingernails or the felony tattoos across her knuckles. The outer realm may be lawless, but it's not like the law has ever been on her side. Still, off-world travel doesn't come cheap; Solara is left with no choice but to indenture herself in exchange for passage to the outer realm. She just wishes it could have been to anyone besides Doran Spaulding, the rich, pretty-boy quarterback who made her life miserable in school. The tables suddenly turn when Doran is framed for conspiracy on Earth, and Solara cons him into playing the role of her servant on board the Banshee, a ship manned by an eccentric crew with their own secrets. Given the price on both Doran and Solara's heads, it may just be the safest place in the universe. It's been a long time since Solara has believed in anyone, and Doran is the last person she expected to trust. But when the Banshee's dangerous enemies catch up with them, Solara and Doran must come together to protect the ship that has become their home – and the eccentric crew that feels like family.