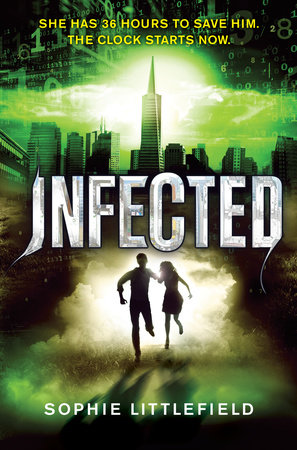 Sophie Littlefield
Infected
Penguin Random House Delacorte (US & CA: 6th January 2015)
Buy (US Kindle Edition) Buy (US Hardcover) Buy (UK) Buy (CA Kindle Edition) Buy (CA Hardcover) Buy (Worldwide)
There are times when characters in love are necessary to the story. This is not one of those times. Carina unknowingly infected Tanner via saliva with a killer illness. The plot does not require them to be in love. Carina could have gone on the run with anyone she may have kissed.
This takes place BEFORE the book begins, so we're told right from the start that Carina and Tanner are in love. And we're repeatedly reminded throughout the novel, often bordering on border prose. It's TELLING, rather than showing. Because we haven't seen them face struggles hooking up, it's hard to care for their love. I don't ship it. Neither of the characters stands out on their own, or together. Which means you'd hope to be invested in the plot instead.
Alas, no. The thing with thrillers is that you can change location, and go on the run as many times as you want. But if the story doesn't advance, and it's just an extended chase sequence… *shrug* Albanians are the antagonists here, so it's not sterling rep for that country's people.
I'm not sure how a story with a dangerous, life-threatening infection could be so shrug-worthy, but here we are. I've read much better books by the same author – try Garden of Stones instead.