Happy Release Day to: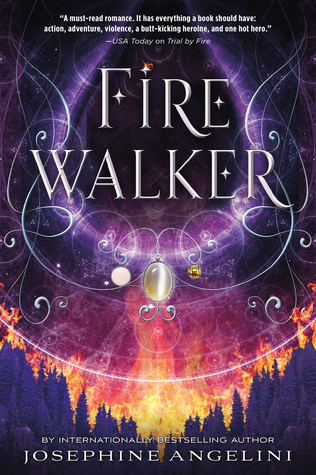 Josephine Angelini
Firewalker (Worldwalker, Book 2)
Macmillan Square Fish (US: 20th September 2016)
Buy (US) Buy (UK) Buy (CA) Buy (Worldwide)
Lily is back in her own universe, and she's ready to relax with Rowan. True, she almost died in the Pyre that fuelled their escape, and must hide her magic for the safety of the world, but compared to fighting the monstrous Woven and leading armies in the alternate Salem, life is looking good. Unfortunately, Lillian, ruthless ruler of the 13 Cities, is not willing to let Lily go that easily. If she can't persuade Lily to return to her world, she'll have to find a way to make her come back.
Josephine Angelini
Witch's Pyre (Worldwalker, Book 3)
Macmillan (US: 20th September 2016)
Buy (US) Buy (UK) Buy (CA) Buy (Worldwide)
Lily Proctor has come a long way from the weak, sickly girl she used to be. She has gained power as a witch and a leader, found her way home, chosen to face battle again, and (after losing her first love and being betrayed by her new love) she has learned more about loss and grief than she ever wanted to know. Thrust once again into a society different from anything they have ever seen, Lily and her coven are determined to find answers – to find a new path to victory, a way to defeat the monstrous Woven without resorting to nuclear weapons or becoming a tyrannical mass murderer like her alternate self, Lillian. But sometimes winning requires sacrifices…and when the only clear path to victory lies at Lillian's side, what price will Lily be willing to pay?
Mindy McGinnis
The Female of the Species
HarperCollins Katherine Tegen (US & CA: 20th September 2016)
Buy (US) Buy (UK) Buy (CA) Buy (Worldwide)
Alex Craft knows how to kill someone. And she doesn't feel bad about it. When her older sister, Anna, was murdered three years ago and the killer walked free, Alex uncaged the language she knows best. The language of violence. While her crime goes unpunished, Alex knows she can't be trusted among other people, even in her small hometown. She relegates herself to the shadows, a girl who goes unseen in plain sight, unremarkable in the high school hallways. But Jack Fisher sees her. He's the guy all other guys want to be: the star athlete gunning for valedictorian with the prom queen on his arm. Guilt over the role he played the night Anna's body was discovered hasn't let him forget Alex, and now her green eyes amid a constellation of freckles have his attention. He doesn't want to only see Alex Craft; he wants to know her. So does Peekay, the preacher's kid, a girl whose identity is entangled with her dad's job, though that does not stop her from knowing the taste of beer or missing the touch of her ex-boyfriend. When Peekay and Alex start working together at the animal shelter, a friendship forms and Alex's protective nature extends to more than just the dogs and cats they care for. Circumstances bring Alex, Jack, and Peekay together as their senior year unfolds. While partying one night, Alex's darker side breaks out, setting the teens on a collision course that will change their lives forever.
Kristen Simmons
Metaltown
Macmillan Tor (US: 20th September 2016)
Buy (US) Buy (UK) Buy (CA) Buy (Worldwide)
The rules of Metaltown are simple: Work hard, keep your head down, and watch your back. You look out for number one, and no one knows that better than Ty. She's been surviving on the factory line as long as she can remember. But now Ty has Colin. She's no longer alone; it's the two of them against the world. That's something even a town this brutal can't take away from her. Until it does. Lena's future depends on her family's factory, a beast that demands a ruthless master, and Lena is prepared to be as ruthless as it takes if it means finally proving herself to her father. But when a chance encounter with Colin, a dreamer despite his circumstances, exposes Lena to the consequences of her actions, she'll risk everything to do what's right. In Lena, Ty sees an heiress with a chip on her shoulder. Colin sees something more. In a world of disease and war, tragedy and betrayal, allies and enemies, all three of them must learn that challenging what they thought was true can change all the rules.