Done with November 2016 Releases? Here are December 2016 Releases. For future releases, check Reading Wishlist.
Claudia Gray
Ten Thousand Skies Above You (Firebird, Book 2)
HarperCollins (UK: 1st December 2016)
Buy (US) Buy (UK) Buy (CA) Buy (Worldwide)
Ever since she used the Firebird, her parents' invention, to cross into alternate dimensions, Marguerite has caught the attention of enemies who will do anything to force her into helping them dominate the multiverse – even hurting the people she loves. She resists until her boyfriend, Paul, is attacked and his consciousness scattered across multiple dimensions. Marguerite has no choice but to search for each splinter of Paul's soul. The hunt sends her racing through a war-torn San Francisco, the criminal underworld of New York City, and a glittering Paris where another Marguerite hides a shocking secret. Each world brings Marguerite one step closer to rescuing Paul. But with each trial she faces, she begins to question the destiny she thought they shared.
Keri Arthur
Winter Halo (Outcast, Book 2)
Penguin Signet (US & CA: 6th December 2016); Hachette Little, Brown Piatkus (UK & AU: 6th December 2016)
Buy (US) Buy (UK) Buy (CA) Buy (Worldwide)
When the bombs that stopped the species war tore holes in the veil between worlds, they allowed entry to the Others. Now, a hundred years later, humans and shifters alike live in artificially lit cities designed to keep the darkness at bay… The humanoid supersoldiers known as the déchet were almost eradicated by the war. Ever since, Tiger has tried to live her life in peace in hiding. But in the wake of her discovery that Central City's children are being kidnapped and experimented on, Tiger's conscience won't let her look the other way. The key to saving them lies within the walls of a pharmaceutical company called Winter Halo. But as she learns more about the facility, Tiger's mission is derailed by a complication: Winter Halo's female security guards are being systematically attacked by an unknown force. Now Tiger must summon all her gifts to stop those responsible for both atrocities – no matter the cost to herself…
Becca Fitzpatrick
Dangerous Lies
Simon & Schuster (US & CA: 6th December 2016)
Buy (US) Buy (UK) Buy (CA) Buy (Worldwide)
Stella Gordon's life is a lie. She does not belong in Thunder Basin, Nebraska. As the star witness in a murder trial against a drug dealer, Stella is now in the Witness Protection Program. The small town locals can never know who she really is. Not even Chet Falconer, the one boy who makes her want to reveal her true self. She knows that telling the truth will only bring violence to this safe haven. Despite how hard Stella tries to stay under the radar, danger is fast approaching. Criminals have a way of getting rid of witnesses, and Stella may have made the one mistake that could lead the cold-blooded men hunting for her right to her doorstep.
Amie Kaufman & Meagan Spooner
Their Fractured Light (Starbound, Book 3)
Disney-Hyperion (US: 6th December 2016)
Buy (US) Buy (UK) Buy (CA) Buy (Worldwide)
A year ago, Flynn Cormac and Jubilee Chase made the now infamous Avon Broadcast, calling on the galaxy to witness for their planet, and protect them from destruction. Some say Flynn's a madman, others whisper about conspiracies. Nobody knows the truth. A year before that, Tarver Merendsen and Lilac LaRoux were rescued from a terrible shipwreck – now, they live a public life in front of the cameras, and a secret life away from the world's gaze. Now, in the centre of the universe on the planet of Corinth, all four are about to collide with two new players, who will bring the fight against LaRoux Industries to a head. Gideon Marchant is an eighteen-year-old computer hacker known in Corinth's underworld as The Knave of Hearts. He'll climb, abseil and worm his way past the best security measures to pull off onsite hacks that others don't dare touch. Sofia Quinn has a killer smile, and by the time you're done noticing it, she's got you offering up your wallet, your car, and anything else she desires. She holds LaRoux Industries responsible for the mysterious death of her father and is out for revenge at any cost. When a LaRoux Industries security breach interrupts Gideon and Sofia's separate attempts to infiltrate their headquarters, they're forced to work together to escape. Each of them has their own reason for wanting to take down LaRoux Industries, and neither trusts the other. But working together might be the best chance they have to expose the secrets LRI is so desperate to hide.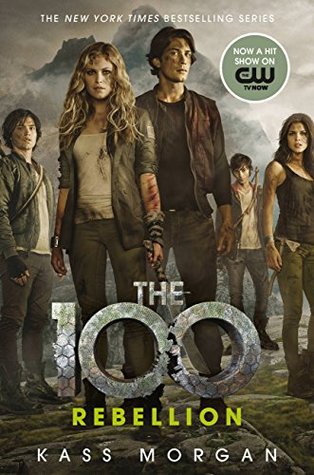 Kass Morgan
Rebellion (The 100, Book 4)
Hachette (US: 6th December 2016; AU: 13th December 2016; UK: 15th December 2016)
Buy (US) Buy (UK) Buy (CA) Buy (Worldwide)
It's been a month since the new dropships landed and the rest of the Colonists joined the hundred on the ground. The teens, once branded juvenile delinquents, are now leaders among their people. It should be a time for celebration and togetherness, but a new threat appears before long: a fanatical cult determined to grow its ranks and "heal" the war-ravaged planet…by eliminating everyone else on it. After scores of their friends are captured, CLARKE sets off to retrieve them, certain that she can come to an understanding with these strangers. BELLAMY has a different plan; he won't let anything – or anyone – get in the way of saving the people he loves. Meanwhile, in captivity and scared for their lives, GLASS falls under the spell of the cult's magnetic message, and WELLS has to learn how to lead again. Unless the rescue party arrives soon, the teen captives will face a fate more terrifying than anything they could imagine. If the hundred ever want to call this dangerous planet home, they'll need to put aside their differences and fight to protect themselves and their world.
Eileen Rendahl
Cover Me in Darkness
Llewellyn Midnight Ink (US: 8th December 2016)
Buy (US) Buy (UK) Buy (CA) Buy (Worldwide)
Amanda Sinclair has to fight harder than most for everything she has after fleeing the cult that left her brother dead at her mother's hand. Amanda works a quiet job in quality control for a small cosmetics company, trying to leave her past behind her – until she learns that her mother has committed suicide in the mental ward where she's been locked away for the past ten years. But when Amanda receives her mother's personal belongings, she finds a troubling connection to the upcoming parole hearing for cult leader Patrick Collier. And then troubling things begin happening to Amanda herself. Teaming up with her mother's psychologist, Amanda starts to peel away the layers of secrets that she's built between herself and her own past, and what she finds is a truth that's almost too big to believe.
Rachel Vincent
Alpha (Shifters, Book 6)
Harlequin MIRA (US: 12th December 2016)
Buy (US) Buy (UK) Buy (CA) Buy (Worldwide)
The unscrupulous new Council chair has charged Jace, Marc and me with trespassing, kidnapping, murder and treason. Yeah, we've been busy. But now it's time to take justice into our own hands. We must avenge my brother's death and carve out the rot at the heart of the Council. It's not going to be easy, and loss seems unavoidable, but I have promised to protect my Pride, no matter what. With a target on my back and Marc at my side, I'm heading for a final showdown that can – that will – change everything forever. A showdown I'm not sure I'm ready for. But life never waits until you're ready.
Laura Bickle
Nine of Stars (Wildlands, Book 1)
HarperCollins Voyager (US & CA: 27th December 2016; UK: 29th December 2016)
Buy (US) Buy (UK) Buy (CA) Buy (Worldwide)
Winter has always been a deadly season in Temperance, but this time, there's more to fear than just the cold… As the daughter of an alchemist, Petra Dee has faced all manner of occult horrors – especially since her arrival in the small town of Temperance, Wyoming. But she can't explain the creature now stalking the backcountry of Yellowstone, butchering wolves and leaving only their skins behind in the snow. Rumours surface of the return of Skinflint Jack, a nineteenth-century wraith that kills in fulfilment of an ancient bargain. The new sheriff in town, Owen Rutherford, isn't helping matters. He's a dangerously haunted man on the trail of both an unsolved case and a fresh kill – a bizarre murder leading him right to Petra's partner Gabriel. And while Gabe once had little to fear from the mortal world, he's all too human now. This time, when violence hits close to home, there are no magical solutions. It's up to Petra and her coyote sidekick Sig to get ahead of both Owen and the unnatural being hunting them all – before the trail turns deathly cold.
Kelley Armstrong
City of the Lost (Casey Duncan, Book 1)
Hachette Little, Brown Sphere (UK: 29th December 2016)
Buy (US) Buy (UK) Buy (CA) Buy (Worldwide)
Welcome to Rockton: a secret town cut off from the rest of the world. If you need a place to hide, this is the perfect place to start again. There's just one catch. You can't leave. Even if there's a killer on the loose. Detective Casey Duncan has a dark past, and it's about to catch up with her. When her best friend Diana is attacked by an abusive ex, the two women realise they have to disappear, fast. Diana's heard of a hidden town that's so remote it's almost impossible to reach. A town that desperately needs a new detective. Casey has barely arrived in Rockton when a body is discovered. A man's been murdered and there's no time to waste. Casey's job won't be easy: everyone in town has a secret. Meanwhile her boss, Sheriff Eric Dalton, is a brooding, troubled man who's hard to read and even harder to please. With no chance of help from the outside world, Casey must rely on her wits and experience to solve the case. But she's running out of time. Rockton's killer is on the hunt, and this deep in the wilderness, no one is safe.
Laura Ruby
Bone Gap
Faber (UK: 29th December 2016)
Buy (US) Buy (UK) Buy (CA) Buy (Worldwide)
Everyone knows Bone Gap is full of gaps – gaps to trip you up, gaps to slide through so you can disappear forever. So when young, beautiful Roza goes missing, the people of Bone Gap aren't surprised. After all, it isn't the first time someone's slipped away and left Finn and Sean O'Sullivan on their own. Finn knows that's not what happened with Roza. He knows she was taken, ripped from the cornfields by a man whose face he can't remember. But no one believes him anymore. Well, almost no one. Petey Willis, the beekeeper's daughter, suspects that lurking behind Finn's fearful shyness is a story worth uncovering. But as we, like Petey, follow the stories of Finn, Roza, and the people of Bone Gap – their melancholy pasts, their terrifying presents, their uncertain futures – the truth about what happened to Roza is slowly revealed. And it is stranger than you can possibly imagine.