Done with December 2016 Releases? Here are January 2017 Releases. For future releases, check Reading Wishlist.
Ilsa J. Bick
The Dickens Mirror (Dark Passages, Book 2)
Lerner Carolrhoda Lab (US: 1st January 2017)
Buy (US) Buy (UK) Buy (CA) Buy (Worldwide)
Emma Lindsay has nowhere to go. Her friends are dead. Eric and Casey are lost to the Dark Passages. Emma commands the cynosure, a device that allows for safe passage between the Many Worlds, to put her where she might find her friends again. But Emma wakes up in the body of Little Lizzie, all grown up. And in this alternative Victorian London, Elizabeth McDermott is mad. Elizabeth's physician, Dr. Kramer, has drugged her to allow Emma – who's blinked to this London before – to emerge as the dominant personality. Elizabeth is dying, and if Emma can't find a way out, everyone as they exist in this London will die with her.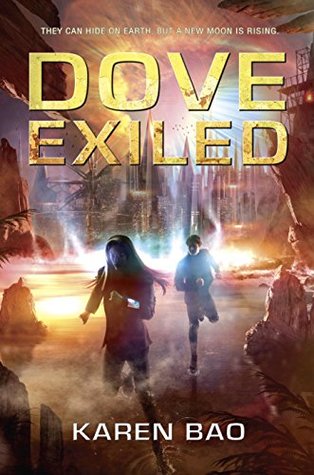 Karen Bao
Dove Exiled (Dove Chronicles, Book 2)
Penguin Random House Speak (US & CA: 3rd January 2017)
Buy (US) Buy (UK) Buy (CA) Buy (Worldwide)
Phaet Theta is a fugitive. Hiding in plain sight on the drowned planet Earth, Phaet discovers the rugged beauty of the world her ancestors once called home. All her life, she's been taught to fear the "Earthbound," and their generosity and kindness surprise and touch Phaet. But when the Lunar Bases attack her friend Wes's village, Phaet's past catches up with her, and she's forced to choose: stay on Earth and fight, or stow away on a Moon-bound ship so she can save her brother and sister from the government that killed their mother.
Katie Coyle
Vivian Apple Needs a Miracle (Vivian Apple, Book 2) [also published as Vivian Versus America]
Houghton Mifflin Harcourt (US: 3rd January 2017)
Buy (US) Buy (UK) Buy (CA) Buy (Worldwide)
Vivian and her best friend Harp fall in with a militant group that is trying to take down the Church of America as the world approaches the (supposed) apocalypse.
Merrie Destefano
Lost Girls
Entangled Teen (US: 3rd January 2017)
Buy (US) Buy (UK) Buy (CA) Buy (Worldwide)
Yesterday, Rachel went to sleep listening to Taylor Swift, curled up in her grammy's quilt, worrying about geometry. Today, she woke up in a ditch, bloodied, bruised, and missing a year of her life. She doesn't recognize the person she's become: she's popular. She wears nothing but black. Black to cover the blood. And she can fight. Tell no one. She's not the only girl to go missing within the last year…but she's the only girl to come back. She desperately wants to unravel what happened to her, to try and recover the rest of the Lost Girls. But the more she discovers, the more her memories return. And as much as her new life scares her, it calls to her. Seductively. The good girl gone bad, sex, drugs, and raves, and something darker…something she still craves – the rush of the fight, the thrill of the win – something she can't resist, that might still get her killed… The only rule is: There are no rules.
Melissa Landers
Starflight (Starflight, Book 1)
Disney-Hyperion (US: 3rd January 2017)
Buy (US) Buy (UK) Buy (CA) Buy (Worldwide)
Solara Brooks needs a fresh start, someplace where nobody cares about the engine grease beneath her fingernails or the felony tattoos across her knuckles. The outer realm may be lawless, but it's not like the law has ever been on her side. Still, off-world travel doesn't come cheap; Solara is left with no choice but to indenture herself in exchange for passage to the outer realm. She just wishes it could have been to anyone besides Doran Spaulding, the rich, pretty-boy quarterback who made her life miserable in school. The tables suddenly turn when Doran is framed for conspiracy on Earth, and Solara cons him into playing the role of her servant on board the Banshee, a ship manned by an eccentric crew with their own secrets. Given the price on both Doran and Solara's heads, it may just be the safest place in the universe. It's been a long time since Solara has believed in anyone, and Doran is the last person she expected to trust. But when the Banshee's dangerous enemies catch up with them, Solara and Doran must come together to protect the ship that has become their home – and the eccentric crew that feels like family.
Kelley Armstrong
City of the Lost (Casey Duncan, Book 2)
Penguin Random House Vintage (CA: 10th January 2017); Hachette Sphere (AU: 10th January 2017); St. Martin's Minotaur (US: 17th January 2017)
Buy (US) Buy (UK) Buy (CA) Buy (Worldwide)
Casey Duncan is a homicide detective with a secret: when she was in college, she killed a man. She was never caught, but he was the grandson of a mobster and she knows that someday this crime will catch up to her. Casey's best friend, Diana, is on the run from a violent, abusive ex-husband. When Diana's husband finds her, and Casey herself is attacked shortly after, Casey knows it's time for the two of them to disappear again. Diana has heard of a town made for people like her, a town that takes in people on the run who want to shed their old lives. You must apply to live in Rockton and if you're accepted, it means walking away entirely from your old life, and living off the grid in the wilds of Canada: no cell phones, no Internet, no mail, no computers, very little electricity, and no way of getting in or out without the town council's approval. As a murderer, Casey isn't a good candidate, but she has something they want: She's a homicide detective, and Rockton has just had its first real murder. She and Diana are in. However, soon after arriving, Casey realizes that the identity of a murderer isn't the only secret Rockton is hiding – in fact, she starts to wonder if she and Diana might be in even more danger in Rockton than they were in their old lives.
Kim Liggett
The Last Harvest
Macmillan Tor (US: 10th January 2017)
Buy (US) Buy (UK) Buy (CA) Buy (Worldwide)
"I plead the blood." Those were the last words seventeen-year-old golden boy quarterback Clay Tate heard rattling from his dad's throat when he discovered him dying on the barn floor of the Neely cattle ranch, clutching a crucifix to his chest. Now, on the first anniversary of the Midland, Oklahoma, slaughter, the whole town's looking at Clay like he might be next to go over the edge. Clay wants to forget the past, but the sons and daughters of the Preservation Society – a group of prominent farmers his dad accused of devil worship – won't leave him alone. Including Ali, his long-time crush, who suddenly wants to reignite their romance after a year of silence, and hated rival Tyler Neely, who's behaving like they're old friends. Even as Clay tries to reassure his self, creepy glances turn to sinister stares and strange coincidences build to gruesome rituals – but when he can never prove that any of it happened, Clay worries he might be following his dad down the path to insanity…or that something far more terrifying lies in wait around the corner.
Veronica Roth
Carve the Mark
HarperCollins (US, UK, & CA: 17th January 2017; AU: 18th January 2017)
Buy (US) Buy (UK) Buy (CA) Buy (Worldwide)
On a planet where violence and vengeance rule, in a galaxy where some are favoured by fate, everyone develops a currentgift, a unique power meant to shape the future. While most benefit from their currentgifts, Akos and Cyra do not – their gifts make them vulnerable to others' control. Can they reclaim their gifts, their fates, and their lives, and reset the balance of power in this world? Cyra is the sister of the brutal tyrant who rules the Shotet people. Cyra's currentgift gives her pain and power – something her brother exploits, using her to torture his enemies. But Cyra is much more than just a blade in her brother's hand: she is resilient, quick on her feet, and smarter than he knows. Akos is from the peace-loving nation of Thuvhe, and his loyalty to his family is limitless. Though protected by his unusual currentgift, once Akos and his brother are captured by enemy Shotet soldiers, Akos is desperate to get his brother out alive – no matter what the cost. When Akos is thrust into Cyra's world, the enmity between their countries and families seems insurmountable. They must decide to help each other to survive – or to destroy one another.
Katie McGarry
Long Way Home (Thunder Road, Book 3)
Harlequin Teen (AU: 23rd January 2017; US: 31st January 2017)
Buy (US) Buy (UK) Buy (CA) Buy (Worldwide)
Seventeen-year-old Violet has always been expected to sit back and let the boys do all the saving. It's the code her father, a member of the Reign of Terror motorcycle club, raised her to live by. Yet when her dad is killed carrying out Terror business, Violet knows it's up to her to do the saving. To protect herself, and her vulnerable younger brother, she needs to cut all ties with the club – including Chevy, the boy she's known and loved her whole life. But when a rival club comes after Violet, exposing old secrets and making new threats, she's forced to question what she thought she knew about her father, the Reign of Terror and what she thinks she wants. Which means re-evaluating everything: love, family, friends…and forgiveness. Caught in the crosshairs between loyalty and freedom, Violet must decide whether old friends can be trusted – and if she's strong enough to be the one person to save them all.
Rachel Vincent
The Flame Never Dies (Well of Souls, Book 2)
Harlequin Teen (AU: 23rd January 2017)
Buy (US) Buy (UK) Buy (CA) Buy (Worldwide)
Nina Kane was born to be an exorcist. And since uncovering the horrifying truth – that the war against demons is far from over – seventeen-year-old Nina and her pregnant sister, Mellie, have been on the run, incinerating the remains of the demon horde as they go. In the badlands, Nina, Mellie, and Finn, the fugitive and rogue exorcist who saved her life, find allies in a group of freedom fighters. They also face a new threat: Pandemonia, a city full of demons. But this fresh new hell is the least of Nina's worries. The well of souls ran dry more than a century ago, drained by the demons secretly living among humans, and without a donor soul, Mellie's child will die within hours of its birth. Nina isn't about to let that happen…even if it means she has to make the ultimate sacrifice.
Steven Brust & Skyler White
The Skill of Our Hands (Incrementalists, Book 2)
Macmillan Tor (US: 24th January 2017)
Buy (US) Buy (UK) Buy (CA) Buy (Worldwide)
The Incrementalists are a secret society of two hundred people – an unbroken lineage reaching back forty thousand years. They cheat death, share lives and memories, and communicate with one another across nations and time. They have an epic history, an almost magical memory, and a very modest mission: to make the world better, a little bit at a time. Now Phil, the Incrementalist whose personality has stayed stable through more incarnations than anyone else's, has been shot dead. They'll bring him back – but first they need to know what happened. Their investigation will lead down unexpected paths in Arizona, and bring them up against corruption, racism, and brutality in high and low places alike. But the key may lay in one of Phil's previous lives, in "Bleeding Kansas" in the late 1850s – and the fate of the passionate abolitionist we remember as John Brown.
Darynda Jones
Eleventh Grave in Moonlight (Charley Davidson, Book 11)
Macmillan St. Martin's (US: 24th January 2017); Hachette Little, Brown Piatkus (UK & AU: 24th January 2017)
Buy (US) Buy (UK) Buy (CA) Buy (Worldwide)
A typical day in the life of Charley Davidson involves cheating husbands, errant wives, missing people, philandering business owners, and, oh yeah…demons, hell hounds, evil gods, and dead people. Lots and lots of dead people. As a part time Private Investigator and full-time Grim Reaper, Charley has to balance the good, the bad, the undead, and those who want her dead. Now, Charley is learning to make peace with the fact that she is a goddess with all kinds of power and that her own daughter has been born to save the world from total destruction. But the forces of hell are determined to see Charley banished forever to the darkest corners of another dimension. With the son of Satan himself as her husband and world-rocking lover, will Charley be able to defeat the ultimate evil and find a way to have her happily ever after all?
Julianna Baggott
The Virtual Swallows of Hog Island
Macmillan Tor (US: 25th January 2017)
Buy (US) Buy (UK) Buy (CA)
A programmer finds himself working for the self-proclaimed "Bad-Boy of Virtual-Reality Therapy." While his boss is breaking new ground and breaking the rules and his co-workers are engaging in questionable uses of the latest technology, the lonely programmer is in a state of mourning over his deep personal losses and must figure out his own form of therapy.
Katie Khan
Hold Back the Stars
Penguin Random House Doubleday (UK: 26th January 2017; AU: 30th January 2017)
Buy (US) Buy (UK) Buy (CA) Buy (Worldwide)
Carys and Max have ninety minutes of air left. None of this was supposed to happen. But, perhaps this doesn't need to be the end… Adrift in space with nothing to hold on to but each other, Carys and Max can't help but look back at the well-ordered world they have left behind – at the rules they couldn't reconcile themselves to, and a life to which they might now never return. For in a world where love is banned, what happens when you find it?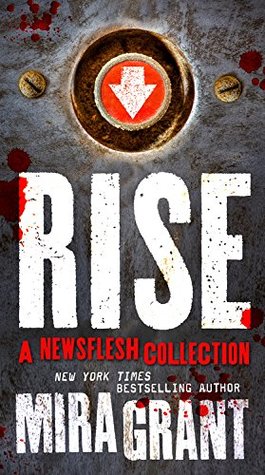 Mira Grant
Rise (Newsflesh, Anthology)
Hachette Orbit (US: 31st January 2017)
Buy (US) Buy (UK) Buy (CA) Buy (Worldwide)
Collected here is every piece of short fiction from the Newsflesh series, with two new never-before-published novellas and all eight short works available for the first time in print. America is paralysed with fear. No one leaves their houses and entire swaths of the country have been abandoned. And only the brave, the determined, or the very stupid, venture out into the wild… Contents: 1. Countdown; 2. Everglades; 3. San Diego 2014; 4. How Green This Land, How Blue This Sea; 5. The Day the Dead Came to Show and Tell; 6. Please Do Not Taunt the Octopus; 7. All the Pretty Little Horses (Never Before Published); 8. Coming to You Live (Never Before Published).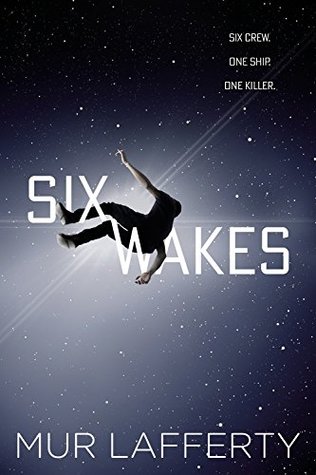 Mur Lafferty
Six Wakes
Hachette Orbit (US: 31st January 2017)
Buy (US) Buy (UK) Buy (CA) Buy (Worldwide)
It was not common to awaken in a cloning vat streaked with drying blood. At least, Maria Arena had never experienced it. She had no memory of how she died. That was also new; before, when she had awakened as a new clone, her first memory was of how she died. Maria's vat was in the front of six vats, each one holding the clone of a crew member of the starship Dormire, each clone waiting for its previous incarnation to die so it could awaken. And Maria wasn't the only one to die recently…
Katie McGarry
Walk the Edge (Thunder Road, Book 2)
Harlequin Teen (US: 31st January 2017)
Buy (US) Buy (UK) Buy (CA) Buy (Worldwide)
Smart. Responsible. That's seventeen-year-old Breanna's role in her large family, and heaven forbid she put a toe out of line. Until one night of shockingly un-Breanna-like behaviour puts her into a vicious cyberbully's line of fire – and brings fellow senior Thomas "Razor" Turner into her life. Razor lives for the Reign of Terror motorcycle club, and good girls like Breanna just don't belong. But when he learns she's being blackmailed over a compromising picture of the two of them – a picture that turns one unexpected and beautiful moment into ugliness – he knows it's time to step outside the rules. And so they make a pact: he'll help her track down her blackmailer, and in return she'll help him seek answers to the mystery that's haunted him – one that not even his club brothers have been willing to discuss. But the more time they spend together, the more their feelings grow. And suddenly they're both walking the edge of discovering who they really are, what they want, and where they're going from here.