Done with January 2016 Releases? Here are February 2016 Releases. For future releases, check Reading Wishlist.
V. C. Andrews [also published as Virginia Andrews]
Sage's Eyes
Simon & Schuster (AU: 1st February 2016; UK: 11th February 2016)
Buy (US) Buy (UK) Buy (CA) Buy (Worldwide)
Sixteen-year-old Sage is a lonely child. Her adoptive parents watch her obsessively, as if studying her for warning signs of…something. And maybe they're right to – even she can't make sense of the strange things she sees and hears. She possesses knowledge that other teenagers don't, that her parents and teachers – no adult – could possibly have. So when Sage finally makes a friend who understands her alarming gift, he becomes her confidant, a precarious link to the truth about who she really is. For Sage and the alluring new boy at school share many things in common. Perhaps, they'll learn far too many things.
Maggie Stiefvater
Blue Lily, Lily Blue (Raven Cycle, Book 3)
Scholastic (AU: 1st February 2016)
Buy (US) Buy (UK) Buy (CA) Buy (Worldwide)
Blue Sargent has found things. For the first time in her life she has friends she can trust, a group to which she can belong. The Raven Boys have taken her in as one of their own. Their problems have become hers and her problems have become theirs. The trick with found things though, is how easily they can be lost. Friends can betray. Mothers can disappear. Visions can mislead. Certainties can unravel.
Meg Cabot
Remembrance (Mediator, Book 7)
HarperCollins William Morrow (US & CA: 2nd February 2016)
Buy (US) Buy (UK) Buy (CA) Buy (Worldwide)
All Susannah Simon wants is to make a good impression at her first job since graduating from college (and since becoming engaged to Dr. Jesse de Silva). But when she's hired as a guidance counsellor at her alma mater, she stumbles across a decade-old murder, and soon ancient history isn't all that's coming back to haunt her. Old ghosts as well as new ones are coming out of the woodwork, some to test her, some to vex her, and it isn't only because she's a mediator, gifted with second sight. From a sophomore haunted by the murderous spectre of a child to ghosts of a very different kind – including Paul Slater, Suze's ex, who shows up to make a bargain Suze is certain must have come from the Devil himself – Suze isn't sure she'll make it through the semester, let alone to her wedding night. Suze is used to striking first and asking questions later. But what happens when ghosts from her past – including one she found nearly impossible to resist – strike first?
Megan Hart
Little Secrets
Samhain (US: 2nd February 2016)
Buy (US) Buy (UK) Buy (CA) Buy (Worldwide)
With a baby on the way and a brand new house, it seems Ginny and her husband, Sean, are on their way to a fresh start. But strange occurrences and financial strain seem determined to keep Ginny and Sean stuck in the past. Ginny begins to believe the house may be haunted…or that her husband might be trying to trick her into thinking so. As Ginny researches the house's former owner and the tragedy that happened there, it becomes clearer than ever that something is in the house with them. The question is, who…or what…is it?
Melissa Landers
Invaded (Alienated, Book 2)
Disney-Hyperion (US: 2nd February 2016)
Buy (US) Buy (UK) Buy (CA) Buy (Worldwide)
Cara always knew life on planet L'eihr would be an adjustment. With Aelyx, her L'eihr boyfriend, back on Earth, working to mend the broken alliance between their two planets, Cara is left to fend for herself at a new school, surrounded by hostile alien clones. Even the weird dorm pet hates her. Things look up when Cara is appointed as human representative to a panel preparing for a human colony on L'eihr. A society melding their two cultures is a place where Cara and Aelyx could one day make a life together. But with L'eihr leaders balking at granting even the most basic freedoms, Cara begins to wonder if she could ever be happy on this planet, even with Aelyx by her side. Meanwhile, on Earth, Aelyx finds himself thrown into a full-scale PR campaign to improve human-L'eihr relations. Humans don't know that their very survival depends on this alliance: only Aelyx's people have the technology to fix the deadly contamination in the global water supply that human governments are hiding. Yet despite their upper hand, the leaders of his world suddenly seem desperate to get humans on their side, and hardly bat an eye at extremists' multiple attempts on Aelyx's life. The Way clearly needs humans' help…but with what? And what will they ask for in return?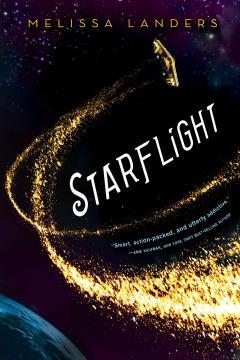 Melissa Landers
Starflight
Disney-Hyperion (US: 2nd February 2016)
Buy (US) Buy (UK) Buy (CA) Buy (Worldwide)
Solara Brooks needs a fresh start, someplace where nobody cares about the engine grease beneath her fingernails or the felony tattoos across her knuckles. The outer realm may be lawless, but it's not like the law has ever been on her side. Still, off-world travel doesn't come cheap; Solara is left with no choice but to indenture herself in exchange for passage to the outer realm. She just wishes it could have been to anyone besides Doran Spaulding, the rich, pretty-boy quarterback who made her life miserable in school. The tables suddenly turn when Doran is framed for conspiracy on Earth, and Solara cons him into playing the role of her servant on board the Banshee, a ship manned by an eccentric crew with their own secrets. Given the price on both Doran and Solara's heads, it may just be the safest place in the universe. It's been a long time since Solara has believed in anyone, and Doran is the last person she expected to trust. But when the Banshee's dangerous enemies catch up with them, Solara and Doran must come together to protect the ship that has become their home – and the eccentric crew that feels like family.
Marissa Meyer
Fairest (Lunar Chronicles, Book 3.5)
Macmillan Square Fish (US: 2nd February 2016)
Buy (US) Buy (UK) Buy (CA) Buy (Worldwide)
Pure evil has a name, hides behind a mask of deceit, and uses her "glamour" to gain power. But who is Queen Levana? Long before she crossed paths with Cinder, Scarlet, and Cress, Levana lived a very different story – a story that has never been told…until now.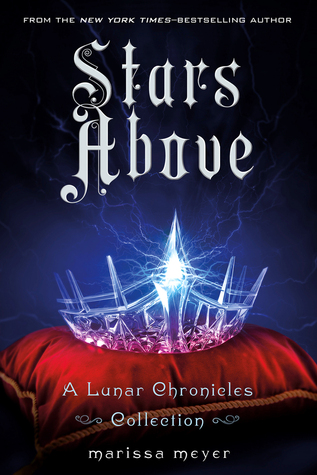 Marissa Meyer
Stars Above (Lunar Chronicles, Anthology)
Macmillan Feiwel & Friends (US: 2nd February 2016)
Buy (US) Buy (UK) Buy (CA) Buy (Worldwide)
How did Cinder first arrive in New Beijing? How did the brooding soldier Wolf transform from young man to killer? When did Princess Winter and the palace guard Jacin realize their destinies? Nine stories – five of which have never before been published.
Madeleine Roux
The Asylum Novellas (Asylum, Anthology)
HarperCollins (US & CA: 2nd February 2016)
Buy (US) Buy (UK) Buy (CA) Buy (Worldwide)
In The Scarlets, Cal is drawn into New Hampshire College's twisted secret society – one with a deadly initiation. In The Bone Artists, Oliver tries to make a little extra money for college by working for a seedy organization that traffics in human bones. In The Warden, a young nurse starts a new job at the Brookline asylum but soon becomes suspicious of its unorthodox procedures…
R. C. Lewis
Stitching Snow
Hachette Little, Brown (AU: 9th February 2016)
Buy (US) Buy (UK) Buy (CA) Buy (Worldwide)
Princess Snow is missing. Her home planet is filled with violence and corruption at the hands of King Matthias and his wife as they attempt to punish her captors. The king will stop at nothing to get his beloved daughter back – but that's assuming she wants to return at all. Essie has grown used to being cold. Temperatures on the planet Thanda are always sub-zero, and she fills her days with coding and repairs for the seven loyal drones that run the local mines. When a mysterious young man named Dane crash-lands near her home, Essie agrees to help the pilot repair his ship. But soon she realizes that Dane's arrival was far from accidental, and she's pulled into the heart of a war she's risked everything to avoid.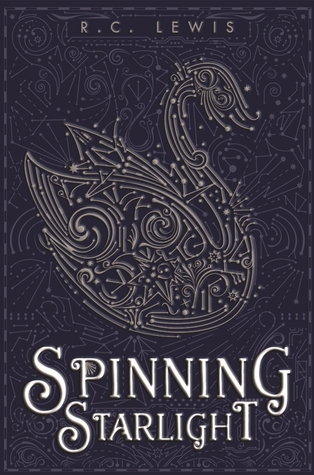 R. C. Lewis
Spinning Starlight
Hachette Little, Brown (AU: 9th February 2016)
Buy (US) Buy (UK) Buy (CA) Buy (Worldwide)
Sixteen-year-old heiress and paparazzi darling Liddi Jantzen hates the spotlight. But as the only daughter in the most powerful tech family in the galaxy, it's hard to escape it. So when a group of men shows up at her house uninvited, she assumes it's just the usual media-grubs. That is, until shots are fired. Liddi escapes, only to be pulled into an interplanetary conspiracy more complex than she ever could have imagined. Her older brothers have been caught as well, trapped in the conduits between the planets. And when their captor implants a device in Liddi's vocal cords to monitor her speech, their lives are in her hands: One word and her brothers are dead. Desperate to save her family from a desolate future, Liddi travels to another world, where she meets the one person who might have the skills to help her bring her eight brothers home – a handsome dignitary named Tiav. But without her voice, Liddi must use every bit of her strength and wit to convince Tiav that her mission is true. With the tenuous balance of the planets deeply intertwined with her brothers' survival, just how much is Liddi willing to sacrifice to bring them back?
Parker Peevyhouse
Where Futures End
Penguin Kathy Dawson (US: 9th February 2016)
Buy (US) Buy (UK) Buy (CA) Buy (Worldwide)
Five teens, five futures. Dylan develops a sixth sense that allows him to glimpse another world. Brixney must escape a debtor colony by finding a way to increase the number of hits on her social media feed so she'll attract corporate sponsorship. Epony goes "High Concept" and poses as an otherworldly being to recapture her boyfriend's attention. Reef struggles to survive in a city turned virtual gameboard. And Quinn uncovers the alarming secret that links them all. These are stories about a world that is destroying itself, and about the alternate world that might be its saviour. Unless it's just the opposite.
V. C. Andrews [also published as Virginia Andrews]
Bittersweet Dreams
Simon & Schuster (UK: 11th February 2016)
Buy (US) Buy (UK) Buy (CA) Buy (Worldwide)
Mayfair Cummings is young, beautiful, and brilliant. But her intelligence makes her the outcast of both the private school she attends and the broken family she hopes to salvage. When she catches the eye of both a popular senior and her handsome English teacher, not even her brilliant mind can help her navigate the explosive new relationships she is forming, or a scandal that is brewing…
Jennifer Longo
Up to This Pointe
Random House (AU: 15th February 2016)
Buy (US) Buy (UK) Buy (CA) Buy (Worldwide)
Harper is a dancer. She and her best friend, Kate, have one goal: becoming professional ballerinas. And Harper won't let anything – or anyone – get in the way of The Plan, not even the boy she and Kate are both drawn to. Harper is a Scott. She's related to Robert Falcon Scott, the explorer who died racing to the South Pole. So when Harper's life takes an unexpected turn, she finagles (read: lies) her way to the icy dark of McMurdo Station…in Antarctica. Extreme, but somehow fitting – apparently she has always been in the dark, dancing on ice this whole time. And no one warned her. Not her family, not her best friend, not even the boy who has somehow found a way into her heart.
Caragh M. O'Brien
The Vault of Dreamers (Vault of Dreamers, Book 1)
Macmillan Square Fish (US: 16th February 2016)
Buy (US) Buy (UK) Buy (CA) Buy (Worldwide)
The Forge School is the most prestigious arts school in the country. The secret to its success: every moment of the students' lives is televised as part of the insanely popular Forge Show, and the students' schedule includes twelve hours of induced sleep meant to enhance creativity. But when first year student Rosie Sinclair skips her sleeping pill, she discovers there is something off about Forge. In fact, she suspects that there are sinister things going on deep below the reaches of the cameras in the school. What's worse is, she starts to notice that the ridges of her consciousness do not feel quite right. And soon, she unearths the ghastly secret that the Forge School is hiding – and what it truly means to dream there.
Caragh M. O'Brien
The Rule of Mirrors (Vault of Dreamers, Book 2)
Macmillan Roaring Brook (US: 16th February 2016)
Buy (US) Buy (UK) Buy (CA) Buy (Worldwide)
The entire country was watching when Rosie Sinclair was expelled from Forge, the prestigious arts school that doubles as a reality TV show. But few know how Dean Berg was mining students' dreams in laboratories deep below the school. And no one, least of all the Dean himself, knows that when Rosie's dreams were seeded into the mind of another patient, Rosie's consciousness woke up in that body – a girl far from Forge, a girl with a completely different life from Rosie, a girl who is pregnant.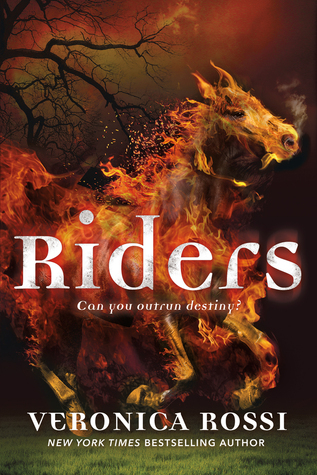 Veronica Rossi
Riders
Macmillan Tor (US: 16th February 2016)
Buy (US) Buy (UK) Buy (CA) Buy (Worldwide)
For eighteen-year-old Gideon Blake, nothing but death can keep him from achieving his goal of becoming a U.S. Army Ranger. As it turns out, it does. Recovering from the accident that most definitely killed him, Gideon finds himself with strange new powers and a bizarre cuff he can't remove. His death has brought to life his real destiny. He has become War, one of the legendary four horsemen of the apocalypse. Over the coming weeks, he and the other horsemen – Conquest, Famine, and Death – are brought together by a beautiful but frustratingly secretive girl to help save humanity from an ancient evil on the emergence. They fail. Now – bound, bloodied, and drugged – Gideon is interrogated by the authorities about his role in a battle that has become an international incident. If he stands any chance of saving his friends and the girl he's fallen for – not to mention all of humankind – he needs to convince the sceptical government officials the world is in imminent danger. But will anyone believe him?
Veronica Roth
Allegiant (Divergent, Book 3)
HarperCollins Katherine Tegen (US, UK, & CA: 16th February 2016; AU: 22nd February 2016)
Buy (US) Buy (UK) Buy (CA) Buy (Worldwide)
One choice will define you. What if your whole world was a lie? What if a single revelation – like a single choice – changed everything? What if love and loyalty made you do things you never expected?
Karen Bao
Dove Exiled (Dove Chronicles, Book 2)
Penguin Viking (US & CA: 23rd February 2016)
Buy (US) Buy (UK) Buy (CA) Buy (Worldwide)
Phaet Theta is a fugitive. Hiding in plain sight with her friend Wes's family on the drowned planet Earth, Phaet discovers the rugged beauty of the world her ancestors once called home. All her life, she's been taught to fear the "Earthbound," and their generosity and kindness surprise and touch Phaet. But when the Lunar Bases attack Wes's isolated village, Phaet's past catches up with her, and she's forced to choose: stay on Earth and fight beside the boy she's falling for, or stow away on a Moon-bound ship so she can save her brother and sister from the government that killed their mother.
Jessica Brody
Unchanged (Unremembered, Book 3)
Macmillan Square Fish (US: 23rd February 2016)
Buy (US) Buy (UK) Buy (CA) Buy (Worldwide)
After returning to the Diotech compound and undergoing an experimental new memory alteration, Seraphina is now a loyal, obedient servant to Dr. Alixter and the powerful company that created her. Happy and in love with Kaelen, another scientifically-enhanced human designed to be her perfect match, Sera's history with a boy named Zen is just a distant memory from a rebellious past she longs to forget. But as Sera and Kaelen embark on a nationwide tour to promote Diotech's new product line – a collection of controversial genetic modifications available to the public – Sera's mind starts to rebel. She can't stop the memories of Zen from creeping back in. As more secrets are revealed, more enemies are uncovered, and the reality of a Diotech-controlled world grows closer every day, Sera will have to choose where her true loyalties lie, but it's a choice that may cost her everything she's ever loved.
Martin Leicht & Isla Neal
A Stranger Thing (Ever-Expanding Universe, Book 2)
Simon & Schuster Saga (US & CA: 23rd February 2016)
Buy (US) Buy (UK) Buy (CA) Buy (Worldwide)
Pregnancy was pretty rough for Elvie Nara, what with the morning sickness, constant food cravings, and the alien race war she found herself in the middle of. But if she thought giving birth to an extraterrestrial's baby would be the hard part, she was sorely mistaken. After Elvie's baby is not what was expected, the Almiri completely freak out. Suddenly Elvie's supposed allies have shipped her – along with her father, her best friend, Ducky, and her maybe-boyfriend, boneheaded Almiri commando Cole Archer – off to a remote "retention facility" (aka alien jail) in Antarctica. Talk about cold. But things really get complicated when a new group of hybrid aliens arrive with information that sends Elvie's world spinning. Before long, Elvie is trekking across the bottom of the Earth with a band of friends and frenemies to uncover the secrets of her own origin. Will Elvie ever be able to convince the Almiri that a conspiracy to conquer the planet is a greater threat than a sixteen-year-old girl and a newborn that won't stop crying?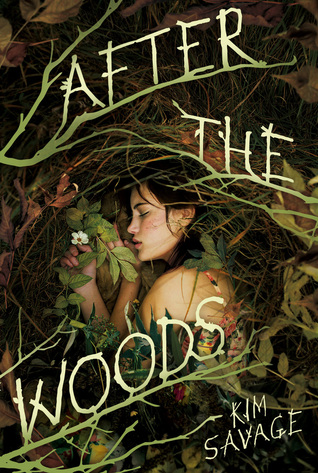 Kim Savage
After the Woods
Macmillan Farrar, Straus and Giroux (US: 23rd February 2016)
Buy (US) Buy (UK) Buy (CA) Buy (Worldwide)
Julia knows she beat the odds. She escaped the kidnapper who hunted her in the woods for two terrifying nights that she can't fully remember. Now it's one year later, and a dead girl turns up in those same woods. The terrible memories resurface, leaving Julia in a stupor at awkward moments – in front of gorgeous Kellan MacDougall, for example. At least Julia's not alone. Her best friend, Liv, was in the woods, too. When Julia got caught, Liv ran away. Is Liv's guilt over leaving Julia the reason she's starving herself? Is hooking up with Shane Cuthbert, an addict with an explosive temper, Liv's way of punishing herself for not having Julia's back? As the devastating truth about Liv becomes clear, Julia realizes the one person she thinks she knows best – Liv – is the person she knows least of all. And that after the woods was just the beginning.
Gena Showalter
Firstlife (Everlife, Book 1)
Harlequin Teen (US: 23rd February 2016)
Buy (US) Buy (UK) Buy (CA) Buy (Worldwide)
Tenley "Ten" Lockwood is an average seventeen-year-old girl…who has spent the past thirteen months locked inside the Prynne Asylum. The reason? Not her obsession with numbers, but her refusal to let her parents choose where she'll live – after she dies. There is an eternal truth most of the world has come to accept: Firstlife is merely a dress rehearsal, and real life begins after death. In the Everlife, two realms are in power: Troika and Myriad, longtime enemies and deadly rivals. Both will do anything to recruit Ten, including sending their top Laborers to lure her to their side. Soon, Ten finds herself on the run, caught in a wild tug-of-war between the two realms who will do anything to win the right to her soul. Who can she trust? And what if the realm she's drawn to isn't where the boy she's falling for lives? She just has to stay alive long enough to make a decision…