Happy Release Day to: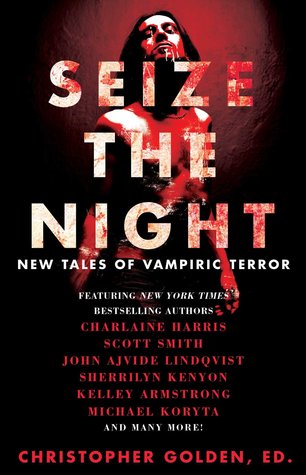 Christopher Golden (ed.)
Seize the Night (Anthology)
Simon & Schuster Gallery (US & CA: 6th October 2015)
Buy (US) Buy (UK) Buy (CA) Buy (Worldwide)
Before being transformed into romantic heroes and soft, emotional antiheroes, vampires were figures of overwhelming terror. Now, from some of the biggest names in horror and dark fiction, comes this collection of short stories that make vampires frightening once again. Edited by Christopher Golden and featuring all-new stories from such contributors as Charlaine Harris, John Ajvide Lindqvist, Scott Smith, Sherrilyn Kenyon, Michael Kortya, Kelley Armstrong, Brian Keene, David Wellington, Seanan McGuire, and Tim Lebbon, Seize the Night is old-school vampire fiction.
S. A. Bodeen
The Detour
Macmillan Feiwel & Friends (US: 6th October 2015)
Buy (US) Buy (UK) Buy (CA) Buy (Worldwide)
Livvy Flynn is a big deal – she's a New York Times-bestselling author whose YA fiction has sold all over the world. She's rich, she's famous, she's gorgeous, and she's full of herself. When she's invited to an A-list writer's conference, she decides to accept so she can have some time to herself. She's on a tight deadline for her next book, and she has no intention of socialising with the other industry people at the conference. And then she hits the detour. Before she knows it, her brand new car is wrecked, she's hurt, and she's tied to a bed in a nondescript shack in the middle of nowhere. A woman and her apparently manic daughter have kidnapped her. And they have no intention of letting her go.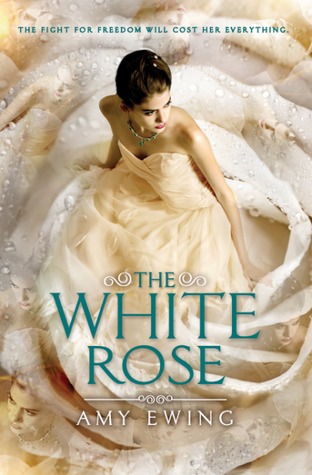 Amy Ewing
The White Rose (The Lone City, Book 2)
HarperTeen (US & CA: 6th October 2015)
Buy (US) Buy (UK) Buy (CA) Buy (Worldwide)
Violet is on the run. After the Duchess of the Lake catches Violet with Ash, the hired companion at the Palace of the Lake, Violet has no choice but to escape the Jewel or face certain death. So along with Ash and her best friend, Raven, Violet runs away from her unbearable life of servitude. But no one said leaving the Jewel would be easy. As they make their way through the circles of the Lone City, Regimentals track their every move, and the trio barely manages to make it out unscathed and into the safe haven they were promised – a mysterious house in the Farm. But there's a rebellion brewing, and Violet has found herself in the middle of it. Alongside a new ally, Violet discovers her Auguries are much more powerful than she ever imagined. But is she strong enough to rise up against the Jewel and everything she has ever known?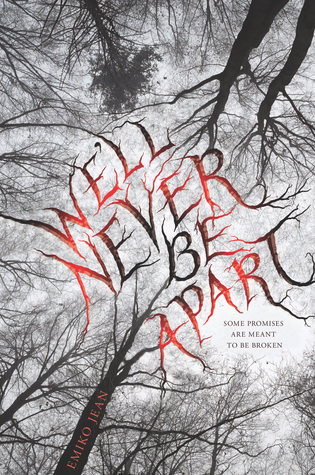 Emiko Jean
We'll Never Be Apart
Houghton Mifflin Harcourt (US: 6th October 2015)
Buy (US) Buy (UK) Buy (CA) Buy (Worldwide)
Murder. Fire. Revenge. That's all seventeen-year-old Alice Monroe thinks about. Committed to a mental ward at Savage Isle, Alice is haunted by memories of the fire that killed her boyfriend, Jason. A blaze her twin sister Cellie set. But when Chase, a mysterious, charismatic patient, agrees to help her seek vengeance, Alice begins to rethink everything. Writing out the story of her troubled past in a journal, she must confront hidden truths. Is the one person she trusts only telling her half the story?
Darynda Jones
Brighter than the Sun (Charley Davidson, Novella)
Macmillan St. Martin's (US: 6th October 2015)
Buy (US) Buy (UK) Buy (CA)
All his life, Reyes Alexander Farrow has suffered the torments of the damned. Only one thing has given him hope: the woman who radiates a light that no mortals can see; a light that only the departed can see…
R. C. Lewis
Stitching Snow
Disney-Hyperion (US: 6th October 2015)
Buy (US) Buy (UK) Buy (CA) Buy (Worldwide)
Princess Snow is missing. Her home planet is filled with violence and corruption at the hands of King Matthias and his wife as they attempt to punish her captors. The king will stop at nothing to get his beloved daughter back – but that's assuming she wants to return at all. Essie has grown used to being cold. Temperatures on the planet Thanda are always sub-zero, and she fills her days with coding and repairs for the seven loyal drones that run the local mines. When a mysterious young man named Dane crash-lands near her home, Essie agrees to help the pilot repair his ship. But soon she realises that Dane's arrival was far from accidental, and she's pulled into the heart of a war she's risked everything to avoid.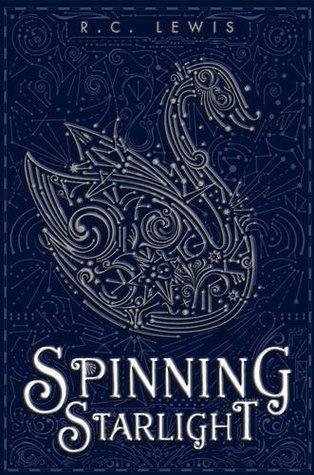 R.C. Lewis
Spinning Starlight
Disney-Hyperion (US: 6th October 2015)
Buy (US) Buy (UK) Buy (CA) Buy (Worldwide)
Sixteen-year-old heiress and paparazzi darling Liddi Jantzen hates the spotlight. But as the only daughter in the most powerful tech family in the galaxy, it's hard to escape it. So when a group of men shows up at her house uninvited, she assumes it's just the usual media-grubs. That is, until shots are fired. Liddi escapes, only to be pulled into an interplanetary conspiracy more complex than she ever could have imagined. Her older brothers have been caught as well, trapped in the conduits between the planets. And when their captor implants a device in Liddi's vocal cords to monitor her speech, their lives are in her hands: One word and her brothers are dead. Desperate to save her family from a desolate future, Liddi travels to another world, where she meets the one person who might have the skills to help her bring her eight brothers home – a handsome dignitary named Tiav. But without her voice, Liddi must use every bit of her strength and wit to convince Tiav that her mission is true. With the tenuous balance of the planets deeply intertwined with her brothers' survival, just how much is Liddi willing to sacrifice to bring them back?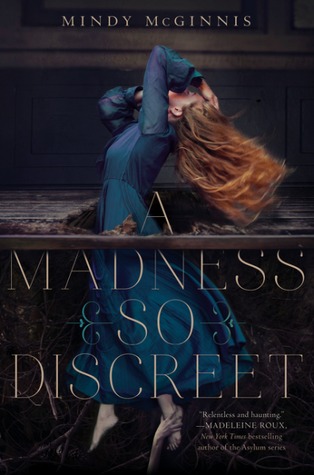 Mindy McGinnis
A Madness So Discreet
HarperCollins Katherine Tegen (US & CA: 6th October 2015)
Buy (US) Buy (UK) Buy (CA) Buy (Worldwide)
Grace Mae knows madness. She keeps it locked away, along with her voice, trapped deep inside a brilliant mind that cannot forget horrific family secrets. Those secrets, along with the bulge in her belly, land her in a Boston insane asylum. When her voice returns in a burst of violence, Grace is banished to the dark cellars, where her mind is discovered by a visiting doctor who dabbles in the new study of criminal psychology. With her keen eyes and sharp memory, Grace will make the perfect assistant at crime scenes. Escaping from Boston to the safety of an ethical Ohio asylum, Grace finds friendship and hope, hints of a life she should have had. But gruesome nights bring Grace and the doctor into the circle of a killer who stalks young women. Grace, continuing to operate under the cloak of madness, must hunt a murderer while she confronts the demons in her own past.
Veronica Roth
Allegiant (Divergent, Book 3)
HarperCollins Katherine Tegen (US & CA: 6th October 2015)
Buy (US) Buy (UK) Buy (CA) Buy (Worldwide)
The faction-based society that Tris Prior once believed in is shattered – fractured by violence and power struggles and scarred by loss and betrayal. So when offered a chance to explore the world past the limits she's known, Tris is ready. Perhaps beyond the fence, she and Tobias will find a simple new life together, free from complicated lies, tangled loyalties, and painful memories. But Tris's new reality is even more alarming than the one she left behind. Old discoveries are quickly rendered meaningless. Explosive new truths change the hearts of those she loves. And once again, Tris must battle to comprehend the complexities of human nature – and of her – while facing impossible choices about courage, allegiance, sacrifice, and love. BONUS CONTENT: Excerpts from Natalie Prior's journal. Two deleted scenes with commentary from Veronica Roth. Favourite quotes, illustrated by fellow Initiates. Discussion questions. A four-colour fold-out poster. A brilliant metallic book jacket. A satin ribbon placeholder.
Diana Rowland
White Trash Zombie Gone Wild (White Trash Zombie, Book 5)
Penguin DAW (US & CA: 6th October 2015)
Buy (US) Buy (UK) Buy (CA) Buy (Worldwide)
Angel Crawford has buried her loser past and is cruising along in undead high gear – that is, until a murder-by-decapitation sends her on a hazardous detour. As Angel hunts for the killer, she uncovers a scheme that would expose zombies to the public and destroy the life she's built, and she's determined not to rest until she finds out who's behind it. Soon she's neck-deep in lies, redneck intrigue, zombie hunters, and rot-sniffing cadaver dogs. It's up to her to unravel the truth and snuff out the conspiracy before the existence of zombies makes headline news and she's outed as a monster. But Angel hasn't quite escaped the pill-popping ghosts of her past – not with an illicit zombie pharmaceutical at her fingertips. Good thing she's absolutely sure she can handle the drug's unpredictable side effects and still take down the bad guys…or maybe she's only one bad choice away from being dead meat – for real this time. Angel knows a thing or two about kicking ass, but now the ass she needs to kick might be her own.