Done with December 2015 Releases? Here are January 2016 Releases. For future releases, check Reading Wishlist.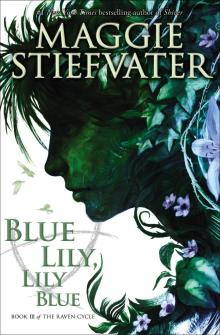 Maggie Stiefvater
Blue Lily, Lily Blue (Raven Cycle, Book 3)
Scholastic (CA: 1st January 2016)
Buy (US) Buy (UK) Buy (CA) Buy (Worldwide)
Blue Sargent has found things. For the first time in her life, she has friends she can trust, a group to which she can belong. The Raven Boys have taken her in as one of their own. Their problems have become hers, and her problems have become theirs. The trick with found things, though, is how easily they can be lost. Friends can betray. Mothers can disappear. Visions can mislead. Certainties can unravel.
Keri Arthur
City of Light (Outcast, Book 1)
Penguin Signet (US & CA: 5th January 2016); Hachette Little, Brown Piatkus (UK: 5th January 2016; AU: 12th January 2016)
Buy (US) Buy (UK) Buy (CA) Buy (Worldwide)
When the bombs that stopped the species war tore holes in the veil between this world and the next, they allowed entry to the Others – demons, wraiths, and death spirits who turned the shadows into their hunting grounds. Now, a hundred years later, humans and shifters alike live in artificially lit cities designed to keep the darkness at bay… As a déchet – a breed of humanoid super-soldiers almost eradicated by the war – Tiger has spent her life in hiding. But when she risks her life to save a little girl on the outskirts of Central City, she discovers that the child is one of many abducted in broad daylight by a wraith-like being – an impossibility with dangerous implications for everyone on earth. Because if the light is no longer enough to protect them, nowhere is safe…
Karen Bao
Dove Arising (Dove Chronicles, Book 1)
Penguin Speak (US & CA: 5th January 2016)
Buy (US) Buy (UK) Buy (CA) Buy (Worldwide)
Setting: The Moon. Phaet Theta's Plan: Live peacefully in the lunar colony, work hard, become a scientist, and enjoy a quiet future off the government's radar. Then her mother is arrested. The New Plan: Enlist in the militia, learn everything she can from top trainee Wes, and become the youngest Militia Captain in history so she can save her family. It all seems perfect. Until Phaet's logically ordered world begins to crumble…
Kelley Armstrong
City of the Lost (Casey Duncan, Book 1)
Random House (CA: 12th January 2016); Hachette Little, Brown Sphere (AU: 12th January 2016; UK: 14th January 2016)
Buy (US) Buy (UK) Buy (CA) Buy (Worldwide)
Casey Duncan once killed a man and got away with it. But that's not why she's on the run. Her best friend's ex has found Diana again, despite all Casey has done to protect her. And Diana has decided the only way she'll ever be safe is if she finds the mythical town she's heard of where people like her can go to hide. Turns out the town really exists, and will take Diana, but only if Casey, a talented young police detective, comes too. Imagine a hidden town, isolated in the Yukon wilderness, where everyone is pretending to be someone they're not. Even good people can get up to some very bad stuff. The laconic town sheriff dispenses his own frontier justice, but he's more accustomed to sobering up drunks in the horse trough, than attempting to solve the series of brutal murders that has rocked the town. As much as he hates it, he needs Casey. As for Casey, coming to the far North may have started out as a sacrifice she was willing to make for her best friend. But maybe, just maybe, she needs Rockton as much as the town needs her.
Jennifer Bosworth
The Killing Jar
Macmillan Farrar, Straus and Giroux (US: 12th January 2016)
Buy (US) Buy (UK) Buy (CA) Buy (Worldwide)
Seventeen-year-old Kenna Marsden has a secret. She's haunted by a violent tragedy she can't explain. Kenna's past has kept people – even her own mother – at a distance for years. Just when she finds a friend who loves her and life begins to improve, she's plunged into a new nightmare: her mom and twin sister are attacked, and the dark powers Kenna has struggled to suppress awaken with a vengeance. On the heels of the assault, Kenna is exiled to a nearby commune, known as Eclipse, to live with a relative she never knew she had. There, she discovers an extraordinary new way of life as she learns who she really is, and the wonders she's capable of. For the first time, she starts to feel like she belongs somewhere; that her terrible secret makes her beautiful and strong, not dangerous. But the longer she stays at Eclipse, the more she senses there is something menacing lurking underneath its idyllic veneer. And she begins to suspect that her new family may have sinister plans for her…
Amy Rose Capetta
Unmade (Entangled, Book 2)
Houghton Mifflin Harcourt (US: 12th January 2016)
Buy (US) Buy (UK) Buy (CA) Buy (Worldwide)
Cadence is in a race against time and space to save her family and friends from the Unmakers, who are tracking the last vestiges of humanity across the galaxy. In the final battle, the universe spins out of control…and Cade alone must face the music.
Darynda Jones
The Dirt on Ninth Grave (Charley Davidson, Book 9)
Macmillan St. Martin's (US: 12th January 2016); Hachette Little, Brown Piatkus (UK & AU: 12th January 2016)
Buy (US) Buy (UK) Buy (CA) Buy (Worldwide)
In a small village in New York Charley Davidson is living as Jane Doe, a girl with no memory of who she is or where she came from. So when she is working at a diner and slowly begins to realize she can see dead people, she's more than a little taken aback. Stranger still are the people entering her life. They seem to know things about her. Things they hide with lies and half-truths. Soon, she senses something far darker. A force that wants to cause her harm, she is sure of it. Her saving grace comes in the form of a new friend she feels she can confide in and the fry cook, a devastatingly handsome man whose smile is breathtaking and touch is scalding. He stays close, and she almost feels safe with him around. But no one can outrun their past, and the more lies that swirl around her – even from her new and trusted friends – the more disoriented she becomes, until she is confronted by a man who claims to have been sent to kill her. Sent by the darkest force in the universe. A force that absolutely will not stop until she is dead. Thankfully, she has a Rottweiler. But that doesn't help in her quest to find her identity and recover what she's lost. That will take all her courage and a touch of the power she feels flowing like electricity through her veins. She almost feels sorry for him. The devil in blue jeans. The disarming fry cook who lies with every breath he takes. She will get to the bottom of what he knows if it kills her. Or him. Either way.
Jennifer Rush
Reborn (Altered, Book 3)
Hachette Little, Brown (US: 12th January 2016; UK: 28th January 2016)
Buy (US) Buy (UK) Buy (CA) Buy (Worldwide)
The Branch is in shambles, but Anna, Sam, Cas, and Nick can't rest easy. Remnants of the organization lurk unseen and the flashbacks to their old lives are only getting stronger – especially Nick's. Following scattered memories and clues from his Branch file, Nick sets off alone in search of answers – and the girl who haunts his dreams. But the sleepy town where she lives in full of secrets, and Nick soon learns that uncovering their shared past may have deadly consequences.
Erica Hayes
Scarred (Sapphire City, Book 2)
HarperCollins Impulse (US, UK, & AU: 14th January 2016)
Buy (US) Buy (UK) Buy (CA) Buy (Worldwide)
Verity Fortune's crime-fighting days are over. In exile, defeated by her smug supervillain nemesis, her shady past exposed-even her own superpowered family condemns her as a traitor. Whatever it takes, Verity's determined to prove she can still be a force for good. Now, Sapphire City faces a new threat: a delinquent duo with extraordinary powers and a terrifying talent for destruction. Outmatched and on the run, her telekinetic powers faltering, Verity can't defeat this menace alone – but whom can she trust, when the only person who believes in her is her arch-enemy?
Sophie Littlefield
The Guilty One
Head of Zeus (UK: 14th January 2016)
Buy (US) Buy (UK) Buy (CA) Buy (Worldwide)
Once upon a time, Maris was an ordinary, suburban mother. Then her daughter was murdered, and everything fell apart. Now, one year later, a man stands on the edge of the Golden Gate Bridge, a phone in his hand. He's just offered his life to Maris to atone for the sins of his son. At one word from her, he'll jump to his death…
Meg Cabot
Proposal (Novella)
HarperCollins Avon Impulse (US & CA: 19th January 2016)
Buy (US) Buy (CA)
The last place Suze Simon expects to find herself during Valentine's Day is a cemetery. But that's what happens when you're a mediator – cursed with the "gift" of communicating with the dead. That's how Suze has ended up at the graves of a pair of tragic young lovers. They're NCDPs – Non-Compliant Deceased Persons – whose drama didn't end with death. It's Suze's job to make sure they move on – for good. But the NCDPs aren't the only ones with problems. The reason Suze is spending her Valentine's Day with the undead instead of her boyfriend, Jesse, is because he's having so much trouble adjusting to life after death…not surprising, considering the fact that he used to be an NCDP himself, and now his girlfriend busts his former kind for a living. Can Suze use her mediating skills to propose a mutual resolution, and bring all these young lovers together, especially on the night Saint Valentine declared sacred to romance? Or will she end up alone – and possibly undead – herself?
Jordana Frankel
The Ward (The Ward, Book 1)
HarperCollins Katherine Tegen (US & CA: 19th January 2016)
Buy (US) Buy (UK) Buy (CA) Buy (Worldwide)
A catastrophic flood has washed out Manhattan, leaving the rivers polluted and entire neighborhoods underwater. Some areas are quarantined because of an outbreak of a deadly disease. The illness, known as the Blight, is killing sixteen-year-old Ren's sister. Desperate to save her sister's life, Ren agrees to lead a secret mission from the government to search for a cure. But her quest leads to a confounding mystery beneath the water and an unlikely friendship with a passionate scientist.
Jordana Frankel
The Isle (The Ward, Book 2)
HarperCollins Katherine Tegen (US & CA: 19th January 2016)
Buy (US) Buy (UK) Buy (CA) Buy (Worldwide)
With the help of a scientist and a racing buddy, drag racer Ren has found a cure for the disease, and her sister, Aven, is on the mend. But Aven's unexpected recovery has caught the eye of the evil Governor Voss. And when it comes to light that the cure, miraculous healing water, is the only freshwater source in the area, Governor Voss isn't the only one after the sisters and their invaluable knowledge. Can they save themselves and their city?
Jennifer Longo
Up to This Pointe
Random House (US & CA: 19th January 2016)
Buy (US) Buy (UK) Buy (CA) Buy (Worldwide)
Harper is a dancer. She and her best friend, Kate, have one goal: becoming professional ballerinas. And Harper won't let anything – or anyone – get in the way of The Plan, not even the boy she and Kate are both drawn to. Harper is a Scott. She's related to Robert Falcon Scott, the explorer who died racing Amundsen and Shackleton to the South Pole. So when Harper's life takes an unexpected turn, she finagles (read: lies) her way to the icy dark of McMurdo Station…in Antarctica. Extreme, but somehow fitting – apparently she has always been in the dark, dancing on ice this whole time. And no one warned her. Not her family, not her best friend, not even the boy who has somehow found a way into her heart. It will take a visit from Shackleton's ghost – the explorer who didn't make it to the South Pole, but who got all of his men out alive – to teach Harper that success isn't always what's important, sometimes it's more important to learn how to fail successfully.
Veronica Roth
Four (Anthology)
HarperCollins Katherine Tegen (US & CA: 19th January 2016)
Buy (US) Buy (UK) Buy (CA) Buy (Worldwide)
Includes four pre-Divergent stories plus three additional scenes from Divergent, all told from Tobias's point of view. The first three pieces in this volume – "The Transfer," "The Initiate," and "The Son" – follow Tobias's transfer from Abnegation to Dauntless, his Dauntless initiation, and the first clues that a foul plan is brewing in the leadership of two factions. The fourth story, "The Traitor," runs parallel with the events of Divergent, giving readers a glimpse into the decisions of loyalty – and love – that Tobias makes in the weeks after he meets Tris Prior.
V. C. Andrews [also published as Virginia Andrews]
Sage's Eyes
Simon & Schuster Pocket (US & CA: 26th January 2016)
Buy (US) Buy (UK) Buy (CA) Buy (Worldwide)
Sixteen-year-old Sage is a lonely child. Her adoptive parents watch her obsessively, as if studying her for warning signs of…something. And maybe they're right to – even she can't make sense of the strange things she sees and hears. She possesses knowledge that other teenagers don't, that her parents and teachers – no adult – could possibly have. So when Sage finally makes a friend who understands her alarming gift, he becomes her confidant, a precarious link to the truth about who she really is. For Sage and the alluring new boy at school share many things in common. Perhaps, they'll learn, far too many things.
Kelley Armstrong
Otherworld Secrets (Anthology)
Penguin Plume (US: 26th January 2016)
Buy (US) Buy (UK) Buy (CA) Buy (Worldwide)
Features rare and never-before-published short stories – plus a brand new novella.
Martin Leicht & Isla Neal
Mothership (Ever-Expanding Universe, Book 1)
Simon & Schuster Saga (US & CA: 26th January 2016)
Buy (US) Buy (UK) Buy (CA) Buy (Worldwide)
Elvie Nara was doing just fine in the year 2074. She had a great best friend, a dad she adored, and a bright future working on the Ares Project on Mars. But then she had to get involved with sweet, gorgeous, dumb-as-a-brick Cole – and now she's pregnant. Getting shipped off to the Hanover School for Expecting Teen Mothers was not how Elvie imagined spending her junior year, but she can go with the flow. That is, until a team of hot commandos hijacks the ship – and one of them turns out to be Cole. She hasn't seen him since she told him she's pregnant, and now he's bursting into her new home to tell her that her teachers are aliens and want to use her unborn baby to repopulate their species? Nice try, buddy. You could have just called. So fine, finding a way off this ship is priority number one, but first Elvie has to figure out how Cole ended up as a commando, work together with her arch-nemesis, and figure out if she even wants to be a mother – assuming they get back to Earth in one piece.
Megan Shepherd
A Cold Legacy (The Madman's Daughter, Book 3)
HarperCollins Balzer + Bray (US & CA: 26th January 2016)
Buy (US) Buy (UK) Buy (CA) Buy (Worldwide)
After killing the men who tried to steal her father's research, Juliet and her friends have escaped to a remote estate on the Scottish moors. Owned by the enigmatic Elizabeth von Stein, the mansion is full of mysteries and unexplained oddities: dead bodies in the basement, secret passages, and fortune tellers who seem to know Juliet's secrets. Though it appears to be a safe haven, Juliet fears new dangers may be present within the manor's walls. Then Juliet uncovers the truth about the manor's long history of scientific experimentation – and her own intended role in it – forcing her to determine where the line falls between right and wrong, life and death, magic and science, and promises and secrets. And she must decide if she'll follow her father's dark footsteps or her mother's tragic ones, or whether she'll make her own.
Justine Larbalestier
My Sister Rosa
Allen & Unwin (AU: 27th January 2016)
Buy (AU)
Che Taylor has four items on his list: 1. He wants to spar, not just train in the boxing gym. 2. He wants a girlfriend. 3. He wants to go home. 4. He wants to keep Rosa under control. Che's little sister Rosa is smart, talented, pretty, and so good at deception that Che's convinced she must be a psychopath. She hasn't hurt anyone yet, but he's certain it's just a matter of time. And when their parents move them to New York City, Che longs to return to Sydney and his three best friends. But his first duty is to his sister Rosa, who is playing increasingly complex and disturbing games. Can he protect Rosa from the world – and the world from Rosa?
Kelley Armstrong
Driven (Novella)
Subterranean (US: 31st January 2016)
Buy (US) Buy (UK) Buy (CA)
Cains are known for being big, brutish and not-too-bright. The mutt clan embodies all the supernatural world's worst stereotypes about werewolves. But not even the Cains deserve to be hunted down and skinned like animals. When young Davis Cain comes to the Pack for help, Alpha Elena Michaels can't refuse him. It isn't about morality or justice. It's about not letting anyone think they can do this to werewolves and get away with it. But Elena is also dealing with the Pack's homegrown monster – Malcolm Danvers, onetime enforcer, full-time psycho. Malcolm is now under Elena's control, as part of the most difficult decision she's had to make as leader. But if she has to let Malcolm in, she's going to make full use of him…and the best person to catch monsters is one who knows exactly how they think.