Happy Release Day to:
Karen Bao
Dove Exiled (Dove Chronicles, Book 2)
Penguin Viking (US & CA: 23rd February 2016)
Buy (US) Buy (UK) Buy (CA) Buy (Worldwide)
Phaet Theta is a fugitive. Hiding in plain sight with her friend Wes's family on the drowned planet Earth, Phaet discovers the rugged beauty of the world her ancestors once called home. All her life, she's been taught to fear the "Earthbound," and their generosity and kindness surprise and touch Phaet. But when the Lunar Bases attack Wes's isolated village, Phaet's past catches up with her, and she's forced to choose: stay on Earth and fight beside the boy she's falling for, or stow away on a Moon-bound ship so she can save her brother and sister from the government that killed their mother.
Jessica Brody
Unchanged (Unremembered, Book 3)
Macmillan Square Fish (US: 23rd February 2016)
Buy (US) Buy (UK) Buy (CA) Buy (Worldwide)
After returning to the Diotech compound and undergoing an experimental new memory alteration, Seraphina is now a loyal, obedient servant to Dr. Alixter and the powerful company that created her. Happy and in love with Kaelen, another scientifically-enhanced human designed to be her perfect match, Sera's history with a boy named Zen is just a distant memory from a rebellious past she longs to forget. But as Sera and Kaelen embark on a nationwide tour to promote Diotech's new product line – a collection of controversial genetic modifications available to the public – Sera's mind starts to rebel. She can't stop the memories of Zen from creeping back in. As more secrets are revealed, more enemies are uncovered, and the reality of a Diotech-controlled world grows closer every day, Sera will have to choose where her true loyalties lie, but it's a choice that may cost her everything she's ever loved.
Martin Leicht & Isla Neal
A Stranger Thing (Ever-Expanding Universe, Book 2)
Simon & Schuster Saga (US & CA: 23rd February 2016)
Buy (US) Buy (UK) Buy (CA) Buy (Worldwide)
Pregnancy was pretty rough for Elvie Nara, what with the morning sickness, constant food cravings, and the alien race war she found herself in the middle of. But if she thought giving birth to an extraterrestrial's baby would be the hard part, she was sorely mistaken. After Elvie's baby is not what was expected, the Almiri completely freak out. Suddenly Elvie's supposed allies have shipped her – along with her father, her best friend, Ducky, and her maybe-boyfriend, boneheaded Almiri commando Cole Archer – off to a remote "retention facility" (aka alien jail) in Antarctica. Talk about cold. But things really get complicated when a new group of hybrid aliens arrive with information that sends Elvie's world spinning. Before long, Elvie is trekking across the bottom of the Earth with a band of friends and frenemies to uncover the secrets of her own origin. Will Elvie ever be able to convince the Almiri that a conspiracy to conquer the planet is a greater threat than a sixteen-year-old girl and a newborn that won't stop crying?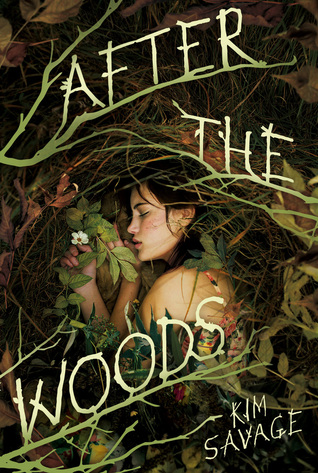 Kim Savage
After the Woods
Macmillan Farrar, Straus and Giroux (US: 23rd February 2016)
Buy (US) Buy (UK) Buy (CA) Buy (Worldwide)
Julia knows she beat the odds. She escaped the kidnapper who hunted her in the woods for two terrifying nights that she can't fully remember. Now it's one year later, and a dead girl turns up in those same woods. The terrible memories resurface, leaving Julia in a stupor at awkward moments – in front of gorgeous Kellan MacDougall, for example. At least Julia's not alone. Her best friend, Liv, was in the woods, too. When Julia got caught, Liv ran away. Is Liv's guilt over leaving Julia the reason she's starving herself? Is hooking up with Shane Cuthbert, an addict with an explosive temper, Liv's way of punishing herself for not having Julia's back? As the devastating truth about Liv becomes clear, Julia realizes the one person she thinks she knows best – Liv – is the person she knows least of all. And that after the woods was just the beginning.
Gena Showalter
Firstlife (Everlife, Book 1)
Harlequin Teen (US: 23rd February 2016)
Buy (US) Buy (UK) Buy (CA) Buy (Worldwide)
Tenley "Ten" Lockwood is an average seventeen-year-old girl…who has spent the past thirteen months locked inside the Prynne Asylum. The reason? Not her obsession with numbers, but her refusal to let her parents choose where she'll live – after she dies. There is an eternal truth most of the world has come to accept: Firstlife is merely a dress rehearsal, and real life begins after death. In the Everlife, two realms are in power: Troika and Myriad, longtime enemies and deadly rivals. Both will do anything to recruit Ten, including sending their top Laborers to lure her to their side. Soon, Ten finds herself on the run, caught in a wild tug-of-war between the two realms who will do anything to win the right to her soul. Who can she trust? And what if the realm she's drawn to isn't where the boy she's falling for lives? She just has to stay alive long enough to make a decision…