Happy Release Day to:
Amie Kaufman & Meagan Spooner
This Shattered World (Starbound, Book 2)
Hyperion Teens (US: 1st December 2015)
Buy (US) Buy (UK) Buy (CA) Buy (Worldwide)
Jubilee Chase and Flynn Cormac should never have met. Lee is captain of the forces sent to Avon to crush the terraformed planet's rebellious colonists, but she has her own reasons for hating the insurgents. Rebellion is in Flynn's blood. His sister died in the original uprising against the powerful corporate conglomerate that rules Avon with an iron fist. These corporations make their fortune by terraforming uninhabitable planets across the universe and recruiting colonists to make the planets liveable, with the promise of a better life for their children. But they never fulfilled their promise on Avon, and decades later, Flynn is leading the rebellion. Desperate for any advantage against the military occupying his home, Flynn does the only thing that makes sense when he and Lee cross paths: he returns to base with her as prisoner. But as his fellow rebels prepare to execute this tough-talking girl with nerves of steel, Flynn makes another choice that will change him forever. He and Lee escape base together, caught between two sides in a senseless war.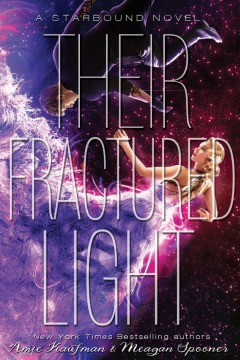 Amie Kaufman & Meagan Spooner
Their Fractured Light (Starbound, Book 3)
Hyperion Teens (US: 1st December 2015)
Buy (US) Buy (UK) Buy (CA) Buy (Worldwide)
A year ago, Flynn Cormac and Jubilee Chase made the now infamous Avon Broadcast, calling on the galaxy to witness for their planet, and protect them from destruction. Some say Flynn's a madman, others whisper about conspiracies. Nobody knows the truth. A year before that, Tarver Merendsen and Lilac LaRoux were rescued from a terrible shipwreck – now, they live a public life in front of the cameras, and a secret life away from the world's gaze. Now, in the centre of the universe on the planet of Corinth, all four are about to collide with two new players, who will bring the fight against LaRoux Industries to a head. Gideon Marchant is an eighteen-year-old computer hacker known in Corinth's underworld as The Knave of Hearts. He'll climb, abseil and worm his way past the best security measures to pull off onsite hacks that others don't dare touch. Sofia Quinn has a killer smile, and by the time you're done noticing it, she's got you offering up your wallet, your car, and anything else she desires. She holds LaRoux Industries responsible for the mysterious death of her father and is out for revenge at any cost. When a LaRoux Industries security breach interrupts Gideon and Sofia's separate attempts to infiltrate their headquarters, they're forced to work together to escape. Each of them has their own reason for wanting to take down LaRoux Industries, and neither trusts the other. But working together might be the best chance they have to expose the secrets LRI is so desperate to hide.
Beth Revis
Some Publishing Advice (Paper Hearts, Book 2)
Scripturient Books (US: 1st December 2015)
Buy (US) Buy (UK) Buy (CA)
There are more options than ever to get your book published. But what's the right path to a career as an author for you? Discover the different publishing paths, learn what's right for your story, and use specific tools and activities to present your work in the best possible way. With information that explores both traditional and self publication, Paper Hearts describes: -How to Pick the Right Publishing Path for You; -Basic Professional Advice; -Practical Information on Agents; -How to Write a Query Letter; -Dealing with Traditional Publication; -Developing a Book for Self Publishing; -Budgeting and Investing Money in Your Career; -Steps to becoming a Career Author…And much more! BONUS! Includes an actual query letter that snagged an agent, plus guidelines and models to write a query or book description from an author who has successfully published in both methods.