Done with November 2015 Releases? Here are December 2015 Releases. For future releases, check Reading Wishlist.
Megan Hart
Hold Me Close
Harlequin MIRA (AU: 1st December 2015)
Buy (US) Buy (UK) Buy (CA) Buy (Worldwide)
Effie and Heath are famous. Not for anything they did, but for what happened to them as teenagers. Abducted and abused by the same man, they turned to each other for comfort until they were finally able to make their escape. Now adults, their relationship is fraught with guilt and despair. Whether fighting or making love, their passion is strong enough to destroy them both – and Effie's not about to let that happen. She knows it's time for her to have a "normal" relationship, and Heath is nothing but a constant reminder of the dark past they share. Heath, on the other hand, knows Effie is the only woman he can ever love. She may want to forget what happened, but he's convinced that they must face their past together in order to move forward. So while Effie continues to bring new men into her life, Heath becomes obsessed with proving he's the one she needs. Then a new crisis arises and Effie begins to lose every scrap of self-control she ever had. As she struggles against her desire to return to the one man who understands her, she discovers that sometimes the only safety you find is with the person who is the most dangerous for you.
Amie Kaufman & Meagan Spooner
This Shattered World (Starbound, Book 2)
Hyperion Teens (US: 1st December 2015)
Buy (US) Buy (UK) Buy (CA) Buy (Worldwide)
Jubilee Chase and Flynn Cormac should never have met. Lee is captain of the forces sent to Avon to crush the terraformed planet's rebellious colonists, but she has her own reasons for hating the insurgents. Rebellion is in Flynn's blood. His sister died in the original uprising against the powerful corporate conglomerate that rules Avon with an iron fist. These corporations make their fortune by terraforming uninhabitable planets across the universe and recruiting colonists to make the planets liveable, with the promise of a better life for their children. But they never fulfilled their promise on Avon, and decades later, Flynn is leading the rebellion. Desperate for any advantage against the military occupying his home, Flynn does the only thing that makes sense when he and Lee cross paths: he returns to base with her as prisoner. But as his fellow rebels prepare to execute this tough-talking girl with nerves of steel, Flynn makes another choice that will change him forever. He and Lee escape base together, caught between two sides in a senseless war.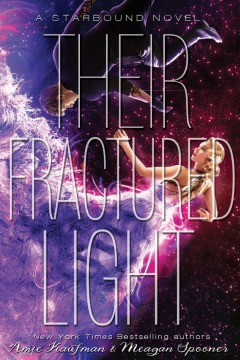 Amie Kaufman & Meagan Spooner
Their Fractured Light (Starbound, Book 3)
Hyperion Teens (US: 1st December 2015)
Buy (US) Buy (UK) Buy (CA) Buy (Worldwide)
A year ago, Flynn Cormac and Jubilee Chase made the now infamous Avon Broadcast, calling on the galaxy to witness for their planet, and protect them from destruction. Some say Flynn's a madman, others whisper about conspiracies. Nobody knows the truth. A year before that, Tarver Merendsen and Lilac LaRoux were rescued from a terrible shipwreck – now, they live a public life in front of the cameras, and a secret life away from the world's gaze. Now, in the centre of the universe on the planet of Corinth, all four are about to collide with two new players, who will bring the fight against LaRoux Industries to a head. Gideon Marchant is an eighteen-year-old computer hacker known in Corinth's underworld as The Knave of Hearts. He'll climb, abseil and worm his way past the best security measures to pull off onsite hacks that others don't dare touch. Sofia Quinn has a killer smile, and by the time you're done noticing it, she's got you offering up your wallet, your car, and anything else she desires. She holds LaRoux Industries responsible for the mysterious death of her father and is out for revenge at any cost. When a LaRoux Industries security breach interrupts Gideon and Sofia's separate attempts to infiltrate their headquarters, they're forced to work together to escape. Each of them has their own reason for wanting to take down LaRoux Industries, and neither trusts the other. But working together might be the best chance they have to expose the secrets LRI is so desperate to hide.
Amy Christine Parker
Astray (Gated, Book 2)
Random House (AU: 1st December 2015)
Buy (US) Buy (UK) Buy (CA) Buy (Worldwide)
Lyla Hamilton almost died escaping her old life with the Community. In her new life, the outsiders call the Community a cult. They don't understand how easy it was to believe. But at least there she belonged. "Normal" life – high school and dating – is harder than she expected. The Community wants her back. They sense Lyla's doubt about her new life and are willing to do whatever it takes to bring her back to the fold. Pulled in two directions and unsure which way to turn, will she uncover their chilling plan before it's too late? More than just Lyla's life is on the line, and she's running out of time.
Beth Revis
Some Publishing Advice (Paper Hearts, Book 2)
Scripturient Books (US: 1st December 2015)
Buy (US) Buy (UK) Buy (CA)
There are more options than ever to get your book published. But what's the right path to a career as an author for you? Discover the different publishing paths, learn what's right for your story, and use specific tools and activities to present your work in the best possible way. With information that explores both traditional and self publication, Paper Hearts describes: -How to Pick the Right Publishing Path for You; -Basic Professional Advice; -Practical Information on Agents; -How to Write a Query Letter; -Dealing with Traditional Publication; -Developing a Book for Self Publishing; -Budgeting and Investing Money in Your Career; -Steps to becoming a Career Author…And much more! BONUS! Includes an actual query letter that snagged an agent, plus guidelines and models to write a query or book description from an author who has successfully published in both methods.
Viola Carr
The Devious Dr Jekyll (Electric Empire, Book 2)
HarperCollins Voyager (UK: 3rd December 2015)
Buy (US) Buy (UK) Buy (CA) Buy (Worldwide)
Since solving the infamous Chopper case, Dr. Eliza Jekyll is struggling to keep her career as a crime scene physician on track. She can't figure out if Remy Lafayette – mercurial Royal Society agent and wolf man – wants to marry her, eat her or burn her at the stake, while Lizzie, her jealous shadow self, wants to steal Remy and usurp Eliza's life. But Remy tempts her with the one thing she can't resist: a bizarre crime. Now, her fragile career – and their lives – depend on catching a bloodthirsty ritual torturer dubbed the Pentacle Killer. The case proves more bewildering and terrifying than any, drawing her into a hidden world of spies, art thieves and evil alchemy, where the price of immortality is madness…or damnation. Eliza needs Lizzie's dark ingenuity to survive, but Lizzie's treachery in love and war knows no limits. When the killer's shocking purpose is finally revealed, Eliza and Remy race to thwart a foul conspiracy to cripple the Empire's fragile war effort against the sorcerous French. Before a vengeful Lizzie finally gets rid of Eliza for good…
Claudia Gray
Ten Thousand Skies Above You (Firebird, Book 2)
Harper Teen (UK: 3rd December 2015)
Buy (US) Buy (UK) Buy (CA) Buy (Worldwide)
Ever since she used the Firebird, her parents' invention, to cross into alternate dimensions, Marguerite has caught the attention of enemies who will do anything to force her into helping them dominate the multiverse – even hurting the people she loves. She resists until her boyfriend, Paul, is attacked and his consciousness scattered across multiple dimensions. Marguerite has no choice but to search for each splinter of Paul's soul. The hunt sends her racing through a war-torn San Francisco, the criminal underworld of New York City, and a glittering Paris where another Marguerite hides a shocking secret. Each world brings Marguerite one step closer to rescuing Paul. But with each trial she faces, she begins to question the destiny she thought they shared.
Laura Bickle
Mercury Retrograde (Dark Alchemy, Book 2)
Harper Voyager Impulse (US & CA: 8th December 2015)
Buy (US) Buy (UK) Buy (CA) Buy (Worldwide)
It's been two months since Petra Dee and her coyote sidekick Sig faced off against Temperance's resident alchemist, but things are far from quiet. When an Internet video of a massive snake in the backcountry of Yellowstone goes viral, a chase for the mythical basilisk is on. Monster hunters swarm into the area, and never one to pass up the promise of discovery, Petra joins in the search. Among the newcomers is a snake cult on wheels – the biker gang Sisters of Serpens. Unlike some, the Sisters don't want to kill the basilisk – they want to worship it. But things get complicated when the basilisk develops a taste for human flesh that rivals the Sisters' own murderous skills. Meanwhile, the alchemical tree of life is dying, and the undead Hanged Men of Temperance who depend on it know the basilisk may be their last chance for survival. With time running out for everyone around her, Petra will be forced to decide who survives and who she must leave behind.
Anna Sheehan
Spinning Thorns
Hachette Orion Gollancz (UK: 10th December 2015)
Buy (UK) Buy (Worldwide)
Sleeping Beauty has woken. The world has been renewed. Everyone is living happily ever after… Almost. Sharp, blood-seeking thorns still surround the castle. A feud remains between those who wield magic and those who were subjected to it. And while the kingdom is divided against itself, nothing can thrive. A rebellion may be needed – and that's where Sleeping Beauty's daughter comes in…
Colleen Hoover
Maybe Not (Novella)
Simon & Schuster Atria (US, UK, & CA: 22nd December 2015)
Buy (US) Buy (UK) Buy (CA) Buy (Worldwide)
When Warren has the opportunity to live with a female roommate, he instantly agrees. It could be an exciting change. Or maybe not. Especially when that roommate is the cold and seemingly calculating Bridgette. Tensions run high and tempers flare as the two can hardly stand to be in the same room together. But Warren has a theory about Bridgette: anyone who can hate with that much passion should also have the capability to love with that much passion. And he wants to be the one to test this theory. Will Bridgette find it in herself to warm her heart to Warren and finally learn to love? Maybe. Maybe not.
Maggie Stiefvater
Blue Lily, Lily Blue (The Raven Cycle, Book 3)
Scholastic (US: 29th December 2015)
Buy (US) Buy (UK) Buy (CA) Buy (Worldwide)
Blue Sargent has found things. For the first time in her life, she has friends she can trust, a group to which she can belong. The Raven Boys have taken her in as one of their own. Their problems have become hers, and her problems have become theirs. The trick with found things, though, is how easily they can be lost.
Yanni Kuznia (ed.)
A Fantasy Medley 3 (Anthology)
Subterranean Press (US: 31st December 2015)
Buy (US) Buy (UK) Buy (CA)
In "Goddess at the Crossroads", Kevin Hearne shares an episode from the past of Atticus O'Sullivan, revealing how one night's dark encounter with the cult of Hecate served as inspiration for Shakespeare's witches in the Scottish play. With "Ashes", Laura Bickle revisits Detroit arson investigator and powerful spirit medium Anya Kalinczyk as she, her five-foot-long salamander familiar Sparky, and Hades' Charon pursue a destructive fire elemental named the Nain Rouge through the city's festival in his dubious honour. "The Death of Aiguillon" finds Aliette de Bodard exploring an episode sixty years prior to the start of her latest novel, The House of Shattered Wings, in which the survivors of an ongoing magical conflict in Paris eke out a grim existence, and one woman's wish for a better life is granted at a terrible price. And in "One Hundred Ablutions", Jacqueline Carey tells the tale of Dala – a young woman chosen by her people's overlords to be an exalted slave among slaves – and of the twining in her life of ritual, rebellion, and redemption.
Veronica Roth
Divergent (Divergent, Book 1)
HarperCollins (UK: 31st December 2015)
Buy (US) Buy (UK) Buy (CA) Buy (Worldwide)
Society is divided into five factions – Candor, Abnegation, Dauntless, Amity and Erudite. Every year, all sixteen-year-olds must select the faction to which they will devote the rest of their lives. For Beatrice Prior, the decision is between staying with her family and being who she really is. Her choice shocks everyone, including herself. During the initiation that follows, Tris and her fellow initiates undergo extreme physical tests of endurance and intense psychological simulations, with devastating consequences. As initiation transforms them, Tris must determine who her friends really are – and whether she can trust the man who both threatens and protects her. Because Tris has a deadly secret. And as growing conflict threatens to unravel their seemingly perfect society, this secret might save those she loves…or it might destroy her.
Veronica Roth
Insurgent (Divergent, Book 2)
HarperCollins (UK: 31st December 2015)
Buy (US) Buy (UK) Buy (CA) Buy (Worldwide)
Tris Prior's initiation day should have been marked by victorious celebrations with her chosen faction; instead it ended with unspeakable horrors. Now unrest surges in the factions around her as conflict between their ideologies grows. War seems inevitable; and in times of war sides must be chosen, secrets will emerge and choices will become ever more irrevocable. Tris has already paid a terrible price for survival and is wracked by haunting grief and guilt. But radical new discoveries and shifting relationships mean that she must fully embrace her Divergence – even though she cannot know what might be lost in doing so.
Veronica Roth
Allegiant (Divergent, Book 3)
HarperCollins (UK: 31st December 2015)
Buy (US) Buy (UK) Buy (CA) Buy (Worldwide)
The faction-based society that Tris Prior once believed in is shattered – fractured by violence and power struggles and scarred by loss and betrayal. So when offered a chance to explore the world past the limits she's known, Tris is ready. Perhaps beyond the fence, she and Tobias will find a simple new life together, free from complicated lies, tangled loyalties, and painful memories. But Tris's new reality is even more alarming than the one she left behind. Old discoveries are quickly rendered meaningless. Explosive new truths change the hearts of those she loves. And once again, Tris must battle to comprehend the complexities of human nature – and of her – while facing impossible choices about courage, allegiance, sacrifice and love.