Happy Release Day to:
Megan Hart
Hold Me Close
Harlequin MIRA (US & UK: 24th November 2015)
Buy (US) Buy (UK) Buy (CA) Buy (Worldwide)
Effie and Heath are famous. Not for anything they did, but for what happened to them as teenagers. Abducted and abused by the same man, they turned to each other for comfort until they were finally able to make their escape. Now adults, their relationship is fraught with guilt and despair. Whether fighting or making love, their passion is strong enough to destroy them both – and Effie's not about to let that happen. She knows it's time for her to have a "normal" relationship, and Heath is nothing but a constant reminder of the dark past they share. Heath, on the other hand, knows Effie is the only woman he can ever love. She may want to forget what happened, but he's convinced that they must face their past together in order to move forward. So while Effie continues to bring new men into her life, Heath becomes obsessed with proving he's the one she needs. Then a new crisis arises and Effie begins to lose every scrap of self-control she ever had. As she struggles against her desire to return to the one man who understands her, she discovers that sometimes the only safety you find is with the person who is the most dangerous for you.
Holly Black
Black Heart (The Curse Workers, Book 3)
Simon & Schuster Saga (US & CA: 24th November 2015)
Buy (US) Buy (UK) Buy (CA) Buy (Worldwide)
Cassel Sharpe knows he's been used as an assassin, but he's trying to put all that behind him. He's trying to be good, even though he grew up in a family of con artists and cheating comes as easily as breathing to him. He's trying to do the right thing. And he's trying to convince himself that working for the government is the right choice, even though he's been raised to believe they are the enemy of all curse workers. But with a mother on the lam, the girl he loves about to take her place in the Mob, and all new secrets coming to light, what's right and what's wrong become increasingly hard to tell apart. When the Feds ask him to do the one thing he said he would never do again, he starts to wonder if they really are the good guys, or if it's all a con. And if it is, Cassel may have to make his biggest gamble yet – on love.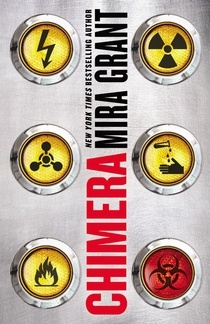 Mira Grant
Chimera (Parasitology, Book 3)
Hachette Orbit (US & AU: 24th November 2015)
Buy (US) Buy (UK) Buy (CA) Buy (Worldwide)
The outbreak has spread, tearing apart the foundations of society, as implanted tapeworms have turned their human hosts into a seemingly mindless mob. Sal and her family are trapped between bad and worse, and must find a way to compromise between the two sides of their nature before the battle becomes large enough to destroy humanity, and everything that humanity has built…including the chimera. The broken doors are closing. Can Sal make it home?
J. Kenner
Unwrap Me (Stark Ever After, Novella)
Random House Bantam (US & CA: 24th November 2015); Hachette Headline Eternal (UK & AU: 24th November 2015)
Buy (US) Buy (UK) Buy (CA)
Damien Stark is my greatest Christmas wish come true. Immensely powerful and devastatingly sexy, he can undo me with the slightest touch, and with just one glance, he can see straight into my soul. We both have dark secrets, twisted pieces of our pasts that only the other one understands. Though our fierce love and passion keeps me alive, sometimes I wonder what would've happened if Damien and I hadn't met in exactly the way we did. How would my life have been different? Would another man have laid claim to my body and my heart? Or were Damien and I destined to be together no matter the cost?