Done with October 2016 Releases? Here are November 2016 Releases. For future releases, check Reading Wishlist.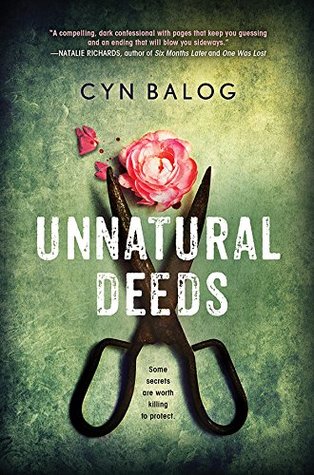 Cyn Balog
Unnatural Deeds
Sourcebooks Fire (US: 1st November 2016)
Buy (US) Buy (UK) Buy (CA) Buy (Worldwide)
Victoria Zell doesn't fit in, not that she cares what anyone thinks. She and her homeschooled boyfriend, Andrew, are inseparable. All they need is each other. That is, until Zachary Zimmerman joins her homeroom. Within an hour of meeting, he convinces good-girl Vic to cut class. And she can't get enough of that rush. Despite Vic's loyalty to Andrew, she finds her life slowly entwining with Z's. Soon she's lying to everyone she knows in an effort to unravel Z's secrets. Except Z's not the only one with a past. Victoria's hiding her own secrets, secrets that will come back to haunt her…and destroy everything in her path.
Jennifer Lynn Barnes
Bad Blood (Naturals, Book 4)
Disney-Hyperion (US: 1st November 2016)
Buy (US) Buy (UK) Buy (CA) Buy (Worldwide)
When Cassie Hobbes joined the FBI's Naturals program, she had one goal: uncover the truth about her mother's murder. But now, everything Cassie thought she knew about what happened that night has been called into question. Her mother is alive, and the people holding her captive are more powerful – and dangerous – than anything the Naturals have faced so far. As Cassie and the team work to uncover the secrets of a group that has been killing in secret for generations, they find themselves racing a ticking clock.
J. C. Carleson
Placebo Junkies
Random House Ember (US & CA: 1st November 2016)
Buy (US) Buy (UK) Buy (CA) Buy (Worldwide)
Meet Audie: Professional lab rat. Guinea pig. Serial human test subject. For Audie and her friends, "volunteering" for pharmaceutical drug trials means a quick fix and easy cash. Sure, there's the occasional nasty side effect, but Audie's got things under control. If Monday's pill causes a rash, Tuesday's ointment usually clears it right up. Wednesday's injection soothes the sting from Tuesday's "cure," and Thursday's procedure makes her forget all about Wednesday's headache. By the time Friday rolls around, there's plenty of cash in hand and perhaps even a slot in a government-funded psilocybin study, because WEEKEND! But the best fix of all is her boyfriend, Dylan, whose terminal illness just makes them even more compatible. He's turning eighteen soon, so Audie is saving up to make it an unforgettable birthday. That means more drug trials than ever before, but Dylan is worth it. No pain, no gain, Audie tells herself as the pills wear away at her body and mind. No pain, no gain, she repeats as her grip on reality starts to slide…
Claudia Gray
Ten Thousand Skies Above You (Firebird, Book 2)
HarperCollins Teen (US & CA: 1st November 2016)
Buy (US) Buy (UK) Buy (CA) Buy (Worldwide)
Ever since she used the Firebird, her parents' invention, to cross through to alternate dimensions, Marguerite has caught the attention of enemies who will do anything to force her into helping them dominate the multiverse – even hurt the people she loves. She resists until her boyfriend, Paul, is attacked, and his consciousness is scattered across multiple dimensions. The hunt for each splinter of Paul's soul sends Marguerite racing through a war-torn San Francisco, the criminal underworld of New York City, and a glittering Paris, where another Marguerite hides a shocking secret. Each dimension brings Marguerite one step closer to rescuing Paul. But with every trial she faces, she begins to question the one constant she's found between the worlds: their love for each other.
Claudia Gray
A Million Worlds with You (Firebird, Book 3)
HarperCollins Teen (US & CA: 1st November 2016; UK: 3rd November 2016)
Buy (US) Buy (UK) Buy (CA) Buy (Worldwide)
Ever since she used the Firebird, her parent's invention, to cross through alternate dimensions, Marguerite has been at the centre of a cross-dimensional feud. Now she has learned that the evil Triad Corporation plans to destroy hundreds of universes, using their ultimate weapon: another dimension's Marguerite who is wicked, psychologically twisted, and always one step ahead. Even though her boyfriend Paul has always been at Marguerite's side, the Triad's last attack has left him a changed man, and he may never be the same again. Marguerite alone must stop Triad and prevent the destruction of the multiverse. It's a battle of the Marguerites…and only one can win.
Stephanie Oakes
The Sacred Lies of Minnow Bly
Penguin Speak (US & CA: 1st November 2016)
Buy (US) Buy (UK) Buy (CA) Buy (Worldwide)
The Kevinian cult has taken everything from seventeen-year-old Minnow: twelve years of her life, her family, her ability to trust. And when she rebelled, they took away her hands, too. Now their Prophet has been murdered and their camp set aflame, and it's clear that Minnow knows something – but she's not talking. As she languishes in juvenile detention, she struggles to un-learn everything she has been taught to believe, adjusting to a life behind bars and recounting the events that led up to her incarceration. But when an FBI detective approaches her about making a deal, Minnow sees she can have the freedom she always dreamed of – if she's willing to part with the terrible secrets of her past.
S. A. Bodeen
The Detour
Pan Macmillan St. Martin's (AU: 8th November 2016)
Buy (US) Buy (UK) Buy (CA) Buy (Worldwide)
Livvy Flynn is a seventeen-year-old bestselling author whose YA fiction has sold all over the world. People in the industry kiss up to her. She's rich, she's famous, and she's full of herself. When she's invited to a writers' retreat, she decides to accept so she can work on her next book and enjoy the admiration – and envy – of the other writers. Plus, she has a new, cute sports car, and it'll be fun to drive there by herself. And then she hits the detour. Before she knows it, the car is wrecked, she's hurt, and she's trapped in a basement, with no idea where she is. A woman and her apparently manic daughter have kidnapped her. And they have no intention of letting her go.
Kate Kessler
Two Can Play (Audrey Harte, Book 2)
Hachette Redhook (US & AU: 8th November 2016)
Buy (US) Buy (UK) Buy (CA) Buy (Worldwide)
Halloween is approaching, and criminal psychologist Audrey Harte has been hired by the prosecution to help prepare for the trial of 19-year-old serial killer Ian "Boy Scout" Monroe. His one surviving victim, Tori Scott, is the star witness, but when someone begins killing with Monroe's M.O., the authorities – and Audrey – begin to wonder if Monroe had a partner. Keeping Tori safe is the main concern, but Audrey has also attracted the copy-cat's attention. Audrey is drawn into a dangerous game of cat and mouse, and when someone close to her is abducted by the killer, Audrey has no choice but to play…
Marissa Meyer
Heartless
Macmillan Feiwel & Friends (US & AU: 8th November 2016)
Buy (US) Buy (UK) Buy (CA) Buy (Worldwide)
Long before she was the terror of Wonderland, she was just a girl who wanted to fall in love. Catherine may be one of the most desired girls in Wonderland, and a favourite of the unmarried King of Hearts, but her interests lie elsewhere. A talented baker, all she wants is to open a shop with her best friend. But according to her mother, such a goal is unthinkable for the young woman who could be the next queen. Then Cath meets Jest, the handsome and mysterious court joker. For the first time, she feels the pull of true attraction. At the risk of offending the king and infuriating her parents, she and Jest enter into an intense, secret courtship. Cath is determined to define her own destiny and fall in love on her terms. But in a land thriving with magic, madness, and monsters, fate has other plans.
Stephenie Meyer
The Chemist
Hachette Little, Brown (US, UK, & AU: 8th November 2016)
Buy (US) Buy (UK) Buy (CA) Buy (Worldwide)
She used to work for the U.S. government, but very few people ever knew that. An expert in her field, she was one of the darkest secrets of an agency so clandestine it doesn't even have a name. And when they decided she was a liability, they came for her without warning. Now she rarely stays in the same place or uses the same name for long. They've killed the only other person she trusted, but something she knows still poses a threat. They want her dead, and soon. When her former handler offers her a way out, she realizes it's her only chance to erase the giant target on her back. But it means taking one last job for her ex-employers. To her horror, the information she acquires only makes her situation more dangerous. Resolving to meet the threat head-on, she prepares for the toughest fight of her life but finds herself falling for a man who can only complicate her likelihood of survival. As she sees her choices being rapidly whittled down, she must apply her unique talents in ways she never dreamed of.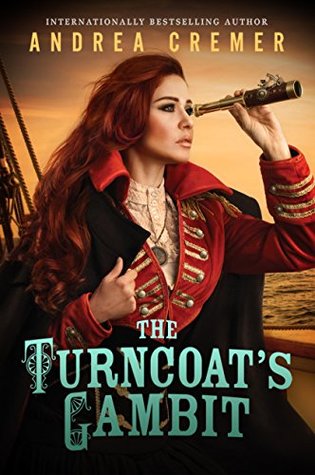 Andrea Cremer
The Turncoat's Gambit (The Inventor's Secret, Book 3)
Penguin Philomel (US & CA: 15th November 2016)
Buy (US) Buy (UK) Buy (CA) Buy (Worldwide)
Charlotte has spent her whole life fighting the British Empire, following in the footsteps of her parents and their group of rebels. But when her reunion with her mother laid bare horrible truths about the rebellion, Charlotte knew she had to escape. Now she is on the run, with no idea who the enemy is – or which of her compatriots is truly on her side.
Andrea Kleine
Calf
Perseus Soft Skull (US: 15th November 2016)
Buy (US) Buy (UK) Buy (CA) Buy (Worldwide)
The year was 1981. The US was entering a deep recession, Russia was their enemy, and John Hinckley, Jr.'s assassination attempt on President Ronald Reagan shocked the nation. It was also the year author Andrea Kleine learned her close childhood friend had been violently murdered by her socialite mother, Leslie DeVeau. Both events took place in Washington, DC. Hinckley and Deveau were both sent to St. Elizabeth's hospital, guilty by reason of insanity. It was there that they met, and later became lovers. Made up of dual narratives and told over the course of one year, Kleine's account follows a fictionalized John Hinckley Jr. as he stalks a young actress in the lead-up to the assassination attempt, and eleven-year-old Tammy, whose friend is murdered in her sleep.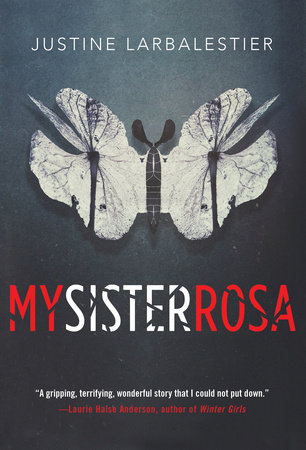 Justine Larbalestier
My Sister Rosa
Random House Soho Teen (US & CA: 15th November 2016)
Buy (US) Buy (CA) Buy (Worldwide)
Seventeen-year-old Aussie Che Taylor loves his younger sister, Rosa. But he's also certain that she's a psychopath – clinically, threateningly, dangerously. Recently Rosa has been making trouble, hurting things. Che is the only one who knows; he's the only one his sister trusts. Rosa is smart, talented, pretty, and very good at hiding what she is and the manipulation she's capable of. Their parents, whose business takes the family from place to place, brush off the warning signs as Rosa's "acting out." Now that they have moved again – from Bangkok to New York City – their new hometown provides far too many opportunities for Rosa to play her increasingly complex and disturbing games. Che's always been Rosa's rock, protecting her from the world. Now, the world might need protection from her.
Carol Lynch Williams
Never Said
HarperCollins (AU: 21st November 2016)
Buy (US) Buy (UK) Buy (CA) Buy (Worldwide)
Annie and Sarah are fifteen-year-old fraternal twins – who only spend time together because they're under the same roof. Annie's life has long been focused around her appearance and the beauty pageants that celebrate it, whereas Sarah's interests are sports and her runner boyfriend, Jeremy. Then Annie begins to gain more and more weight, and all she seems to hear from her mother is, "You used to be so pretty," followed by the latest diet to try. Things begin to unravel for Sarah as well. Jeremy – her boyfriend of more than a year – decides to see if he and Sarah are "right" for each other, dumping her in order to get his head on straight. Sarah is devastated. Her family is crumbling. The love of her life is dating other people. Her sister is getting heavier and more depressed. When Sarah learns, through gentle questioning, that a neighbour and very good family friend has been sexually abusing her sister, she knows she must act and help the sister who seemingly always had it all.
Kim Harrison
The Operator (Peri Reed Chronicles, Book 2)
Simon & Schuster Pocket (US & CA: 22nd November 2016); Hachette Little, Brown Piatkus (UK: 22nd November 2016; AU: 29th November 2016)
Buy (US) Buy (UK) Buy (CA) Buy (Worldwide)
Peri Reed's job eats her mind, but for a special task agent in hiding, forgetting the past can be a blessing. Betrayed by the man she thought she loved and the agency who turned her into the very thing she fought against, Peri abandoned the wealth and privilege of Opti for anonymity riddled with memory gaps and self-doubt. But when a highly addictive drug promises to end her dependency on those who'd use her as a tool for their own success, she must choose to remain broken and vulnerable, or return to the above-the-law power and prestige she once left: strong but without will – for whoever holds her next fix, will hold her loyalty. Yet even now as then, a love based on lies of omission might still save her life.
Melinda Braun
Stranded
Simon & Schuster Pulse (US, UK, CA, & AU: 29th November 2016)
Buy (US) Buy (UK) Buy (CA) Buy (Worldwide)
Plagued with guilt after surviving the car accident that took her sister's life, Emma ventures into the rugged and mysterious wilderness of the Boundary Waters in search of some much needed peace. But when a freak windstorm kills her guide, Emma and a handful of other campers are forced to fend for themselves. Lost, hungry, and exhausted, the small group must rely on their survival instincts as they travel through the forest towards Lake Superior. But the Boundary Waters is vast and unpredictable, and as the days drag on, it becomes clear that the group is no match for what Mother Nature has in store – and time is running out. As they continue to battle the elements, Emma realizes that nature isn't her only threat: there's one camper who will do whatever it takes to make it out of the Boundary Waters alive. Even if he's the only one…
Melinda Braun
Avalanche
Simon & Schuster Pulse (US, UK, CA, & AU: 29th November 2016)
Buy (US) Buy (UK) Buy (CA) Buy (Worldwide)
"I promise it'll be a weekend you'll never forget." A trip like that is exactly what Matt was hoping for – a fun adventure. A daring escape. A once-in-a-lifetime opportunity to go cross country skiing in a thrilling but dangerous pass through the Rocky Mountains. The perfect way for Matt to forget about his disappointing father and maybe let loose a little with his best friend and a group of carefree adrenaline junkies. But then their guide takes them off-path…and straight into an avalanche. By the time they make it safely into an abandoned cabin, one skier is dead and another severely injured. Trapped with no heat, no water, and no radio the group decides to wait it out. Help will come. It has to. Until it doesn't. And Matt knows if they wait any longer they'll be dead – just another bunch of victims in Mother Nature's twisted games. Armed with only a handful of supplies and his fierce determination Matt decides to goes head-to-head with the elements, battling hypothermia, frostbite, and even mountain lions in order to find help and save them all. That is if Mother Nature doesn't kill him first.
Eve Silver
Frozen (Northern Waste, Novella)
Eve Silver (US: 29th November 2016)
Buy (US) Buy (UK) Buy (CA)
Raina and Wizard are back, racing across the Northern Waste to outrun ice pirates as they follow a distress call to an isolated community that just might hold the answers to the mystery of Wizard's missing-and-presumed-dead, now-possibly-alive sister, Tatiana. But instead of answers, all they find are buried secrets and a truckload of trouble.