Done with September 2016 Releases? Here are October 2016 Releases. For future releases, check Reading Wishlist.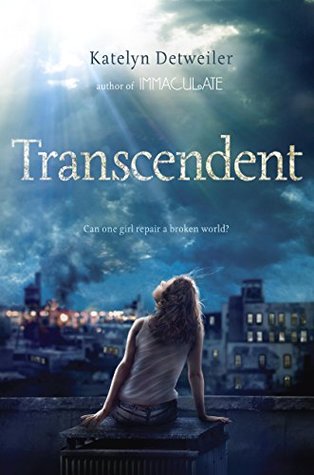 Katelyn Detweiler
Transcendent
Penguin Viking (AU: 1st October 2016; US & CA: 4th October 2016)
Buy (US) Buy (UK) Buy (CA) Buy (Worldwide)
When terrorists bomb Disney World, seventeen-year-old Iris Spero is as horrified as anyone else. Then a stranger shows up on her stoop in Brooklyn, revealing a secret about the mysterious circumstances surrounding Iris's birth, and throwing her entire identity into question. Everything she thought she knew about her parents, and about herself, is a lie. Suddenly, the press is confronting Iris with the wild notion that she might be "special." More than just special: she could be the miracle the world now so desperately needs. Families all across the grieving nation are pinning their hopes on Iris like she is some kind of saint or saviour. She's no longer sure whom she can trust – except for Zane, a homeless boy who long ago abandoned any kind of hope. She knows she can't possibly be the glorified person everyone wants her to be…but she also can't go back to being safe and anonymous. When nobody knows her but they all want a piece of her, who is Iris Spero now? And how can she – one teenage girl – possibly heal a broken world?
Amy Ewing
The Black Key (Lone City, Book 3)
Walker (AU: 1st October 2016; UK: 6th October 2016); HarperCollins Teen (US & CA: 4th October 2016)
Buy (US) Buy (UK) Buy (CA) Buy (Worldwide)
For too long, Violet and the people of the outer circles of the Lone City have lived in service of the royalty of the Jewel. But now, the secret society known as the Black Key is preparing to seize power. While Violet knows she is at the centre of this rebellion, she has a more personal stake in it – for her sister, Hazel, has been taken by the Duchess of the Lake. Now, after fighting so hard to escape the Jewel, Violet must do everything in her power to return not only to save Hazel, but the future of the Lone City.
Kristen Lippert-Martin
Incognita (Tabula Rasa, Book 2)
Lerner Carolrhoda (US: 1st October 2016)
Buy (US) Buy (UK) Buy (CA) Buy (Worldwide)
In the wake of an experimental procedure that almost wiped out her memory forever, Angel has a chance for a fresh start. She's recovered most of her memories, rebuilt her physical strength, and reunited with her boyfriend, Thomas. But her Velocius abilities – capacities for superhuman mental power – linger in her brain and put her life in jeopardy. And just when Angel is starting to feel comfortable with her new life, Thomas is kidnapped. With Thomas's life and perhaps her own in danger, Angel races to unravel a new layer of the mystery surrounding her past and stay one step ahead of her enemies.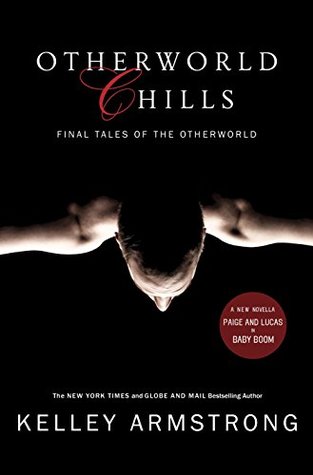 Kelley Armstrong
Otherworld Chills (Otherworld, Anthology)
Penguin Plume (US: 4th October 2016); Hachette Little, Brown Orbit (UK: 4th October 2016; AU: 11th October 2016); Random House (CA: 4th October 2016)
Buy (US) Buy (UK) Buy (CA) Buy (Worldwide)
Collection of novellas and short stories. Among other tales, the werewolf pack is on the hunt for an old and very dangerous enemy; two very different vampires attempt to settle an old feud; a supernatural date turns hot enough to burn down a building and – in a brand-new novella – Paige and Lucas have a huge decision to make about their future. Completes several important storylines.
S. A. Bodeen
The Detour
Macmillan Square Fish (US: 4th October 2016)
Buy (US) Buy (UK) Buy (CA) Buy (Worldwide)
Livvy Flynn is a big deal – she's a New York Times-bestselling author whose YA fiction has sold all over the world. She's rich, she's famous, she's gorgeous, and she's full of herself. When she's invited to an A-list writer's conference, she decides to accept so she can have some time to herself. She's on a tight deadline for her next book, and she has no intention of socializing with the other industry people at the conference. And then she hits the detour. Before she knows it, her brand new car is wrecked, she's hurt, and she's tied to a bed in a nondescript shack in the middle of nowhere. A woman and her apparently manic daughter have kidnapped her. And they have no intention of letting her go.
Mira Grant
Feedback (Newsflesh, Book 4)
Hachette Orbit (US: 4th October 2016; UK: 6th October 2016; AU: 11th October 2016)
Buy (US) Buy (UK) Buy (CA) Buy (Worldwide)
We had cured cancer. We had beaten the common cold. But in doing so we unleashed something horrifying and unstoppable. The infection spread leaving those afflicted with a single uncontrollable impulse: FEED. Now, twenty years after the Rising, a team of scrappy underdog reporters relentlessly pursue the facts while competing against the brother-and-sister blog superstars, the Masons. Surrounded by the infected, and facing more insidious forces working in the shadows, they must hit the presidential campaign trail and uncover dangerous truths. Or die trying.
Sarah Maria Griffin
Spare and Found Parts
HarperCollins Greenwillow (US & CA: 4th October 2016)
Buy (US) Buy (UK) Buy (CA) Buy (Worldwide)
Nell Crane has never held a boy's hand. In a city devastated by an epidemic, where survivors are all missing parts – an arm, a leg, an eye – Nell has always been an outsider. Her father is the famed scientist who created the biomechanical limbs that everyone now uses. But she's the only one with her machinery on the inside: her heart. Since the childhood operation, she has ticked. Like a clock, like a bomb. And as her community rebuilds, everyone is expected to contribute to the society's good…but how can Nell live up to her father's revolutionary ideas when she has none of her own? Then she finds a lost mannequin's hand while salvaging on the beach, and inspiration strikes. Can Nell build her own companion in a world that fears advanced technology? The deeper she sinks into this plan, the more she learns about her city – and her father, who is hiding secret experiments of his own.
R. C. Lewis
Spinning Starlight
Disney Hyperion (US: 4th October 2016)
Buy (US) Buy (UK) Buy (CA) Buy (Worldwide)
Sixteen-year-old heiress and paparazzi darling Liddi Jantzen hates the spotlight. But as the only daughter in the most powerful tech family in the galaxy, it's hard to escape it. So when a group of men shows up at her house uninvited, she assumes it's just the usual media-grubs. That is, until shots are fired. Liddi escapes, only to be pulled into an interplanetary conspiracy more complex than she ever could have imagined. Her older brothers have been caught as well, trapped in the conduits between the planets. And when their captor implants a device in Liddi's vocal cords to monitor her speech, their lives are in her hands: One word and her brothers are dead. Desperate to save her family from a desolate future, Liddi travels to another world, where she meets the one person who might have the skills to help her bring her eight brothers home – a handsome dignitary named Tiav. But without her voice, Liddi must use every bit of her strength and wit to convince Tiav that her mission is true. With the tenuous balance of the planets deeply intertwined with her brothers' survival, just how much is Liddi willing to sacrifice to bring them back?
Lauren Oliver
Replica
HarperCollins (US & CA: 4th October 2016); Hachette Hodder & Stoughton (UK: 6th October 2016; AU: 11th October 2016)
Buy (US) Buy (UK) Buy (CA) Buy (Worldwide)
Lyra's story begins in the Haven Institute, a building tucked away on a private island off the coast of Florida that from a distance looks serene and even beautiful. But up close the locked doors, military guards, and biohazard suits tell a different story. In truth, Haven is a clandestine research facility where thousands of replicas, or human models, are born, raised, and observed. When a surprise attack is launched on Haven, two of its young experimental subjects – Lyra, or 24, and the boy known only as 72 – manage to escape. Gemma has been in and out of hospitals for as long as she can remember. A lonely teen, her life is circumscribed by home, school, and her best friend, April. But after she is nearly abducted by a stranger claiming to know her, Gemma starts to investigate her family's past and discovers her father's mysterious connection to the secretive Haven research facility. Hungry for answers, she travels to Florida, only to stumble upon two replicas and a completely new set of questions.
Chris Beckett
Daughter of Eden (Dark Eden, Book 3)
Corvus (UK: 6th October 2016; AU: 26th October 2016)
Buy (US) Buy (UK) Buy (Worldwide)
Angie Redlantern is the first to spot the boats – five abreast with men in metal masks and spears standing proud, ready for the fight to come. As the people of New Earth declare war on the people of Mainground, a dangerous era has dawned for Eden. After generations of division and disagreement, the two populations of Eden have finally broken their tentative peace, giving way to bloodshed and slaughter. Angie must flee with her family across the pitch black of Snowy Dark to the place where it all started, the stone circle where the people from Earth first landed, where the story of Gela – the mother of them all – began. It is there that Angie witnesses the most extraordinary event, one that will change the history of Eden forever. It will alter their future and re-shape their past. It is both a beginning and an ending. It is the true story of Eden.
J. M. Kelly
Speed of Life
Houghton Mifflin Harcourt (US: 11th October 2016)
Buy (US) Buy (UK) Buy (CA) Buy (Worldwide)
Twins Crystal and Amber have the same goal: to be the first in their family to graduate high school and make something of their lives. When one gets pregnant during their junior year, they promise to raise the baby together. It's not easy, but between their after-school jobs, they're scraping by. Crystal's grades catch the attention of the new guidance counsellor, who tells her about a college that offers a degree in automotive restoration, perfect for the car buff she is. When she secretly applies – and gets in – new opportunities threaten their once-certain plans, and Crystal must make a choice: follow her dreams or stay behind and honour the promise she made to her sister.
Kristen Simmons
Metaltown
Pan Macmillan Tor (AU: 11th October 2016)
Buy (US) Buy (UK) Buy (CA) Buy (Worldwide)
Best friends Colin and Ty live one day at a time – the only way it's possible to survive in Metaltown, where money is in short supply, illness runs rampant, and street rules are the highest law. With the other near-starving teenagers of Metaltown, they work long, gruelling hours for pennies at the Small Parts factory, attaching fuses to bombs and manufacturing weapons. When they're worked to the bone, they seek shelter where they can find it, and do it all again the next day. Meanwhile, in the wealthy River District across town, Lena Hampton spends her days learning useless ancient languages and the art of being a lady…all the while secretly studying the ins and outs of Hampton Industries, dreaming that one day her father will take her seriously and she'll become the first woman to run the family's expansive network of factories and businesses. Colin's, Ty's, and Lena's paths intersect when Ty is injured on the job and Lena, desperate to prove herself, fires her. In one morning, their dreams of a better future disappear, and Colin and Ty must find a way to transform their own lives – and Lena's – into ones that matter.
J. A. Souders
Rebellion (Elysium Chronicles, Book 3)
Pan Macmillan Tor (AU: 11th October 2016)
Buy (US) Buy (UK) Buy (CA) Buy (Worldwide)
Back in Elysium at last, Evie has finally found her true self hidden under layers and layers of false memories implanted by the woman she knew as Mother. Thanks to the intervention of her father, she knows the horrible truth about Mother and her insidious plans for the city. With the help of the love of her life, Gavin, and her best friend, Asher St. James, Evie is determined to free her people from the cruel dictatorship of Mother's laws. But how do you free people who don't know they need rescuing? Working with the growing Underground rebellion, Evie tries to remove Mother from her position by force – with disastrous results. As the body count rises, Evie must find a way to save Elysium before Mother destroys them all.
Mary G. Thompson
Amy Chelsea Stacie Dee
Penguin G.P. Putnam's Sons (US & CA: 11th October 2016)
Buy (US) Buy (UK) Buy (CA) Buy (Worldwide)
When sixteen-year-old Amy returns home, she can't tell her family what's happened to her. She can't tell them where she's been since she and her best friend, her cousin Dee, were kidnapped six years ago – who stole them from their families or what's become of Dee. She has to stay silent because she's afraid of what might happen next, and she's desperate to protect her secrets at any cost. Amy tries to readjust to life at "home," but nothing she does feels right. She's a stranger in her own family, and the guilt that she's the one who returned is insurmountable. Amy soon realizes that keeping secrets won't change what's happened, and they may end up hurting those she loves the most. She has to go back in order to move forward, risking everything along the way.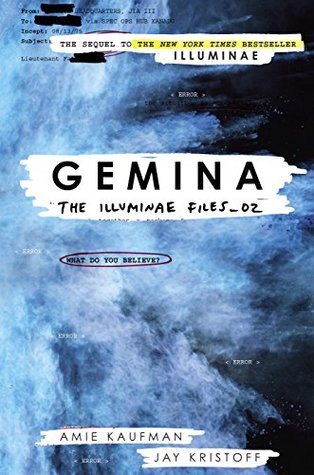 Amie Kaufman & Jay Kristoff [guest journal illustrations by Marie Lu]
Gemina (Illuminae Files, Book 2)
Random House Knopf (US & CA: 18th October 2016); OneWorld Rock the Boat (UK: 20th October 2016); Allen & Unwin (AU: 26th October 2016)
Buy (US) Buy (UK) Buy (CA) Buy (Worldwide)
Hanna is the station captain's pampered daughter; Nik the reluctant member of a notorious crime family. But while the pair are struggling with the realities of life aboard the galaxy's most boring space station, little do they know that Kady Grant and the Hypatia are headed right toward Heimdall, carrying news of the Kerenza invasion. When an elite BeiTech strike team invades the station, Hanna and Nik are thrown together to defend their home. But alien predators are picking off the station residents one by one, and a malfunction in the station's wormhole means the space-time continuum might be ripped in two before dinner. Soon Hanna and Nik aren't just fighting for their own survival; the fate of everyone on the Hypatia – and possibly the known universe – is in their hands. But relax. They've totally got this. They hope.
Laurie Faria Stolarz
Shutter
Disney Hyperion (US: 18th October 2016)
Buy (US) Buy (UK) Buy (CA) Buy (Worldwide)
THE FACTS: • Julian Roman, age sixteen, is an escapee from the Fairmount County Juvenile Detention Facility. • His parents, Michael Roman and Jennifer Roman, are dead. • Julian is wanted for murder. THE QUESTIONS: • Why is Julian Roman on the run? • Just how dangerous is he? • And who did kill Michael and Jennifer Roman, if not Julian? Sixteen-year-old Day Connor views life through the lens of her camera, where perspective is everything. But photographs never tell the whole story. After Day crosses paths with Julian, the world she pictures and the truths she believes – neatly captured in black and white – begin to blur. Julian is not the "armed and dangerous" escapee the police are searching for, but his alibis don't quite add up, either. There is more to his story. This time, Day is determined to see the entire picture…whatever it reveals. Did he? Or didn't he? Day digs deeper into the case while Julian remains on the run. But the longer her list of facts becomes, the longer the list of questions becomes, too. It's also getting harder to deny the chemistry she feels for him. Is it real? Or is she being manipulated? Day is close to finding the crack in the case. She just needs time to focus before the shutter snaps shut.
Carol Lynch Williams
Messenger
Simon & Schuster Paula Wiseman (US, UK, CA & AU: 18th October 2016)
Buy (US) Buy (UK) Buy (CA) Buy (Worldwide)
Evie Messenger knows that her family is different from other families. But it isn't until her fifteenth birthday that the Messenger gift is revealed to her. Evie has the family's gift – a special power. Soon she realizes she is able to see and talk to the dead – ghosts – often with no idea who the person was. Or as Evie says: "I see Dead People. It's a Messenger gift." That doesn't mean she wants the Messenger gift. So Evie tries to ignore it but soon she finds she cannot. Can Evie find a way to live her life without letting her power take over? And what if the dead person is someone close to Evie's family?
M. D. Waters
Gemini's Edge
M. D. Waters (US: 21st October 2016)
Buy (US) Buy (UK) Buy (CA)
Eden Black isn't just a kickass assassin. She's been known to double your trouble, and blow a few minds in the process. Problem is, she's wanted by the most dangerous race in the known Universe, and that bounty hunter they sent for her? He's her only weakness.
Claudia Gray
A Million Worlds with You (Firebird, Book 3)
HarperCollins (AU: 24th October 2016)
Buy (US) Buy (UK) Buy (CA) Buy (Worldwide)
Ever since she used the Firebird, her parents' invention, to cross through alternate dimensions, Marguerite has been at the centre of a cross-dimensional feud. Now she has learned that the evil Triad Corporation plans to destroy hundreds of universes, using their ultimate weapon: another dimension's Marguerite who is wicked, psychologically twisted, and always one step ahead. Even though her boyfriend Paul has always been at Marguerite's side, the Triad's last attack has left him a changed man, and he may never be the same again. Marguerite alone must stop Triad and prevent the destruction of the multiverse. It's a battle of the Marguerites…and only one can win.
Amanda Sun
Heir to the Sky
Harlequin Teen (AU: 24th October 2016)
Buy (US) Buy (UK) Buy (CA) Buy (Worldwide)
As heir to a kingdom of floating continents, Kali has spent her life bound by limits: by her duties as a member of the royal family, by a forced betrothal to the son of a nobleman, and by the edge of the only world she's ever known – a small island hovering above a monster-ridden earth, long since uninhabited by humans. She is the Eternal Flame of Hope for what's left of mankind, the wick and the wax burning in service for her people, and for their revered Phoenix, whose magic keeps them aloft. When Kali falls off the edge of her kingdom and miraculously survives, she is shocked to discover there are still humans on the earth. Determined to get home, Kali entrusts a rugged monster-hunter named Griffin to guide her across a world overrun by chimera, storm dragons, basilisks and other terrifying creatures. But the more time she spends on earth, the more dark truths she begins to uncover about her home in the sky, and the more resolute she is to start burning for herself.
V.C. Andrews [also published as Virginia Andrews]
The Mirror Sisters
Simon & Schuster (US, UK, CA & AU: 25th October 2016)
Buy (US) Buy (UK) Buy (CA) Buy (Worldwide)
As identical twins, their mother insists that everything about them be identical: their clothes, their toys, their friends…the number of letters in their names, Haylee Blossom Fitzgerald and Kaylee Blossom Fitzgerald. If one gets a hug, the other must, too. If one gets punished, the other must be, too. Homeschooled at an early age, when the girls attend a real high school they find little ways to highlight the differences between them. But when Haylee runs headfirst into the dating scene, both sisters are thrust into a world their mother never prepared them for – causing one twin to pursue the ultimate independence. The one difference between the two girls may spell the difference between life…and a fate worse than death.
Kelley Armstrong
Otherworld Secrets (Otherworld, Anthology)
Random House Vintage (CA: 25th October 2016)
Buy (US) Buy (UK) Buy (CA) Buy (Worldwide)
In this new collection of novellas and short stories, the characters are deep into tricky situations that test not only their ability to safely navigate danger but also their relationships with each other. Also a brand-new novella featuring Karl and Hope, on what just may be Karl's last heist.
Emiko Jean
We'll Never Be Apart
Houghton Mifflin Harcourt (US: 25th October 2016)
Buy (US) Buy (UK) Buy (CA) Buy (Worldwide)
Murder. Fire. Revenge. That's all seventeen-year-old Alice Monroe thinks about. Committed to a mental ward at Savage Isle, Alice is haunted by memories of the fire that killed her boyfriend, Jason. A blaze her twin sister Cellie set. But when Chase, a mysterious, charismatic patient, agrees to help her seek vengeance, Alice begins to rethink everything. Writing out the story of her troubled past in a journal, she must confront hidden truths. Is the one person she trusts only telling her half the story?