Happy Release Day to: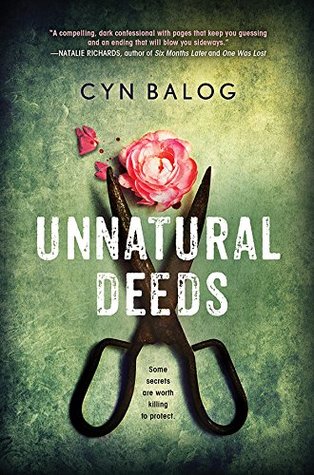 Cyn Balog
Unnatural Deeds
Sourcebooks Fire (US: 1st November 2016)
Buy (US) Buy (UK) Buy (CA) Buy (Worldwide)
Victoria Zell doesn't fit in, not that she cares what anyone thinks. She and her homeschooled boyfriend, Andrew, are inseparable. All they need is each other. That is, until Zachary Zimmerman joins her homeroom. Within an hour of meeting, he convinces good-girl Vic to cut class. And she can't get enough of that rush. Despite Vic's loyalty to Andrew, she finds her life slowly entwining with Z's. Soon she's lying to everyone she knows in an effort to unravel Z's secrets. Except Z's not the only one with a past. Victoria's hiding her own secrets, secrets that will come back to haunt her…and destroy everything in her path.
Jennifer Lynn Barnes
Bad Blood (Naturals, Book 4)
Disney-Hyperion (US: 1st November 2016)
Buy (US) Buy (UK) Buy (CA) Buy (Worldwide)
When Cassie Hobbes joined the FBI's Naturals program, she had one goal: uncover the truth about her mother's murder. But now, everything Cassie thought she knew about what happened that night has been called into question. Her mother is alive, and the people holding her captive are more powerful – and dangerous – than anything the Naturals have faced so far. As Cassie and the team work to uncover the secrets of a group that has been killing in secret for generations, they find themselves racing a ticking clock.
J. C. Carleson
Placebo Junkies
Random House Ember (US & CA: 1st November 2016)
Buy (US) Buy (UK) Buy (CA) Buy (Worldwide)
Meet Audie: Professional lab rat. Guinea pig. Serial human test subject. For Audie and her friends, "volunteering" for pharmaceutical drug trials means a quick fix and easy cash. Sure, there's the occasional nasty side effect, but Audie's got things under control. If Monday's pill causes a rash, Tuesday's ointment usually clears it right up. Wednesday's injection soothes the sting from Tuesday's "cure," and Thursday's procedure makes her forget all about Wednesday's headache. By the time Friday rolls around, there's plenty of cash in hand and perhaps even a slot in a government-funded psilocybin study, because WEEKEND! But the best fix of all is her boyfriend, Dylan, whose terminal illness just makes them even more compatible. He's turning eighteen soon, so Audie is saving up to make it an unforgettable birthday. That means more drug trials than ever before, but Dylan is worth it. No pain, no gain, Audie tells herself as the pills wear away at her body and mind. No pain, no gain, she repeats as her grip on reality starts to slide…
Claudia Gray
Ten Thousand Skies Above You (Firebird, Book 2)
HarperCollins Teen (US & CA: 1st November 2016)
Buy (US) Buy (UK) Buy (CA) Buy (Worldwide)
Ever since she used the Firebird, her parents' invention, to cross through to alternate dimensions, Marguerite has caught the attention of enemies who will do anything to force her into helping them dominate the multiverse – even hurt the people she loves. She resists until her boyfriend, Paul, is attacked, and his consciousness is scattered across multiple dimensions. The hunt for each splinter of Paul's soul sends Marguerite racing through a war-torn San Francisco, the criminal underworld of New York City, and a glittering Paris, where another Marguerite hides a shocking secret. Each dimension brings Marguerite one step closer to rescuing Paul. But with every trial she faces, she begins to question the one constant she's found between the worlds: their love for each other.
Claudia Gray
A Million Worlds with You (Firebird, Book 3)
HarperCollins Teen (US & CA: 1st November 2016; UK: 3rd November 2016)
Buy (US) Buy (UK) Buy (CA) Buy (Worldwide)
Ever since she used the Firebird, her parent's invention, to cross through alternate dimensions, Marguerite has been at the centre of a cross-dimensional feud. Now she has learned that the evil Triad Corporation plans to destroy hundreds of universes, using their ultimate weapon: another dimension's Marguerite who is wicked, psychologically twisted, and always one step ahead. Even though her boyfriend Paul has always been at Marguerite's side, the Triad's last attack has left him a changed man, and he may never be the same again. Marguerite alone must stop Triad and prevent the destruction of the multiverse. It's a battle of the Marguerites…and only one can win.
Stephanie Oakes
The Sacred Lies of Minnow Bly
Penguin Speak (US & CA: 1st November 2016)
Buy (US) Buy (UK) Buy (CA) Buy (Worldwide)
The Kevinian cult has taken everything from seventeen-year-old Minnow: twelve years of her life, her family, her ability to trust. And when she rebelled, they took away her hands, too. Now their Prophet has been murdered and their camp set aflame, and it's clear that Minnow knows something – but she's not talking. As she languishes in juvenile detention, she struggles to un-learn everything she has been taught to believe, adjusting to a life behind bars and recounting the events that led up to her incarceration. But when an FBI detective approaches her about making a deal, Minnow sees she can have the freedom she always dreamed of – if she's willing to part with the terrible secrets of her past.