Done with March 2015 Releases? Here are April 2015 Releases. For future releases, check Reading Wishlist
Kelley Armstrong
Empire of Night (Age of Legends, Book 2)
Hachette Little, Brown Atom (UK: 1st April 2015); HarperCollins (US: 7th April 2015); Random House Doubleday (CA: 7th April 2015)
Buy (US) Buy (UK) Buy (CA) Buy (Worldwide)
Sisters Moria and Ashyn are the Keeper and Seeker of Edgewood. Or at least, they were. Their village is gone. Their friends have betrayed them. And now, they are all but prisoners in court, forced to watch and wait while the Emperor decides whether to help the children of Edgewood, hostages of the treacherous Alvar Kitsune. But when the emperor finally sends the girls on a mission to rescue the children – accompanied by Prince Tyrus and a small band of men – the journey proves more perilous than any of them could have imagined. With lies and unrest mounting in the empire, Moria and Ashyn will have to draw on every bit of influence and power they possess to unite their people and avert an all-out war.
Kady Cross
Sisters of Blood and Spirit
Harlequin Mills & Boon (UK & AU: 1st April 2015)
Buy (US) Buy (UK) Buy (CA) Buy (Worldwide)
Wren Noble is dead – she was born that way. Vibrant, unlike other dead things, she craves those rare moments when her twin sister allows her to step inside her body and experience the world of the living. Lark Noble is alive but often feels she belongs in the muted Shadow Lands – the realm of the dead. Known as the crazy girl who talks to her dead sister, she doesn't exactly fit in with the living, though a recent suicide attempt and time in a psych ward have proven to her she's not ready to join her sister in the afterlife. Now the guy who saved Lark's life needs her to repay the favour. He and his friends have been marked for death by the malevolent spirit of a vicious and long-dead serial killer, and the twins – who should know better than to mess with the dead – may be their only hope of staying alive.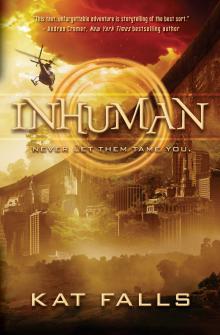 Kat Falls
Inhuman
Scholastic (CA: 1st April 2015)
Buy (US) Buy (UK) Buy (CA) Buy (Worldwide)
Lane McEvoy gets the shock of her life when she learns that someone she loves has crossed into the Feral Zone, the forbidden wilderness east of the Mississippi River. Few have dared set foot in the Zone since the devastating biological disaster that killed millions and left the survivors…changed. But now Lane has little choice. She travels east, completely unprepared for what she finds in the ruins of civilization…and afraid to learn whether her humanity will prove her greatest strength or a fatal weakness.
Herman Koch
Summer House with Swimming Pool
Atlantic (UK: 2nd April 2015); Random House Hogarth (US & CA: 28th April 2015)
Buy (US) Buy (UK) Buy (CA) Buy (Worldwide)
When a medical procedure goes horribly wrong and famous actor Ralph Meier winds up dead, Dr. Marc Schlosser needs to come up with some answers. After all, reputation is everything in this business. Personally, he's not exactly upset that Ralph is gone, but as a high profile doctor to the stars, Marc can't hide from the truth forever. It all started the previous summer. Marc, his wife, and their two beautiful teenage daughters agreed to spend a week at the Meiers' extravagant summer home on the Mediterranean. Joined by Ralph and his striking wife Judith, her mother, and film director Stanley Forbes and his much younger girlfriend, the large group settles for days of sunshine, wine tasting, and trips to the beach. But when a violent incident disrupts the idyll, darker motivations are revealed, and suddenly no one can be trusted. As the ultimate holiday soon turns into a nightmare, the circumstances surrounding Ralph's later death begin to reveal the disturbing reality behind that summer's tragedy.
Kelley Armstrong
Sea of Shadows (Age of Legends, Book 1)
Random House Doubleday (CA: 7th April 2015)
Buy (US) Buy (UK) Buy (CA) Buy (Worldwide)
In the Forest of the Dead, where the empire's worst criminals are exiled, twin sisters Moria and Ashyn are charged with a dangerous task. They are the Keeper and the Seeker, and each year they must quiet the enraged souls of the damned. Only this year, the souls will not be quieted. Ambushed and separated by an ancient evil, the sisters' journey to find each other sends them far from the only home they've ever known. Accompanied by a stubborn imperial guard and a dashing condemned thief, the girls cross a once-empty wasteland, now filled with reawakened monsters of legend, as they travel to warn the emperor. But a terrible secret awaits them at court – one that will alter the balance of their world forever.
Steve Bein
Disciple of the Wind (Fated Blades, Book 3)
Penguin Roc (US & CA: 7th April 2015)
Buy (US) Buy (UK) Buy (CA) Buy (Worldwide)
When Tokyo falls victim to a deadly terrorist attack, Detective Sergeant Mariko Oshiro knows who is responsible, even if she doesn't have proof. She urges her commanding officers to arrest the perpetrator – an insane zealot who was just released from police custody. When her pleas fall on deaf ears, she loses her temper and then her badge, as well as her best chance of fighting back. Left on her own, and armed with only her cunning and her famed Inazuma blade, Mariko must work outside the system to stop a terrorist mastermind. But going rogue draws the attention of an underground syndicate known as the Wind. For centuries, they have controlled Japanese politics from the shadows, using mystical relics to achieve their nefarious ends – relics like Mariko's own sword and the iron demon mask whose evil curse is bound to the blade. Now the Wind is set on acquiring Mariko. Mariko is left with a perilous choice: Join an illicit insurgency to thwart a deadly villain, or remain true to the law. Either way, she cannot escape her sword's curse. As sure as the blade will bring her to victory, it also promises to destroy her…
Lauren DeStefano
The Heir Apparent (Internment Chronicles, Novella)
Simon & Schuster (US & CA: 7th April 2015); HarperCollins Voyager (UK & AU: 9th April 2015)
Buy (US) Buy (UK) Buy (CA)
When King Furlow begins to treat Prince Azure as the heir apparent that he is, he takes him to see the "re-education camps" for wrong-thinkers. But as he enters the camps, Azure discovers the dark underbelly of the kingdom – and the king himself. His view of his father can never be the same, but what about his view of himself?
Mira Grant
Rolling in the Deep
Subterranean (US: 7th April 2015)
Buy (US) Buy (UK) Buy (CA)
When the Imagine Network commissioned a documentary on mermaids, to be filmed from the cruise ship Atargatis, they expected what they had always received before: an assortment of eyewitness reports that proved nothing, some footage that proved even less, and the kind of ratings that only came from peddling imaginary creatures to the masses. They didn't expect actual mermaids. They certainly didn't expect those mermaids to have teeth. This is the story of the Atargatis, lost at sea with all hands. Some have called it a hoax; others have called it a maritime tragedy. Whatever the truth may be, it will only be found below the bathypelagic zone in the Mariana Trench…and the depths are very good at keeping secrets.
Avery Hastings
Rival (Feuds, Novella)
Macmillan St. Martin's Griffin (US: 7th April 2015)
Buy (US) Buy (CA)
Davis Morrow has always been a little bit afraid to fall in love, to lose her focus, to be anything other than perfect. But while relaxing in an elite spa after another gruelling rehearsal for a ballet showcase, Davis meets Seth, a trainer with intense eyes and a chiselled face to match his athletic build…and everything changes. Unlike the other guys she's dated, Seth seems to get her – he understands how difficult her routine is, how hard she must work. Their first kiss leaves her mind spinning like an endless pirouette. Dating trainers is forbidden – but, like her best friend Vera insists, forbidden love is the best kind. Then a threatening message from her dance rival, Gabrielle, brings her world tumbling down. Will Seth be the secret she needs to succeed, heart open for the first time? Or will this heated romance become her greatest rival yet?
Bree Despain
The Shadow Prince (Into the Dark, Book 1)
Random House Egmont (US & CA: 14th April 2015)
Buy (US) Buy (UK) Buy (CA) Buy (Worldwide)
Haden Lord, the disgraced prince of the Underrealm, has been sent to the mortal world for six months in order to convince Daphne Raines to return with him to the land of the dead. The best way to do this, Haden is told, is to get Daphne to fall in love with him. But getting a teenage girl to fall in love with you isn't easy, especially when Haden's life and more depends on the success of his quest. Little does he know that the tenuous peace between the Greek god of the Underrealm and the Greek god of the Sky is breaking and war is imminent. If Haden succeeds, his honour and standing will be restored in the royal court, and Daphne will be sacrificed to save us all. The complication he didn't see coming: he's the one who falls in love. Now Haden must choose to either fulfil his sacred duty or to follow his heart and find a way to rewrite his and Daphne's destinies.
Kristi Helvig
Burn Out (Burn Out, Book 1)
Random House Egmont (US: 14th April 2015)
Buy (US) Buy (UK) Buy (CA) Buy (Worldwide)
Some people want to save the world. Seventeen-year-old Tora Reynolds just wants to stay alive long enough to escape it. Now that the sun's become a "red giant," burning out far faster than scientists could ever have predicted, Earth is barely habitable and almost everyone is gone. Holed up in an underground shelter, Tora's only comforts are her dreams of a planet with a plentiful water supply and the bio-energetic weapons her father lost his life for. The ones that only she can fire. When family friend Markus arrives with mercenaries to take her weapons by force, Tora must decide if trading the guns for safe passage to a new liveable planet is worth the price of betraying her father's wishes. But when she discovers the government's true motives, her bargaining chip may be nothing more than smoke.
Martin Leicht & Isla Neal
The World Forgot (Ever-Expanding Universe, Book 3)
Simon & Schuster (US & CA: 14th April 2015)
Buy (US) Buy (UK) Buy (CA) Buy (Worldwide)
After dealing with killer whales, evil scientists, the return of her long-lost mother and, certainly not least of all, the challenges of breastfeeding, Elvie Nara has just about had it. And then the Jin'Kai (along with the aforementioned estranged mom) kidnaps her baby. And before she knows it, another Jin'Kai attack puts her on the run again, but not before discovering that Olivia was implanted with a genetic tracking device. So along with Cole, Ducky, and her dad, Elvie goes back out into space to follow the signal. There she finds evil Dr. Marsden up to some evil tricks and realizes that Mars may hold the secret to defeating her enemies once and for all. So, off to Mars she goes. Because alien race war aside, Elvie really wants to be back with her daughter. For a kid she wasn't even sure she wanted, Olivia has come to mean the world to Elvie – and she'll search the universe to be with her again.
William Campbell Powell
Expiration Day
Macmillan Tor (US: 14th April 2015)
Buy (US) Buy (UK) Buy (CA) Buy (Worldwide)
It is the year 2049, and humanity is on the brink of extinction. Tania Deeley has always been told that she's a rarity: a human child in a world where most children are sophisticated androids manufactured by Oxted Corporation. When a decline in global fertility ensued, it was the creation of these near-perfect human copies called teknoids that helped to prevent the utter collapse of society. Though she has always been aware of the existence of teknoids, it is not until her first day at The Lady Maud High School for Girls that Tania realizes that her best friend, Siân, may be one. Returning home from the summer holiday, she is shocked by how much Siân has changed. Is it possible that these changes were engineered by Oxted? And if Siân could be a teknoid, how many others in Tania's life are not real? Driven by the need to understand what sets teknoids apart from their human counterparts, Tania begins to seek answers. But time is running out. For everyone knows that on their eighteenth "birthdays," teknoids must be returned to Oxted – never to be heard from again.
Lisa Heathfield
Seed
Egmont Electric Monkey (UK: 16th April 2015)
Buy (US) Buy (UK) Buy (CA) Buy (Worldwide)
Fifteen-year-old Pearl has lived her whole life protected within the small community at Seed, where they worship Nature and idolise their leader, Papa S. When some outsiders arrive, everything changes. Pearl experiences feelings that she never knew existed and begins to realise that there is darkness at the heart of Seed. A darkness from which she must escape, before it's too late.
Krissy Kneen
The Adventures of Holly White and the Incredible Sex Machine
Text (AU: 22nd April 2015)
Buy (US) Buy (UK) Buy (CA)
Holly wears a ring that says "True Love Waits" and worries because her boyfriend isn't trying to persuade her otherwise. Then a boy in her English tute invites her to join his book club. Shocked to find herself at "sex club", plunged into the classics of erotic literature, Holly soon becomes fascinated: by the strange new world of Eros, by the increasing power she senses in her own body – and by a weird blue glow emanating from the most private part of herself. But Salter and Nabokov are one thing. When Holly encounters The Infernal Desire Machines of Dr Hoffman – quickly followed by the infamous orgone generator of Wilhelm Reich – things are set to explode.
Marie Lu
Prodigy (Legend, Book 2)
Penguin Razorbill (AU: 22nd April 2015)
Buy (US) Buy (UK) Buy (CA) Buy (Worldwide)
Missing. June Iparis. Agent, Los Angeles City Patrol, 15, Female, 5 Ft 4 In. 350,000 Republic Notes Reward. If seen, report immediately to your local official. That's what the republic wants their people to think. That I'm "missing". What they don't say is they want me dead. I helped Day, the country's most notorious criminal, escape his execution, aided the rebel patriots in a staged uprising and turned my back on the republic. But I won't turn my back on Day…
Tiffany Reisz
The Virgin (The Original Sinners: The White Years, Book 3)
Mills & Boon (UK: 23rd April 2015)
Buy (US) Buy (UK) Buy (CA) Buy (Worldwide)
For years, Kingsley Edge warned Eleanor the day would come when she would have to run. She always imagined she'd be running with Søren. Instead, she's running from him. Eleanor finds refuge in the one place the men in her life cannot follow. Behind the cloistered gates of the convent where her mother has taken orders. With Eleanor gone, the lights have gone out in Kingsley's kingdom. When he learns the reason for her disappearance, he too, turns his back on Søren. On a beach in Haiti, Kingsley meets Juliette, the one woman who could save him from his sorrows. But only if he can save her first. Eleanor can hide from Søren but not from her true nature. A virginal novice sends her down a path of sexual awakening, but it means leaving her lover behind, a sacrifice Eleanor refuses to make. The price of passion has never been higher, and Eleanor and Kingsley will have to pay it if they ever want to go home again.
Amy Plum
Until the Beginning (After the End, Book 2)
HarperCollins (AU: 27th April 2015)
Buy (US) Buy (UK) Buy (CA) Buy (Worldwide)
When Juneau's clan disappeared, she lost so much more than her friends and family. She soon discovered everything she thought she knew about her life was a lie. Her people's gifts were actually secret abilities that others wanted, desperately enough to kidnap an entire village. Juneau and her new companion Miles's cross-country journey to find her clan has led them to a game preserve in New Mexico. Now Juneau's people are finally within reach, and she will stop at nothing to save them. But she has a target on her back too, because unbeknownst to her she is the key to unlocking everything. To rescue her people – and herself – Juneau must discover what she, and her abilities, are truly capable of.
Sharon Cameron
Rook
Scholastic (US: 28th April 2015)
Buy (US) Buy (UK) Buy (CA) Buy (Worldwide)
Centuries after a shifting of the Earth's poles, the Sunken City that was once Paris is in the grips of a revolution. All who oppose the new regime are put to the blade, except for those who disappear from their prison cells, a red-tipped rook feather left in their place. Is the mysterious Red Rook a saviour of the innocent or a criminal? Meanwhile, across the sea in the Commonwealth, Sophia Bellamy's arranged marriage to the wealthy René Hasard is the last chance to save her family from ruin. But when the search for the Red Rook comes straight to her doorstep, Sophia discovers that her fiancé is not all he seems. Which is only fair, because neither is she. As the Red Rook grows bolder and the stakes grow higher, Sophia and René find themselves locked in a tantalizing game of cat and mouse.
Bree Despain
The Eternity Key (Into the Dark, Book 2)
Random House Egmont (US: 28th April 2015)
Buy (US) Buy (UK) Buy (CA) Buy (Worldwide)
Haden Lord, the disgraced Prince of the Underrealm, has chosen love over honour and will do everything in his power to protect Daphne Raines, the human girl he was supposed to bring to the Underrealm. Haden's choice is put to the test as the Skylords and a figure from his past arrive in Olympus Hills with a plan that could destroy all of the realms. Embracing her destiny as the Cypher, Daphne begins to understand the immense power of her musical ability to control the elements, but she must come to terms with her feelings for Haden and what she must sacrifice in order to protect him and her friends. Believing the Key of Hades is the only thing that can stop the Underrealm Court from releasing the monstrous Keres on the mortal world, Haden, Daphne, and their friends set out to find the Key before Persephone's Gate opens again on the spring equinox.
Kristi Helvig
Strange Skies (Burn Out, Book 2)
Random House Egmont (US: 28th April 2015)
Buy (US) Buy (UK) Buy (CA) Buy (Worldwide)
Caelia is the new Earth. That's what the Consulate told everyone and, against all odds, Tora finally has made it there. She can't see the ocean from her cell in the Consulate's containment centre, and she doesn't know what happened to the weapons her father died for and she's risked her life to save. But as she plans her escape, she runs into the last person she ever expected to see – her dad. The Consulate has held him prisoner in a complicated plot designed to lure Tora out of hiding. Now Tora has a new purpose: break free, get the guns, and save her father. But first she'll have to navigate a strange new planet, track down James (whose loyalties still remain questionable), and find Kale…before he finds her first.
Jennifer Rush
Reborn (Altered, Book 3)
Hachette Little, Brown (AU: 28th April 2015)
Buy (US) Buy (UK) Buy (CA) Buy (Worldwide)
The Branch is in shambles, but Anna, Sam, Cas, and Nick can't rest easy. Remnants of the organization lurk unseen and the flashbacks to their old lives are only getting stronger – especially Nick's. Following scattered memories and clues from his Branch file, Nick sets off alone in search of answers and in search of the girl who haunts his dreams. But the sleepy town where she lives is full of secrets, and Nick soon learns that uncovering their shared past may have deadly consequences.