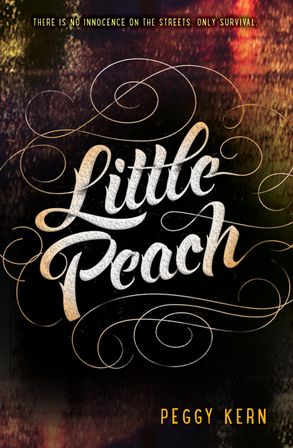 Peggy Kern
Little Peach
HarperCollins Balzer + Bray (US & CA: 10th March 2015)
Buy (US Kindle Edition) Buy (US Hardcover) Buy (UK) Buy (CA Kindle Edition) Buy (CA Hardcover) Buy (Worldwide)
Michelle is fourteen years old. Her beloved grandpa dies, and her drug-addicted mother kicks her out of the house. Michelle wants to escape being sexually abused by her mother's boyfriend again, so she leaves…but with nowhere to go.
We know what this story is about: Child trafficking, child drugging, child rape, child prostitution. It hurts witnessing Michelle go home with Devon, wanting a real family and watching it go so wrong so fast. It hurts witnessing Michelle, Kat, and Baby going to the hotel every night, drugging their selves to get through their "jobs". It hurts that they're scared of police, of people who could get them out of this situation.
It's heartbreaking as Michelle sees a poster for a missing teen girl – a WHITE girl. There's a reward for information leading to her return. And Michelle realises that there's no one searching for her, hoping she'll be back. A missing white girl still has skin privilege.
The ending is probably fitting – there's hope that Michelle's life could improve, but no guarantee of a happily-ever-after.
Little Peach is a five-star read. It's not fun or enjoyable, but it is important. It strikes the heart. Peggy Kern is skilled at making readers care about her characters and those suffering similar situations in real life.