Happy Release Day to: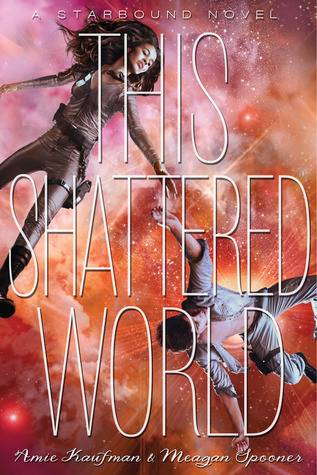 Amie Kaufman & Meagan Spooner
This Shattered World (Starbound, Book 2)
Disney Hyperion (US: 23rd December 2014)
Buy (US) Buy (UK) Buy (CA) Buy (Worldwide)
Jubilee Chase and Flynn Cormac should never have met. Lee is captain of the forces sent to Avon to crush the terraformed planet's rebellious colonists, but she has her own reasons for hating the insurgents. Rebellion is in Flynn's blood. His sister died in the original uprising against the powerful corporate conglomerate that rules Avon with an iron fist. These corporations make their fortune by terraforming uninhabitable planets across the universe and recruiting colonists to make the planets liveable, with the promise of a better life for their children. But they never fulfilled their promise on Avon, and decades later, Flynn is leading the rebellion. Desperate for any advantage against the military occupying his home, Flynn does the only thing that makes sense when he and Lee cross paths: he returns to base with her as prisoner. But as his fellow rebels prepare to execute this tough-talking girl with nerves of steel, Flynn makes another choice that will change him forever. He and Lee escape base together, caught between two sides in a senseless war.
Melissa Landers
Until Midnight (Alienated, Short Story)
Disney Hyperion (US: 23rd December 2014)
Buy (US) Buy (CA)
Cara and Aelyx only have one day to spend together before he returns to earth and she travels to Aelyx's home planet, L'eihr. Homesick and worried about the upcoming year apart, Cara is desperate to make these final hours count. Worst of all, Cara is missing Christmas, stuck on board an alien spaceship. When Aelyx learns that Cara is forgoing her favourite holiday, he tries to recreate Christmas in space by researching traditional earth customs…but a few things get lost in translation.
Veronica Rossi
Into the Still Blue (Under the Never Sky, Book 3)
HarperCollins (US & CA: 23rd December 2014)
Buy (US) Buy (UK) Buy (CA) Buy (Worldwide)
Their love and their leadership have been tested. Now it's time for Perry and Aria to unite the Dwellers and the Outsiders in one last desperate attempt to find the fabled Still Blue and bring balance to their world.
Megan Shepherd
Her Dark Curiosity (Madman's Daughter, Book 2)
HarperCollins (US & CA: 23rd December 2014)
Buy (US) Buy (UK) Buy (CA) Buy (Worldwide)
Months have passed since Juliet Moreau escaped her father's island. Now back in London, she is rebuilding her life and trying to forget Dr. Moreau's horrific legacy – though someone, or something, hasn't forgotten her. As people close to Juliet fall victim to a murderer who leaves a macabre calling card of three claw-like slashes, Juliet fears one of her father's creations may have also made it off the island. She's determined to find the killer, though it means awakening sides of herself she had thought long banished, and facing loves from her past she never expected to see again. And as Juliet strives to uncover the truth while searching for a serum to cure her own worsening illness, she finds herself once more in a world of scandal and danger.