Happy Release Day to: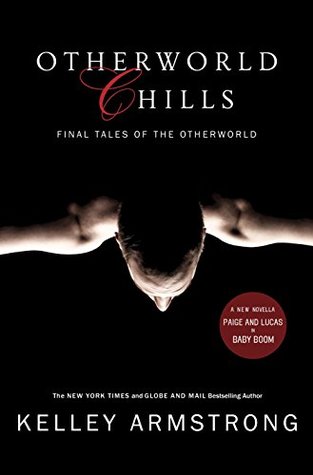 Kelley Armstrong
Otherworld Chills (Otherworld, Anthology)
Penguin Plume (US: 4th October 2016); Hachette Little, Brown Orbit (UK: 4th October 2016); Random House (CA: 4th October 2016)
Buy (US) Buy (UK) Buy (CA) Buy (Worldwide)
Collection of novellas and short stories. Among other tales, the werewolf pack is on the hunt for an old and very dangerous enemy; two very different vampires attempt to settle an old feud; a supernatural date turns hot enough to burn down a building and – in a brand-new novella – Paige and Lucas have a huge decision to make about their future. Completes several important storylines.
S. A. Bodeen
The Detour
Macmillan Square Fish (US: 4th October 2016)
Buy (US) Buy (UK) Buy (CA) Buy (Worldwide)
Livvy Flynn is a big deal – she's a New York Times-bestselling author whose YA fiction has sold all over the world. She's rich, she's famous, she's gorgeous, and she's full of herself. When she's invited to an A-list writer's conference, she decides to accept so she can have some time to herself. She's on a tight deadline for her next book, and she has no intention of socializing with the other industry people at the conference. And then she hits the detour. Before she knows it, her brand new car is wrecked, she's hurt, and she's tied to a bed in a nondescript shack in the middle of nowhere. A woman and her apparently manic daughter have kidnapped her. And they have no intention of letting her go.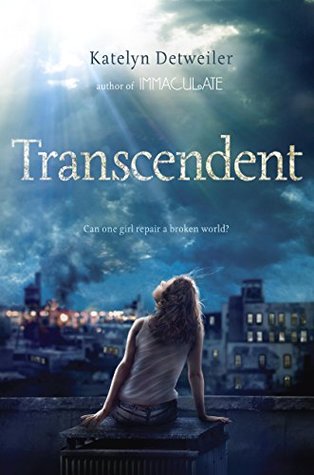 Katelyn Detweiler
Transcendent
Penguin Viking (US & CA: 4th October 2016)
Buy (US) Buy (UK) Buy (CA) Buy (Worldwide)
When terrorists bomb Disney World, seventeen-year-old Iris Spero is as horrified as anyone else. Then a stranger shows up on her stoop in Brooklyn, revealing a secret about the mysterious circumstances surrounding Iris's birth, and throwing her entire identity into question. Everything she thought she knew about her parents, and about herself, is a lie. Suddenly, the press is confronting Iris with the wild notion that she might be "special." More than just special: she could be the miracle the world now so desperately needs. Families all across the grieving nation are pinning their hopes on Iris like she is some kind of saint or saviour. She's no longer sure whom she can trust – except for Zane, a homeless boy who long ago abandoned any kind of hope. She knows she can't possibly be the glorified person everyone wants her to be…but she also can't go back to being safe and anonymous. When nobody knows her but they all want a piece of her, who is Iris Spero now? And how can she – one teenage girl – possibly heal a broken world?
Amy Ewing
The Black Key (Lone City, Book 3)
HarperCollins Teen (US & CA: 4th October 2016)
Buy (US) Buy (UK) Buy (CA) Buy (Worldwide)
For too long, Violet and the people of the outer circles of the Lone City have lived in service of the royalty of the Jewel. But now, the secret society known as the Black Key is preparing to seize power. While Violet knows she is at the centre of this rebellion, she has a more personal stake in it – for her sister, Hazel, has been taken by the Duchess of the Lake. Now, after fighting so hard to escape the Jewel, Violet must do everything in her power to return not only to save Hazel, but the future of the Lone City.
Mira Grant
Feedback (Newsflesh, Book 4)
Hachette Orbit (US: 4th October 2016)
Buy (US) Buy (UK) Buy (CA) Buy (Worldwide)
We had cured cancer. We had beaten the common cold. But in doing so we unleashed something horrifying and unstoppable. The infection spread leaving those afflicted with a single uncontrollable impulse: FEED. Now, twenty years after the Rising, a team of scrappy underdog reporters relentlessly pursue the facts while competing against the brother-and-sister blog superstars, the Masons. Surrounded by the infected, and facing more insidious forces working in the shadows, they must hit the presidential campaign trail and uncover dangerous truths. Or die trying.
Sarah Maria Griffin
Spare and Found Parts
HarperCollins Greenwillow (US & CA: 4th October 2016)
Buy (US) Buy (UK) Buy (CA) Buy (Worldwide)
Nell Crane has never held a boy's hand. In a city devastated by an epidemic, where survivors are all missing parts – an arm, a leg, an eye – Nell has always been an outsider. Her father is the famed scientist who created the biomechanical limbs that everyone now uses. But she's the only one with her machinery on the inside: her heart. Since the childhood operation, she has ticked. Like a clock, like a bomb. And as her community rebuilds, everyone is expected to contribute to the society's good…but how can Nell live up to her father's revolutionary ideas when she has none of her own? Then she finds a lost mannequin's hand while salvaging on the beach, and inspiration strikes. Can Nell build her own companion in a world that fears advanced technology? The deeper she sinks into this plan, the more she learns about her city – and her father, who is hiding secret experiments of his own.
R. C. Lewis
Spinning Starlight
Disney Hyperion (US: 4th October 2016)
Buy (US) Buy (UK) Buy (CA) Buy (Worldwide)
Sixteen-year-old heiress and paparazzi darling Liddi Jantzen hates the spotlight. But as the only daughter in the most powerful tech family in the galaxy, it's hard to escape it. So when a group of men shows up at her house uninvited, she assumes it's just the usual media-grubs. That is, until shots are fired. Liddi escapes, only to be pulled into an interplanetary conspiracy more complex than she ever could have imagined. Her older brothers have been caught as well, trapped in the conduits between the planets. And when their captor implants a device in Liddi's vocal cords to monitor her speech, their lives are in her hands: One word and her brothers are dead. Desperate to save her family from a desolate future, Liddi travels to another world, where she meets the one person who might have the skills to help her bring her eight brothers home – a handsome dignitary named Tiav. But without her voice, Liddi must use every bit of her strength and wit to convince Tiav that her mission is true. With the tenuous balance of the planets deeply intertwined with her brothers' survival, just how much is Liddi willing to sacrifice to bring them back?
Lauren Oliver
Replica
HarperCollins (US & CA: 4th October 2016)
Buy (US) Buy (UK) Buy (CA) Buy (Worldwide)
Lyra's story begins in the Haven Institute, a building tucked away on a private island off the coast of Florida that from a distance looks serene and even beautiful. But up close the locked doors, military guards, and biohazard suits tell a different story. In truth, Haven is a clandestine research facility where thousands of replicas, or human models, are born, raised, and observed. When a surprise attack is launched on Haven, two of its young experimental subjects – Lyra, or 24, and the boy known only as 72 – manage to escape. Gemma has been in and out of hospitals for as long as she can remember. A lonely teen, her life is circumscribed by home, school, and her best friend, April. But after she is nearly abducted by a stranger claiming to know her, Gemma starts to investigate her family's past and discovers her father's mysterious connection to the secretive Haven research facility. Hungry for answers, she travels to Florida, only to stumble upon two replicas and a completely new set of questions.