Review originally published at Speculative Chic.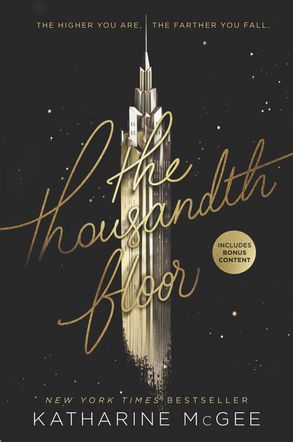 Katharine McGee
The Thousandth Floor (The Thousandth Floor, Book 1)
HarperCollins (UK: 30th August 2016; AU: 1st September 2016; US & CA: 6th June 2017)
Buy (US Kindle Edition) Buy (US Hardcover) Buy (US Paperback) Buy (UK Kindle Edition) Buy (UK Paperback) Buy (CA Kindle Edition) Buy (CA Hardcover) Buy (CA Paperback) Buy (Worldwide)
In Manhattan 2118 stands a thousand-floor building, kind of a city within itself. It contains homes, schools, parks, clubs, and plenty of futuristic goodies. Welcome to the vertical urbanism of Katharine McGee's The Thousandth Floor.
The prologue shows a girl in a dress plummeting to the ground outside. Who is she? Did she jump, or was she pushed? The series is marketed as the new Gossip Girl, but once I put away notions of who represents Serena and Blair, I was able to appreciate these new characters for themselves. Leda is fresh out of rehab. Eris loses her wealthy lifestyle and is forced to move way down the Tower. Watt is hired as a hacker, but the case turns personal. And then there's Nadia, who's altogether awesome.
The drama is contemporary, but the extravagant futuristic setting adds delightful spark. There's life outside the Tower, too, including travel to other continents in just a few hours. Not all of the sub-plots appeal, but there's an undeniable addictiveness to The Thousandth Floor that's left me impatient for more. Book 2, The Dazzling Heights is scheduled for publication later this year.