Happy Release Day to:
Darynda Jones
The Curse of Tenth Grave (Charley Davidson, Book 10)
Macmillan St. Martin's (US: 28th June 2016); Hachette Little, Brown Piatkus (UK & AU: 28th June 2016)
Buy (US); Buy (UK); Buy (CA); Buy (Worldwide)
As a Part-time PI and fulltime grim reaper, Charley Davidson has asked a lot of questions throughout her life: Why can I see dead people? Who is the hot supernatural entity following me? How do I get gum out of my sister's hair before she wakes up? But, "How do I trap not one malevolent god, but three?" was never among them. Until now. And since those gods are on earth to kill her daughter, she has little choice but to track them down, trap them, and cast them from this dimension. There's just one problem. One of the three stole her heart a very long time ago. Can the Razer, a god of absolute death and destruction, change his omniscient spots, or will his allegiances lie with his brothers? Those are just a few of the questions Charley must answer, and quick. Add to that a homeless girl running for her life, an innocent man who's been charged with murdering the daughter of a degenerate gambler, and a pendant made from god glass that has the entire supernatural world in an uproar, and Charley has her hands full. If she can manage to take care of the whole world-destroying-gods thing, we're saved. If not, well…
Amanda Panitch
Never Missing, Never Found
Random House (US & CA: 28th June 2016)
Buy (US); Buy (UK); Buy (CA); Buy (Worldwide)
Some choices change everything. Scarlett chose to run. And the consequences will be deadly. Stolen from her family as a young girl, Scarlett was lucky enough to eventually escape her captor. Now a teen, she's starting a summer job at an amusement park. There are cute boys, new friends, and the chance to finally have a normal life. Her first day on the job, Scarlett is shocked to discover that a girl from the park has gone missing. Old memories come rushing back. And now as she meets her new co-workers, one of the girls seems strangely familiar. When Scarlett chose to run all those years ago, what did she set into motion? And when push comes to shove, how far will she go to uncover the truth…before it's too late?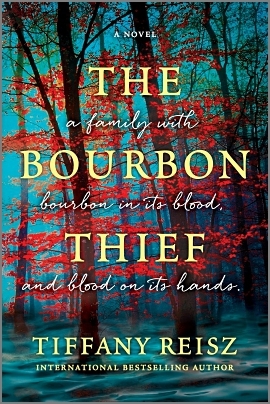 Tiffany Reisz
The Bourbon Thief
Harlequin MIRA (UK: 28th June 2016)
Buy (US); Buy (UK); Buy (CA); Buy (Worldwide)
When Cooper McQueen wakes up from a night with a beautiful stranger, it's to discover he's been robbed. The only item stolen – a million-dollar bottle of bourbon. The thief, a mysterious woman named Paris, claims the bottle is rightfully hers. After all, the label itself says it's property of the Maddox family who owned and operated the Red Thread Bourbon distillery since the last days of the Civil War, until the company went out of business for reasons no one knows… No one except Paris. In the small hours of a Louisville morning, Paris unspools the lurid tale of Tamara Maddox, heiress to the distillery that became an empire. Theirs is a legacy of wealth and power, but also of lies, secrets and sins of omission. Why Paris wants the bottle of Red Thread remains a secret until the truth of her identity is at last revealed, and the century-old vengeance Tamara vowed against her family can finally be completed.