Happy Release Day to:
Megan Shepherd
The Cage (The Cage, Book 1)
HarperCollins Balzer + Bray (US & CA: 24th May 2016)
Buy (US) Buy (UK) Buy (CA) Buy (Worldwide)
When Cora Mason wakes in a desert, she doesn't know where she is or who put her there. As she explores, she finds an impossible mix of environments – tundra next to desert, farm next to jungle, and a strangely empty town cobbled together from different cultures, all watched over by eerie black windows. And she isn't alone. Four other teenagers have also been taken: a beautiful model, a tattooed smuggler, a secretive genius, and an army brat who seems to know too much about Cora's past. None of them have a clue as to what happened, and all of them have secrets. As the unlikely group struggles for leadership, they slowly start to trust each other. But when their mysterious jailer appears – a handsome young guard called Cassian – they realize that their captivity is more terrifying than they could ever imagine: their captors aren't from Earth. And they have taken the five teenagers for an otherworldly zoo – where the exhibits are humans.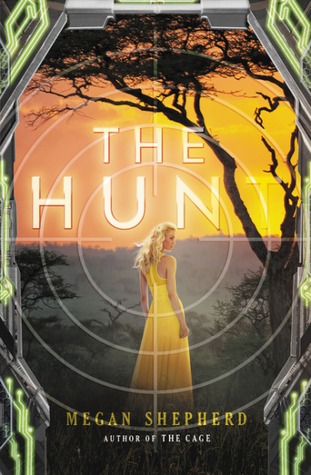 Megan Shepherd
The Hunt (The Cage, Book 2)
HarperCollins Balzer + Bray (US & CA: 24th May 2016)
Buy (US) Buy (UK) Buy (CA) Buy (Worldwide)
After their failed escape attempt, Cora, Lucky, and Mali have been demoted to the lowest level of human captives and placed in a safari-themed environment called the Hunt, along with wild animals and other human outcasts. They must serve new Kindred masters—Cora as a lounge singer, Lucky as an animal wrangler, and Mali as a safari guide – and follow new rules or face dangerous consequences. Meanwhile, Nok and Rolf have been moved into an enormous dollhouse, observed around the clock by Kindred scientists interested in Nok's pregnancy. And Leon, the only one who successfully escaped, has teamed up with villainous Mosca black-market traders. The former inhabitants of the Cage are threatened on all fronts – and maybe worst of all, one of the Hunt's Kindred safari guests begins to play a twisted game of cat and mouse with Cora. Separated and constantly under watch, she and the others must struggle to stay alive, never mind find a way back to each other. When Cassian secretly offers to train Cora to develop her psychic abilities – to prove the worthiness of humanity in a series of tests called the Gauntlet – she'll have to decide fast if she dares to trust the Kindred who betrayed her, or if she can forge her own way to freedom.
Danielle Vega
Survive the Night
Penguin Razorbill (US & CA: 24th May 2016)
Buy (US) Buy (UK) Buy (CA) Buy (Worldwide)
Just back from rehab, Casey regrets letting her friends Shana, Julie, and Aya talk her into coming to Survive the Night, an all-night, underground rave in a New York City subway tunnel. Surrounded by frightening drugs and menacing strangers, Casey doesn't think Survive the Night could get any worse…until she comes across Julie's mutilated body in a dank, black subway tunnel, red-eyed rats nibbling at her fingers. Casey thought she was just off with some guy – no one could hear her getting torn apart over the sound of pulsing music. And by the time they get back to the party, everyone is gone. Desperate for help, Casey and her friends find themselves running through the putrid subway tunnels, searching for a way out. But every manhole is sealed shut, and every noise echoes eerily in the dark, reminding them they're not alone. They're being hunted. Trapped underground with someone – or something – out to get them, Casey can't help but listen to Aya's terrified refrain: "We're all gonna die down here."