Happy Release Day to:
Karen Ann Hopkins
Embers (Wings of War, Book 1)
Karen Ann Hopkins (US: 21st October 2014)
Buy (US) Buy (UK) Buy (CA)
Following a violent episode with her aunt's boyfriend, Ember flees Ohio to live with an old relative in the Smoky Mountains of Tennessee. Ember's exuberance at escaping a bad home life soon turns to trepidation when she learns that she's a Watcher, a descendant of angels. While Ember is instructed about her heritage and the powers that go along with it, she strikes up friendships with two teenagers who live in a frightening walled compound in the forest. Inexplicitly drawn to one of the young men in particular, an impossible romance develops. But it is cut short when Ember discovers that her new friends are fighting on the opposite side of a war, that's been raging between two factions of Watchers for thousands of years. When the compound's inhabitants threaten the townspeople, Ember takes action, sealing her fate in the ancient battle of good versus evil, and the greyness in between. Ember is up to the challenge, until she realises that she isn't only fighting for the lives of the locals and the souls of her new friends. She also might be one of the few champions who will make a stand for all of mankind as the rapture approaches and the end of days begin.
Darynda Jones
Seventh Grave and No Body (Charley Davidson, Book 7)
Macmillan St. Martin's (US: 21st October 2014); Hachette Little, Brown Piatkus (UK: 21st October 2014)
Buy (US) Buy (UK) Buy (CA) Buy (Worldwide)
Twelve. Twelve of the deadliest beasts ever forged in the fires of hell have escaped onto our plane, and they want nothing more than to rip out Charley Davidson's jugular and serve her body to Satan for dinner. So there's that. But Charley has more on her plate than a mob of testy hellhounds. For one thing, her father has disappeared, and as she retraces his last steps she learns he was conducting an investigation of his own, one that has Charley questioning everything she's ever known about him. Add to that an ex-BFF who is haunting her night and day, a rash of suicides that has authorities baffled, and a drop-dead sexy fiancé who has attracted the attentions of a local celebrity, and Charley is not having the best week of her life. But all of that barely scratches the surface of her problems. Recent developments have forced her to become a responsible adult. To conquer such a monumental task, she's decided to start small. Really small. She gets a pet. But how can she save the world against the forces of evil when she can't even keep a goldfish alive?
Kelly Meade
Gray Bishop (Cornerstone Run, Book 2)
Penguin InterMix (US: 21st October 2014)
Buy (US) Buy (UK) Buy (CA)
With the attacks on their homes escalating and human half-breeds seeking sanctuary among them, the loup garou are reaching their breaking point. Two, in particular. After failing to stop his little brother's kidnapping years ago, Bishop McQueen angrily broods on his shame, though no one else blames him. Jillian Reynolds is still dealing with a tragic accident that took everything she ever wanted from life. And her attraction to Bishop is only making things more difficult. When word reaches them that Jillian's hometown is under attack, the Alpha takes Bishop, Jillian, and a group of enforcers to assist in the battle. And it is in this chaos that both Bishop and Jillian will have to face their pasts – and the true feelings they have for each other – if they are going to survive…
Veronica Roth
Divergent (Divergent, Book 1) [Collector's Edition]
HarperCollins Katherine Tegen (US & CA: 21st October 2014)
Buy (US) Buy (UK) Buy (CA) Buy (Worldwide)
This deluxe package features: 72 pages of bonus content, including: -Two essays by Veronica Roth, including excerpts from early drafts of Divergent. -An essay about the psychology behind fear and the "exposure therapy" of Dauntless initiation. -Artistic renderings of the Choosing Ceremony Bowls. -An excerpt from the movie script. -Favourite quotes from Divergent, illustrated by fellow Initiates. -A map of the Dauntless compound. –Divergent discussion questions. Plus: -A four-colour fold-out poster. -A brilliant metallic book jacket. -A satin ribbon placeholder.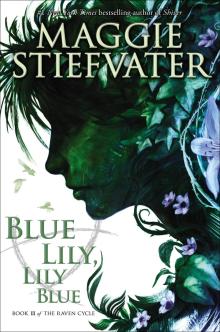 Maggie Stiefvater
Blue Lily, Lily Blue (Raven Cycle, Book 3)
Scholastic (US: 21st October 2014)
Buy (US) Buy (UK) Buy (CA) Buy (Worldwide)
Blue Sargent has found things. For the first time in her life, she has friends she can trust, a group to which she can belong. The Raven Boys have taken her in as one of their own. Their problems have become hers, and her problems have become theirs. The trick with found things, though, is how easily they can be lost. Friends can betray. Mothers can disappear. Visions can mislead. Certainties can unravel.