Happy Release Day to: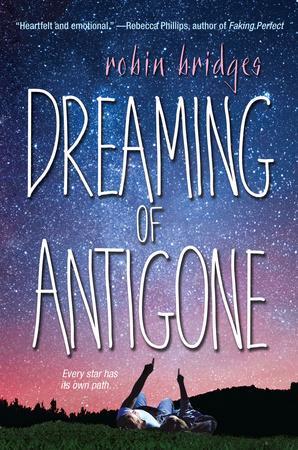 Robin Bridges
Dreaming of Antigone
Kensington (US & CA: 29th March 2016)
Review
Buy (US) Buy (UK) Buy (CA) Buy (Worldwide)
Andria's twin sister, Iris, had adoring friends, a cool boyfriend, a wicked car, and a shelf full of soccer trophies. She had everything, in fact – including a drug problem. Six months after Iris's death, Andria is trying to keep her grades, her friends, and her family from falling apart. But stargazing and books aren't enough to ward off her guilt that she – the freak with the scary illness and all-black wardrobe – is still here when Iris isn't. And then there's Alex Hammond. The boy Andria blames for Iris's death. The boy she's unwittingly started swapping lines of poetry and secrets with, even as she tries to keep hating him.
Kady Cross
Sisters of Salt and Iron (Sisters of Blood and Spirit, Book 2)
Harlequin Teen (US: 29th March 2016)
Buy (US) Buy (UK) Buy (CA) Buy (Worldwide)
Lark Noble is finally happy. She's trying to move on and put the events of the past behind her: the people who avoided her because she talked to the ghost of her dead twin sister, the parents who couldn't be around her anymore and even the attempt she made on her own life. She finally has friends – people who know her secrets and still care about her – and she has Ben, the cute guy she never saw coming. Wren Noble is lonely. Unable to interact with the living, she wants to be happy for her sister's newfound happiness, but she feels like she's losing her. It doesn't help that Kevin, the very not-dead guy she was starting to fall for, seems to be moving on. Then Wren meets Noah, the spirit of a young man who died a century ago. Noah is cute, he's charming and he makes Wren feel something she's never felt before. But Noah has a dark influence on Wren, and Lark's distrust of him drives the sisters apart for the first time in their lives. As Halloween approaches and the veil between the worlds thins, bringing the dead closer to the world of the living, Lark must find a way to stop whatever deadly act Noah is planning, even if it means going through her sister to do so.
Claudia Gabel & Cheryl Klam
Etherworld (Elusion, Book 2)
HarperCollins Katherine Tegen (US & CA: 29th March 2016)
Buy (US) Buy (UK) Buy (CA) Buy (Worldwide)
Regan and her friend Josh now know the truth about Elusion – but they, along with Regan's dad and other users of Elusion, are stuck beyond the firewall in bleak Etherworld. They must fight Elusion from within, but the longer they stay, the less likely they'll be able to return to the real world. And even if they do escape, the next battle to stop Elusion may be even more difficult. They'll face corporate cover-ups, personal betrayals, and the terrifying realization that the danger may have grown beyond anyone's control.
Martin Leicht & Isla Neal
The World Forgot (Ever-Expanding Universe, Book 3)
Simon & Schuster Saga (US & CA: 29th March 2016)
Buy (US) Buy (UK) Buy (CA) Buy (Worldwide)
After dealing with killer whales, evil scientists, the return of her long-lost mother and, certainly not least of all, the challenges of breastfeeding, Elvie Nara has just about had it. And then the Jin'Kai (along with the aforementioned estranged mom) kidnaps her baby. And before she knows it, another Jin'Kai attack puts her on the run again, but not before discovering that Olivia was implanted with a genetic tracking device. So along with Cole, Ducky, and her dad, Elvie goes back out into space to follow the signal. There she finds evil Dr. Marsden up to some evil tricks and realizes that Mars may hold the secret to defeating her enemies once and for all. So, off to Mars she goes. Because alien race war aside, Elvie really wants to be back with her daughter. For a kid she wasn't even sure she wanted, Olivia has come to mean the world to Elvie – and she'll search the universe to be with her again.
Katie McGarry
Nowhere But Here (Thunder Road, Book 1)
Harlequin Teen (US: 29th March 2016)
Buy (US) Buy (UK) Buy (CA) Buy (Worldwide)
Seventeen-year-old Emily likes her life the way it is: doting parents, good friends, good school in a safe neighbourhood. Sure, she's curious about her biological father – the one who chose life in a motorcycle club, the Reign of Terror, over being a parent – but that doesn't mean she wants to be a part of his world. But when a reluctant visit turns into an extended summer vacation among relatives she never knew she had, one thing becomes clear: nothing is what it seems. Not the club, not her secret-keeping father and not Oz, a guy with suck-me-in blue eyes who can help her understand them both. Oz wants one thing: to join the Reign of Terror. They're the good guys. They protect people. They're…family. And while Emily – the gorgeous and sheltered daughter of the club's most respected member – is in town, he's gonna prove it to her. So when her father asks him to keep her safe from a rival club with a score to settle, Oz knows it's his shot at his dream. What he doesn't count on is that Emily just might turn that dream upside down. No one wants them to be together. But sometimes the right person is the one you least expect, and the road you fear the most is the one that leads you home.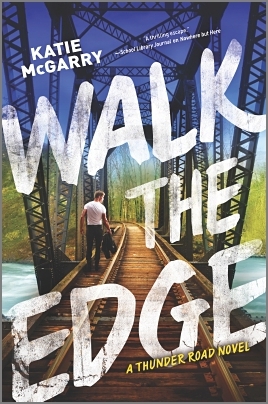 Katie McGarry
Walk the Edge (Thunder Road, Book 2)
Harlequin Teen (US: 29th March 2016)
Buy (US) Buy (UK) Buy (CA) Buy (Worldwide)
Smart. Responsible. That's seventeen-year-old Breanna's role in her large family, and heaven forbid she put a toe out of line. Until one night of shockingly un-Breanna-like behaviour puts her into a vicious cyber-bully's line of fire – and brings fellow senior Thomas "Razor" Turner into her life. Razor lives for the Reign of Terror motorcycle club, and good girls like Breanna just don't belong. But when he learns she's being blackmailed over a compromising picture of the two of them – a picture that turns one unexpected and beautiful moment into ugliness – he knows it's time to step outside the rules. And so they make a pact: he'll help her track down her blackmailer, and in return she'll help him seek answers to the mystery that's haunted him – one that not even his club brothers have been willing to discuss. But the more time they spend together, the more their feelings grow. And suddenly they're both walking the edge of discovering who they really are, what they want, and where they're going from here.