Happy Release Day to: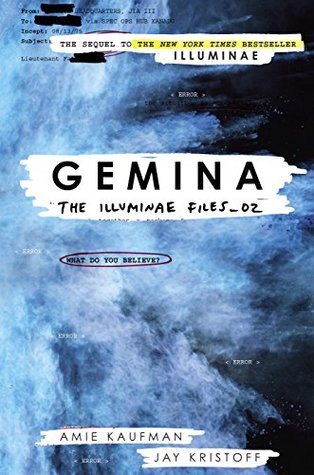 Amie Kaufman & Jay Kristoff [guest journal illustrations by Marie Lu]
Gemina (Illuminae Files, Book 2)
Random House Knopf (US & CA: 18th October 2016)
Buy (US) Buy (UK) Buy (CA) Buy (Worldwide)
Hanna is the station captain's pampered daughter; Nik the reluctant member of a notorious crime family. But while the pair are struggling with the realities of life aboard the galaxy's most boring space station, little do they know that Kady Grant and the Hypatia are headed right toward Heimdall, carrying news of the Kerenza invasion. When an elite BeiTech strike team invades the station, Hanna and Nik are thrown together to defend their home. But alien predators are picking off the station residents one by one, and a malfunction in the station's wormhole means the space-time continuum might be ripped in two before dinner. Soon Hanna and Nik aren't just fighting for their own survival; the fate of everyone on the Hypatia – and possibly the known universe – is in their hands. But relax. They've totally got this. They hope.
Laurie Faria Stolarz
Shutter
Disney Hyperion (US: 18th October 2016)
Buy (US) Buy (UK) Buy (CA) Buy (Worldwide)
THE FACTS: • Julian Roman, age sixteen, is an escapee from the Fairmount County Juvenile Detention Facility. • His parents, Michael Roman and Jennifer Roman, are dead. • Julian is wanted for murder. THE QUESTIONS: • Why is Julian Roman on the run? • Just how dangerous is he? • And who did kill Michael and Jennifer Roman, if not Julian? Sixteen-year-old Day Connor views life through the lens of her camera, where perspective is everything. But photographs never tell the whole story. After Day crosses paths with Julian, the world she pictures and the truths she believes – neatly captured in black and white – begin to blur. Julian is not the "armed and dangerous" escapee the police are searching for, but his alibis don't quite add up, either. There is more to his story. This time, Day is determined to see the entire picture…whatever it reveals. Did he? Or didn't he? Day digs deeper into the case while Julian remains on the run. But the longer her list of facts becomes, the longer the list of questions becomes, too. It's also getting harder to deny the chemistry she feels for him. Is it real? Or is she being manipulated? Day is close to finding the crack in the case. She just needs time to focus before the shutter snaps shut.
Carol Lynch Williams
Messenger
Simon & Schuster Paula Wiseman (US, UK, CA & AU: 18th October 2016)
Buy (US) Buy (UK) Buy (CA) Buy (Worldwide)
Evie Messenger knows that her family is different from other families. But it isn't until her fifteenth birthday that the Messenger gift is revealed to her. Evie has the family's gift – a special power. Soon she realizes she is able to see and talk to the dead – ghosts – often with no idea who the person was. Or as Evie says: "I see Dead People. It's a Messenger gift." That doesn't mean she wants the Messenger gift. So Evie tries to ignore it but soon she finds she cannot. Can Evie find a way to live her life without letting her power take over? And what if the dead person is someone close to Evie's family?