Happy Release Day to:
Debra Driza
Renegade (MILA 2.0, Book 2)
HarperCollins Katherine Tegen (US & CA: 26th April 2016)
Buy (US) Buy (UK) Buy (CA) Buy (Worldwide)
Mila is back on the run – this time with potential boyfriend Hunter by her side. As they search for a man who might know more about her mysterious past, Mila must rely on her android abilities to protect them from the people who want her dead. But embracing her identity as a machine leads her to question the state of her humanity, as well as Hunter's true intentions.
Debra Driza
Redemption (MILA 2.0, Book 3)
HarperCollins Katherine Tegen (US & CA: 26th April 2016)
Buy (US) Buy (UK) Buy (CA) Buy (Worldwide)
Mila has been running for her life for so long. But there might be nowhere left for her to go. Especially now that she's an incredible danger to herself and anyone who dares get close to her. That's why Mila has gone into hiding with friend and tech expert Lucas, someplace secluded where she'll never be found. She can't take the risk of hurting people worse than the way she hurt Hunter: the boy she'll always love, the boy who might never forgive her for what she's done. But then Mila discovers that General Holland – her ultimate enemy – is an even bigger threat to humanity than she is. His quest to reclaim Mila is only part of a larger mysterious endgame that will put people's lives at stake. Mila must make a choice: either push aside her fears and fight him with everything she's got…or turn her back on the world forever.
Kate Kessler
It Takes One (Audrey Harte, Book 1)
Hachette Redhook (US: 26th April 2016)
Buy (US) Buy (UK) Buy (CA) Buy (Worldwide)
Criminal psychologist Audrey Harte is returning home after seven years. She'll have to face the whispers and the rumours that have haunted her family since she left. Because when Audrey was thirteen, she and her best friend Maggie killed Maggie's abusive father. Her first night back in town ends in a fight with a drunken Maggie, with her old crush Jake to witness it all. Audrey can't believe it can get worse. Then Maggie turns up dead.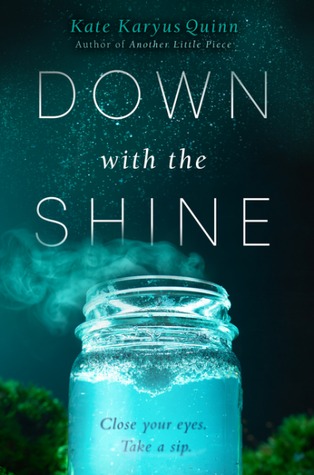 Kate Karyus Quinn
Down with the Shine
HarperCollins Teen (US & CA: 26th April 2016)
Buy (US) Buy (UK) Buy (CA) Buy (Worldwide)
Lennie always thought her uncles' "important family legacy" was good old-fashioned bootlegging. Then she takes some of her uncles' moonshine to Michaela Gordon's annual house party, and finds out just how wrong she was. At the party, Lennie has everyone make a wish before drinking the shine – it's tradition. She toasts to wishes for bat wings, for balls of steel, for the party to go on forever. Lennie even makes a wish of her own: to bring back her best friend, Dylan, who was murdered six months ago. The next morning gives Lennie a whole new understanding of the phrase be careful what you wish for – or in her case, be careful what wishes you grant. Because all those wishes Lennie raised a jar of shine to last night? They came true. Most of them came out bad. And once granted a wish can't be unmade…
Laura Ruby
Bone Gap
HarperCollins Balzer + Bray (US & CA: 26th April 2016)
Buy (US) Buy (UK) Buy (CA) Buy (Worldwide)
Everyone knows Bone Gap is full of gaps. So when young, beautiful Roza went missing, the people of Bone Gap weren't surprised. But Finn knows what really happened to Roza. He knows she was kidnapped by a dangerous man whose face he cannot remember.
Maggie Stiefvater
The Raven King (Raven Cycle, Book 4)
Scholastic (US & CA: 26th April 2016)
Buy (US) Buy (UK) Buy (CA) Buy (Worldwide)
All her life, Blue has been warned that she will cause her true love's death. She doesn't believe in true love and never thought this would be a problem, but as her life becomes caught up in the strange and sinister world of the Raven Boys, she's not so sure anymore.
Amanda Sun
Heir to the Sky
Harlequin Teen (US: 26th April 2016)
Buy (US) Buy (UK) Buy (CA) Buy (Worldwide)
As heir to a kingdom of floating continents, Kali has spent her life bound by limits: by her duties as a member of the royal family, by a forced betrothal to the son of a nobleman, and by the edge of the only world she's ever known – a small island hovering above a monster-ridden earth, long since uninhabited by humans. She is the Eternal Flame of Hope for what's left of mankind, the wick and the wax burning in service for her people, and for their revered Phoenix, whose magic keeps them aloft. When Kali falls off the edge of her kingdom and miraculously survives, she is shocked to discover there are still humans on the earth. Determined to get home, Kali entrusts a rugged monster-hunter named Griffin to guide her across a world overrun by chimera, storm dragons, basilisks and other terrifying creatures. But the more time she spends on earth, the more dark truths she begins to uncover about her home in the sky, and the more resolute she is to start burning for herself.