Happy Release Day to:
Keri Arthur
Winter Halo (Outcast, Book 2)
Penguin Signet (US & CA: 6th December 2016); Hachette Little, Brown Piatkus (UK & AU: 6th December 2016)
Buy (US) Buy (UK) Buy (CA) Buy (Worldwide)
When the bombs that stopped the species war tore holes in the veil between worlds, they allowed entry to the Others. Now, a hundred years later, humans and shifters alike live in artificially lit cities designed to keep the darkness at bay… The humanoid supersoldiers known as the déchet were almost eradicated by the war. Ever since, Tiger has tried to live her life in peace in hiding. But in the wake of her discovery that Central City's children are being kidnapped and experimented on, Tiger's conscience won't let her look the other way. The key to saving them lies within the walls of a pharmaceutical company called Winter Halo. But as she learns more about the facility, Tiger's mission is derailed by a complication: Winter Halo's female security guards are being systematically attacked by an unknown force. Now Tiger must summon all her gifts to stop those responsible for both atrocities – no matter the cost to herself…
Becca Fitzpatrick
Dangerous Lies
Simon & Schuster (US & CA: 6th December 2016)
Buy (US) Buy (UK) Buy (CA) Buy (Worldwide)
Stella Gordon's life is a lie. She does not belong in Thunder Basin, Nebraska. As the star witness in a murder trial against a drug dealer, Stella is now in the Witness Protection Program. The small town locals can never know who she really is. Not even Chet Falconer, the one boy who makes her want to reveal her true self. She knows that telling the truth will only bring violence to this safe haven. Despite how hard Stella tries to stay under the radar, danger is fast approaching. Criminals have a way of getting rid of witnesses, and Stella may have made the one mistake that could lead the cold-blooded men hunting for her right to her doorstep.
Amie Kaufman & Meagan Spooner
Their Fractured Light (Starbound, Book 3)
Disney-Hyperion (US: 6th December 2016)
Buy (US) Buy (UK) Buy (CA) Buy (Worldwide)
A year ago, Flynn Cormac and Jubilee Chase made the now infamous Avon Broadcast, calling on the galaxy to witness for their planet, and protect them from destruction. Some say Flynn's a madman, others whisper about conspiracies. Nobody knows the truth. A year before that, Tarver Merendsen and Lilac LaRoux were rescued from a terrible shipwreck – now, they live a public life in front of the cameras, and a secret life away from the world's gaze. Now, in the centre of the universe on the planet of Corinth, all four are about to collide with two new players, who will bring the fight against LaRoux Industries to a head. Gideon Marchant is an eighteen-year-old computer hacker known in Corinth's underworld as The Knave of Hearts. He'll climb, abseil and worm his way past the best security measures to pull off onsite hacks that others don't dare touch. Sofia Quinn has a killer smile, and by the time you're done noticing it, she's got you offering up your wallet, your car, and anything else she desires. She holds LaRoux Industries responsible for the mysterious death of her father and is out for revenge at any cost. When a LaRoux Industries security breach interrupts Gideon and Sofia's separate attempts to infiltrate their headquarters, they're forced to work together to escape. Each of them has their own reason for wanting to take down LaRoux Industries, and neither trusts the other. But working together might be the best chance they have to expose the secrets LRI is so desperate to hide.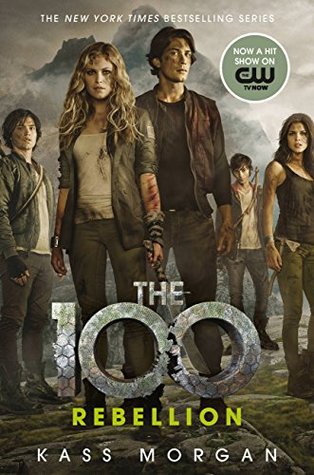 Kass Morgan
Rebellion (The 100, Book 4)
Hachette (US: 6th December 2016)
Buy (US) Buy (UK) Buy (CA) Buy (Worldwide)
It's been a month since the new dropships landed and the rest of the Colonists joined the hundred on the ground. The teens, once branded juvenile delinquents, are now leaders among their people. It should be a time for celebration and togetherness, but a new threat appears before long: a fanatical cult determined to grow its ranks and "heal" the war-ravaged planet…by eliminating everyone else on it. After scores of their friends are captured, CLARKE sets off to retrieve them, certain that she can come to an understanding with these strangers. BELLAMY has a different plan; he won't let anything – or anyone – get in the way of saving the people he loves. Meanwhile, in captivity and scared for their lives, GLASS falls under the spell of the cult's magnetic message, and WELLS has to learn how to lead again. Unless the rescue party arrives soon, the teen captives will face a fate more terrifying than anything they could imagine. If the hundred ever want to call this dangerous planet home, they'll need to put aside their differences and fight to protect themselves and their world.