Oops, it's technically Wednesday now. Um, Belated Happy Release Day to:
Steve Bein
Disciple of the Wind (Fated Blades, Book 2)
Penguin Roc (US & CA: 1st March 2016)
Buy (US) Buy (UK) Buy (CA) Buy (Worldwide)
After a deadly terrorist attack in Tokyo, Detective Sergeant Mariko Oshiro urges her commanding officers to arrest an insane zealot who was just released from police custody. When her pleas fall on deaf ears, she loses her temper and then her badge. Armed with only her cunning and her famed Inazuma blade, Mariko must work outside the system to stop the terrorist. But going rogue draws the attention of the Wind – an underground syndicate that has controlled Japanese politics for centuries, using mystical relics to achieve their nefarious ends. Now, Mariko is left with a perilous choice: join an illicit insurgency to thwart a deadly villain, or remain true to the law. Either way, she cannot escape her sword's curse. As sure as the blade will bring her to victory, it also promises to destroy her…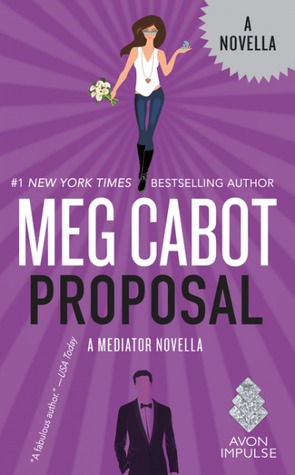 Meg Cabot
Proposal (Mediator, Novella)
HarperCollins Avon Impulse (US & CA: 1st March 2016)
Buy (US) Buy (UK) Buy (CA) Buy (Worldwide)
The last place Suze Simon expects to find herself during Valentine's Day is a cemetery. But that's what happens when you're a mediator – cursed with the "gift" of communicating with the dead. That's how Suze has ended up at the graves of a pair of tragic young lovers. They're NCDPs – Non-Compliant Deceased Persons – whose drama didn't end with death. It's Suze's job to make sure they move on – for good. But the NCDPs aren't the only ones with problems. The reason Suze is spending her Valentine's Day with the undead instead of her boyfriend, Jesse, is because he's having so much trouble adjusting to life after death…not surprising, considering the fact that he used to be an NCDP himself, and now his girlfriend busts his former kind for a living. Can Suze use her mediating skills to propose a mutual resolution, and bring all these young lovers together, especially on the night Saint Valentine declared sacred to romance? Or will she end up alone – and possibly undead – herself?
Rachel Caine
Midnight Bites (Morganville Vampires, Anthology)
Penguin NAL (US & CA: 1st March 2016)
Buy (US) Buy (UK) Buy (CA) Buy (Worldwide)
By day, Morganville, Texas, is just a typical college town. By night, the vampires emerge and take control… In a town where it's not safe to be out after dark, student Claire Danvers and her friends have had their fair share of thrills. But Morganville still has a few secrets left to tell. Now, in this collection, you can venture down the town's strange streets, revisit all the tales, and experience six new stories featuring Morganville residents – both human and vampire…
Lydia Kang
Catalyst (Control, Book 1)
Penguin Speak (US & CA: 1st March 2016)
Buy (US) Buy (UK) Buy (CA) Buy (Worldwide)
In the past year Zel lost her father, the boy she loves, her safety, and any future she might have imagined for herself. Now she, her sister, and the band of genetic outcasts they've come to call their family are forced on the run when their safe house is attacked by men with neural guns. But on the way to a rumoured haven in Chicago, Zel hears something – a whisper from Cy, the boy who traded himself for her sister's safety. And when she veers off plan in order to search for him, what she finds is not what she expected. There's more to their genetic mutations than they ever imagined…aspects that make them wonder if they might be accepted by the outside world after all.
Seanan McGuire
Chaos Choreography (InCryptid, Book 5)
Penguin DAW (US & CA: 1st March 2016)
Buy (US) Buy (UK) Buy (CA) Buy (Worldwide)
Verity Price is back on the West Coast and getting back into the swing of the family business: cryptozoology. She's rescuing cryptids from bad situations, protecting them from monster-hunters, and generally risking life and limb for the greater good, with her ex-Covenant partner/husband, Dominic, by her side. Her ballroom dance career is behind her…or so she thinks. When Verity gets the call from the producers of Dance or Die, the reality show she almost won several years before, she finds the lure of a comeback impossible to resist, and she and Dominic are off to L.A. for one last shot at the big time. Of course, nothing is that simple. When two of her fellow contestants turn up dead, Verity will need every ally she can find – and a couple she wasn't looking for – in order to navigate the complicated steps of both the tango and a murder investigation without blowing her cover. It doesn't help that her official family backup is her grandmother, Alice Price-Healy, who thinks "subtle" is something that happens to other people. Winning this competition may have just become a matter of life and death.