Happy Release Day to: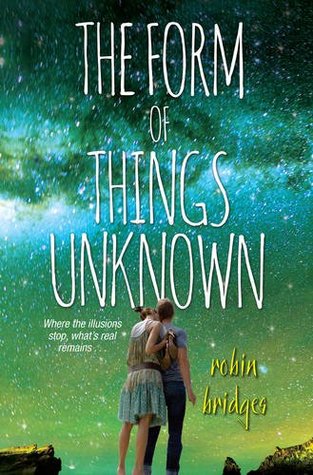 Robin Bridges
The Form of Things Unknown
Kensington (US & CA: 30th August 2016)
Buy (US) Buy (UK) Buy (CA) Buy (Worldwide)
Natalie Roman isn't much for the spotlight. But performing A Midsummer Night's Dream in a stately old theatre in Savannah, Georgia, beats sitting alone replaying mistakes made in Athens. Fairy queens and magic on stage, maybe a few scary stories backstage. And no one in the cast knows her backstory. Except for Lucas – he was in the psych ward, too. He won't even meet her eye. But Nat doesn't need him. She's making friends with girls, girls who like horror movies and Ouija boards, who can hide their liquor in Coke bottles and laugh at the theatre's ghosts. Natalie can keep up. She can adapt. And if she skips her meds once or twice so they don't interfere with her partying, it won't be a problem. She just needs to keep her wits about her.
Stefanie Gaither
Into the Abyss (Falls the Shadow, Book 2)
Simon & Schuster (US, UK, CA, & AU: 30th August 2016)
Buy (US) Buy (UK) Buy (CA) Buy (Worldwide)
Violet Benson used to know who she was: a dead girl's clone, with a dead girl's memories. But after Huxley's attempt to take over the government left her memories and personality wiped all she has left is a mission: help the CCA fight back against the rest of Huxley's deadly clones that are still at large. But when a group of clones infiltrate CCA headquarters, Violet is blamed. Already unsure of where her loyalties should lie, Violet finds herself running away with an unlikely ally: Seth, Jaxon's unpredictable foster brother. With Seth at her side, Violet begins to learn about a whole new side of her city's history – and her own. But when she learns the shocking truth about cloning, Violet will have to make a choice – and it may be one that takes her away from everyone she ever loved.
Stacia Kane
Made for Sin
Random House Loveswept (US & CA: 30th August 2016)
Buy (US) Buy (UK) Buy (CA) Buy (Worldwide)
A lot of bad hands get dealt in Vegas, but E. L. Speare may be holding one of the worst: He's cursed with the need to commit sins, and if he misses his daily quota, there's hell to pay – literally. Fortunately, his hometown affords him plenty of chances to behave badly. But Speare's newest case really has him going out on a limb. The right-hand man of a notorious crime boss has been found dead in a Dumpster – minus his right hand, not to mention the rest of his arm. What catches Speare's attention, however, is that the missing appendage was severed clean by a demon-sword, a frighteningly powerful tool of the underworld. Speare's out of his element, so he turns to a specialist: Ardeth Coyle, master thief, dealer in occult artefacts, and bona fide temptress. Ardeth's hotter than a Las Vegas sidewalk on the Fourth of July, but she's one sin Speare has to resist. The dismembered corpses are piling up, unimaginable evil lurks in the shadows, and if this odd couple hopes to beat the odds, Speare needs to keep his hands off Ardeth, and his head in the game.
Katharine McGee
The Thousandth Floor
HarperCollins (US, UK, & CA: 30th August 2016)
Buy (US) Buy (UK) Buy (CA) Buy (Worldwide)
A hundred years in the future, New York is a city of innovation and dreams. Everyone there wants something…and everyone has something to lose. Leda Cole's flawless exterior belies a secret addiction – to a drug she never should have tried, and a boy she never should have touched. Eris Dodd-Radson's beautiful, carefree life falls to pieces when a heartbreaking betrayal tears her family apart. Rylin Myers's job on one of the highest floors sweeps her into a world – and a romance – she never imagined…but will this new life cost Rylin her old one? Watt Bakradi is a tech genius with a secret: he knows everything about everyone. But when he's hired to spy for an upper-floor girl, he finds himself caught in a complicated web of lies. And living above everyone else on the thousandth floor is Avery Fuller, the girl genetically designed to be perfect. The girl who seems to have it all – yet is tormented by the one thing she can never have. Amid breathtaking advancement and high-tech luxury, five teenagers struggle to find their place at the top of the world. But when you're this high up, there's nowhere to go but down…
Richelle Mead
Succubus Shadows (Georgina Kincaid, Book 5)
Kensington Zebra (US & CA: 30th August 2016)
Buy (US) Buy (UK) Buy (CA) Buy (Worldwide)
Georgina Kincaid has formidable powers. Immortality, seduction, shape-shifting into any human form she desires, walking in heels that would cripple mere mortals – all child's play to a succubus like her… Helping to plan her ex-boyfriend's wedding is a different story. Georgina isn't sure which is worse – that Seth is marrying another woman, or that Georgina has to run all over Seattle trying on bridesmaid dresses. Still, there are distractions. Georgina's roommate, Roman, is cluttering her apartment with sexual tension. Then there's Simone, the new succubus in town, who's intent on corrupting Seth. But the real danger lies in the mysterious force that's visiting her thoughts, trying to draw her into a dark, otherworldly realm. Sooner or later, Georgina knows she'll be too weak to resist. And when that happens, she'll discover who she can trust, who she can't – and that Hell is far from the worst place to spend eternity…