Happy Release Day to:
Jessica Alcott
Even When You Lie to Me
Random House Ember (US & CA: 7th June 2016)
Buy (US); Buy (UK); Buy (CA); Buy (Worldwide)
Charlie, a senior, isn't looking forward to her last year of high school. Another year of living in the shadow of her best friend, Lila. Another year of hiding behind the covers of her favourite novels. Another year of navigating her tense relationship with her perfectionist mom. But everything changes when she meets her new English teacher. Mr. Drummond is smart. Irreverent. Funny. Hot. Everyone loves him. And Charlie thinks he's the only one who gets her. She also thinks she might not be the only one with a crush.
Tara Altebrando
The Leaving
Bloomsbury (US: 7th June 2016)
Buy (US); Buy (UK); Buy (CA); Buy (Worldwide)
Eleven years ago, six kindergartners went missing without a trace. After all that time, the people left behind moved on, or tried to. Until today. Today five of those kids return. They're sixteen, and they are…fine. Scarlett comes home and finds a mom she barely recognizes, and doesn't really recognize the person she's supposed to be, either. But she thinks she remembers Lucas. Lucas remembers Scarlett, too, except they're entirely unable to recall where they've been or what happened to them. Neither of them remember the sixth victim, Max – the only one who hasn't come back. Which leaves Max's sister, Avery, wanting answers. She wants to find her brother – dead or alive – and isn't buying this whole memory-loss story. But as details of the disappearance begin to unfold, no one is prepared for the truth.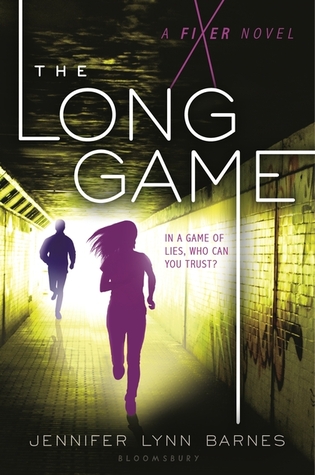 Jennifer Lynn Barnes
The Long Game (Fixer, Book 2)
Bloomsbury (US: 7th June 2016)
Buy (US); Buy (UK); Buy (CA); Buy (Worldwide)
For Tess Kendrick, a junior at the elite Hardwicke School in Washington D.C., fixing runs in the family. But Tess has another legacy, too, one that involves power and the making of political dynasties. When Tess is asked to run a classmate's campaign for student council, she agrees. But when the candidates are children of politicians, even a high school election can involve life-shattering secrets. Meanwhile, Tess's guardian has also taken on an impossible case, as a terrorist attack calls into doubt who can – and cannot – be trusted on Capitol Hill. Tess knows better than most that power is currency in Washington, but she's about to discover first-hand that power always comes with a price.
Sara Wilson Etienne
Lotus and Thorn
Penguin G.P. Putnam's Sons (US & CA: 7th June 2016)
Buy (US); Buy (UK); Buy (CA); Buy (Worldwide)
Ravaged by a plague known as Red Death, the planet Gabriel, a former colony of Earth, is a barren wasteland. Since being abandoned by Earth 500 years ago, resources are scarce and life is cheap. To stay alive, the survivors, the Citizens, scavenge the remains of a now dead city, trading for food with the resource-rich Curadores, the only other survivors on Gabriel. Every old computer, every piece of wire, every scrap of metal counts. To steal is the ultimate sin. So when tough-as-nails seventeen-year-old Leica is caught doing just that, she's exiled and left to the mercy of Gabriel's unforgiving desert for the rest of her life. While in exile, Leica discovers a mysterious shuttle, which may not only lead her home, but even more impossible – re-establish contact with Earth. Then Red Death rears its head again, killing her entire work crew, leaving Leica all alone until a handsome Curador offers her refuge in the Dome – the only place on Gabriel untouched by Red Death, where a decadent and sultry life awaits. But there's a catch: Leica can only enter the Dome as his concubine – his Kisaeng. When a rogue group of Citizens see their chance for revolution in Leica's good fortune, she finds herself unravelling a deadly mystery with chilling answers to the true origin of Red Death and the reason Earth really abandoned them so long ago.
Margaret Fortune
Nova
Penguin DAW (US & CA: 7th June 2016)
Buy (US); Buy (UK); Buy (CA); Buy (Worldwide)
Lia Johansen was created for only one purpose: to slip onto the strategically placed New Sol Space Station and explode. But her mission goes to hell when her clock malfunctions, freezing her countdown with just two minutes to go. With no Plan B, no memories of her past, and no identity besides a name stolen from a dead POW, Lia has no idea what to do next. Her life gets even more complicated when she meets Michael Sorenson, the real Lia's childhood best friend. Drawn to Michael and his family against her better judgment, Lia starts learning what it means to live and love, and to be human. It is only when her countdown clock begins sporadically losing time that she realizes even duds can still blow up. If she wants any chance at a future, she must find a way to unlock the secrets of her past and stop her clock. But as Lia digs into her origins, she begins to suspect there's far more to her mission and to this war, than meets the eye. With the fate of not just a space station but an entire empire hanging in the balance, Lia races to find the truth before her time – literally – runs out.
Tiffany Schmidt
Break Me Like a Promise (Once Upon a Family, Book 2)
Bloomsbury (US: 7th June 2016)
Buy (US); Buy (UK); Buy (CA); Buy (Worldwide)
All Magnolia Vickers ever wanted was to follow in her father's path and head up the Family business. And, once upon a time, she and Carter Landlow were going to do it together. But new legislation is about to destroy the Family's operations in the black-market organ trade, and Carter, her love, is dead. Then Maggie runs into Alex, who needs something her family is uniquely able to deliver, and he's willing to manipulate her to get it. Maggie hates being blackmailed into fulfilling his bargain, but the longer it takes to help him – and as Alex's health declines – Maggie is surprised to find herself falling for him. Like it or not, if she wants to save Alex's life and carve out a place in the new legalized organ business, she's going to have to fight for both.
Alison Umminger
American Girls [also published as My Favourite Manson Girl]
Macmillan Flatiron (US: 7th June 2016); Hachette Little, Brown ATOM (UK & AU: 7th June 2016)
Buy (US); Buy (UK); Buy (CA); Buy (Worldwide)
Anna has had a miserable year. Everything feels wrong with her life. And rather than stay and face the mess, she steals a credit card and books herself a seat on the first flight out of town to Los Angeles, to crash with her sister. But soon after she lands, cold reality soon dawns on her: Hollywood isn't the escape she needs. She is trapped in a town full of lost souls and wannabes, with no friends, no cash and no return ticket. When she's offered a job researching the murderous Manson girls for a dubious film, she reluctantly accepts – she needs the money. But soon enough, among the fake smiles and glitter-fuelled parties, things turn from strange, to dark, to dangerous… This is not going to be the summer Anna had in mind.