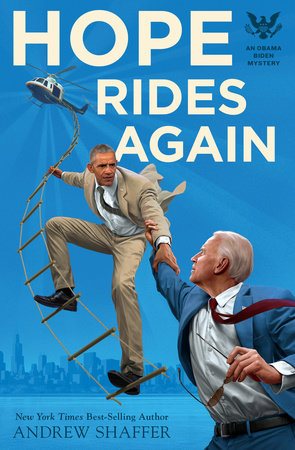 Andrew Shaffer
Hope Rides Again (Obama Biden Mysteries, Book 2)
Penguin Random House Quirk Books (US & CA: 9th July 2019; AU: 16th July 2019)
Buy (US Kindle Edition) Buy (US Paperback) Buy (UK Kindle Edition) Buy (UK Paperback) Buy (CA Kindle Edition) Buy (CA Paperback) Buy (Worldwide Hardcover) Buy (Worldwide Paperback)
In the Obama Biden Mysteries 'verse, the events of Hope Never Dies (in the real world) have been fictionalised into Murder on the Amtrak Express – which is, according to character Joe Biden, "a bunch of malarkey."
Yep, author Andrew Shaffer roasts his own book, his own writing, and his own self ("hack"). Love it!
Hope Rides Again chronicles one eventful day in Chicago. A missing BlackBerry, a shooting, freight containers of weapons from out of state…and it all goes down in a show-stopping luxury yacht scene.
We spend more time with Michelle Obama, who has Resting Concerned Face whenever Joe's around, and meet Chicago's mayor Rahm Emanuel.
Chicago is a "Democrat-run" city, as critics like to point out as they claim there are shootings every night. And there probably are. But to understand why is not as simple as conservatives pretend. Illinois has stricter firearms laws than other states, and right-wingers say that's why there's so much gun violence, and if residents could legally own and carry weapons crime would be down.
They love talking about Chicago's gun violence. But they don't mourn victims, hold vigils, or fundraise for families affected. That would mean doing something helpful, rather than just being smug and blaming left-wingers.
The problem isn't Illinois as much as it is that other American states have looser laws. That's why Australia doesn't have the same gun problem as the USA. While farmers have legal firearms, your average Australian (not part of the crime family ganglands) does not. Fewer accidental shootings, fewer suicides-by-shooting, and fewer intentional shooting of others. We don't have the same attachment to firearms, because not only do we not want to be victims of gun violence, but we also don't want the temptation to COMMIT it. Whereas the pro-pew-pew in the USA aren't willing to acknowledge that they could ever be perpetrators. They only see themselves as potential victims. They aren't willing to confront their own potential to become the bad guy. That they may already be the bad guy.
Fun book, though.