Done with January 2017 Releases? Here are February 2017 Releases. For future releases, check Reading Wishlist.
Cyn Balog
Unnatural Deeds
Sourcebooks (AU: 1st February 2017)
Buy (US) Buy (UK) Buy (CA) Buy (Worldwide)
Victoria Zell doesn't fit in, but she's okay with that. All she needs is the company of her equally oddball boyfriend, Andrew. She doesn't care what anyone else thinks…until magnetic, charming, mysterious Z comes into her life, and she starts lying to everyone she knows in an effort to unravel his secrets. And then something terrible happens. Someone is dead and it's time for Victoria to come clean. Interspersed with news clippings and police interviews, Victoria tells her story to Andrew, revealing her dark, horrible secrets…secrets that have finally come back to haunt her.
Kelley Armstrong
A Darkness Absolute (Casey Duncan, Book 2)
Macmillan St. Martin's Minotaur (US: 7th February 2017); Hachette Little, Brown Sphere (UK: 7th February 2017; AU: 28th February 2017); Penguin Random House (CA: 7th February 2017)
Buy (US) Buy (UK) Buy (CA) Buy (Worldwide)
It's winter in Rockton, a little town hidden deep in the wilds of the Yukon. The town exists for people who need to escape their pasts, though it's not clear if those in hiding are victims or perpetrators. Or, when the lines gets blurred, maybe both. Ask Casey. She's been used, betrayed, beaten. But she's also killed someone. She moved to Rockton to help her best friend, Diana. Ex-best friend. Diana lied to get Casey to come with her; she used her and she almost got her killed. But Casey decided to stay anyway, to work as a detective alongside her new boyfriend and the town's sheriff, Eric Dalton. Fresh off solving a series of grisly murders, Casey and Deputy Will Anders get stranded in a blizzard while they're tracking a runner from the town. Seeking shelter in a cave, they stumble across a woman who's been imprisoned in a deep well. Nicole Chavez – whom everybody thought had run away from town and died in the woods more than a year earlier – is alive. Barely. But she can't identify her captor: she's never seen his face. Was she taken by one of the hostiles who inhabit the wilderness around the town? Or is Casey facing something even worse? In a town where everyone lies about their past and lives under assumed identities, it's very easy to hide your true nature…
Rhoda Belleza
Empress of a Thousand Skies
Penguin Random House Razorbill (US & CA: 7th February 2017)
Buy (US) Buy (UK) Buy (CA) Buy (Worldwide)
Rhee, also known as Crown Princess Rhiannon Ta'an, is the sole surviving heir to a powerful dynasty. She'll stop at nothing to avenge her family and claim her throne. Aly has risen above his war refugee origins to find fame as the dashing star of a DroneVision show. But when he's falsely accused of killing Rhee, he's forced to prove his innocence to save his reputation – and his life. With planets on the brink of war, Rhee and Aly are thrown together to confront a ruthless evil that threatens the fate of the entire galaxy.
Kim Harrison
The Turn
Simon & Schuster Gallery (US & CA: 7th February 2017); Hachette Little, Brown Piatkus (UK: 7th February 2017; AU: 14th February 2017)
Buy (US) Buy (UK) Buy (CA) Buy (Worldwide)
Trisk and her hated rival, Kal, have the same goal: save their species from extinction. But death comes in the guise of hope when a genetically modified tomato created to feed the world combines with the government's new tactical virus, giving it an unexpected host and a mode of transport. Plague rises, giving the paranormal species the choice to stay hidden and allow humanity to die, or to show themselves in a bid to save them. Under accusations of scientific misconduct, Trisk and Kal flee across a plague-torn United States to convince leaders of the major paranormal species to save their supposedly weaker kin, but not everyone thinks humanity should be saved, and Trisk fights the prejudices of two societies to prove that not only does humanity have something to offer, but that long-accepted beliefs against women, dark magic, and humanity itself can turn to understanding; that when people are at their worst that the best show their true strength, and that love can hold the world together as a new balance is found.
Melissa Landers
Starfall (Starflight, Book 2)
Disney-Hyperion (US: 7th February 2017)
Buy (US) Buy (UK) Buy (CA) Buy (Worldwide)
When Princess Cassia Rose fled her home world of Eturia to escape an arranged marriage, she had no idea her sudden departure would spark a war. Now after two years hiding as a ship hand, she is finally returning to her beloved home but not in the way she imagined. Shackled by bounty hunters, she is violently dragged back to account for her crimes. Her only solace is that the Banshee crew managed to evade capture, including Kane Arric, her best friend…with occasional benefits. Meanwhile, Kane and the rest of the crew of the Banshee plan a desperate rescue mission. But when they arrive on Eturia, Cassia isn't exactly in need of heroics – she's claimed her birthright as Eturia's queen, but has inherited a war-torn planet simmering with rebellion. Cassia must make alliances, and Kane, the bastard son of a merchant, isn't a choice that will earn her any friends. Kane knows he will never find someone to replace Cassia – and is certain she returns his feelings – but how can he throw away his own promising future waiting on a queen? When the outer realm is threatened by the dangerous Zhang mafia, Cassia, Kane and the rest of the Banshee crew uncover a horrifying conspiracy that endangers the entire universe. In the face of unspeakable evil, Cassia must confront her own family's complicated legacy on Eturia and decide once and for all who her real family is.
Megan Hart
Little Secrets
Howling Unicorn Press (US: 13th February 2017)
Buy (US) Buy (UK) Buy (CA) Buy (Worldwide)
With a baby on the way and a brand new house, it seems Ginny and her husband, Sean, are on their way to a fresh start. But strange occurrences and financial strain seem determined to keep the couple stuck in the past. Ginny begins to believe the house may be haunted…or that her husband might be trying to trick her into thinking so. As Ginny researches the house's former owner and the tragedy that happened there, it becomes clearer than ever that something is in the house with them. The question is, who…or what…is it?
Merrie Destefano
Lost Girls
Pan Macmillan Entangled (AU: 14th February 2017)
Buy (US) Buy (UK) Buy (CA) Buy (Worldwide)
Yesterday, Rachel went to sleep listening to Taylor Swift, curled up in her grammy's quilt, worrying about geometry. Today, she woke up in a ditch, bloodied, bruised, and missing a year of her life. She doesn't recognise the person she's become: she's popular. She wears nothing but black. Black to cover the blood. And she can fight. She's not the only girl to go missing within the last year…but she's the only girl to come back. She desperately wants to unravel what happened to her, to try and recover the rest of the Lost Girls. But the more she discovers, the more her memories return. And as much as her new life scares her, it calls to her. Seductively. The good girl gone bad, sex, drugs, and raves, and something darker…something she still craves – the rush of the fight, the thrill of the win – something she can't resist, that might still get her killed…
Katie Khan
Hold Back the Stars
Penguin Random House Doubleday (AU: 15th February 2017)
Buy (US) Buy (UK) Buy (CA) Buy (Worldwide)
Carys and Max have ninety minutes of air left. None of this was supposed to happen. Adrift in space with nothing to hold on to but each other, Carys and Max can't help but look back at the world they left behind. A world whose rules they couldn't submit to, a place where they never really belonged; a home they're determined to get back to because they've come too far to lose each other now.
Kim Savage
After the Woods
Macmillan Farrar, Straus and Giroux (US: 21st February 2017)
Buy (US) Buy (UK) Buy (CA) Buy (Worldwide)
"Statistically speaking, girls like me don't come back when guys like Donald Jessup take us." Julia knows she beat the odds. She escaped the kidnapper who hunted her in the woods for two terrifying nights that she can't fully remember. Now it's one year later, and a dead girl turns up in those same woods. The terrible memories resurface, leaving Julia in a stupor at awkward moments – in front of gorgeous Kellan MacDougall, for example. At least Julia's not alone. Her best friend, Liv, was in the woods, too. When Julia got caught, Liv ran away. Is Liv's guilt over leaving Julia the reason she's starving herself? Is hooking up with Shane Cuthbert, an addict with an explosive temper, Liv's way of punishing herself for not having Julia's back? As the devastating truth about Liv becomes clear, Julia realizes the one person she thinks she knows best – Liv – is the person she knows least of all. And that after the woods was just the beginning.
Kim Savage
Beautiful Broken Girls
Macmillan Farrar, Straus and Giroux (US: 21st February 2017)
Buy (US) Buy (UK) Buy (CA) Buy (Worldwide)
Remember the places you touched me. Ben touched seven parts of Mira Cillo: her palm, hair, chest, cheek, lips, throat, and heart. It was the last one that broke her. After Mira's death, she sends Ben on a quest to find notes she left him in the seven places where they touched – notes that explain why she and her sister, Francesca, drowned themselves in the quarry lake. How Ben interprets those notes has everything to do with the way he was touched by a bad coach years ago. But the truth behind the girls' suicides is far more complicated, involving a dangerous infatuation, a deadly miracle, and a crushing lie.
V. C. Andrews [also published as Virginia Andrews]
Broken Glass (Mirror Sisters, Book 2)
Simon & Schuster (UK & AU: 23rd February 2017; US & CA: 28th February 2017)
Buy (US) Buy (UK) Buy (CA) Buy (Worldwide)
Haylee and Kaylee Fitzgerald are twin sisters who have been forced to be identical in every way by their domineering mother. She insists they wear the same clothes, eat the same food, get the same grades, and have all the same friends. But both are growing weary of her obsession with their similarities, so when they finally attend high school, they find little ways to highlight their independence. The transition isn't as easy as expected, however, and soon both sisters are thrust into a world that their mother never prepared them for – a world with far more dangerous consequences than just upsetting Mother.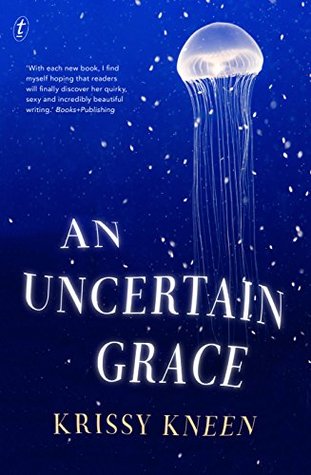 Krissy Kneen
An Uncertain Grace
Text Publishing (AU: 27th February 2017)
Buy (US) Buy (Worldwide)
Some time in the near future, university lecturer Caspar receives a gift from a former student called Liv: a memory stick containing a virtual narrative. Hooked up to a virtual reality bodysuit, he becomes immersed in the experience of their past sexual relationship. But this time it is her experience. What was for him an erotic interlude, resonant with the thrill of seduction, was very different for her – and when he has lived it, he will understand how. Later… A convicted paedophile recruited to Liv's experiment in collective consciousness discovers a way to escape from his own desolation. A synthetic boy, designed by Liv's team to "love" men who desire adolescents, begins to question the terms of his existence. L, in transition to a state beyond gender, befriends Liv, in transition to a state beyond age. Liv herself has finally transcended the corporeal – but there is still the problem of love.
Lauren DeStefano
Broken Crowns (Internment Chronicles, Book 3)
Simon & Schuster (US & CA: 28th February 2017)
Buy (US) Buy (UK) Buy (CA) Buy (Worldwide)
The city is falling out of the sky… Morgan always thought it was just a saying. A metaphor. The words of the dying. But as they look up at the floating island that was their home, Pen and Morgan make a horrible discovery – Internment is sinking. And it's all Morgan's fault. Corrupted from the inside by one terrible king and assailed from the outside for precious resources by another, Internment could be destroyed because Morgan couldn't keep a secret. As two wars become one, Morgan must find a way to bring her two worlds together to stop the kings that wage them… Or face the furthest fall yet.