Done with July 2016 Releases? Here are August 2016 Releases. For future releases, check Reading Wishlist.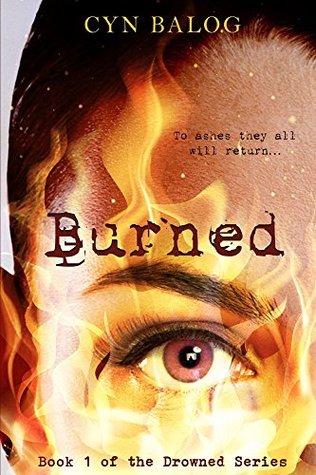 Cyn Balog
Burned (Drowned, Book 1)
Cyn Balog (US: 1st August 2016)
Buy (US) Buy (UK) Buy (CA)
Spoiled, pampered Aliah has found her way to someplace very different from her technologically-advanced underground world. A place where people fight for survival and even the king is a violent savage. The inhabitants of this place are all coming to terms with a frightening reality: Inch by inch, the kingdom of Tides is dying. But are these people truly lost? The more time she spends with King Wallow, the more she begins to settle in, and forget the life she left behind. Still, this kingdom is not kind, and there are horrors and secrets behind every wall. Is it possible to survive, or is finding a way back home her only chance?
Kady Cross
The Girl with the Windup Heart (Steampunk Chronicles, Book 4)
Harlequin Teen (US: 1st August 2016)
Buy (US) Buy (UK) Buy (CA) Buy (Worldwide)
London's underworld is no place for a young woman, even one who is strong, smart and part automaton like Mila. But when master criminal Jack Dandy inadvertently breaks her heart, she takes off, determined to find an independent life, one entirely her own. Her search takes her to the spangled shadows of the West End's most dazzling circus. Meanwhile, taken captive in the Aether, Griffin King is trapped in an inescapable prison and at the mercy of his archenemy, The Machinist. If he breaks, The Machinist will claim control of the Aether, and no one in either world will be safe. To defeat The Machinist for good, Griffin will have to confront his greatest fear and finally come face-to-face with the destructive power he wields.
Dawn Metcalf
Invincible (Twixt, Book 4)
Harlequin Teen (US & AU: 1st August 2016)
Buy (US) Buy (UK) Buy (CA) Buy (Worldwide)
Joy Malone has learned to live between two realities, surviving mortal threats and agonizing betrayals. And she's found true love. But the world of the Twixt is in chaos, and the Council wants someone to blame… Facing a danger greater than any she's ever known, Joy must find the strength to rely on herself as her allies fall away, because Joy is no longer sure just who – or what – she is. She knows only that her deepest secret is also her greatest vulnerability and the key to saving them all. As she fights to protect her friends and family and to unite two disparate worlds, Joy has to trust that some bonds are stronger than magic.
Beth Revis
A World Without You
Penguin Razorbill (AU: 1st August 2016)
Buy (US) Buy (UK) Buy (CA) Buy (Worldwide)
Seventeen-year-old Bo has always had delusions that he can travel through time. When he was ten, Bo claimed to have witnessed the Titanic hit an iceberg, and at fifteen, he found himself on a Civil War battlefield, horrified by the bodies surrounding him. So when his concerned parents send him to a school for troubled youth, Bo assumes he knows the truth: that he's actually attending Berkshire Academy, a school for kids who, like Bo, have "superpowers." At Berkshire, Bo falls in love with Sofia, a quiet girl with a tragic past and the superpower of invisibility. Sofia helps Bo open up in a way he never has before. In turn, Bo provides comfort to Sofia, who lost her mother and two sisters at a very young age. But even the strength of their love isn't enough to help Sofia escape her deep depression. After she commits suicide, Bo is convinced that she's not actually dead. He believes that she's stuck somewhere in time – that he somehow left her in the past, and now it's his job to save her.
Andrea Cremer
The Conjurer's Riddle (The Inventor's Secret, Book 2)
Penguin Speak (US & CA: 2nd August 2016)
Buy (US) Buy (UK) Buy (CA) Buy (Worldwide)
Charlotte and her companions escape the British Empire, but they haven't left danger behind. In fact, if they go against the revolutionaries, they face even greater peril. Charlotte leads her group of exiles west, plunging into a wild world of shady merchants and surly rivermen on the way to New Orleans. But as Charlotte learns more about the revolution she has championed, she wonders if she's on the right side after all. Charlotte and her friends get to know the mystical New Orleans bayou and deep into the shadowy tunnels below the city – the den of criminals, assassins and pirates – Charlotte must decide if the revolution's goals justify their means, or if some things, like the lives of her friends, are too sacred to sacrifice.
Mira Grant
Chimera (Parasitology, Book 3)
Hachette Orbit (US: 2nd August 2016)
Buy (US) Buy (UK) Buy (CA) Buy (Worldwide)
The outbreak has spread, tearing apart the foundations of society, as implanted tapeworms have turned their human hosts into a seemingly mindless mob. Sal and her family are trapped between bad and worse, and must find a way to compromise between the two sides of their nature before the battle becomes large enough to destroy humanity, and everything that humanity has built…including the chimera. The broken doors are closing. Can Sal make it home?
Melissa Landers
United (Alienated, Book 3)
EverAfter Romance (US: 2nd August 2016)
Buy (US) Buy (UK) Buy (CA) Buy (Worldwide)
After thwarting a deadly coup and saving the alliance between their worlds, Cara and Aelyx have finally earned a break. Their tiny island colony is everything they dreamed it would be – days spent gathering shells on the beach and nights in each other's arms. But the vacation is short-lived. The treaty between Earth and L'eihr has awakened an ancient force that threatens to destroy them all. The Aribol, mysterious guardians charged with maintaining interstellar peace, deem the alliance a threat to the galaxy. They order a separation of the races, decreeing humans and L'eihrs must return to their own planets within the month or face extinction. In fact, they already have agents in place on Earth, ready to begin. With the clock ticking, Aelyx and Cara assemble a team of colonists and race back to Earth, where they unite with old friends to solve the mystery of who the Aribol are, what they want, and the real reason the alliance has provoked them. As tensions build to a full-scale war, Aelyx and Cara must fight harder than ever – not just for their future, but for the survival of both their worlds.
Eve Silver
Crash (The Game, Book 3)
HarperCollins Katherine Tegen (US & CA: 2nd August 2016)
Buy (US) Buy (UK) Buy (CA) Buy (Worldwide)
As her dad and best friend lie dying in the hospital, Miki is almost certain the Committee is trying to sabotage her life. The Game is glitching. The missions are more frequent, the alien Drau more deadly, and whatever has been tracking her thoughts more intrusive. The only thing holding Miki together is her boyfriend, Jackson, but somehow telling him how much she needs – and loves – him feels like the most terrifying challenge of all. Can Miki and Jackson make it through the final mission alive and win the Game before the walls between their alien-fighting nightmares and the real world come crashing down? Or will the world and everyone Miki loves disappear forever?
Kristen Simmons
The Glass Arrow
Macmillan Tor (US: 2nd August 2016)
Buy (US) Buy (UK) Buy (CA) Buy (Worldwide)
Once there was a time when men and women lived as equals, when girl babies were valued, and women could belong only to themselves. But that was ten generations ago. Now women are property, to be sold and owned and bred, while a strict census keeps their numbers manageable and under control. The best any girl can hope for is to end up as some man's forever wife, but most are simply sold and resold until they're all used up. Only in the wilderness, away from the city, can true freedom be found. Aya has spent her whole life in the mountains, looking out for her family and hiding from the world, until the day the Trackers finally catch her. Stolen from her home, and being groomed for auction, Aya is desperate to escape her fate and return to her family, but her only allies are a loyal wolf she's raised from a pup and a strange mute boy who may be her best hope for freedom…if she can truly trust him.
Alexandra Sirowy
The Creeping
Simon & Schuster (US, UK, CA, & AU: 2nd August 2016)
Buy (US) Buy (UK) Buy (CA) Buy (Worldwide)
Twelve years ago Stella and Jeanie vanished while picking strawberries. Stella returned minutes later, with no memory of what happened. Jeanie was never seen or heard from again. Now Stella is seventeen, and she's over it. She's the lucky one who survived, and sure, the case is still cloaked in mystery – and it's her small town's ugly legacy – but Stella is focused on the coming summer. She's got a great best friend, a hook-up with an irresistibly crooked smile, and two months of beach days stretching out before her. Then along comes a corpse, a little girl who washes up in an ancient cemetery after a mudslide, and who has red hair just like Jeanie did. Suddenly memories of that haunting day begin to return, and when Stella discovers that other red-headed girls have gone missing as well, she begins to suspect that something sinister is at work. And before the summer ends, Stella will learn the hard way that if you hunt for monsters, you will find them.
Alexandra Sirowy
The Telling
Simon & Schuster (US, UK, CA, & AU: 2nd August 2016)
Buy (US) Buy (UK) Buy (CA) Buy (Worldwide)
Lana used to know what was real. That was before, when her life was small and quiet. Her golden stepbrother, Ben was alive. She could only dream about bonfiring with the populars. Their wooded island home was idyllic, she could tell truth from lies, and Ben's childhood stories were firmly in her imagination. Then came after. After has Lana boldly kissing her crush, jumping into the water from too high up, living with nerve and mischief. But after also has horrors, deaths that only make sense in fairy tales, and terrors from a past Lana thought long forgotten. Love, blood, and murder.
Kelley Armstrong
Betrayals (Cainsville, Book 4)
Hachette Little, Brown Sphere (UK & AU: 4th August 2016); Random House (US & CA: 9th August 2016)
Buy (US) Buy (UK) Buy (CA) Buy (Worldwide)
When Olivia's life exploded – after she found out she was not the adopted child of a privileged Chicago family but of a notorious pair of convicted serial killers – she found a refuge in the secluded but oddly welcoming town of Cainsville, Illinois. Working with Gabriel Walsh, a fiendishly successful criminal lawyer with links to the town, she discovered the truth about her parents' crimes in an investigation that also revealed the darker forces at work in the place that had offered her a haven. As if that wasn't enough, she also found out that she, Gabriel and her biker boyfriend Ricky were not caught in an ordinary sort of love triangle, but were hereditary actors in an ancient drama in which the elders of Cainsville and the mysterious Huntsmen who opposed them had a huge stake. Now someone is killing street kids in the city, and the police have tied Ricky to the crimes. Setting out with Gabriel's help to clear Ricky's name, Olivia once again finds her life at risk. Soon the three are tangled in a web of betrayals that threatens their uneasy equilibrium and is pushing them toward a hard choice: either they fulfil their destinies by trusting each other and staying true to their real bonds, or they succumb to the extraordinary forces trying to win an eternal war by tearing them apart.
J. A. Souders
Renegade (Elysium Chronicles, Book 1)
Pan Macmillan Tor (AU: 9th August 2016)
Buy (US) Buy (UK) Buy (CA) Buy (Worldwide)
Since the age of three, sixteen-year-old Evelyn Winters has trained to be Daughter of the People in the underwater utopia known as Elysium. Selected from hundreds of children for her ideal genes, all her life she's believed that everything is perfect. Her world. Her people. The Law. But when Gavin Hunter, a Surface Dweller, accidentally stumbles into Elysium's secluded little world, Evelyn comes to a startling realization: Everything she knows is a lie. Her memories have been altered. Her mind and body aren't under her own control. And the person she knows as Mother is a monster. Together with Gavin she plans her escape, only to learn that her own mind is a ticking time bomb…and Mother has one last secret that will destroy them all.
Meg Cabot
Remembrance (Mediator, Book 7)
HarperCollins William Morrow (UK: 11th August 2016)
Buy (US) Buy (UK) Buy (CA) Buy (Worldwide)
All Susannah Simon wants is to make a good impression at her first job since graduating from college (and since becoming engaged to Dr. Jesse de Silva). But when she's hired as a guidance counsellor at her alma mater, she stumbles across a decade-old murder, and soon ancient history isn't all that's coming back to haunt her. Old ghosts as well as new ones are coming out of the woodwork, some to test her, some to vex her, and it isn't only because she's a mediator, gifted with second sight. What happens when old ghosts come back to haunt you? If you're a mediator, you might have to kick a little ass. From a sophomore haunted by the murderous spectre of a child, to ghosts of a very different kind – including Paul Slater, Suze's ex, who shows up to make a bargain Suze is certain must have come from the Devil himself – Suze isn't sure she'll make it through the semester, let alone to her wedding night. Suze is used to striking first and asking questions later. But what happens when ghosts from her past – including one she found nearly impossible to resist – strike first?
Rachel Vincent
The Flame Never Dies (The Stars Never Rise, Book 2)
Random House Delacorte (US & CA: 16th August 2016); Harlequin Mills & Boon (UK: 16th August 2016)
Buy (US) Buy (UK) Buy (CA) Buy (Worldwide)
Nina Kane was born to be an exorcist. And since uncovering the horrifying truth – that the war against demons is far from over – seventeen-year-old Nina and her pregnant younger sister, Mellie, have been on the run, incinerating the remains of the demon horde as they go. In the badlands, Nina, Mellie, and Finn, the fugitive and rogue exorcist who saved her life, find allies in a group of freedom fighters. They also face a new threat: Pandemonia, a city full of demons. But this fresh new hell is the least of Nina's worries. The well of souls ran dry more than a century ago, drained by the demons secretly living among humans, and without a donor soul, Mellie's child will die within hours of its birth. Nina isn't about to let that happen…even if it means she has to make the ultimate sacrifice.
Josephine Angelini
Witch's Pyre (Worldwalker, Book 3)
Pan Macmillan (UK: 25th August 2016; AU: 30th August 2016)
Buy (US) Buy (UK) Buy (CA) Buy (Worldwide)
Lily Proctor has come a long way from the weak, sickly girl she used to be. She has gained power as a witch and a leader, found her way home, chosen to face battle again, and (after losing her first love and being betrayed by her new love) she has learned more about loss and grief than she ever wanted to know. Thrust once again into a society different from anything they have ever seen, Lily and her coven are determined to find answers to find a new path to victory, a way to defeat the monstrous Woven without resorting to nuclear weapons or becoming a tyrannical mass murderer like her alternate self, Lillian. But sometimes winning requires sacrifices…and when the only clear path to victory lies at Lillian's side, what price will Lily be willing to pay?
Herman Koch
Dear Mr. M
Pan Macmillan Picador (UK: 25th August 2016); Text (AU: 29th August 2016)
Buy (US) Buy (UK) Buy (CA) Buy (Worldwide)
Mr. M is being watched. As a famous writer, he is no stranger to the limelight, although interest in his work has been dwindling of late. His print runs are smaller than they used to be, as are the crowds at his bookshop signings… Our narrator clearly takes a keen interest in M.'s work, and indeed in every aspect of his life. But what exactly are his intentions? And to what does Mr. M owe the honour of his undivided attention? Our narrator seems to be no stranger to murder, while his own story appears to bear more than a passing resemblance to the plot of Mr. M's most famous novel: a teacher has an affair with a student, only to be brutally murdered by the girl and her teenage boyfriend. The body is never found. That's the problem with fiction: in real life, bodies have an awkward habit of turning up. Mr. M has used some artistic licence, and our narrator is not pleased, not pleased at all. And just before he fades into obscurity, he's prepared to give Mr. M one last review. And it's unlikely to be a rave.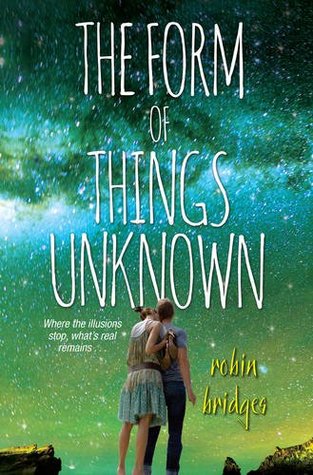 Robin Bridges
The Form of Things Unknown
Kensington (US & CA: 30th August 2016)
Buy (US) Buy (UK) Buy (CA) Buy (Worldwide)
Natalie Roman isn't much for the spotlight. But performing A Midsummer Night's Dream in a stately old theatre in Savannah, Georgia, beats sitting alone replaying mistakes made in Athens. Fairy queens and magic on stage, maybe a few scary stories backstage. And no one in the cast knows her backstory. Except for Lucas – he was in the psych ward, too. He won't even meet her eye. But Nat doesn't need him. She's making friends with girls, girls who like horror movies and Ouija boards, who can hide their liquor in Coke bottles and laugh at the theatre's ghosts. Natalie can keep up. She can adapt. And if she skips her meds once or twice so they don't interfere with her partying, it won't be a problem. She just needs to keep her wits about her.
Stefanie Gaither
Into the Abyss (Falls the Shadow, Book 2)
Simon & Schuster (US, UK, CA, & AU: 30th August 2016)
Buy (US) Buy (UK) Buy (CA) Buy (Worldwide)
Violet Benson used to know who she was: a dead girl's clone, with a dead girl's memories. But after Huxley's attempt to take over the government left her memories and personality wiped all she has left is a mission: help the CCA fight back against the rest of Huxley's deadly clones that are still at large. But when a group of clones infiltrate CCA headquarters, Violet is blamed. Already unsure of where her loyalties should lie, Violet finds herself running away with an unlikely ally: Seth, Jaxon's unpredictable foster brother. With Seth at her side, Violet begins to learn about a whole new side of her city's history – and her own. But when she learns the shocking truth about cloning, Violet will have to make a choice – and it may be one that takes her away from everyone she ever loved.
Stacia Kane
Made for Sin
Random House Loveswept (US & CA: 30th August 2016)
Buy (US) Buy (UK) Buy (CA) Buy (Worldwide)
A lot of bad hands get dealt in Vegas, but E. L. Speare may be holding one of the worst: He's cursed with the need to commit sins, and if he misses his daily quota, there's hell to pay – literally. Fortunately, his hometown affords him plenty of chances to behave badly. But Speare's newest case really has him going out on a limb. The right-hand man of a notorious crime boss has been found dead in a Dumpster – minus his right hand, not to mention the rest of his arm. What catches Speare's attention, however, is that the missing appendage was severed clean by a demon-sword, a frighteningly powerful tool of the underworld. Speare's out of his element, so he turns to a specialist: Ardeth Coyle, master thief, dealer in occult artefacts, and bona fide temptress. Ardeth's hotter than a Las Vegas sidewalk on the Fourth of July, but she's one sin Speare has to resist. The dismembered corpses are piling up, unimaginable evil lurks in the shadows, and if this odd couple hopes to beat the odds, Speare needs to keep his hands off Ardeth, and his head in the game.
Katharine McGee
The Thousandth Floor
HarperCollins (US, UK, & CA: 30th August 2016; AU: 31st August 2016)
Buy (US) Buy (UK) Buy (CA) Buy (Worldwide)
A hundred years in the future, New York is a city of innovation and dreams. Everyone there wants something…and everyone has something to lose. Leda Cole's flawless exterior belies a secret addiction – to a drug she never should have tried, and a boy she never should have touched. Eris Dodd-Radson's beautiful, carefree life falls to pieces when a heartbreaking betrayal tears her family apart. Rylin Myers's job on one of the highest floors sweeps her into a world – and a romance – she never imagined…but will this new life cost Rylin her old one? Watt Bakradi is a tech genius with a secret: he knows everything about everyone. But when he's hired to spy for an upper-floor girl, he finds himself caught in a complicated web of lies. And living above everyone else on the thousandth floor is Avery Fuller, the girl genetically designed to be perfect. The girl who seems to have it all – yet is tormented by the one thing she can never have. Amid breathtaking advancement and high-tech luxury, five teenagers struggle to find their place at the top of the world. But when you're this high up, there's nowhere to go but down…
Richelle Mead
Succubus Shadows (Georgina Kincaid, Book 5)
Kensington Zebra (US & CA: 30th August 2016)
Buy (US) Buy (UK) Buy (CA) Buy (Worldwide)
Georgina Kincaid has formidable powers. Immortality, seduction, shape-shifting into any human form she desires, walking in heels that would cripple mere mortals – all child's play to a succubus like her… Helping to plan her ex-boyfriend's wedding is a different story. Georgina isn't sure which is worse – that Seth is marrying another woman, or that Georgina has to run all over Seattle trying on bridesmaid dresses. Still, there are distractions. Georgina's roommate, Roman, is cluttering her apartment with sexual tension. Then there's Simone, the new succubus in town, who's intent on corrupting Seth. But the real danger lies in the mysterious force that's visiting her thoughts, trying to draw her into a dark, otherworldly realm. Sooner or later, Georgina knows she'll be too weak to resist. And when that happens, she'll discover who she can trust, who she can't – and that Hell is far from the worst place to spend eternity…