Harlequin, you need to get your release dates co-ordinated. Amazon says you have books out on July 26th (today), yet your website lists those same books as out on August 1st. Grr… I'll be including those books on my August lists, so hopefully the authors don't think I'm ignoring their books because your website isn't accurate.
Ahem. Happy Release Day to: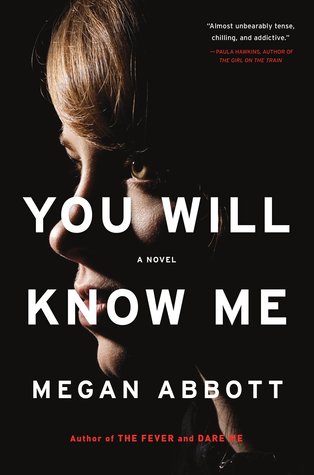 Megan Abbott
You Will Know Me
Hachette Little, Brown (US: 26th July 2016); Pan Macmillan Picador (AU: 26th July 2016)
Buy (US) Buy (UK) Buy (CA) Buy (Worldwide)
How far will you go to achieve a dream? That's the question a celebrated coach poses to Katie and Eric Knox after he sees their daughter Devon, a gymnastics prodigy and Olympic hopeful, compete. For the Knoxes there are no limits – until a violent death rocks their close-knit gymnastics community and everything they have worked so hard for is suddenly at risk. As rumours swirl among the other parents, Katie tries frantically to hold her family together while also finding herself irresistibly drawn to the crime itself. What she uncovers – about her daughter's fears, her own marriage, and herself – forces Katie to consider whether there's any price she isn't willing to pay to achieve Devon's dream.
V. C. Andrews [also published as Virginia Andrews]
Whitefern (Audrina, Book 2)
Simon & Schuster Pocket (US, UK, CA, & AU: 26th July 2016)
Buy (US) Buy (UK) Buy (CA) Buy (Worldwide)
Audrina remembers a better time, when her husband, Arden, was a young man with a heart filled with devotion for her. He didn't used to be this ambitious, expansive…this cruel. But then, the death of Audrina's father changed a great many things. When the reading of her father's will reveals that Audrina herself will control fifty-one percent of the family brokerage – the halls of Whitefern again don't feel safe. Arden's protestations become frantic, nearly violent. And while Audrina didn't anticipate running the family business, she's curious to do so. And she can't help but wonder what had made her father change his will at the last minute? What did he know about Arden that she didn't? Trapped in the middle of it all: her fragile, simple sister – the beautiful, trusting Sylvia. Audrina promised her father she'd watch over the young woman. But after years of relative quiet, the dark days of Whitefern may have returned…