Happy Release Day to:
Carrie Jones
Flying (Flying, Book 1)
Macmillan Tor (US: 19th July 2016)
Buy (US) Buy (UK) Buy (CA) Buy (Worldwide)
People have always treated seventeen-year-old Mana as someone in need of protection. She's used to being coddled, being an only child, but it's hard to imagine anything could ever happen in her small-town, normal life. As her mother's babying gets more stifling than ever, she's looking forward to cheering at the big game and getting out of the house for a while. But that night, Mana's life goes haywire. First, the hot guy she's been crushing on at school randomly flips out and starts spitting acid during the game. Then they get into a knockdown, drag-out fight in the locker room, during which Mana finds herself leaping around like a kangaroo on steroids. As a flyer on the cheerleading squad, she's always been a good jumper, but this is a bit much. By the time she gets home and finds her house trashed and an alien in the garage, Mana starts to wonder if her mother had her reasons for being overprotective. It turns out, Mana's frumpy, timid mom is actually an alien hunter, and now she's missing – taking a piece of technology with her that everyone wants their hands on, both human and alien. Now her supposed partner, a guy that Mana has never met or heard of (and who seems way too young and way too arrogant to be hunting aliens), has shown up, ordering Mana to come with him. Now, on her own for the first time, Mana will have to find a way to save her mother – and maybe the world – and hope she's up to the challenge.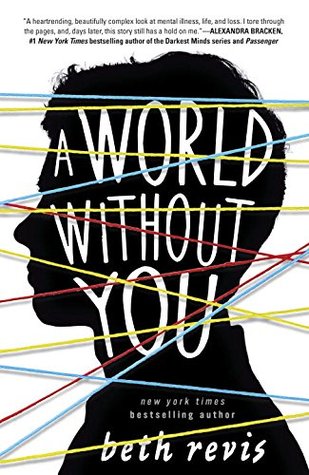 Beth Revis
A World Without You
Penguin Razorbill (US: 19th July 2016)
Buy (US) Buy (UK) Buy (CA) Buy (Worldwide)
Seventeen-year-old Bo has always had delusions that he can travel through time. When he was ten, Bo claimed to have witnessed the Titanic hit an iceberg, and at fifteen, he found himself on a Civil War battlefield, horrified by the bodies surrounding him. So when his concerned parents send him to a school for troubled youth, Bo assumes he knows the truth: that he's actually attending Berkshire Academy, a school for kids who, like Bo, have "superpowers." At Berkshire, Bo falls in love with Sofia, a quiet girl with a tragic past and the superpower of invisibility. Sofia helps Bo open up in a way he never has before. In turn, Bo provides comfort to Sofia, who lost her mother and two sisters at a very young age. But even the strength of their love isn't enough to help Sofia escape her deep depression. After she commits suicide, Bo is convinced that she's not actually dead. He believes that she's stuck somewhere in time – that he somehow left her in the past, and now it's his job to save her.
Laurie Faria Stolarz
Return to the Dark House (Dark House, Book 2)
Disney-Hyperion (US: 19th July 2016)
Buy (US) Buy (UK) Buy (CA) Buy (Worldwide)
Ivy Jensen survived the Dark House once, but can she make it out a second time? Two months have passed since Ivy narrowly escaped the Nightmare Elf's grip, but the memories of Parker, Natalie, Shayla, Frankie, and Garth continue to haunt her. Their killer is still out there – somewhere. The police trail has gone cold, though, and it's up to Ivy to piece together the clues to find him. When a cryptic video arrives in her inbox, Ivy soon finds herself back in the spotlight, this time on a twisted scavenger hunt through the dark, ancient halls of a long-forgotten Gothic school building. Ivy's not alone, either. Taylor Monroe has returned to the scene. But can Taylor be trusted? Or is she another pawn in the Nightmare Elf's deadly game?
Rachel Vincent
The Stars Never Rise
Random House Ember (US & CA: 19th July 2016)
Review
Buy (US) Buy (UK) Buy (CA) Buy (Worldwide)
When sixteen-year-old Nina Kane discovers that her sister, Mellie, is keeping a secret that threatens their very existence, she'll do anything to protect her. Because in New Temperance, sins are prosecuted as crimes by the brutal Church and its army of black-robed exorcists. And Mellie's sin has put her in serious trouble. To save her sister, Nina will need to trust Finn, a fugitive and rogue exorcist with deep green eyes and a penchant for hoodies. What they'll do together might just keep them all alive, stop the Church, and change the face of the world. Holy hellfire indeed.