Happy Release Day to:
Leah Rhyne
Heartless
Polis (US: 10th May 2016)
Buy (US) Buy (UK) Buy (CA) Buy (Worldwide)
Jolene Hall is dead – sort of. She can walk, think and talk, but her heart doesn't beat and her lungs stopped breathing ages ago. Her body's a mosaic of jagged wounds and stapled flesh. Jolene Hall has a choice: turn herself in to the authorities, led by a suspiciously handsome police officer, or team up with her roommate Lucy and her boyfriend Eli to find a way to save her. To Jo, the choice is clear. She'd like to know who turned her into a monster, and she'd like to live to see another sunrise. But that choice has drastic repercussions. On a trip deep into the snowy White Mountains, to a hidden laboratory filled with danger and cadavers, Jo and Lucy find more reanimated girls. Part body, part machine, run by batteries and electricity, these girls are killers, created by a shadowy Order with a penchant for chaos…and murder. To make matters worse, a photo on a wall of victims reveals Lucy is next in line to be "recruited" into this army of beautiful, walking corpses. When Jo's physical condition takes a turn for the irreparable, and the Order kidnaps those she loves most, she must sacrifice herself to save them all.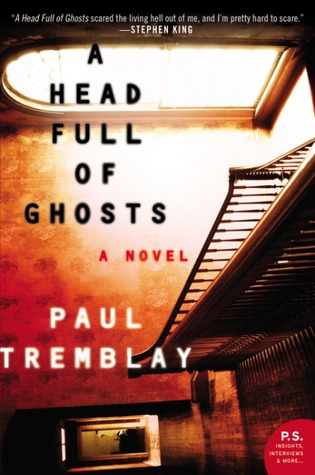 Paul Tremblay
A Head Full of Ghosts
HarperCollins William Morrow (US & CA: 10th May 2016)
Buy (US) Buy (UK) Buy (CA) Buy (Worldwide)
The lives of the Barretts, a normal suburban New England family, are torn apart when fourteen-year-old Marjorie begins to display signs of acute schizophrenia. To her parents' despair, the doctors are unable to stop Marjorie's bizarre outbursts and subsequent descent into madness. As their home devolves into a house of horrors, they reluctantly turn to a local Catholic priest for help. Father Wanderly suggests an exorcism; he believes the vulnerable teenager is the victim of demonic possession. He also contacts a production company that is eager to document the Barretts' plight for a reality television show. With John, Marjorie's father, out of work for more than a year and medical bills looming, the family reluctantly agrees to be filmed – never imagining that The Possession would become an instant hit. When events in the Barrett household explode in tragedy, the show and the incidents it captures become the stuff of urban legend. Fifteen years later, a bestselling writer interviews Marjorie's younger sister, Merry. As she recalls those long-ago events from her childhood – she was just eight years old – painful memories and long-buried secrets that clash with the television broadcast and the Internet blogs begin to surface.