Done with April 2016 Releases? Here are May 2016 Releases. For future releases, check Reading Wishlist.
Steve Bein
Disciple of the Wind (Fated Blades, Book 3)
Penguin Roc (AU: 1st May 2016)
Buy (US) Buy (UK) Buy (CA) Buy (Worldwide)
When Tokyo falls victim to a deadly terrorist attack, Detective Sergeant Mariko Oshiro knows who is responsible, even if she doesn't have proof. She urges her commanding officers to arrest the perpetrator – an insane zealot who was just released from police custody. When her pleas fall on deaf ears, she loses her temper and then her badge, as well as her best chance of fighting back. Left on her own, and armed with only her cunning and her famed Inazuma blade, Mariko must work outside the system to stop a terrorist mastermind. But going rogue draws the attention of an underground syndicate known as the Wind. For centuries, they have controlled Japanese politics from the shadows, using mystical relics to achieve their nefarious ends – relics like Mariko's own sword and the iron demon mask whose evil curse is bound to the blade. Now the Wind is set on acquiring Mariko. Mariko is left with a perilous choice: Join an illicit insurgency to thwart a deadly villain, or remain true to the law. Either way, she cannot escape her sword's curse. As sure as the blade will bring her to victory, it also promises to destroy her…
Amanda Sun
Heir to the Sky
Harlequin Teen (AU: 1st May 2016)
Buy (US) Buy (UK) Buy (CA) Buy (Worldwide)
As heir to a kingdom of floating continents, Kali has spent her life bound by limits: by her duties as a member of the royal family, by a forced betrothal to the son of a nobleman, and by the edge of the only world she's ever known – a small island hovering above a monster-ridden earth, long since uninhabited by humans. She is the Eternal Flame of Hope for what's left of mankind, the wick and the wax burning in service for her people, and for their revered Phoenix, whose magic keeps them aloft. When Kali falls off the edge of her kingdom and miraculously survives, she is shocked to discover there are still humans on the earth. Determined to get home, Kali entrusts a rugged monster-hunter named Griffin to guide her across a world overrun by chimera, storm dragons, basilisks and other terrifying creatures. But the more time she spends on earth, the more dark truths she begins to uncover about her home in the sky, and the more resolute she is to start burning for herself.
Karen Bao
Dove Exiled (Dove Chronicles, Book 2)
Penguin Speak (AU: 2nd May 2016)
Buy (US) Buy (UK) Buy (CA) Buy (Worldwide)
Phaet Theta is a fugitive. Hiding in plain sight with her friend Wes's family on the drowned planet Earth, Phaet discovers the rugged beauty of the world her ancestors once called home. All her life, she's been taught to fear the "Earthbound," and their generosity and kindness surprise and touch Phaet. But when the Lunar Bases attack Wes's isolated village, Phaet's past catches up with her, and she's forced to choose: stay on Earth and fight beside the boy she's falling for, or stow away on a Moon-bound ship so she can save her brother and sister from the government that killed their mother.
Kelley Armstrong
City of the Lost (Casey Duncan, Book 1)
Macmillan St. Martin's Minotaur (US: 3rd May 2016)
Buy (US) Buy (UK) Buy (CA) Buy (Worldwide)
Casey Duncan is a homicide detective with a secret: when she was in college, she killed a man. She was never caught, but he was the grandson of a mobster and she knows that someday this crime will catch up to her. Casey's best friend, Diana, is on the run from a violent, abusive ex-husband. When Diana's husband finds her, and Casey herself is attacked shortly after, Casey knows it's time for the two of them to disappear again. Diana has heard of a town made for people like her, a town that takes in people on the run who want to shed their old lives. You must apply to live in Rockton and if you're accepted, it means walking away entirely from your old life, and living off the grid in the wilds of Canada: no cell phones, no Internet, no mail, no computers, very little electricity, and no way of getting in or out without the town council's approval. As a murderer, Casey isn't a good candidate, but she has something they want: She's a homicide detective, and Rockton has just had its first real murder. She and Diana are in. However, soon after arriving, Casey realizes that the identity of a murderer isn't the only secret Rockton is hiding – in fact, she starts to wonder if she and Diana might be in even more danger in Rockton than they were in their old lives.
Jessica Spotswood
Wild Swans
Sourcebooks Fire (US: 3rd May 2016)
Buy (US) Buy (UK) Buy (CA) Buy (Worldwide)
The summer before Ivy's senior year is going to be golden – all bonfires, barbeques, and spending time with her best friends. For once, she will just get to be. No summer classes, none of Granddad's intense expectations to live up to the family name. For generations, the Milbourn women have lead extraordinary lives – and died young and tragically. Granddad calls it a legacy, but Ivy considers it a curse. Why else would her mother have run off and abandoned her as a child? But when her mother unexpectedly returns home with two young daughters in tow, all of the stories Ivy wove to protect her heart start to unravel. The very people she once trusted now speak in lies. And all of Ivy's ambition and determination cannot defend her against the secrets of the Milbourn past…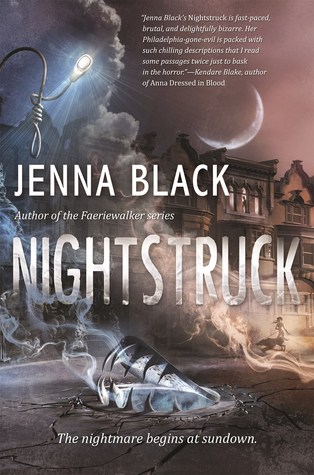 Jenna Black
Nightstruck
Pan Macmillan Tor (AU: 10th May 2016)
Buy (US) Buy (UK) Buy (CA) Buy (Worldwide)
Becket is an ordinary teenage girl, wrestling with the upheaval of her parents' divorce. Her biggest problems to date have been choosing which colleges to apply to, living up to her parents' ambitious expectations of her, and fighting her secret crush on her best friend's boyfriend. That all changes the night she tries to save an innocent life, and everything goes horribly wrong. Becket has been tricked into opening a door between worlds. As dark magic trickles into Philadelphia, strange creatures roam the streets and inanimate objects come to life, all of them bloodthirsty and terrifying. The city returns to normal when the sun rises each morning. The moment the sun sets, most citizens shut themselves in their houses and stay there no matter what they hear. The magic is openly hostile to most mortals, but there are some it seems to covet, trying to lure them out into the night. While Becket struggles to protect her friends and family from predatory creatures of the night, she is constantly tempted to shrug off her responsibilities and join them.
Leah Rhyne
Heartless
Polis (US: 10th May 2016)
Buy (US) Buy (UK) Buy (CA) Buy (Worldwide)
Jolene Hall is dead – sort of. She can walk, think and talk, but her heart doesn't beat and her lungs stopped breathing ages ago. Her body's a mosaic of jagged wounds and stapled flesh. Jolene Hall has a choice: turn herself in to the authorities, led by a suspiciously handsome police officer, or team up with her roommate Lucy and her boyfriend Eli to find a way to save her. To Jo, the choice is clear. She'd like to know who turned her into a monster, and she'd like to live to see another sunrise. But that choice has drastic repercussions. On a trip deep into the snowy White Mountains, to a hidden laboratory filled with danger and cadavers, Jo and Lucy find more reanimated girls. Part body, part machine, run by batteries and electricity, these girls are killers, created by a shadowy Order with a penchant for chaos…and murder. To make matters worse, a photo on a wall of victims reveals Lucy is next in line to be "recruited" into this army of beautiful, walking corpses. When Jo's physical condition takes a turn for the irreparable, and the Order kidnaps those she loves most, she must sacrifice herself to save them all.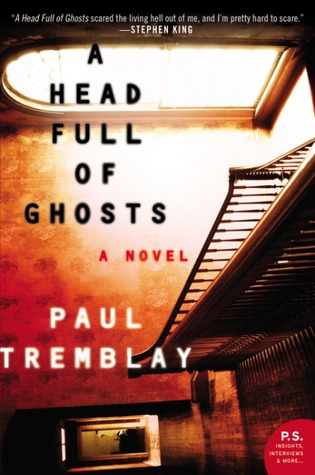 Paul Tremblay
A Head Full of Ghosts
HarperCollins William Morrow (US & CA: 10th May 2016)
Buy (US) Buy (UK) Buy (CA) Buy (Worldwide)
The lives of the Barretts, a normal suburban New England family, are torn apart when fourteen-year-old Marjorie begins to display signs of acute schizophrenia. To her parents' despair, the doctors are unable to stop Marjorie's bizarre outbursts and subsequent descent into madness. As their home devolves into a house of horrors, they reluctantly turn to a local Catholic priest for help. Father Wanderly suggests an exorcism; he believes the vulnerable teenager is the victim of demonic possession. He also contacts a production company that is eager to document the Barretts' plight for a reality television show. With John, Marjorie's father, out of work for more than a year and medical bills looming, the family reluctantly agrees to be filmed – never imagining that The Possession would become an instant hit. When events in the Barrett household explode in tragedy, the show and the incidents it captures become the stuff of urban legend. Fifteen years later, a bestselling writer interviews Marjorie's younger sister, Merry. As she recalls those long-ago events from her childhood – she was just eight years old – painful memories and long-buried secrets that clash with the television broadcast and the Internet blogs begin to surface.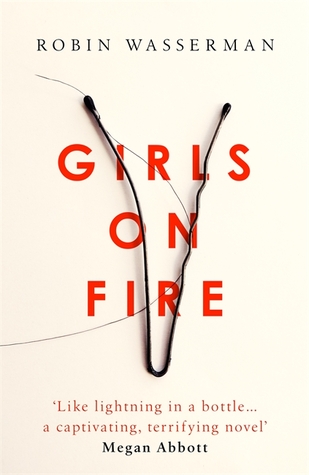 Robin Wasserman
Girls on Fire
Hachette Little, Brown (AU: 10th May 2016; UK: 16th May 2016); HarperCollins (US & CA: 17th May 2016)
Buy (US) Buy (UK) Buy (CA) Buy (Worldwide)
Hannah Dexter is nobody, ridiculed at school by golden girl Nikki Drummond and bored at home. But in their junior year of high school, Nikki's boyfriend walks into the woods and shoots himself. In the wake of the suicide, Hannah finds herself befriending new girl Lacey and soon the pair are inseparable, bonded by their shared hatred of Nikki. Lacey transforms good girl Hannah into Dex, a Doc Marten and Kurt Cobain fan, who is up for any challenge Lacey throws at her. The two girls bring their combined wills to bear on the community in which they live; unconcerned by the mounting discomfort that their lust for chaos and rebellion causes the inhabitants of their parochial small town, they think they are invulnerable. But Lacey has a secret, about life before her better half, and it's a secret that will change everything…
Rachel Vincent
Shift (Shifters, Book 5)
Harlequin MIRA (US: 16th May 2016)
Buy (US) Buy (UK) Buy (CA) Buy (Worldwide)
Being the first female werecat enforcer isn't easy. Scars accumulate, but I'm stronger in so many ways. As for my personal life? It's complicated. Choices worth making always are. Ever since my brother's death and my father's impeachment, it's all I can do to prevent more blood from spilling. Now our Pride is under attack by a flight of vicious thunderbirds. And making peace with our new enemies may be the only way to get the best of our old foe. With the body count rising and treachery everywhere, my instincts tell me to look before I leap. But sometimes a leap of faith is the only real option…
Rachel Vincent
Alpha (Shifters, Book 6)
Harlequin MIRA (US: 16th May 2016)
Buy (US) Buy (UK) Buy (CA) Buy (Worldwide)
The unscrupulous new Council chair has charged Jace, Marc and me with trespassing, kidnapping, murder and treason. Yeah, we've been busy. But now it's time to take justice into our own hands. We must avenge my brother's death and carve out the rot at the heart of the Council. It's not going to be easy, and loss seems unavoidable, but I have promised to protect my Pride, no matter what. With a target on my back and Marc at my side, I'm heading for a final showdown that can – that will – change everything forever. A showdown I'm not sure I'm ready for. But life never waits until you're ready.
Madeline Ashby
Company Town
Macmillan Tor (US: 17th May 2016)
Buy (US) Buy (UK) Buy (CA) Buy (Worldwide)
New Arcadia is a city-sized oil rig off the coast of the Canadian Maritimes, now owned by one very wealthy, powerful, byzantine family: Lynch Ltd. Hwa is of the few people in her community (which constitutes the whole rig) to forgo bio-engineered enhancements. As such, she's the last truly organic person left on the rig – making her doubly an outsider, as well as a neglected daughter and bodyguard extraordinaire. Still, her expertise in the arts of self-defence and her record as a fighter mean that her services are yet in high demand. When the youngest Lynch needs training and protection, the family turns to Hwa. But can even she protect against increasingly intense death threats seemingly coming from another timeline? Meanwhile, a series of interconnected murders threatens the city's stability and heightens the unease of a rig turning over. All signs point to a nearly invisible serial killer, but all of the murders seem to lead right back to Hwa's front door. Company Town has never been the safest place to be – but now, the danger is personal.
Justine Larbalestier
Razorhurst
Random House Soho (US: 17th May 2016)
Buy (US) Buy (UK) Buy (CA) Buy (Worldwide)
Sydney's deadly Razorhurst neighbourhood, 1932. Gloriana Nelson and Mr. Davidson, two ruthless mob bosses, have reached a fragile peace – one maintained by "razor men." Kelpie, orphaned and homeless, is blessed (and cursed) with the ability to see Razorhurst's many ghosts. They tell secrets that the living can't know about the cracks already forming in the mobs' truce. Kelpie meets Dymphna Campbell, Gloriana's prize moll, over the body of the latest of Dymphna's beaus to meet an untimely end – a string that's earned her the nickname the "Angel of Death." Dymphna can see ghosts, too, and she knows that Gloriana's hold is crumbling one henchman at a time. As loyalties shift and betrayal threatens the two girls at every turn, Dymphna is determined to rise to the top with Kelpie at her side.
Jenny Martin
Marked (Tracked, Book 2)
Penguin Dial (US & CA: 17th May 2016)
Buy (US) Buy (UK) Buy (CA) Buy (Worldwide)
Cash, the prince of Bisera and leader of the rebellion, is missing. Phee's uncle James is dead. And Charles Benroyal, once again, is behind it all. Caught between grief, thoughts of revenge, and traumatizing flashbacks of battle, Phee struggles to aid the resistance and prove her worth, even as she attempts to reconcile her growing romantic feelings for Bear with her loyalty to Cash. But when Benroyal's attacks grow bolder, no one is prepared for the sacrifices Phee will have to make to win this war once and for all.
Tiffany Schmidt
Hold Me Like a Breath (Once Upon a Crime Family, Book 1)
Bloomsbury (US: 17th May 2016)
Buy (US) Buy (UK) Buy (CA) Buy (Worldwide)
In Penelope Landlow's world, almost anything can be bought or sold. She's the daughter of one of the three crime families controlling the black market for organ transplants. Because of an autoimmune disorder that causes her to bruise easily, Penny is considered too "delicate" to handle the family business, or even to step foot outside their estate. All Penelope has ever wanted is independence – until she's suddenly thrust into the dangerous world all alone, forced to stay one step ahead of her family's enemies. As she struggles to survive the power plays of rival crime families, she learns dreams come with casualties, betrayal hurts worse than bruises, and there's nothing she won't risk for the people she loves.
Brenna Yovanoff
Places No One Knows
Random House Delacorte (US & CA: 17th May 2016)
Buy (US) Buy (UK) Buy (CA) Buy (Worldwide)
Waverly Camdenmar spends her nights running until she can't even think. Then the sun comes up, life goes on, and Waverly goes back to her perfectly hateful best friend, her perfectly dull classes, and the tiny, nagging suspicion that there's more to life than student council and GPAs. Marshall Holt is a loser. He drinks on school nights and gets stoned in the park. He is at risk of not graduating, he does not care, he is no one. He is not even close to being in Waverly's world. But then one night Waverly falls asleep and dreams herself into Marshall's bedroom – and when the sun comes up, nothing in her life can ever be the same. In Waverly's dreams, the rules have changed. But in her days, she'll have to decide if it's worth losing everything for a boy who barely exists.
Caitlin Kittredge
Grim Tidings (Hellhound Chronicles, Book 2)
HarperCollins Voyager (UK: 19th May 2016)
Buy (US) Buy (UK) Buy (CA) Buy (Worldwide)
Ava is now a masterless hellhound, and Leo has died and returned as the Grim Reaper – the first in centuries. As both try to adjust to their new roles, Ava's past comes back to wreak havoc…on the whole world. A breed of monsters that act like zombies with the intelligence of vampires (nicknamed "zompires") who first ran into Ava in a Nazi death camp in the 1940s have now been sighted in Kansas, spreading their infection faster than ever. Behind the outbreak is Cain, released after being locked up for millennia in Hell. To stop Cain, Ava must strike a deal with past foes, and in the process she learns some deeply buried truths about her past, and Leo's future.
Erica Hayes
Scarred (Sapphire City, Book 2)
HarperCollins Impulse (AU: 23rd May 2016)
Buy (US) Buy (UK) Buy (CA) Buy (Worldwide)
Verity Fortune's crime-fighting days are over. In exile, defeated by her smug supervillain nemesis, her shady past exposed – even her own superpowered family condemns her as a traitor. Whatever it takes, Verity's determined to prove she can still be a force for good. Now, Sapphire City faces a new threat: a delinquent duo with extraordinary powers and a terrifying talent for destruction. Outmatched and on the run, her telekinetic powers faltering, Verity can't defeat this menace alone – but whom can she trust, when the only person who believes in her is her arch-enemy?
Tara Moss
Speaking Out
HarperCollins (AU: 23rd May 2016)
Buy (US) Buy (Worldwide)
A short, accessible and practical handbook for women on speaking out safely and confidently. Worldwide, less than one out of every four people we hear from or about in the media is female, and men outnumber women in parliament by four to one. If half of humanity's experiences, perspectives and possible solutions to world problems are under-represented, or entirely unheard, all of us lose out. Tara Moss has spent 20 years in the public sphere and has had to face down nerves, critics and backlash. She has become a leader in speaking out. In this handbook she offers advice on preparation, speaking out and negotiating public spaces. With a special focus on public speaking, social media and online safety, she offers tips on how to research, form arguments, find support and handle criticism. This is a guide for women young and old that not only helps them find their voice, but argues passionately for why it matters.
Megan Shepherd
The Cage (The Cage, Book 1)
HarperCollins Balzer + Bray (US & CA: 24th May 2016)
Buy (US) Buy (UK) Buy (CA) Buy (Worldwide)
When Cora Mason wakes in a desert, she doesn't know where she is or who put her there. As she explores, she finds an impossible mix of environments – tundra next to desert, farm next to jungle, and a strangely empty town cobbled together from different cultures, all watched over by eerie black windows. And she isn't alone. Four other teenagers have also been taken: a beautiful model, a tattooed smuggler, a secretive genius, and an army brat who seems to know too much about Cora's past. None of them have a clue as to what happened, and all of them have secrets. As the unlikely group struggles for leadership, they slowly start to trust each other. But when their mysterious jailer appears – a handsome young guard called Cassian – they realize that their captivity is more terrifying than they could ever imagine: their captors aren't from Earth. And they have taken the five teenagers for an otherworldly zoo – where the exhibits are humans.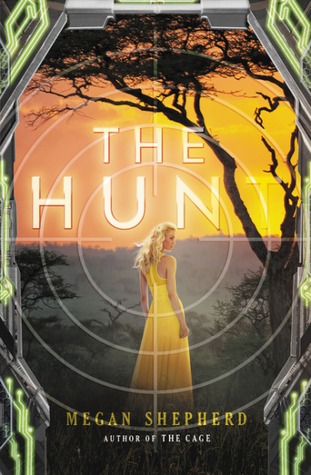 Megan Shepherd
The Hunt (The Cage, Book 2)
HarperCollins Balzer + Bray (US & CA: 24th May 2016)
Buy (US) Buy (UK) Buy (CA) Buy (Worldwide)
After their failed escape attempt, Cora, Lucky, and Mali have been demoted to the lowest level of human captives and placed in a safari-themed environment called the Hunt, along with wild animals and other human outcasts. They must serve new Kindred masters—Cora as a lounge singer, Lucky as an animal wrangler, and Mali as a safari guide – and follow new rules or face dangerous consequences. Meanwhile, Nok and Rolf have been moved into an enormous dollhouse, observed around the clock by Kindred scientists interested in Nok's pregnancy. And Leon, the only one who successfully escaped, has teamed up with villainous Mosca black-market traders. The former inhabitants of the Cage are threatened on all fronts – and maybe worst of all, one of the Hunt's Kindred safari guests begins to play a twisted game of cat and mouse with Cora. Separated and constantly under watch, she and the others must struggle to stay alive, never mind find a way back to each other. When Cassian secretly offers to train Cora to develop her psychic abilities – to prove the worthiness of humanity in a series of tests called the Gauntlet – she'll have to decide fast if she dares to trust the Kindred who betrayed her, or if she can forge her own way to freedom.
Danielle Vega
Survive the Night
Penguin Razorbill (US & CA: 24th May 2016)
Buy (US) Buy (UK) Buy (CA) Buy (Worldwide)
Just back from rehab, Casey regrets letting her friends Shana, Julie, and Aya talk her into coming to Survive the Night, an all-night, underground rave in a New York City subway tunnel. Surrounded by frightening drugs and menacing strangers, Casey doesn't think Survive the Night could get any worse…until she comes across Julie's mutilated body in a dank, black subway tunnel, red-eyed rats nibbling at her fingers. Casey thought she was just off with some guy – no one could hear her getting torn apart over the sound of pulsing music. And by the time they get back to the party, everyone is gone. Desperate for help, Casey and her friends find themselves running through the putrid subway tunnels, searching for a way out. But every manhole is sealed shut, and every noise echoes eerily in the dark, reminding them they're not alone. They're being hunted. Trapped underground with someone – or something – out to get them, Casey can't help but listen to Aya's terrified refrain: "We're all gonna die down here."
Sharon Cameron
Rook
Scholastic (US: 31st May 2016)
Buy (US) Buy (UK) Buy (CA) Buy (Worldwide)
Centuries after a shifting of the Earth's poles, the Sunken City that was once Paris is in the grips of a revolution. All who oppose the new regime are put to the blade, except for those who disappear from their prison cells, a red-tipped rook feather left in their place. Is the mysterious Red Rook a saviour of the innocent or a criminal? Meanwhile, across the sea in the Commonwealth, Sophia Bellamy's arranged marriage to the wealthy René Hasard is the last chance to save her family from ruin. But when the search for the Red Rook comes straight to her doorstep, Sophia discovers that her fiancé is not all he seems. Which is only fair, because neither is she. As the Red Rook grows bolder and the stakes grow higher, Sophia and René find themselves locked in a tantalizing game of cat and mouse.
Darynda Jones
The Dirt on Ninth Grave (Charley Davidson, Book 9)
Macmillan St. Martin's (US: 31st May 2016)
Buy (US) Buy (UK) Buy (CA) Buy (Worldwide)
Charley Davidson is living in New York City as Jane Doe, a girl with no memory of who she is or where she came from. So when she begins to realize she can see dead people, she's more than a bit taken aback. Strangers who enter the diner where she works seem to know things about her… Then she is confronted by a man who claims to have been sent to kill her. Sent by the darkest force in the universe. An enemy that will not stop until she is dead. Thankfully, she has a Rottweiler. And the diner's devastatingly handsome fry cook, who vows to protect her even though he seems to be lying with every breath he takes. But in the face of such grave danger, who can Jane/Charley/whoever-she-is trust? She will find the truth even if it kills her…or the fry cook. Either way…
Kathleen Peacock
Willowgrove (Hemlock, Book 3)
HarperCollins Katherine Tegen (US & CA: 31st May 2016)
Buy (US) Buy (UK) Buy (CA) Buy (Worldwide)
Ever since Mac's best friend, Amy, was murdered, Hemlock has been a dangerous place. But now that Mac, her boyfriend, Kyle, and Amy's ex, Jason, instigated a mass breakout from Thornhill, a werewolf "rehabilitation" camp, the danger has only grown. Fear of the infection spreading is now at an all-time high and anyone with a scar is suspected of being a wolf. What makes Mac even more afraid, though, are the dark experiments that the warden of Thornhill was performing on wolves in a secret asylum called Willowgrove. Uncovering the truth about what happened may be the only way for Mac to save everyone she loves and end her nightmares for good.
Vicki Pettersson
Swerve
Simon & Schuster Pocket (US & CA: 31st May 2016)
Buy (US) Buy (UK) Buy (CA) Buy (Worldwide)
When Kristine Rush's fiancé is abducted from a desolate rest stop en route from Las Vegas to Lake Arrowhead, California, she is forced to choose: return home unharmed or plunge forward into the searing Mojave desert to find him…where a murderer lies in wait. Speeding against the clock, and uncertain if danger lies ahead or behind, Kristine blazes an epic path through the gaudy flash of roadside casinos, abandoned highway stops, and a landscape rife with unimaginable horrors. Desperate to save her doomed husband-to-be, she must summon long forgotten resources to go head-to-head against an unpredictable killer. And she'd better hurry. Because she only has twenty-four hours…to make one hell of a trip.