Happy Release Day to:
Jenna Black
Nightstruck
Macmillan Tor Teen (US: 5th April 2016)
Buy (US) Buy (UK) Buy (CA) Buy (Worldwide)
Becket is an ordinary teenage girl, wrestling with the upheaval of her parents' divorce. A studious high school senior, her biggest problems to date have been choosing which colleges to apply to, living up to her parents' ambitious expectations for her, and fighting her secret crush on her best friend's boyfriend. But that all changes on the night she tries to save an innocent life and everything goes horribly wrong. Unbeknownst to her, Becket has been tricked into opening a door between worlds, allowing a dark magic into the mortal world. As the magic trickles in, the city begins to change at night. Strange creatures roam the streets, and inanimate objects come to life, all of them bloodthirsty and terrifying. The city returns to normal when the sun rises in the morning, and no one can capture the strange changes – such as potholes turning into toothy mouths and wires turning into strangling vines – on film, which prompts the government to declare that the city has been infected with some kind of madness and must be quarantined. Meanwhile, venturing out of one's house at night has become a dangerous proposition, and the moment the sun sets, most of the citizens of the city shut themselves up in their houses and stay there even in the case of dire emergencies. The magic is openly hostile to most mortals, but there are some individuals it seems to covet, trying to lure them out into the night. While Becket struggles to protect her friends and family from predatory creatures of the night, she is constantly tempted to shrug off all her responsibilities and join them. Joining the night world means being free of not just responsibility, but conscience, and it means no longer caring about the fate of others.
Sylvia Day
One with You (Crossfire, Book 5)
Macmillan St. Martin's Griffin (US: 5th April 2016); Penguin (UK & AU: 5th April 2016)
Buy (US) Buy (UK) Buy (CA) Buy (Worldwide)
Gideon Cross. Falling in love with him was the easiest thing I've ever done. It happened instantly. Completely. Irrevocably. Marrying him was a dream come true. Staying married to him is the fight of my life. Love transforms. Ours is both a refuge from the storm and the most violent of tempests. Two damaged souls entwined as one. We have bared our deepest, ugliest secrets to one another. Gideon is the mirror that reflects all my flaws…and all the beauty I couldn't see. He has given me everything. Now, I must prove I can be the rock, the shelter for him that he is for me. Together, we could stand against those who work so viciously to come between us. But our greatest battle may lie within the very vows that give us strength. Committing to love was only the beginning. Fighting for it will either set us free…or break us apart.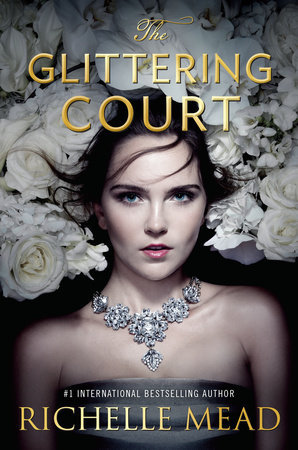 Richelle Mead
The Glittering Court
Penguin Razorbill (US, CA, & AU: 5th April 2016)
Buy (US) Buy (UK) Buy (CA) Buy (Worldwide)
For a select group of girls, the Glittering Court offers a shot at a life they've only ever dreamed of, one of luxury, glamour, and leisure. To high-born Adelaide, whose wealthy family is forcing her into a loveless marriage, the Glittering Court represents something else: the chance to chart her own destiny, and adventure in an unspoiled, prosperous new land across the sea. After a chance meeting with the dazzling Cedric Thorn, Adelaide poses as a servant to join the crop of impoverished girls he promises to transform into proper ladies. But her familiarity with upper class life comes with a price: she must hide her identity from her new friends, mysterious refugee Mira and fiery former laundress Tamsin, and most importantly, from Cedric himself – even though she's falling in love with him. Everything begins to crumble when Cedric discovers Adelaide's ruse, and she catches the eye of a powerful young governor, who wants her for a wife. She didn't leave the gilded cage of her old life behind just to become someone else's property. But nothing is as daunting – or as wonderful – as the potent, forbidden attraction simmering between Adelaide and Cedric. One that, if acted on, would make them both outcasts in a wild, dangerous, uncharted world, and possibly lead them to their deaths.
Danielle Rollins
Burning
Bloomsbury (US: 5th April 2016)
Buy (US) Buy (UK) Buy (CA) Buy (Worldwide)
Tucked away, deep in the woods, Brunesfield Correctional Facility's cold walls and empty hallways keep dangerous girls away from the world…girls like Angela Davis, whose fate was determined by one bad decision. After a few years in juvie, Angela is finally close to her release, but everything changes the day a new warden with dark plans takes over. Angela knows evil when she sees it, and as strange disappearances and frightening incidents happen more and more frequently, it becomes clear that Brunesfield could be the end of them. Angela and her friends must find a way to get out, but how can they save themselves from very place keeping them locked away?"