Done with March 2016 Releases? Here are April 2016 Releases. For future releases, check Reading Wishlist.
Kady Cross
Sisters of Salt and Iron (Sisters of Blood and Spirit, Book 2)
Harlequin Teen (AU: 1st April 2016)
Buy (US) Buy (UK) Buy (CA) Buy (Worldwide)
Lark Noble is finally happy. She's trying to move on and put the events of the past behind her: the people who avoided her because she talked to the ghost of her dead twin sister, the parents who couldn't be around her anymore and even the attempt she made on her own life. She finally has friends – people who know her secrets and still care about her – and she has Ben, the cute guy she never saw coming. Wren Noble is lonely. Unable to interact with the living, she wants to be happy for her sister's newfound happiness, but she feels like she's losing her. It doesn't help that Kevin, the very not-dead guy she was starting to fall for, seems to be moving on. Then Wren meets Noah, the spirit of a young man who died a century ago. Noah is cute, he's charming and he makes Wren feel something she's never felt before. But Noah has a dark influence on Wren, and Lark's distrust of him drives the sisters apart for the first time in their lives. As Halloween approaches and the veil between the worlds thins, bringing the dead closer to the world of the living, Lark must find a way to stop whatever deadly act Noah is planning, even if it means going through her sister to do so.
Katie McGarry
Walk the Edge (Thunder Road, Book 2)
Harlequin Teen (AU: 1st April 2016)
Buy (US) Buy (UK) Buy (CA) Buy (Worldwide)
Smart. Responsible. That's seventeen-year-old Breanna's role in her large family, and heaven forbid she put a toe out of line. Until one night of shockingly un-Breanna-like behaviour puts her into a vicious cyber-bully's line of fire – and brings fellow senior Thomas "Razor" Turner into her life. Razor lives for the Reign of Terror motorcycle club, and good girls like Breanna just don't belong. But when he learns she's being blackmailed over a compromising picture of the two of them – a picture that turns one unexpected and beautiful moment into ugliness – he knows it's time to step outside the rules. And so they make a pact: he'll help her track down her blackmailer, and in return she'll help him seek answers to the mystery that's haunted him – one that not even his club brothers have been willing to discuss. But the more time they spend together, the more their feelings grow. And suddenly they're both walking the edge of discovering who they really are, what they want, and where they're going from here.
Kim Harrison
Waylaid (Hollows & Peri Reed, Novella) [also published as Leylined]
Simon & Schuster Pocket Star (US & CA: 4th April 2016); Hachette Piatkus (UK & AU: 19th April 2016)
Buy (US) Buy (UK) Buy (CA)
A device capable of carrying a city's data stream pulls Rachel, the bounty hunter witch of the Hollows, between realities, marooning her in a world where the supernatural holds no sway. To get Rachel and Jenks home, Peri, the dangerous renegade of 2030, must decide what will chart her future: her blind trust in those who grant her power, or her intuition telling her to believe.
Jenna Black
Nightstruck
Macmillan Tor Teen (US: 5th April 2016)
Buy (US) Buy (UK) Buy (CA) Buy (Worldwide)
Becket is an ordinary teenage girl, wrestling with the upheaval of her parents' divorce. A studious high school senior, her biggest problems to date have been choosing which colleges to apply to, living up to her parents' ambitious expectations for her, and fighting her secret crush on her best friend's boyfriend. But that all changes on the night she tries to save an innocent life and everything goes horribly wrong. Unbeknownst to her, Becket has been tricked into opening a door between worlds, allowing a dark magic into the mortal world. As the magic trickles in, the city begins to change at night. Strange creatures roam the streets, and inanimate objects come to life, all of them bloodthirsty and terrifying. The city returns to normal when the sun rises in the morning, and no one can capture the strange changes – such as potholes turning into toothy mouths and wires turning into strangling vines – on film, which prompts the government to declare that the city has been infected with some kind of madness and must be quarantined. Meanwhile, venturing out of one's house at night has become a dangerous proposition, and the moment the sun sets, most of the citizens of the city shut themselves up in their houses and stay there even in the case of dire emergencies. The magic is openly hostile to most mortals, but there are some individuals it seems to covet, trying to lure them out into the night. While Becket struggles to protect her friends and family from predatory creatures of the night, she is constantly tempted to shrug off all her responsibilities and join them. Joining the night world means being free of not just responsibility, but conscience, and it means no longer caring about the fate of others.
Sylvia Day
One with You (Crossfire, Book 5)
Macmillan St. Martin's Griffin (US: 5th April 2016); Penguin (UK & AU: 5th April 2016)
Buy (US) Buy (UK) Buy (CA) Buy (Worldwide)
Gideon Cross. Falling in love with him was the easiest thing I've ever done. It happened instantly. Completely. Irrevocably. Marrying him was a dream come true. Staying married to him is the fight of my life. Love transforms. Ours is both a refuge from the storm and the most violent of tempests. Two damaged souls entwined as one. We have bared our deepest, ugliest secrets to one another. Gideon is the mirror that reflects all my flaws…and all the beauty I couldn't see. He has given me everything. Now, I must prove I can be the rock, the shelter for him that he is for me. Together, we could stand against those who work so viciously to come between us. But our greatest battle may lie within the very vows that give us strength. Committing to love was only the beginning. Fighting for it will either set us free…or break us apart.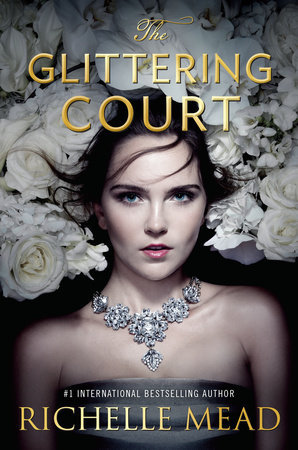 Richelle Mead
The Glittering Court
Penguin Razorbill (US, CA, & AU: 5th April 2016)
Buy (US) Buy (UK) Buy (CA) Buy (Worldwide)
For a select group of girls, the Glittering Court offers a shot at a life they've only ever dreamed of, one of luxury, glamour, and leisure. To high-born Adelaide, whose wealthy family is forcing her into a loveless marriage, the Glittering Court represents something else: the chance to chart her own destiny, and adventure in an unspoiled, prosperous new land across the sea. After a chance meeting with the dazzling Cedric Thorn, Adelaide poses as a servant to join the crop of impoverished girls he promises to transform into proper ladies. But her familiarity with upper class life comes with a price: she must hide her identity from her new friends, mysterious refugee Mira and fiery former laundress Tamsin, and most importantly, from Cedric himself – even though she's falling in love with him. Everything begins to crumble when Cedric discovers Adelaide's ruse, and she catches the eye of a powerful young governor, who wants her for a wife. She didn't leave the gilded cage of her old life behind just to become someone else's property. But nothing is as daunting – or as wonderful – as the potent, forbidden attraction simmering between Adelaide and Cedric. One that, if acted on, would make them both outcasts in a wild, dangerous, uncharted world, and possibly lead them to their deaths.
Danielle Rollins
Burning
Bloomsbury (US: 5th April 2016)
Buy (US) Buy (UK) Buy (CA) Buy (Worldwide)
Tucked away, deep in the woods, Brunesfield Correctional Facility's cold walls and empty hallways keep dangerous girls away from the world…girls like Angela Davis, whose fate was determined by one bad decision. After a few years in juvie, Angela is finally close to her release, but everything changes the day a new warden with dark plans takes over. Angela knows evil when she sees it, and as strange disappearances and frightening incidents happen more and more frequently, it becomes clear that Brunesfield could be the end of them. Angela and her friends must find a way to get out, but how can they save themselves from very place keeping them locked away?
Chris Beckett
Mother of Eden (Dark Eden, Book 2)
Corvus (UK: 7th April 2016; AU: 27th April 2016)
Buy (US) Buy (UK) Buy (CA) Buy (Worldwide)
Generations after the breakup of the human family of Eden, the Johnfolk emphasise knowledge and innovation, the Davidfolk tradition and cohesion. But both have built hierarchical societies sustained by violence and dominated by men – and both claim to be the favoured children of a long-dead woman from Earth that all Eden knows as Gela, the mother of them all. When Starlight Brooking meets a handsome and powerful man from across Worldpool, she believes he will offer an outlet for her ambition and energy. But she has no idea that she will be a stand-in for Gela herself, and wear Gela's ring on her own finger. And she has no idea of the enemies she will make, no inkling that a time will come when she, like John Redlantern, will choose to kill…
Francesca Haig
The Map of Bones (The Fire Sermon, Book 2)
HarperCollins Voyager (UK: 7th April 2016)
Buy (US) Buy (UK) Buy (CA) Buy (Worldwide)
The Omega resistance has been brutally attacked; its members dead or in hiding. The Alpha Council's plan for permanently containing the Omegas has begun. But all is not entirely lost: the Council's seer, The Confessor, is dead, killed by her twin's sacrifice. Cass is left haunted by visions of the past, while her brother, Zach's, cruelty and obsession pushes her to the edge, and threatens to destroy everything she hopes for. As the country moves closer to all-out civil war, Cass will learn that to change the future she will need to uncover the past. But nothing can prepare her for what she discovers: a deeply buried secret that raises the stakes higher than ever before.
Mario Acevedo
Rescue from Planet Pleasure (Felix Gomez, Book 6)
WordFire Press (US: 11th April 2016)
Buy (US) Buy (UK) Buy (CA)
Planet Pleasure. The one place in the galaxy you seriously want to avoid, but it's the next stop for Felix Gomez, detective-vampire and undead enforcer. His mission: rescue the bodacious vampiress, the hyper-sexual Carmen Arellano, from the clutches of ruthless warrior aliens. Her captors have doomed themselves by honing their military prowess at the expense of their libido, and Carmen is their last chance in regaining their mojo before they die out. Felix can't waste any time because Phaedra, the ruthless bloodsucking ingénue – now with extra-superpowers – is making good on her threat to destroy the Araneum and take over the undead underworld. Luckily, Felix is not alone in his quest to save Carmen and stop Phaedra. That redheaded whirlwind with a gun, Jolie, has got his back. Also lending a hand is everyone's favourite down-and-out trickster sage, Coyote, and he's brought along his mom…la Malinche…aka La Llorona!
Kim Savage
After the Woods
Pan Macmillan Farrar, Straus, Giroux (AU: 12th April 2016)
Buy (US) Buy (UK) Buy (CA) Buy (Worldwide)
One year ago, two best friends, Liv and Julia, were attacked in the woods by a paroled predator. In an attempt to save Liv, Julia was left behind while Liv escaped. After spending three days in the woods trying to escape her abductor, Julia was rescued. She only remembers what happened in the woods in terrifying flashbacks. Now, on the eve of the anniversary of the attack, a body is found in the woods. This discovery rips open fresh wounds between the two girls as the truth about Liv's role in the kidnapping is revealed.
Karen Bao
Dove Arising (Dove Chronicles, Book 1)
Penguin Speak (AU: 18th April 2016)
Buy (US) Buy (UK) Buy (CA) Buy (Worldwide)
Setting: The Moon. Phaet Theta's Plan: Live peacefully in the lunar colony, work hard, become a scientist, and enjoy a quiet future off the government's radar. Then her mother is arrested. The New Plan: Enlist in the militia, learn everything she can from top trainee Wes, and become the youngest Militia captain in history so she can save her family. It all seems perfect. Until Phaet's logically ordered world begins to crumble…
Kim Harrison
The Drafter (Peri Reed Chronicles, Book 1)
Simon & Schuster Pocket (US & CA: 19th April 2016)
Buy (US) Buy (UK) Buy (CA) Buy (Worldwide)
Detroit 2030. Double-crossed by the person she loved and betrayed by the covert government organization that trained her to use her body as a weapon, Peri Reed is a renegade on the run. Don't forgive and never forget has always been Peri's creed. But her day job makes it difficult: she is a drafter, possessed of a rare, invaluable skill for altering time, yet destined to forget both the history she changed and the history she rewrote. When Peri discovers her name is on a list of corrupt operatives, she realizes that her own life has been manipulated by the agency. Her memory of the previous three years erased, she joins forces with a mysterious rogue soldier in a deadly race to piece together the truth about her fateful final task. Her motto has always been only to kill those who kill her first. But with nothing but intuition to guide her, will she have to break her own rule to survive?
Caitlin Kittredge
Grim Tidings (Hellhound Chronicles, Book 2)
HarperCollins Voyager (US & CA: 19th April 2016; AU: 26th April 2016)
Buy (US) Buy (UK) Buy (CA) Buy (Worldwide)
After winning her freedom from Gary, a heartless reaper, and facing off against a fearsome demon boss, Ava is now a masterless hellhound. And her friend, Leo, has found a new life after death: He's returned as the Grim Reaper – the first in centuries. As both try to adjust to their new circumstances, Ava's dark past comes back to wreak havoc on her…and the entire world. A breed of monsters as smart as vampires – but who behave like zombies – has been sighted in Kansas. This isn't the first time Ava's come across these "zompires," and now they're spreading their infection across America's heartland thanks to a nasty piece of business named the Walking Man. Ava thought she'd kicked his ass for good when she first battled him in a Nazi death camp, and that mistake just might cost her life. To stop the Walking Man, Ava must form an unholy alliance with some old foes and new friends…a bargain that will lead her to uncover deeply buried truths about her past – and Leo's future.
Lauren DeStefano
Broken Crowns (Internment Chronicles, Book 3)
HarperCollins Voyager (UK: 21st April 2016; AU: 26th April 2016)
Buy (US) Buy (UK) Buy (CA) Buy (Worldwide)
The city is falling out of the sky… Morgan always thought it was just a saying. A metaphor. The words of the dying. But as they look up at the floating island that was their home, Pen and Morgan make a horrible discovery – Internment is sinking. And it's all Morgan's fault. Corrupted from the inside by one terrible king and assailed from the outside for precious resources by another, Internment could be destroyed because Morgan couldn't keep a secret. As two wars become one, Morgan must find a way to bring her two worlds together to stop the kings that wage them… Or face the furthest fall yet.
Kylie Chan
Black Jade (Celestial Battle, Book 3)
HarperCollins Voyager (AU: 26th April 2016)
Buy (US) Buy (UK) Buy (CA) Buy (Worldwide)
The Heavenly defences struggle to hold against the combined might of the Eastern and Western demon hordes. The God of War Xuan Wu is now at full strength – but is his might enough to safeguard the realm when half the Heavens are already in their hands? John and Emma fight a last-ditch desperate struggle to conserve their kingdom and protect their families as everything around them falls apart.
Debra Driza
Renegade (MILA 2.0, Book 2)
HarperCollins Katherine Tegen (US & CA: 26th April 2016)
Buy (US) Buy (UK) Buy (CA) Buy (Worldwide)
Mila is back on the run – this time with potential boyfriend Hunter by her side. As they search for a man who might know more about her mysterious past, Mila must rely on her android abilities to protect them from the people who want her dead. But embracing her identity as a machine leads her to question the state of her humanity, as well as Hunter's true intentions.
Debra Driza
Redemption (MILA 2.0, Book 3)
HarperCollins Katherine Tegen (US & CA: 26th April 2016)
Buy (US) Buy (UK) Buy (CA) Buy (Worldwide)
Mila has been running for her life for so long. But there might be nowhere left for her to go. Especially now that she's an incredible danger to herself and anyone who dares get close to her. That's why Mila has gone into hiding with friend and tech expert Lucas, someplace secluded where she'll never be found. She can't take the risk of hurting people worse than the way she hurt Hunter: the boy she'll always love, the boy who might never forgive her for what she's done. But then Mila discovers that General Holland – her ultimate enemy – is an even bigger threat to humanity than she is. His quest to reclaim Mila is only part of a larger mysterious endgame that will put people's lives at stake. Mila must make a choice: either push aside her fears and fight him with everything she's got…or turn her back on the world forever.
Kate Kessler
It Takes One (Audrey Harte, Book 1)
Hachette Redhook (US: 26th April 2016)
Buy (US) Buy (UK) Buy (CA) Buy (Worldwide)
Criminal psychologist Audrey Harte is returning home after seven years. She'll have to face the whispers and the rumours that have haunted her family since she left. Because when Audrey was thirteen, she and her best friend Maggie killed Maggie's abusive father. Her first night back in town ends in a fight with a drunken Maggie, with her old crush Jake to witness it all. Audrey can't believe it can get worse. Then Maggie turns up dead.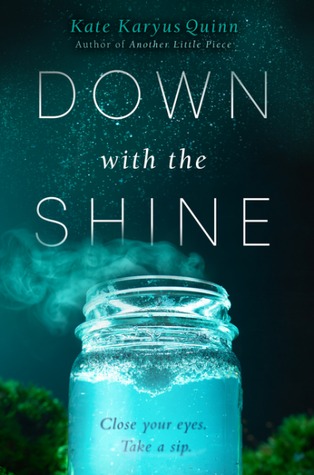 Kate Karyus Quinn
Down with the Shine
HarperCollins Teen (US & CA: 26th April 2016)
Buy (US) Buy (UK) Buy (CA) Buy (Worldwide)
Lennie always thought her uncles' "important family legacy" was good old-fashioned bootlegging. Then she takes some of her uncles' moonshine to Michaela Gordon's annual house party, and finds out just how wrong she was. At the party, Lennie has everyone make a wish before drinking the shine – it's tradition. She toasts to wishes for bat wings, for balls of steel, for the party to go on forever. Lennie even makes a wish of her own: to bring back her best friend, Dylan, who was murdered six months ago. The next morning gives Lennie a whole new understanding of the phrase be careful what you wish for – or in her case, be careful what wishes you grant. Because all those wishes Lennie raised a jar of shine to last night? They came true. Most of them came out bad. And once granted a wish can't be unmade…
Madeleine Roux
The Asylum Novellas (Asylum, Anthology)
HarperCollins (AU: 26th April 2016)
Buy (US) Buy (UK) Buy (CA) Buy (Worldwide)
In "The Scarlets", Cal is drawn into New Hampshire College's twisted secret society – one with a deadly initiation. In "The Bone Artists", Oliver tries to make a little extra money for college by working for a seedy organization which traffics in human bones. In "The Warden", a young nurse starts a new job at the Brookline asylum but soon becomes suspicious of its unorthodox procedures…
Laura Ruby
Bone Gap
HarperCollins Balzer + Bray (US & CA: 26th April 2016)
Buy (US) Buy (UK) Buy (CA) Buy (Worldwide)
Everyone knows Bone Gap is full of gaps. So when young, beautiful Roza went missing, the people of Bone Gap weren't surprised. But Finn knows what really happened to Roza. He knows she was kidnapped by a dangerous man whose face he cannot remember.
Maggie Stiefvater
The Raven King (Raven Cycle, Book 4)
Scholastic (US & CA: 26th April 2016)
Buy (US) Buy (UK) Buy (CA) Buy (Worldwide)
All her life, Blue has been warned that she will cause her true love's death. She doesn't believe in true love and never thought this would be a problem, but as her life becomes caught up in the strange and sinister world of the Raven Boys, she's not so sure anymore.
Amanda Sun
Heir to the Sky
Harlequin Teen (US: 26th April 2016)
Buy (US) Buy (UK) Buy (CA) Buy (Worldwide)
As heir to a kingdom of floating continents, Kali has spent her life bound by limits: by her duties as a member of the royal family, by a forced betrothal to the son of a nobleman, and by the edge of the only world she's ever known – a small island hovering above a monster-ridden earth, long since uninhabited by humans. She is the Eternal Flame of Hope for what's left of mankind, the wick and the wax burning in service for her people, and for their revered Phoenix, whose magic keeps them aloft. When Kali falls off the edge of her kingdom and miraculously survives, she is shocked to discover there are still humans on the earth. Determined to get home, Kali entrusts a rugged monster-hunter named Griffin to guide her across a world overrun by chimera, storm dragons, basilisks and other terrifying creatures. But the more time she spends on earth, the more dark truths she begins to uncover about her home in the sky, and the more resolute she is to start burning for herself.
Imogen Howson
Fire and Shadow (Anthology)
Dragonwell (US: 30th April 2016)
Buy (US) Buy (UK) Buy (CA)
On Fern's 18th birthday, she discovers she's a fire-starter. To learn to control it, Fern travels to a place where other young people have gathered to learn how to manage their gifts. And that's where she meets Nik, the enigmatic magician who seems to understand her and her gift better than she does herself. But can Nik be trusted? Or is he hiding dangerous secrets of his own? A collection of stories and novellas, spanning centuries and cultures, from the underworld of the ancient Greece to the dystopian future.