Done with February 2016 Releases? Here are March 2016 Releases. For future releases, check Reading Wishlist.
Steve Bein
Disciple of the Wind (Fated Blades, Book 2)
Penguin Roc (US & CA: 1st March 2016)
Buy (US) Buy (UK) Buy (CA) Buy (Worldwide)
After a deadly terrorist attack in Tokyo, Detective Sergeant Mariko Oshiro urges her commanding officers to arrest an insane zealot who was just released from police custody. When her pleas fall on deaf ears, she loses her temper and then her badge. Armed with only her cunning and her famed Inazuma blade, Mariko must work outside the system to stop the terrorist. But going rogue draws the attention of the Wind – an underground syndicate that has controlled Japanese politics for centuries, using mystical relics to achieve their nefarious ends. Now, Mariko is left with a perilous choice: join an illicit insurgency to thwart a deadly villain, or remain true to the law. Either way, she cannot escape her sword's curse. As sure as the blade will bring her to victory, it also promises to destroy her…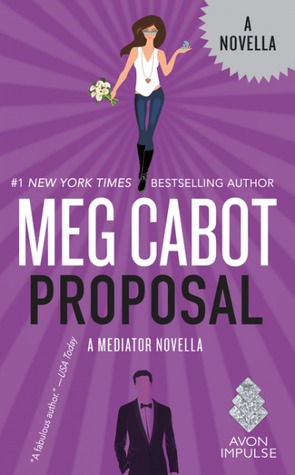 Meg Cabot
Proposal (Mediator, Novella)
HarperCollins Avon Impulse (US & CA: 1st March 2016)
Buy (US) Buy (UK) Buy (CA) Buy (Worldwide)
The last place Suze Simon expects to find herself during Valentine's Day is a cemetery. But that's what happens when you're a mediator – cursed with the "gift" of communicating with the dead. That's how Suze has ended up at the graves of a pair of tragic young lovers. They're NCDPs – Non-Compliant Deceased Persons – whose drama didn't end with death. It's Suze's job to make sure they move on – for good. But the NCDPs aren't the only ones with problems. The reason Suze is spending her Valentine's Day with the undead instead of her boyfriend, Jesse, is because he's having so much trouble adjusting to life after death…not surprising, considering the fact that he used to be an NCDP himself, and now his girlfriend busts his former kind for a living. Can Suze use her mediating skills to propose a mutual resolution, and bring all these young lovers together, especially on the night Saint Valentine declared sacred to romance? Or will she end up alone – and possibly undead – herself?
Rachel Caine
Midnight Bites (Morganville Vampires, Anthology)
Penguin NAL (US & CA: 1st March 2016); Allison & Busby (UK: 24th March 2016)
Buy (US) Buy (UK) Buy (CA) Buy (Worldwide)
By day, Morganville, Texas, is just a typical college town. By night, the vampires emerge and take control… In a town where it's not safe to be out after dark, student Claire Danvers and her friends have had their fair share of thrills. But Morganville still has a few secrets left to tell. Now, in this collection, you can venture down the town's strange streets, revisit all the tales, and experience six new stories featuring Morganville residents – both human and vampire…
Lydia Kang
Catalyst (Control, Book 1)
Penguin Speak (US & CA: 1st March 2016)
Buy (US) Buy (UK) Buy (CA) Buy (Worldwide)
In the past year Zel lost her father, the boy she loves, her safety, and any future she might have imagined for herself. Now she, her sister, and the band of genetic outcasts they've come to call their family are forced on the run when their safe house is attacked by men with neural guns. But on the way to a rumoured haven in Chicago, Zel hears something – a whisper from Cy, the boy who traded himself for her sister's safety. And when she veers off plan in order to search for him, what she finds is not what she expected. There's more to their genetic mutations than they ever imagined…aspects that make them wonder if they might be accepted by the outside world after all.
Seanan McGuire
Chaos Choreography (InCryptid, Book 5)
Penguin DAW (US & CA: 1st March 2016)
Buy (US) Buy (UK) Buy (CA) Buy (Worldwide)
Verity Price is back on the West Coast and getting back into the swing of the family business: cryptozoology. She's rescuing cryptids from bad situations, protecting them from monster-hunters, and generally risking life and limb for the greater good, with her ex-Covenant partner/husband, Dominic, by her side. Her ballroom dance career is behind her…or so she thinks. When Verity gets the call from the producers of Dance or Die, the reality show she almost won several years before, she finds the lure of a comeback impossible to resist, and she and Dominic are off to L.A. for one last shot at the big time. Of course, nothing is that simple. When two of her fellow contestants turn up dead, Verity will need every ally she can find – and a couple she wasn't looking for – in order to navigate the complicated steps of both the tango and a murder investigation without blowing her cover. It doesn't help that her official family backup is her grandmother, Alice Price-Healy, who thinks "subtle" is something that happens to other people. Winning this competition may have just become a matter of life and death.
Marissa Meyer
Stars Above (Lunar Chronicles, Anthology)
Pan Macmillan St. Martin's (AU: 1st March 2016)
Buy (US) Buy (UK) Buy (CA) Buy (Worldwide)
How did Cinder first arrive in New Beijing? How did the brooding soldier Wolf transform from young man to killer? When did Princess Winter and the palace guard Jacin realize their destinies? With six stories – two of which have never before been published.
Blythe Woolston
MARTians
Walker (AU: 1st March 2016)
Buy (US) Buy (UK) Buy (CA) Buy (Worldwide)
Last girl Zo Zindleman, numerical ID 009-99-9999, is starting work at AllMART, where "your smile is the AllMART welcome mat". Her living arrangements are equally bleak: she can wait for her home to be repossessed now that AnnaMom has left, or move to the Warren, an abandoned shopping centre, to live with the other left-behind children. As Zo struggles to find her place in a world that has consumed itself beyond redemption, she realizes she isn't ready to disappear into the AllMART abyss quite yet. Zo wants to live.
Jennifer Rush
Reborn (Altered Saga, Book 3)
Hachette Little, Brown (AU: 8th March 2016)
Buy (US) Buy (UK) Buy (CA) Buy (Worldwide)
The Branch is in shambles, but Anna, Sam, Cas, and Nick can't rest easy. Remnants of the organization lurk unseen and the flashbacks to their old lives are only getting stronger – especially Nick's. Following scattered memories and clues from his Branch file, Nick sets off alone in search of answers and in search of the girl who haunts his dreams. But the sleepy town where she lives is full of secrets, and Nick soon learns that uncovering their shared past may have deadly consequences.
Madeleine Roux
The Asylum Novellas (Asylum, Anthology)
HarperCollins (UK: 10th March 2016)
Buy (US) Buy (UK) Buy (CA) Buy (Worldwide)
For the first time, these three stories will appear together with new found photographs. In The Scarlets, Cal is drawn into New Hampshire College's twisted secret society – one with a deadly initiation. In The Bone Artists, Oliver tries to make a little extra money for college by working for a seedy organisation that traffics in human bones. In The Warden, a young nurse starts a new job at the Brookline asylum but soon becomes suspicious of its unorthodox procedures…
Tiffany Reisz
The Confessions (Original Sinners, Anthology)
8th Circle (US: 15th March 2016)
Buy (US) Buy (UK) Buy (CA)
Father Stuart Ballard has been Marcus Stearns' confessor since the young Jesuit was only eighteen years old. He thought he'd heard every sin the boy had to confess until Marcus uttered those three fateful words: "I met Eleanor." So begins the 40-page "The Confession of Marcus Stearns". (Originally published as a limited-edition paperback for the 2014 RT Booklovers' Convention.) This collection also includes "The Confession of Eleanor Schreiber". And, finally, all secrets are revealed in "The Confession of Tiffany Reisz", an exclusive, in-depth interview.
Francesca Haig
The Map of Bones (The Fire Sermon, Book 2)
HarperCollins Voyager (AU: 21st March 2016)
Buy (US) Buy (UK) Buy (CA) Buy (Worldwide)
The Omega resistance has been brutally attacked; its members dead or in hiding. The Alpha Council's plan for permanently containing the Omegas has begun. But all is not entirely lost: the Council's seer, The Confessor, is dead, killed by her twin's sacrifice. Cass is left haunted by visions of the past, while her brother, Zach's, cruelty and obsession pushes her to the edge, and threatens to destroy everything she hopes for. As the country moves closer to all-out civil war, Cass will learn that to change the future she will need to uncover the past. But nothing can prepare her for what she discovers: a deeply buried secret that raises the stakes higher than ever before.
Lauren DeStefano
Burning Kingdoms (Internment Chronicles, Book 2)
Simon & Schuster (US & CA: 22nd March 2016)
Buy (US) Buy (UK) Buy (CA) Buy (Worldwide)
After escaping Internment, Morgan and her fellow fugitives land on the ground to finally learn about the world beneath their floating island home. The ground is a strange place where water falls from the sky as snow, and people watch moving pictures and visit speakeasies. A place where families can have as many children as they want, their dead are buried in vast gardens of bodies, and Internment is the feature of an amusement park. It is also a land at war. Everyone who fled Internment had their own reasons to escape their corrupt haven, but now they're caught under the watchful eye of another king who wants to dominate his world. They may have made it to the ground, but have they dragged Internment with them?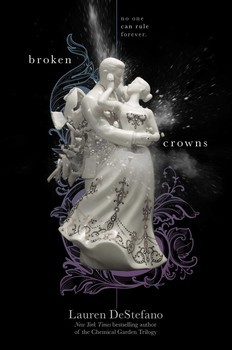 Lauren DeStefano
Broken Crowns (Internment Chronicles, Book 2)
Simon & Schuster (US & CA: 22nd March 2016)
Buy (US) Buy (UK) Buy (CA) Buy (Worldwide)
The city is falling out of the sky… Morgan always thought it was just a saying. A metaphor. The words of the dying. But as they look up at the floating island that was their home, Pen and Morgan make a horrible discovery – Internment is sinking. And it's all Morgan's fault. Corrupted from the inside by one terrible king and assailed from the outside for precious resources by another, Internment could be destroyed because Morgan couldn't keep a secret. As two wars become one, Morgan must find a way to bring her two worlds together to stop the kings that wage them… Or face the furthest fall yet.
Melissa Landers
Invaded (Alienated, Book 2)
Hachette Little, Brown (AU: 22nd March 2016)
Buy (US) Buy (UK) Buy (CA) Buy (Worldwide)
Cara always knew life on planet L'eihr would be an adjustment. With Aelyx, her L'eihr boyfriend, back on Earth, working to mend the broken alliance between their two planets, Cara is left to fend for herself at a new school, surrounded by hostile alien clones. Even the weird dorm pet hates her. Things look up when Cara is appointed as human representative to a panel preparing for a human colony on L'eihr. A society melding their two cultures is a place where Cara and Aelyx could one day make a life together. But with L'eihr leaders balking at granting even the most basic freedoms, Cara begins to wonder if she could ever be happy on this planet, even with Aelyx by her side. Meanwhile, on Earth, Aelyx, finds himself thrown into a full-scale PR campaign to improve human-L'eihr relations. Humans don't know that their very survival depends on this alliance: only Aelyx's people have the technology to fix the deadly contamination in the global water supply that human governments are hiding. Yet despite their upper hand, the leaders of his world suddenly seem desperate to get humans on their side, and hardly bat an eye at extremists' multiple attempts on Aelyx's life. The Way clearly needs humans' help…but with what? And what will they ask for in return?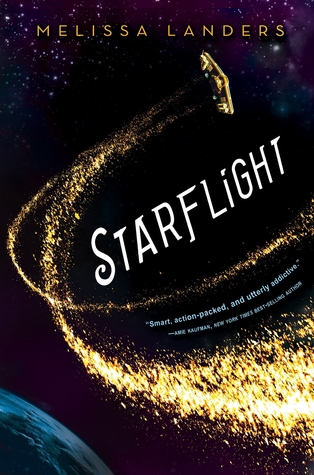 Melissa Landers
Starflight (Starflight, Book 1)
Hachette Little, Brown (AU: 22nd March 2016)
Buy (US) Buy (UK) Buy (CA) Buy (Worldwide)
Solara Brooks needs a fresh start, someplace where nobody cares about the engine grease beneath her fingernails or the felony tattoos across her knuckles. The outer realm may be lawless, but it's not like the law has ever been on her side. Still, off-world travel doesn't come cheap; Solara is left with no choice but to indenture herself in exchange for passage to the outer realm. She just wishes it could have been to anyone besides Doran Spaulding, the rich, pretty-boy quarterback who made her life miserable in school. The tables suddenly turn when Doran is framed for conspiracy on Earth, and Solara cons him into playing the role of her servant on board the Banshee, a ship manned by an eccentric crew with their own secrets. Given the price on both Doran and Solara's heads, it may just be the safest place in the universe. It's been a long time since Solara has believed in anyone, and Doran is the last person she expected to trust. But when the Banshee's dangerous enemies catch up with them, Solara and Doran must come together to protect the ship that has become their home – and the eccentric crew that feels like family.
Erica Hayes
Scarred (Sapphire City, Book 2)
HarperCollins Impulse (UK: 24th March 2016)
Buy (US) Buy (UK) Buy (CA) Buy (Worldwide)
Verity Fortune's crime-fighting days are over. In exile, defeated by her smug supervillain nemesis, her shady past exposed – even her own superpowered family condemns her as a traitor. Whatever it takes, Verity's determined to prove she can still be a force for good. Now, Sapphire City faces a new threat: a delinquent duo with extraordinary powers and a terrifying talent for destruction. Outmatched and on the run, her telekinetic powers faltering, Verity can't defeat this menace alone – but whom can she trust, when the only person who believes in her is her arch-enemy?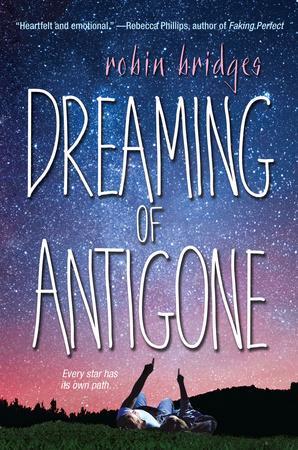 Robin Bridges
Dreaming of Antigone
Kensington (US & CA: 29th March 2016)
Buy (US) Buy (UK) Buy (CA) Buy (Worldwide)
Andria's twin sister, Iris, had adoring friends, a cool boyfriend, a wicked car, and a shelf full of soccer trophies. She had everything, in fact – including a drug problem. Six months after Iris's death, Andria is trying to keep her grades, her friends, and her family from falling apart. But stargazing and books aren't enough to ward off her guilt that she – the freak with the scary illness and all-black wardrobe – is still here when Iris isn't. And then there's Alex Hammond. The boy Andria blames for Iris's death. The boy she's unwittingly started swapping lines of poetry and secrets with, even as she tries to keep hating him.
Kady Cross
Sisters of Salt and Iron (Sisters of Blood and Spirit, Book 2)
Harlequin Teen (US: 29th March 2016)
Buy (US) Buy (UK) Buy (CA) Buy (Worldwide)
Lark Noble is finally happy. She's trying to move on and put the events of the past behind her: the people who avoided her because she talked to the ghost of her dead twin sister, the parents who couldn't be around her anymore and even the attempt she made on her own life. She finally has friends – people who know her secrets and still care about her – and she has Ben, the cute guy she never saw coming. Wren Noble is lonely. Unable to interact with the living, she wants to be happy for her sister's newfound happiness, but she feels like she's losing her. It doesn't help that Kevin, the very not-dead guy she was starting to fall for, seems to be moving on. Then Wren meets Noah, the spirit of a young man who died a century ago. Noah is cute, he's charming and he makes Wren feel something she's never felt before. But Noah has a dark influence on Wren, and Lark's distrust of him drives the sisters apart for the first time in their lives. As Halloween approaches and the veil between the worlds thins, bringing the dead closer to the world of the living, Lark must find a way to stop whatever deadly act Noah is planning, even if it means going through her sister to do so.
Claudia Gabel & Cheryl Klam
Etherworld (Elusion, Book 2)
HarperCollins Katherine Tegen (US & CA: 29th March 2016)
Buy (US) Buy (UK) Buy (CA) Buy (Worldwide)
Regan and her friend Josh now know the truth about Elusion – but they, along with Regan's dad and other users of Elusion, are stuck beyond the firewall in bleak Etherworld. They must fight Elusion from within, but the longer they stay, the less likely they'll be able to return to the real world. And even if they do escape, the next battle to stop Elusion may be even more difficult. They'll face corporate cover-ups, personal betrayals, and the terrifying realization that the danger may have grown beyond anyone's control.
Martin Leicht & Isla Neal
The World Forgot (Ever-Expanding Universe, Book 3)
Simon & Schuster Saga (US & CA: 29th March 2016)
Buy (US) Buy (UK) Buy (CA) Buy (Worldwide)
After dealing with killer whales, evil scientists, the return of her long-lost mother and, certainly not least of all, the challenges of breastfeeding, Elvie Nara has just about had it. And then the Jin'Kai (along with the aforementioned estranged mom) kidnaps her baby. And before she knows it, another Jin'Kai attack puts her on the run again, but not before discovering that Olivia was implanted with a genetic tracking device. So along with Cole, Ducky, and her dad, Elvie goes back out into space to follow the signal. There she finds evil Dr. Marsden up to some evil tricks and realizes that Mars may hold the secret to defeating her enemies once and for all. So, off to Mars she goes. Because alien race war aside, Elvie really wants to be back with her daughter. For a kid she wasn't even sure she wanted, Olivia has come to mean the world to Elvie – and she'll search the universe to be with her again.
Katie McGarry
Nowhere But Here (Thunder Road, Book 1)
Harlequin Teen (US: 29th March 2016)
Buy (US) Buy (UK) Buy (CA) Buy (Worldwide)
Seventeen-year-old Emily likes her life the way it is: doting parents, good friends, good school in a safe neighbourhood. Sure, she's curious about her biological father – the one who chose life in a motorcycle club, the Reign of Terror, over being a parent – but that doesn't mean she wants to be a part of his world. But when a reluctant visit turns into an extended summer vacation among relatives she never knew she had, one thing becomes clear: nothing is what it seems. Not the club, not her secret-keeping father and not Oz, a guy with suck-me-in blue eyes who can help her understand them both. Oz wants one thing: to join the Reign of Terror. They're the good guys. They protect people. They're…family. And while Emily – the gorgeous and sheltered daughter of the club's most respected member – is in town, he's gonna prove it to her. So when her father asks him to keep her safe from a rival club with a score to settle, Oz knows it's his shot at his dream. What he doesn't count on is that Emily just might turn that dream upside down. No one wants them to be together. But sometimes the right person is the one you least expect, and the road you fear the most is the one that leads you home.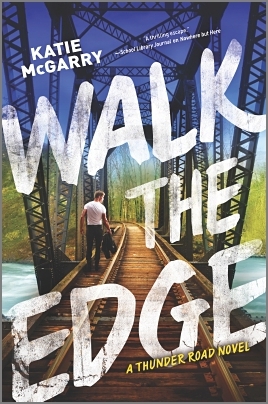 Katie McGarry
Walk the Edge (Thunder Road, Book 2)
Harlequin Teen (US: 29th March 2016)
Buy (US) Buy (UK) Buy (CA) Buy (Worldwide)
Smart. Responsible. That's seventeen-year-old Breanna's role in her large family, and heaven forbid she put a toe out of line. Until one night of shockingly un-Breanna-like behaviour puts her into a vicious cyber-bully's line of fire – and brings fellow senior Thomas "Razor" Turner into her life. Razor lives for the Reign of Terror motorcycle club, and good girls like Breanna just don't belong. But when he learns she's being blackmailed over a compromising picture of the two of them – a picture that turns one unexpected and beautiful moment into ugliness – he knows it's time to step outside the rules. And so they make a pact: he'll help her track down her blackmailer, and in return she'll help him seek answers to the mystery that's haunted him – one that not even his club brothers have been willing to discuss. But the more time they spend together, the more their feelings grow. And suddenly they're both walking the edge of discovering who they really are, what they want, and where they're going from here.