Happy Release Day to:
Meg Cabot
Remembrance (Mediator, Book 7)
HarperCollins William Morrow (US & CA: 2nd February 2016)
Buy (US) Buy (UK) Buy (CA) Buy (Worldwide)
All Susannah Simon wants is to make a good impression at her first job since graduating from college (and since becoming engaged to Dr. Jesse de Silva). But when she's hired as a guidance counsellor at her alma mater, she stumbles across a decade-old murder, and soon ancient history isn't all that's coming back to haunt her. Old ghosts as well as new ones are coming out of the woodwork, some to test her, some to vex her, and it isn't only because she's a mediator, gifted with second sight. From a sophomore haunted by the murderous spectre of a child to ghosts of a very different kind – including Paul Slater, Suze's ex, who shows up to make a bargain Suze is certain must have come from the Devil himself – Suze isn't sure she'll make it through the semester, let alone to her wedding night. Suze is used to striking first and asking questions later. But what happens when ghosts from her past – including one she found nearly impossible to resist – strike first?
Megan Hart
Little Secrets
Samhain (US: 2nd February 2016)
Buy (US) Buy (UK) Buy (CA) Buy (Worldwide)
With a baby on the way and a brand new house, it seems Ginny and her husband, Sean, are on their way to a fresh start. But strange occurrences and financial strain seem determined to keep Ginny and Sean stuck in the past. Ginny begins to believe the house may be haunted…or that her husband might be trying to trick her into thinking so. As Ginny researches the house's former owner and the tragedy that happened there, it becomes clearer than ever that something is in the house with them. The question is, who…or what…is it?
Melissa Landers
Invaded (Alienated, Book 2)
Disney-Hyperion (US: 2nd February 2016)
Buy (US) Buy (UK) Buy (CA) Buy (Worldwide)
Cara always knew life on planet L'eihr would be an adjustment. With Aelyx, her L'eihr boyfriend, back on Earth, working to mend the broken alliance between their two planets, Cara is left to fend for herself at a new school, surrounded by hostile alien clones. Even the weird dorm pet hates her. Things look up when Cara is appointed as human representative to a panel preparing for a human colony on L'eihr. A society melding their two cultures is a place where Cara and Aelyx could one day make a life together. But with L'eihr leaders balking at granting even the most basic freedoms, Cara begins to wonder if she could ever be happy on this planet, even with Aelyx by her side. Meanwhile, on Earth, Aelyx finds himself thrown into a full-scale PR campaign to improve human-L'eihr relations. Humans don't know that their very survival depends on this alliance: only Aelyx's people have the technology to fix the deadly contamination in the global water supply that human governments are hiding. Yet despite their upper hand, the leaders of his world suddenly seem desperate to get humans on their side, and hardly bat an eye at extremists' multiple attempts on Aelyx's life. The Way clearly needs humans' help…but with what? And what will they ask for in return?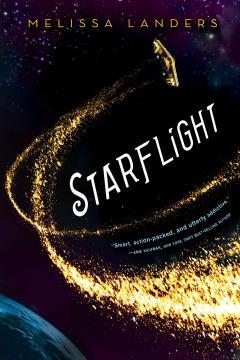 Melissa Landers
Starflight
Disney-Hyperion (US: 2nd February 2016)
Buy (US) Buy (UK) Buy (CA) Buy (Worldwide)
Solara Brooks needs a fresh start, someplace where nobody cares about the engine grease beneath her fingernails or the felony tattoos across her knuckles. The outer realm may be lawless, but it's not like the law has ever been on her side. Still, off-world travel doesn't come cheap; Solara is left with no choice but to indenture herself in exchange for passage to the outer realm. She just wishes it could have been to anyone besides Doran Spaulding, the rich, pretty-boy quarterback who made her life miserable in school. The tables suddenly turn when Doran is framed for conspiracy on Earth, and Solara cons him into playing the role of her servant on board the Banshee, a ship manned by an eccentric crew with their own secrets. Given the price on both Doran and Solara's heads, it may just be the safest place in the universe. It's been a long time since Solara has believed in anyone, and Doran is the last person she expected to trust. But when the Banshee's dangerous enemies catch up with them, Solara and Doran must come together to protect the ship that has become their home – and the eccentric crew that feels like family.
Marissa Meyer
Fairest (Lunar Chronicles, Book 3.5)
Macmillan Square Fish (US: 2nd February 2016)
Buy (US) Buy (UK) Buy (CA) Buy (Worldwide)
Pure evil has a name, hides behind a mask of deceit, and uses her "glamour" to gain power. But who is Queen Levana? Long before she crossed paths with Cinder, Scarlet, and Cress, Levana lived a very different story – a story that has never been told…until now.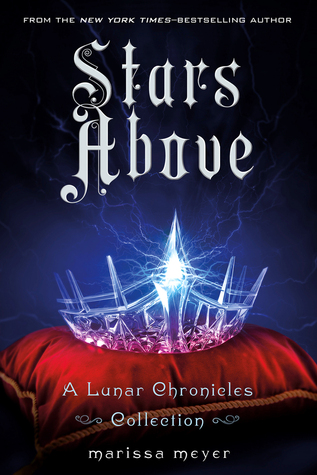 Marissa Meyer
Stars Above (Lunar Chronicles, Anthology)
Macmillan Feiwel & Friends (US: 2nd February 2016)
Buy (US) Buy (UK) Buy (CA) Buy (Worldwide)
How did Cinder first arrive in New Beijing? How did the brooding soldier Wolf transform from young man to killer? When did Princess Winter and the palace guard Jacin realize their destinies? Nine stories – five of which have never before been published.
Madeleine Roux
The Asylum Novellas (Asylum, Anthology)
HarperCollins (US & CA: 2nd February 2016)
Buy (US) Buy (UK) Buy (CA) Buy (Worldwide)
In The Scarlets, Cal is drawn into New Hampshire College's twisted secret society – one with a deadly initiation. In The Bone Artists, Oliver tries to make a little extra money for college by working for a seedy organization that traffics in human bones. In The Warden, a young nurse starts a new job at the Brookline asylum but soon becomes suspicious of its unorthodox procedures…