This guest post is part of the official blog tour for Leslie Tentler's Before the Storm. Below, you'll find the author's links, information about her books, and the guest post.
Website
Newsletter
Facebook
Twitter
CONFESSIONS OF A RESEARCH GEEK
I actually love doing the research for my books – it's one of my favourite parts of writing. I enjoy learning about the physical locales where my stories are set, and about my characters' occupations.
My first four novels (Midnight Caller, Midnight Fear, Edge of Midnight, and Fallen) all dealt with law enforcement – homicide investigations, specifically – so for them, I spent a lot of time learning the ins and outs of police protocol, crime scene handling and forensics. While a lot of this was done via Internet research (it's amazing what you can find out there, such as a PowerPoint on blood splatter trajectories), I also took a course on homicide investigations from a retired police detective. Similarly, each of those first four novels was set in separate cities, so it was important for me to research the respective areas to get to know the geographies and landmarks.
My new novel, Before the Storm, is a bit of a departure for me. For the first time, I've veered off the law enforcement route, desiring to weave elements of mystery and suspense into a story about everyday people with everyday lives. The twist is that one of these "everyday" people has a serious secret: She's living under an alias, in hiding from a dangerous past.
And while Before the Storm is also different from my other books in that it is set in a fictional town – Rarity Cove, South Carolina – there was still research to be done. While the seaside town doesn't actually exist, I imagined it about forty minutes from Charleston, which led me to do research there for a scene in the book. I also did research into hurricanes, since one strikes the small town toward the book's climax. It was important for me to accurately convey not only the experience of being caught in a hurricane, but also what it's like in the days preceding one when an evacuation is underway.
Other random elements that required research for Before the Storm: how to "purchase" a fake identity, terminology used on a movie set, what's traditionally served at a lowcountry oyster roast, what type of crops might have once been grown on a coastal plantation in South Carolina, and much more. It's elements such as these that add authenticity to a story.
I hope you'll join me in the fictional town of Rarity Cove that I've created in Before the Storm. I can't wait to introduce you to Samantha Marsh and Mark St. Clair, and to the entire extended St. Clair clan.
Leslie Tentler
Before the Storm (Rarity Cove, Book 1)
Left Field Press (US: 20th October 2015)
Buy (US Kindle Edition) Buy (US Paperback) Buy (UK Kindle Edition) Buy (UK Paperback) Buy (CA Kindle Edition) Buy (CA Paperback)
Six years earlier, Trina Grissom disappeared, on the run for her life. Now living under an assumed identity – as Samantha Marsh – she still struggles with the dark secret she harbours and the fear she might one day be found. When she moves to the coastal town of Rarity Cove, South Carolina, to open a café, a handsome widower begins to chip away at the walls she's built to protect herself. Mark St. Clair lost his wife two years ago in a tragic accident. Head of the grand St. Clair resort, he distracts himself from his lingering grief by running the family business and caring for his troubled young daughter…until a beautiful restaurateur sets up shop in town. Before meeting Samantha, Mark was convinced he could never be drawn to another woman. But as his attraction to Samantha grows, the mystery surrounding her deepens. As the two begin a hesitant courtship, double perils emerge. Someone from Samantha's lurid past comes calling, threatening to expose her. And a powerful hurricane is forming in the Atlantic with the small beach town in its path. Trapped in the storm by the brutal man who wants vengeance on Samantha, she and Mark must fight for their lives.
Leslie Tentler
Fallen
Left Field Press (US: 12th October 2014)
Buy (US Kindle Edition) Buy (US Paperback) Buy (UK Kindle Edition) Buy (UK Paperback) Buy (CA Kindle Edition) Buy (CA Paperback) Buy (Worldwide)
Amid a sultry Atlanta summer, someone is targeting police… The investigation becomes personal for APD Detective Ryan Winter when a colleague and friend is shot dead, the second victim in just weeks. But even as he finds himself being drawn into the tense hunt for a serial cop killer, he is forced to re-examine his own shattering personal tragedy. An ER physician at Atlanta's busy Mercy Hospital, Dr. Lydia Costa is no stranger to suffering. Still, the recent police slayings reopen barely healed wounds – and bring her face-to-face with her ex-husband, Ryan Winter. As the body count rises and paranoia tightens its grip on the police force, Lydia and Ryan are pulled together by circumstances and fate…causing old passions to reignite despite their painful shared past. But as Ryan moves closer to discovering the killer's identity, someone is watching, placing both him and Lydia in mortal danger.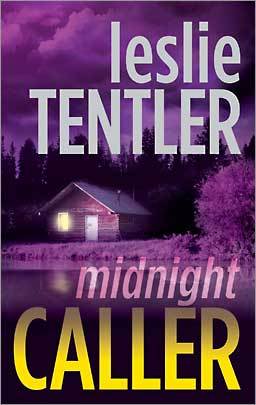 Leslie Tentler
Midnight Caller (Chasing Evil, Book 1)
Harlequin MIRA (US: 1st February 2011; UK: September 2011; AU: 1st November 2011)
Buy (US Kindle Edition) Buy (US Paperback) Buy (CA Kindle Edition) Buy (CA Paperback) Buy (Worldwide)
Late-night radio-show psychologist Rain Sommers is used to the crazies who call in to rage from the back alleys of the French Quarter and the shadows of the bayou. But one caller's chilling obsession with her and her long-ago murdered mother – an iconic singer beloved among the city's Goth community – has even the jaded Rain running scared as a sadistic serial killer known as the Vampire prowls New Orleans. FBI agent Trevor Rivette is convinced her midnight caller and the killer are one and the same. As it becomes disturbingly clear that the Vampire has a sick bloodlust only Rain can satisfy, she allows Trevor to get closer and closer. But he soon discovers that his secretive past and troubled present are intertwined – and that he may die trying to keep Rain's fate out of a madman's control.
Leslie Tentler
Midnight Fear (Chasing Evil, Book 2)
Harlequin MIRA (US: 1st August 2011; AU: 1st March 2012)
Buy (US Kindle Edition) Buy (US Paperback) Buy (UK Kindle Edition) Buy (CA Kindle Edition) Buy (CA Paperback) Buy (Worldwide)
The still of the night is once again shattered by Caitlyn Cahill's recurring nightmare – her brother standing before her, gripping a butcher knife, his eyes black with hatred. Two years ago, the former Washington, D.C., socialite defied her powerful senator father and risked the ruin of her family by helping the FBI link her troubled brother to a string of horrific murders. "The Capital Killer" was sent to prison for life…and Caitlyn's entire world fell apart. Now, FBI agent Reid Novak is forced to rend the peace Caitlyn has found on a rural Virginia horse farm. A copycat killer is on the loose and slowly toying with Caitlyn – his ultimate target – in a terrorising cat-and-mouse game. Almost destroyed two years ago by Caitlyn's family, not to mention the Capital Killer's haunting final murder, Reid vows to save the woman he's never forgotten or die trying.
Leslie Tentler
Edge of Midnight (Chasing Evil, Book 3)
Harlequin MIRA (US & UK: 1st February 2012; AU: 1st July 2012)
Buy (US Kindle Edition) Buy (US Paperback) Buy (UK Kindle Edition) Buy (UK Paperback) Buy (CA Kindle Edition) Buy (CA Paperback) Buy (Worldwide)
The writer becomes the story when crime reporter Mia Hale is discovered on a Jacksonville beach – bloodied and disoriented, but alive. She remembers nothing, but her wounds bear the signature of a sadistic serial killer. After years lying dormant, The Collector has resumed his grim hobby: abducting women and taking gruesome souvenirs before dumping their bodies. But none of his victims has ever escaped – and he wants Mia back, more than he ever wanted any of the others. FBI agent Eric MacFarlane has pursued The Collector for a long time. The case runs deep in his veins, bordering on obsession…and Mia holds the key. She'll risk everything to recover her memory and bring the madman to justice, and Eric swears to protect this fierce, fragile survivor. But The Collector will not be denied. In his mind, he knows just how their story ends.