Happy Release Day to: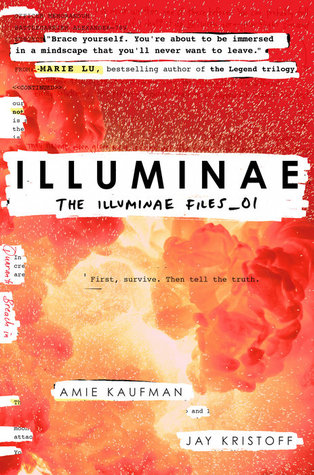 Amie Kaufman & Jay Kristoff
Illuminae
Random House Knopf (US & CA: 20th October 2015)
Buy (US) Buy (UK) Buy (CA) Buy (Worldwide)
The year is 2575, and two rival megacorporations are at war over a planet that's little more than an ice-covered speck at the edge of the universe. Too bad nobody thought to warn the people living on it. With enemy fire raining down on them, Kady and Ezra – who are barely even talking to each other – are forced to fight their way onto one of the evacuating fleet, with an enemy warship in hot pursuit. But their problems are just getting started. A deadly plague has broken out and is mutating, with terrifying results; the fleet's AI, which should be protecting them, may actually be their enemy; and nobody in charge will say what's really going on. As Kady hacks into a tangled web of data to find the truth, it's clear only one person can help her bring it all to light: the ex-boyfriend she swore she'd never speak to again.
Leslie Tentler
Before the Storm
Left Field Press (US: 20th October 2015)
Buy (US) Buy (UK) Buy (CA)
Six years earlier, Trina Grissom disappeared, on the run for her life. Now living under an assumed identity – as Samantha Marsh – she still struggles with the dark secret she harbours and the fear she might one day be found. When she moves to the coastal town of Rarity Cove, South Carolina, to open a café, a handsome widower begins to chip away at the walls she's built to protect herself. Mark St. Clair lost his wife two years ago in a tragic accident. Head of the grand St. Clair resort, he distracts himself from his lingering grief by running the family business and caring for his troubled young daughter…until a beautiful restaurateur sets up shop in town. Before meeting Samantha, Mark was convinced he could never be drawn to another woman. But as his attraction to Samantha grows, the mystery surrounding her deepens. As the two begin a hesitant courtship, double perils emerge. Someone from Samantha's lurid past comes calling, threatening to expose her. And a powerful hurricane is forming in the Atlantic with the small beach town in its path. Trapped in the storm by the brutal man who wants vengeance on Samantha, she and Mark must fight for their lives.