This post is part of the official blog tour for Karen Ann Hopkins's Rachel Deception (currently 99 cents for a Kindle Edition). Below you'll find the author's links, her guest post, and information about her books.
Karen Ann Hopkins
Blog
Facebook
Twitter
Goodreads
Amish Love & Marriage
Living in an Amish community in northern Kentucky for five years has given me the opportunity to observe many interesting things about their culture. Sometimes I'm shocked at their strict beliefs and behavior, but usually I'm humbled and impressed with the Plain People.
The Amish are people who are always willing to come to the aid of their neighbors, whether Amish or not, and they hold their personal relationships in the highest esteem. These are admirable traits for anyone, but I've witnessed firsthand that the basis for their success in life is their strong religious faith, and their solid and loving relationships with their spouses.
Granted, the Amish culture is a man's society and you'd think that would cause all kinds of problems with the women, but it doesn't seem to. Most of the Amish women I know are quite satisfied of their role within the marriage. They run the household and oftentimes are full and respected partners in the family business. They care for the children and participate in church activities. They get together regularly with other women within the community to quilt or clean house together. Amish women seem busy and content within their lives.
I think the contentment begins with the giving nature I've witnessed from most of the men toward their wives. Even though they may be the 'boss,' Amish men tend to continue to display acts of romance long after the wedding ceremony. Flowers, extravagant gifts, and vacations are commonplace from the men of the community to their wives. They recognize and respect the hard work that their wives do and are ever thankful for their partner in life.
When troubles do arise within an Amish marriage, the community will jump in and help through counseling to repair the damage. Very rarely do the Amish divorce, which shows their ultimate dedication in the vows they spoke to each other.
Because the Amish live a life without the entertainment of television, radio, movies and internet, they seem to place more emphasis on intimacy and that's one of the reasons they may have up to twelve children or more within a family. Their religion prevents them from using birth control, which obviously contributes to the large number of pregnancies, but since there are few other things to do in the evenings, the Amish are focused on the pleasures between a man and a wife. So much intimacy keeps Amish couples close. Having so many children would be a nightmare to most outsiders, but the Amish women appear to enjoy having large families and have grown accustomed to it.
The Amish don't hold hands and would never be caught showing public displays of affection, but the simplicity of their lives lends to a quiet and hidden romance that lasts forever.
Thank you so much for your interest in Rachel's Deception, the Temptation series, and my other books: Embers (YA paranormal), Lamb to the Slaughter and Whispers from the Dead (adult Amish mysteries)! I love to connect with readers and I'd be happy to answer questions about the Amish way of life. Please contact me at my website: http://www.karenannhopkins.com or you can message me on FB, Twitter, and Instagram.
Happy Reading,
Karen Ann Hopkins
Karen Ann Hopkins
Rachel's Deception (Temptation, Book 4)
Karen Ann Hopkins (US: 8th May 2015)
Buy (US) Buy (UK) Buy (CA) Buy (Worldwide)
Growing up Amish is difficult…but leaving it behind is even harder. Noah was Amish…Rose wasn't. Being together should have been impossible. But somehow they found a way to make it work. They are finally a family, but their happily-ever-after is still a long off. Will Rose and her friends be able to force real change? Events spiral out of control in the sleepy farming community of Meadowview. And Rachel Miller has her own secrets to hide. Noah's younger sister has been living a double life. That is, until Justin Cameron, Rose's little brother, catches her in the act. Rachel is not the obedient Amish girl that her sister was, and her rebelliousness takes her to a very dangerous world. A world that only her true friends can help her escape from. As Rachel questions all she has been taught about love, family, and commitment, Rose discovers what it really means to be shunned. And an evil shadow looms on the horizon, threatening not only Rose, but everyone she holds dear.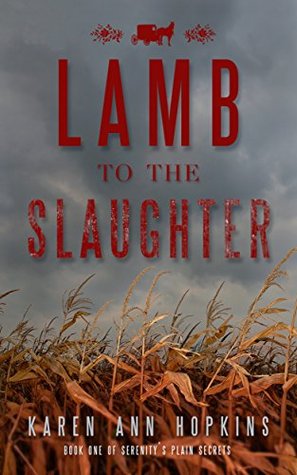 Karen Ann Hopkins
Lamb to the Slaughter (Serenity's Plain Secrets, Book 1)
Karen Ann Hopkins (US: 14th March 2014)
Buy (US) Buy (UK) Buy (CA) Buy (Worldwide)
Serenity Adams is the newly elected young sheriff in the country town of Blood Rock and besides dealing with the threatening behaviour of her predecessor, she now has a dead Amish girl on her plate. At first glance, the case seems obvious: The poor girl was probably accidently shot during hunting season, but when the elders of the Amish community and even the girl's parents react with uncaring subdued behaviour, Serenity becomes suspicious. As she delves deeper into the secretive community that she grew up beside, she discovers a gruesome crime from the past that may very well be related to the Amish girl's shooting. Serenity enlists the help of the handsome bad-boy building contractor, Daniel Bachman, who left the Amish when he was nineteen and has his own dark reasons to help the spunky sheriff solve the crime that the family and friends who shunned him are trying desperately to cover up. Serenity's persistence leads her to a stunning discovery that not only threatens to destroy her blossoming romance with Daniel, but may even take her life in the end.
Karen Ann Hopkins
Whispers from the Dead (Serenity's Plain Secrets, Book 2)
Karen Ann Hopkins (US: 20th January 2015)
Buy (US) Buy (UK) Buy (CA) Buy (Worldwide)
Sheriff Serenity Adams and Daniel Bachman are once again partnered up in a criminal investigation, when they travel to a northern Amish settlement that has been riddled by arsons for the past two decades. Serenity quickly discovers that there is much more going on in the touristy community than just barns set on fire. The new group of Amish have their own secrets to hide. She begins to unravel an extensive criminal underworld that threatens to destroy everything that the simple people of Poplar Springs hold dear and even puts her own life in jeopardy. And although Serenity tries desperately to avoid it, things begin heating up between her and Daniel, making her wonder if true love and happiness are really within her grasp.
Karen Ann Hopkins
Embers (Wings of War, Book 1)
Karen Ann Hopkins (US: 21st October 2014)
Buy (US) Buy (UK) Buy (CA) Buy (Worldwide)
Following a violent episode with her aunt's boyfriend, Ember flees Ohio to live with an old relative in the Smoky Mountains of Tennessee. Ember's exuberance at escaping a bad home life soon turns to trepidation when she learns that she's a Watcher, a descendant of angels. While Ember is instructed about her heritage and the powers that go along with it, she strikes up friendships with two teenagers who live in a frightening walled compound in the forest. Inexplicitly drawn to one of the young men in particular, an impossible romance develops. But it's cut short when Ember discovers that her new friends are fighting on the opposite side of a war that's been raging between two factions of Watchers for thousands of years. When the compound's inhabitants threaten the townspeople, Ember takes action, sealing her fate in the ancient battle of good versus evil, and the greyness in between. Ember is up to the challenge, until she realises that she isn't only fighting for the lives of the locals and the souls of her new friends. She may be one of the few champions willing to make a stand for all of mankind as the rapture approaches and the end of days begin.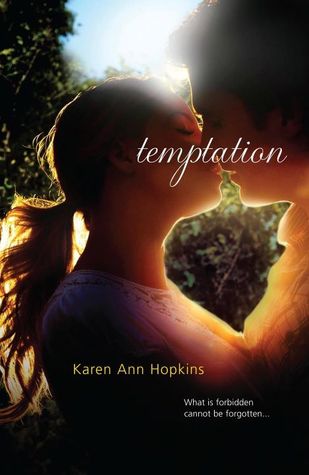 Karen Ann Hopkins
Temptation (Temptation, Book 1)
Harlequin (US: 26th June 2012; AU: 1st July 2012; UK: 6th July 2012)
Review
Buy (US) Buy (UK) Buy (CA) Buy (Worldwide)
Your heart misleads you. That's what my friends and family say. But I love Noah. And he loves me. We met and fell in love in the sleepy farming community of Meadowview, while we rode our horses together through the grassy fields and in those moments in each other's arms. It should be Rose & Noah forever, easy. But it won't be. Because he's Amish. And I'm not.
Karen Ann Hopkins
Belonging (Temptation, Book 2)
Harlequin (US: 1st May 2013)
Buy (US) Buy (UK) Buy (CA) Buy (Worldwide)
I left everything I knew behind. But it was worth it. He was worth it. No one thought an ordinary girl like me would last two minutes living with the Amish, not even me. There are a lot more rules and a lot less freedom, and I miss my family and the life I once had. Worst of all, Noah and I aren't even allowed to see each other. Not until I've proven myself. If I can find a way to make it work, we'll be Noah & Rose together forever. But not everybody believes this is where I belong.
Karen Ann Hopkins
Forever (Temptation, Book 3)
Harlequin (US: 1st February 2014; AU: 1st March 2014)
Buy (US) Buy (UK) Buy (CA) Buy (Worldwide)
All I want is my happily-ever-after. That's all I've wanted since meeting Noah Miller. From the day we met, the world has tried to keep Noah and me from being together, but now that I'm carrying his child, no one will be able to tear us apart. Or so I hope. But Noah and I have made some mistakes along the way, and the consequences are impacting the people we love. Worse, there's a storm on the horizon, and it's sure to cause serious devastation. If we can get through this, we'll finally be Rose and Noah – a family, forever. But first we have to survive the road ahead. And happily-ever-after is a long way off.