This post is part of the official cover reveal blog tour for Karen Ann Hopkins's Whispers from the Dead. Below, you'll find the author's links, and information about her books.
Karen Ann Hopkins
Facebook
Twitter
Goodreads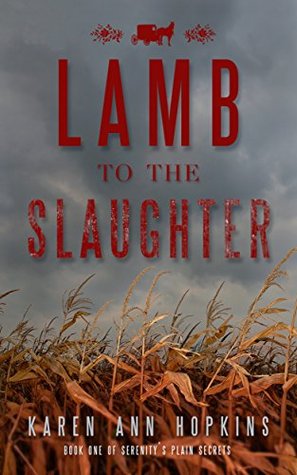 Karen Ann Hopkins
Lamb to the Slaughter (Serenity's Plain Secrets, Book 1)
Karen Ann Hopkins (US: 14th March 2014)
Buy (US) Buy (UK) Buy (CA)
Serenity Adams is the newly elected young sheriff in the country town of Blood Rock and besides dealing with the threatening behaviour of her predecessor, she now has a dead Amish girl on her plate. At first glance, the case seems obvious: The poor girl was probably accidently shot during hunting season, but when the elders of the Amish community and even the girl's parents react with uncaring subdued behaviour, Serenity becomes suspicious. As she delves deeper into the secretive community that she grew up beside, she discovers a gruesome crime from the past that may very well be related to the Amish girl's shooting. Serenity enlists the help of the handsome bad-boy building contractor, Daniel Bachman, who left the Amish when he was nineteen and has his own dark reasons to help the spunky sheriff solve the crime that the family and friends who shunned him are trying desperately to cover up. Serenity's persistence leads her to a stunning discovery that not only threatens to destroy her blossoming romance with Daniel, but may even take her life in the end.
Karen Ann Hopkins
Whispers from the Dead (Serenity's Plain Secrets, Book 2)
Karen Ann Hopkins (US: 20th January 2015)
Sheriff Serenity Adams and Daniel Bachman are once again partnered up in a criminal investigation, when they travel to a northern Amish settlement that has been riddled by arsons for the past two decades. Serenity quickly discovers that there is much more going on in the touristy community than just barns set on fire. The new group of Amish have their own secrets to hide. She begins to unravel an extensive criminal underworld that threatens to destroy everything that the simple people of Poplar Springs hold dear and even puts her own life in jeopardy. And although Serenity tries desperately to avoid it, things begin heating up between her and Daniel, making her wonder if true love and happiness are really within her grasp.
Karen Ann Hopkins
Embers (Wings of War, Book 1)
Karen Ann Hopkins (US: 21st October 2014)
Buy (US) Buy (UK) Buy (CA)
Following a violent episode with her aunt's boyfriend, Ember flees Ohio to live with an old relative in the Smoky Mountains of Tennessee. Ember's exuberance at escaping a bad home life soon turns to trepidation when she learns that she's a Watcher, a descendant of angels. While Ember is instructed about her heritage and the powers that go along with it, she strikes up friendships with two teenagers who live in a frightening walled compound in the forest. Inexplicitly drawn to one of the young men in particular, an impossible romance develops. But it's cut short when Ember discovers that her new friends are fighting on the opposite side of a war that's been raging between two factions of Watchers for thousands of years. When the compound's inhabitants threaten the townspeople, Ember takes action, sealing her fate in the ancient battle of good versus evil, and the greyness in between. Ember is up to the challenge, until she realises that she isn't only fighting for the lives of the locals and the souls of her new friends. She may be one of the few champions willing to make a stand for all of mankind as the rapture approaches and the end of days begin.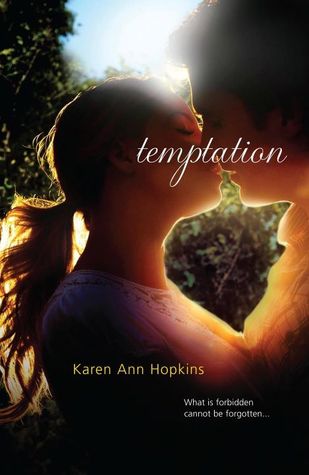 Karen Ann Hopkins
Temptation (Temptation, Book 1)
Harlequin (US: 26th June 2012; AU: 1st July 2012; UK: 6th July 2012)
Review
Buy (US Kindle Edition) Buy (US Paperback) Buy (UK Kindle Edition) Buy (UK Paperback) Buy (CA Kindle Edition) Buy (CA Paperback) Buy (Worldwide)
Your heart misleads you. That's what my friends and family say. But I love Noah. And he loves me. We met and fell in love in the sleepy farming community of Meadowview, while we rode our horses together through the grassy fields and in those moments in each other's arms. It should be Rose & Noah forever, easy. But it won't be. Because he's Amish. And I'm not.
Karen Ann Hopkins
Belonging (Temptation, Book 2)
Harlequin (US: 1st May 2013)
Buy (US Kindle Edition) Buy (US Paperback) Buy (UK) Buy (CA Kindle Edition) Buy (CA Paperback) Buy (Worldwide)
I left everything I knew behind. But it was worth it. He was worth it. No one thought an ordinary girl like me would last two minutes living with the Amish, not even me. There are a lot more rules and a lot less freedom, and I miss my family and the life I once had. Worst of all, Noah and I aren't even allowed to see each other. Not until I've proven myself. If I can find a way to make it work, we'll be Noah & Rose together forever. But not everybody believes this is where I belong.
Karen Ann Hopkins
Forever (Temptation, Book 3)
Harlequin (US: 1st February 2014; AU: 1st March 2014)
Buy (US Kindle Edition) Buy (US Paperback) Buy (UK Kindle Edition) Buy (UK Paperback) Buy (CA Kindle Edition) Buy (CA Paperback) Buy (Worldwide)
All I want is my happily-ever-after. That's all I've wanted since meeting Noah Miller. From the day we met, the world has tried to keep Noah and me from being together, but now that I'm carrying his child, no one will be able to tear us apart. Or so I hope. But Noah and I have made some mistakes along the way, and the consequences are impacting the people we love. Worse, there's a storm on the horizon, and it's sure to cause serious devastation. If we can get through this, we'll finally be Rose and Noah – a family, forever. But first we have to survive the road ahead. And happily-ever-after is a long way off.