NOTE: If viewing this through a feed reader (e.g. Feedly), the formatting is a bit screwed. To view this post properly, click the title to take you to my WordPress.
Done with October 2014 Releases? Here are November 2014 Releases. For future releases, check Reading Wishlist.
Megan Hart, Tiffany Reisz, & Sarah Morgan
Captivated (Anthology of 3 novellas)
Harlequin Cosmo Red-Hot Reads (AU: 1st November 2014)
Buy (US) Buy (UK) Buy (CA) Buy (Worldwide)
LETTING GO by Megan Hart: Colleen goes to the same bar every night and orders the same drink: a whiskey, neat. She doesn't drink it, though. Jesse the bartender notices the beautiful, sad woman who keeps to herself. Until one night when she lets go and lets him in. And after that, Jesse has only one mission – to show her one night is only the beginning… SEIZE THE NIGHT by Tiffany Reisz: Five years ago, a night of forbidden passion between Remi and Julien, the heirs of two powerful and competitive horse-racing families, led to a feud that is threatening to ruin both farms. Now Remi must find Julien again – but when she does, her need for Julien is just as strong and just as forbidden… RIPPED by Sarah Morgan: With a rip louder than the 'I dos', Hayley's hideous bridesmaid dress explodes. She's always had enviable curves, but nearly naked wasn't quite the look she'd been going for at her ex's wedding! After being rushed from the altar under the best man's jacket, Hayley expects a blast of disapproval from Niccolò Rossi. What she gets instead is a kiss that nearly melts what's left of her nightmare gown!
Seanan McGuire
Half-Off Ragnarok (InCryptid, Book 3)
Allen & Unwin Constable & Robinson (AU: November 2014)
Buy (US) Buy (UK) Buy (CA) Buy (Worldwide)
When Alex Price agreed to go to Ohio to oversee a basilisk breeding program and assist in the recovery of his psychic cousin, he didn't expect people to start dropping dead. But bodies are cropping up at the zoo where he works, and his girlfriend – Shelby Tanner, an Australian zoologist with a fondness for big cats – is starting to get suspicious. Worse yet, the bodies have all been turned partially to stone… Alex tries to balance life, work, and the strong desire not to become a piece of garden statuary. Old friends and new are on the scene, and danger lurks around every corner. Of course, so do the talking mice.
Dawn Metcalf
Invisible (Twixt, Book 2)
Harlequin Teen (AU: 1st November 2014)
Buy (US) Buy (UK) Buy (CA) Buy (Worldwide)
Joy Malone wants it all – power, freedom and the boyfriend who loves her. Yet when an unstoppable assassin is hired to kill her, Joy learns that being the girl with the Sight comes with a price that might be too high to pay. Love will be tested, lives will be threatened, and everyone Joy knows and cares about will be affected by her decision to stand by Ink or to leave the Twixt forever. Her choice is balanced on a scalpel's edge and the consequences will be more life-altering than anyone can guess.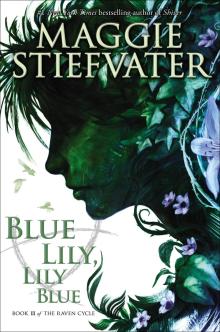 Maggie Stiefvater
Blue Lily, Lily Blue (Raven Cycle, Book 3)
Scholastic (CA: 1st November 2014)
Buy (US) Buy (UK) Buy (CA) Buy (Worldwide)
Blue Sargent has found things. For the first time in her life, she has friends she can trust, a group to which she can belong. The Raven Boys have taken her in as one of their own. Their problems have become hers, and her problems have become theirs. The trick with found things, though, is how easily they can be lost. Friends can betray. Mothers can disappear. Visions can mislead. Certainties can unravel.
Jennifer Lynn Barnes
Killer Instinct (Naturals, Book 2)
Disney Hyperion (US: 4th November 2014); Quercus (UK: 6th November 2014)
Buy (US) Buy (UK) Buy (CA) Buy (Worldwide)
A young girl has been murdered, her body displayed on the front lawn of her university campus. The killing is vicious – and terrifyingly familiar. Someone is copying the methods of one of the country's most infamous serial killers: Dean's father. Back at the Naturals HQ, Cassie, Dean, Michael, Lia and Sloane are dealing with a new FBI agent – and Agent Sterling is determined to keep them out of trouble. But Dean knows too much about his father's crimes not to get involved, and his fellow Naturals won't let him face this alone. But as the bodies mount up, the Naturals find themselves in a deadly dangerous race against time…
Amy Rose Capetta
Entangled (Entangled, Book 1)
Houghton Mifflin Harcourt (US: 4th November 2014)
Buy (US) Buy (UK) Buy (CA) Buy (Worldwide)
Seventeen-year-old Cade is a fierce survivor, solo in the universe with her cherry-red guitar. Or so she thought. Her world shakes apart when a hologram named Mr. Niven tells her she was created in a lab in the year 3112, then entangled at a subatomic level with a boy named Xan. Cade's quest to locate Xan joins her with an array of outlaws – her first friends – on a galaxy-spanning adventure. And once Cade discovers the wild joy of real connection, there's no turning back.
Andrea Cremer
Snakeroot (Nightshade Legacy, Book 1)
Penguin Speak (US & CA: 4th November 2014)
Buy (US) Buy (UK) Buy (CA) Buy (Worldwide)
Bosque Mar haunts the dreams of both Adne and Logan, trying to escape for the Nether, where Calla, Shay and the other Guardians trapped him in the final battle in the War of All against All. Will he turn Adne to the dark side? Will Logan reclaim his birthright? And will darkness take over our world?
J. Kenner
Have Me (Stark Ever After, Novella)
Random House Bantam (US & CA: 4th November 2014); Hachette Headline Eternal (UK: 4th November 2014)
Buy (US) Buy (UK) Buy (CA)
Our wedding was everything I dreamed of, and now the honeymoon is a living fantasy. To be Mrs. Damien Stark is the ultimate rush – to know that our claim to each other is real, our fierce passion sealing our bond. My kiss is forever his, his touch is forever mine. We both harbour deep scars from our pasts and we've done everything we can to lay our ghosts to rest. But there are still dreams that haunt me, and people that threaten to tear us apart. Our shared ecstasy makes me feel alive, and I'll do anything to keep Damien close. He is my future, my hope, my every want and need. And once you've tasted that kind of obsession, nothing can make you give it up.
Karsten Knight
Afterglow (Wildefire, Book 3)
Simon & Schuster (US, UK, & CA: 4th November 2014)
Buy (US) Buy (UK) Buy (CA) Buy (Worldwide)
Teenage volcano goddess Ashline Wilde discovers that her former love, Colt Halliday, has an evil plan to kill the Cloak, the benevolent beings that oversee the gods. And that's not all – he also wants to merge Ash and her two sisters back into a single, too-powerful goddess, Pele. Ash must stop her trickster-god ex-boyfriend once and for all…and to do it, she's going to have to feed a few flames.
Ally Condie
Atlantia
Penguin Puffin (UK & AU: 6th November 2014)
Buy (US) Buy (UK) Buy (CA) Buy (Worldwide)
Rio dreams of leaving the underwater city of Atlantia and living in the world Above. But all Rio's hopes for the future are shattered when her twin sister, Bay, makes an unexpected choice, leaving Rio stranded Below. Atlantia is crumbling. Guided by an unlikely mentor, Rio begins to ask treacherous questions about her destiny, her home and the corrupted system that governs the Divide between land and sea. Her life – and the fate of her city – depends on Rio listening to the voices of the past, and her willingness to speak the forgotten truth.
Jackson Pearce
Cold Spell
Hachette Hodder (UK: 6th November 2014)
Buy (US) Buy (UK) Buy (CA) Buy (Worldwide)
Ginny and Kai are in love. Or so Ginny thought. But Kai is being enchanted by a mysterious girl, beautiful and flawless as ice. When he's swept away by this snow maiden, Ginny knows she has to cast aside her fears and pursue him. In the face of mortal danger, will Ginny and Kai's love hold strong?
Veronica Roth
Divergent (Divergent, Book 1) [Collector's Edition]
HarperCollins (UK: 6th November 2014)
Buy (US) Buy (UK) Buy (CA) Buy (Worldwide)
• Two essays by Veronica Roth, including excerpts from early drafts of Divergent; • An essay about the psychology behind fear and the "exposure therapy" of Dauntless initiation; • Artistic renderings of the Choosing Ceremony Bowls; • An excerpt from the movie script; • Favourite quotes from Divergent, illustrated by fellow Initiates; • A map of the Dauntless compound; • Divergent discussion questions. For sixteen-year-old Tris, the world changes in a heartbeat when she is forced to make a terrible choice. Turning her back on her family, Tris ventures out, alone, determined to find out where she truly belongs. Shocked by the brutality of her new life, Tris can trust no one. And yet she is drawn to a boy who seems to both threaten and protect her. The hardest choices may yet lie ahead…
Jenna Black
Revolution (Replica, Book 3)
Macmillan Tor (US: 11th November 2014)
Buy (US) Buy (UK) Buy (CA) Buy (Worldwide)
Paxco has a new ruler. Dorothy Hayes claims to be the secret daughter of the recently-assassinated Chairman. She also claims that Nate Hayes, the true heir and her supposed brother, was the one who murdered their father. Nate and his best friend, Nadia Lake, are the only ones who know the truth about what really happened to the Chairman, and more importantly, the truth about Dorothy. But with Dorothy in power, Nate and Nadia know their days are numbered. They have nowhere to run except the Basement, Paxco's perilous and lawless slums. But Dorothy is far from content with driving her enemies into hiding. She wants them dead.
Elizabeth Norris
Unbreakable (Unravelling, Book 2)
HarperCollins Balzer + Bray (US & CA: 11th November 2014)
Buy (US) Buy (UK) Buy (CA) Buy (Worldwide)
Four months after Ben returned to his home universe, Janelle believes she'll never see him again. Her world is still devastated, but civilisation is slowly rebuilding, and life is resuming some kind of normalcy – until Interverse agent Taylor Barclay shows up, asking for Janelle's help. Somebody from an alternate universe is running a human-trafficking ring, kidnapping people and selling them on different Earths. And Ben, with his unique abilities, is the prime suspect. Now his family will be executed if Ben doesn't turn himself in. When Janelle learns that someone she cares about – someone from her own world – is one of the missing, she knows she has to help Barclay, regardless of the danger. Now Janelle has five days to track down the real culprit. Five days to locate the missing people before they're lost forever. Five days to reunite with the boy who stole her heart. But as the clues begin to add up, Janelle realises she's in way over her head – and she may not know Ben as well as she thought. Can she uncover the truth before everyone she cares about is killed?
Sylvia Day
Captivated by You (Crossfire, Book 4)
Penguin (US & CA: 18th November 2014; AU: 19th November 2014)
Buy (US) Buy (UK) Buy (CA) Buy (Worldwide)
Gideon calls me his angel, but he's the miracle in my life. My gorgeous, wounded warrior, so determined to slay my demons while refusing to face his own. The vows we'd exchanged should have bound us tighter than blood and flesh. Instead they opened old wounds, exposed pain and insecurities, and lured bitter enemies out of the shadows. I felt him slipping from my grasp, my greatest fears becoming my reality, my love tested in ways I wasn't sure I was strong enough to bear. At the brightest time in our lives, the darkness of his past encroached and threatened everything we'd worked so hard for. We faced a terrible choice: the familiar safety of the lives we'd had before each other or the fight for a future that suddenly seemed an impossible and hopeless dream…
Abigail Barnette
The Ex (Boss, Book 4)
Jenny Trout (US: 22nd November 2014)
Magazine editor-in-chief, bride-to-be, and soon-to-be-step-grandmother at twenty-six, Sophie Scaife is looking forward to married life with her fiancé and Dom, wickedly sadistic billionaire Neil Elwood. As they enter unexplored sensual territory, Neil leads Sophie to the very edge between pain and pleasure – and she discovers a surprising new side to her sexuality. While Sophie balances her hectic work routine with her devotion to her unconventional family, Neil has to adjust to life as a retired mogul. With their big day drawing nearer, they have to forge through pre-wedding jitters, personal crises, and an unexpected houseguest to get to their kinky ever after. But a decades-old trauma still haunts Neil. When the private details draw public interest, Sophie learns that the scars of his past are greater than he let on – and he'll need all of her love to heal them…
Keri Arthur
Darkness Falls (Dark Angels, Book 7)
Hachette Little, Brown Piatkus (AU: 25th November 2014)
Buy (US) Buy (UK) Buy (CA) Buy (Worldwide)
The search for the last key to the gates of hell has begun. Risa Jones is in more danger than ever – and one misstep could prove ruinous. It's only a matter of time before Madeleine Hunter, the dangerous head of the vampire council, begins her plan for complete domination. For Risa, that comes with an alarming ultimatum: hand over the last key to Hunter or, one by one, her loved ones will die. Now it's a race against time for Risa to save those she loves and to stop Hunter's apocalyptic plan to open the gates of hell…
Mira Grant
Symbiont (Parasitology, Book 2)
Hachette Orbit (US, UK, & AU: 25th November 2014)
Buy (US) Buy (UK) Buy (CA) Buy (Worldwide)
The SymboGen-designed tapeworms were created to relieve humanity of disease and sickness. But the implants in the majority of the world's population began attacking their hosts, turning them into a ravenous horde. Now those who do not appear to be afflicted are being gathered for quarantine as panic spreads, but Sal and her companions must discover how the tapeworms are taking over their hosts, what their eventual goal is, and how they can be stopped.
Megan Hart
Lovely Wild
Harlequin MIRA (US: 25th November 2014)
Buy (US) Buy (UK) Buy (CA) Buy (Worldwide)
Brought up in the savage captivity of her unstable grandmother's rural Pennsylvania home, Mari Calder once yearned for rescue. Now she struggles every day to function as an adult in the confines of normal society. Left with only a foggy recollection of her childhood, she's consumed with being a dutiful wife to her husband, Ryan, and mother to their two children. But an unexpected twist of events returns her to that long-forgotten house in the woods. Soon, Mari is greeted with reminders of a past life, the clarified memories only inviting a new level of strangeness into her fragile world. To protect her family, she must find the beautiful, powerful strength hidden in her inner chaos. Because someone is bent on exploiting Mari's trauma, and as normal and wild begin to blend, a string of devastating truths force Mari to question all she thought she knew.
Amie Kaufman & Meagan Spooner
These Broken Stars (Starbound, Book 1)
Disney-Hyperion (US: 25th November 2014)
Buy (US) Buy (UK) Buy (CA) Buy (Worldwide)
It's a night like any other on board the Icarus. Then, catastrophe strikes: the massive luxury spaceliner is yanked out of hyperspace and plummets into the nearest planet. Lilac LaRoux and Tarver Merendsen survive. And they seem to be alone. Lilac is the daughter of the richest man in the universe. Tarver comes from nothing, a young war hero who learned long ago that girls like Lilac are more trouble than they're worth. But with only each other to rely on, Lilac and Tarver must work together, making a tortuous journey across the eerie, deserted terrain to seek help. Then, against all odds, Lilac and Tarver find a strange blessing in the tragedy that has thrown them into each other's arms. Without the hope of a future together in their own world, they begin to wonder – would they be better off staying here forever? Everything changes when they uncover the truth behind the chilling whispers that haunt their every step. Lilac and Tarver may find a way off this planet. But they won't be the same people who landed on it.
Tiffany Reisz
The King (Original Sinners: White Years, Book 2)
Harlequin MIRA (US: 25th November 2014)
Buy (US) Buy (UK) Buy (CA) Buy (Worldwide)
Bouncing from bed to bed on the Upper East Side – handsomely paid in both bills and blackmail fodder – Kingsley Edge is brilliant, beautiful and utterly debauched. No carnal act or chemical compound can relieve his self-destructive apathy – only Søren, the one person he loves without limit or regret. A man he can never have, but in whose hands Kingsley is reborn to attain even greater heights of sin. He plans to open the ultimate BDSM club: a dungeon playground for New York's A-list that'll change the scene forever. The club becomes Kingsley's obsession – and he's enlisted some tough-as-nails help. His new assistant Sam is smart, secretive and totally immune to seduction (by men, at least). She and Kingsley make a wicked team. Still, their combined – and considerable – expertise in domination can't subdue the man who would kill their dream. The enigmatic Reverend Fuller won't rest until King's dream is destroyed. It's one man's sacred mission against another's…