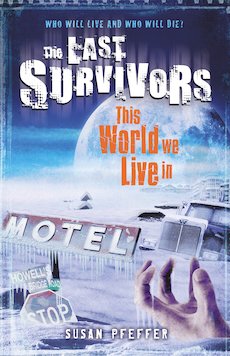 Susan Beth Pfeffer
This World We Live In (The Last Survivors, Book 3)
Houghton Mifflin Harcourt (US: 1st April 2010); Scholastic (UK: 3rd May 2010)
Buy (US) Buy (UK) Buy (CA) Buy (Worldwide)
A year ago, the moon was pushed closer to the Earth, and since then the Evans family has been coping as best each can. Miranda's eldest brother returns from a fishing trip with another mouth to feed: his new wife. And six more additions arrive, forcing the group to breaking point. With some deciding to move out, all should have extra space, but it also brings much more emotional turmoil. And just when everyone seems to have come to terms, one final disaster could prove to be the family's ultimate undoing.
Definitely read Life As We Knew It beforehand, but The Dead and the Gone isn't essential. I haven't read the latter, but This World We Live In supplies enough information. Miranda has matured since we last read her journals, and is more affable for it. Even her new romance seems believable, and doesn't make me cringe (YA romances usually do).
I binge-read this book in just a handful of hours, and I strongly suggest you do the same. The dramas, both interpersonal and meteorological, are riveting and cause compulsive reading. Whilst the religious aspect is annoying, it is an obstacle for the characters, one which they thankfully overcome – so I've forgiven its presence.
The Last Survivors trilogy is further proof that dystopian YA is producing the most fascinating and engrossing stories, by taking enormous external issues and making them extremely personal. Many thanks to author Susan Beth Pfeffer for her awesome contribution to the genre, and long live dystopian YA!